Happy Wednesday, friends 😀
Before we go ahead and get started, I need to say thank you for all of your support, understanding, and encouragement. You have no idea how much it means to me… for real.
My heart [equals] melted.
And now I've got to move on before I start tearing up *fans face like a madwoman* Thank goodness it's Wednesday and we can have some fun.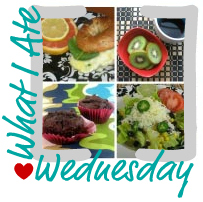 Today's party started bright and early – I'm talking 3:30 AM early. Remember how I mentioned that I haven't been sleeping well? Yeaaaaahhh. I woke up around 3 to take my nightly trip to bathroom, and by the time I rolled back into bed, tossed, turned, cursed, and punched the pillow multiple times, it was 3:30 and I was as far away from Dreamland as ever.
Le sigh.
It wasn't that I wasn't tired, because I definitely was – it was that I was hungry… my stomach was keeping me up with his incessant chatter, and I couldn't drown him out no matter how hard I pressed my hands over my ears. So I had two options at that point:
a. lay there, suffering, and hope against hope that I manage to miraculously drift off, or
b. shut him up
Well, option (a) clearly wasn't working (and it hardly ever did in the past), so all that remained was option (b). Again, not gonna lie, the thought of eating in the middle of the night made me anxious, but I was more frustrated than anything, so I moseyed my way into the kitchen to whip up a snack.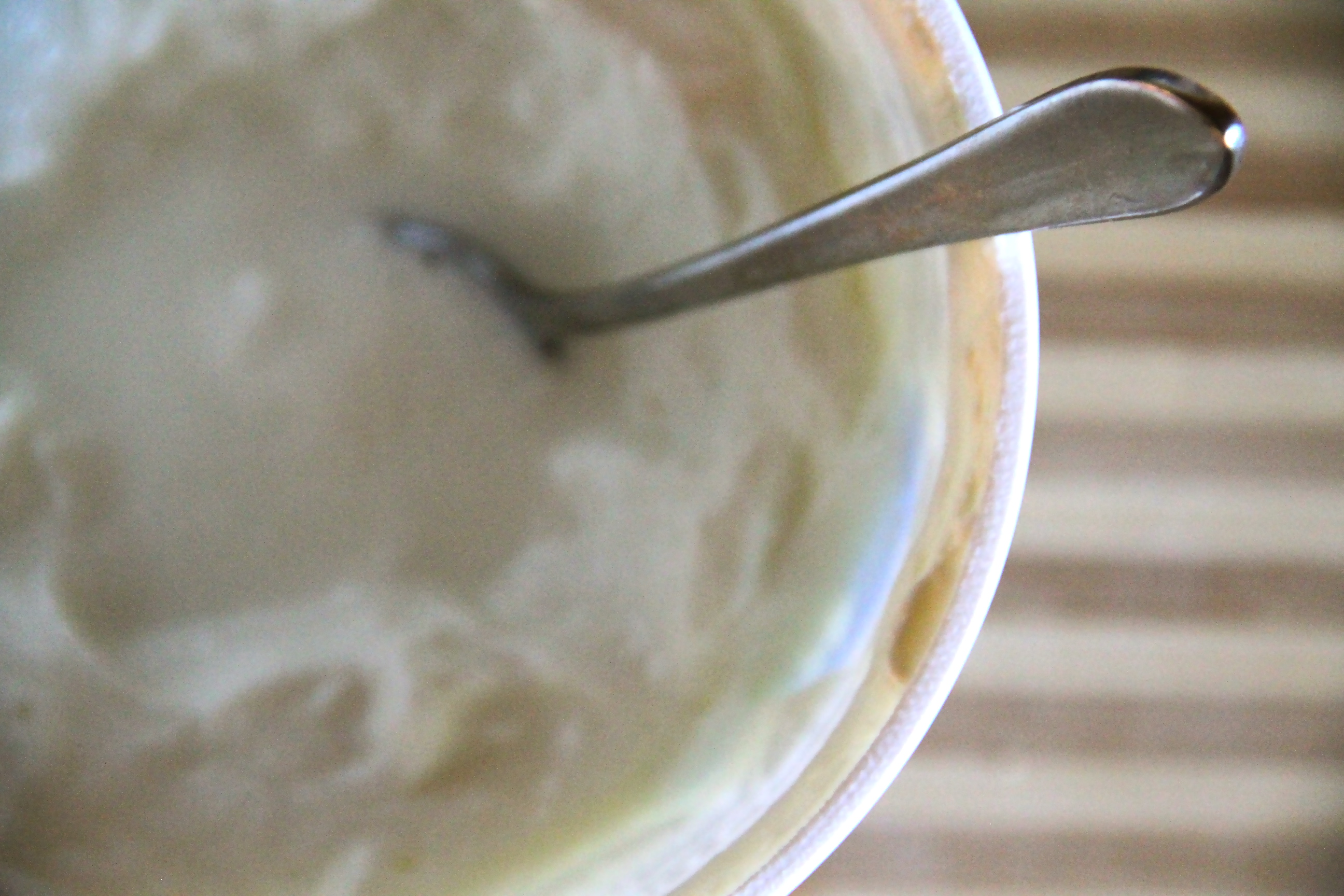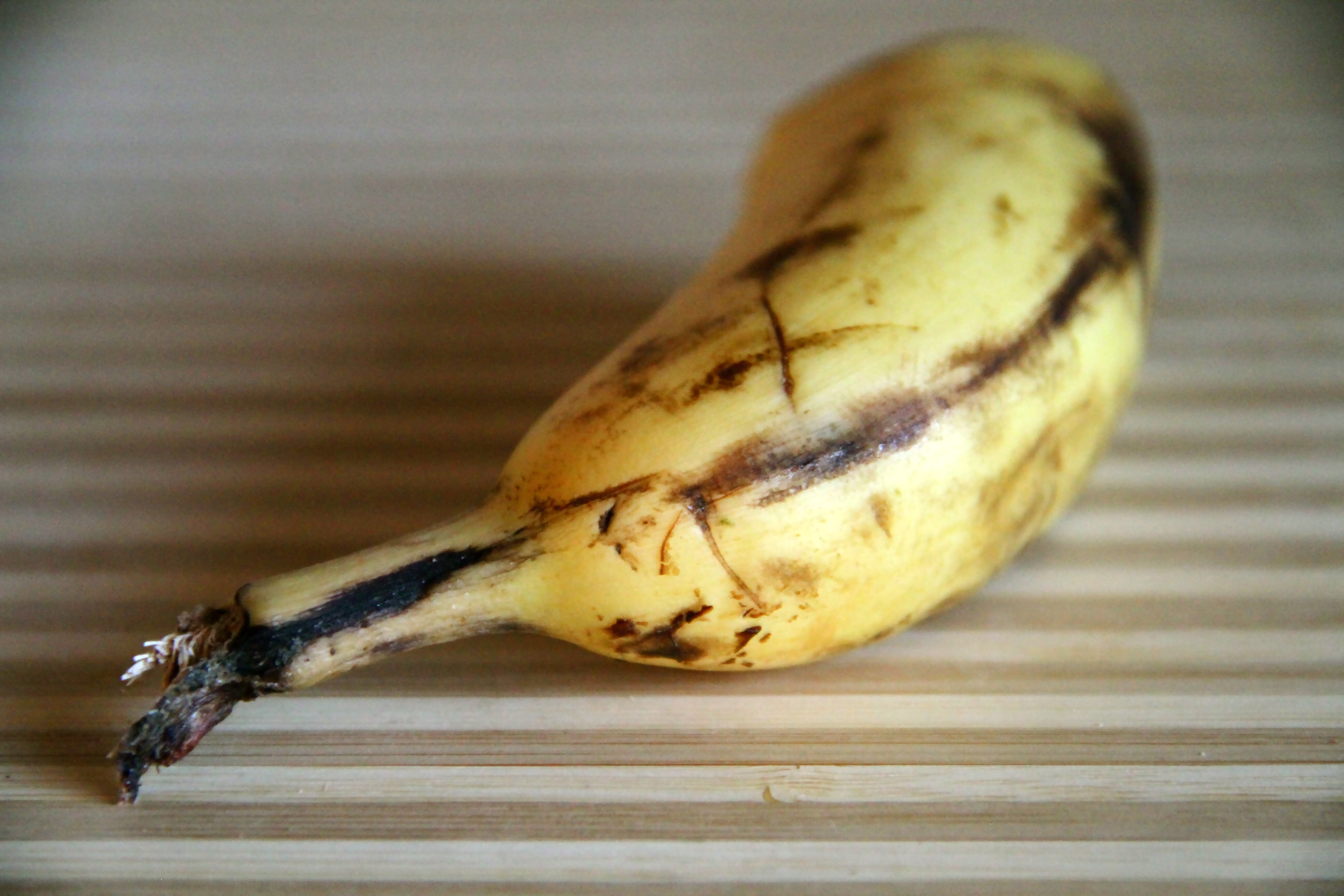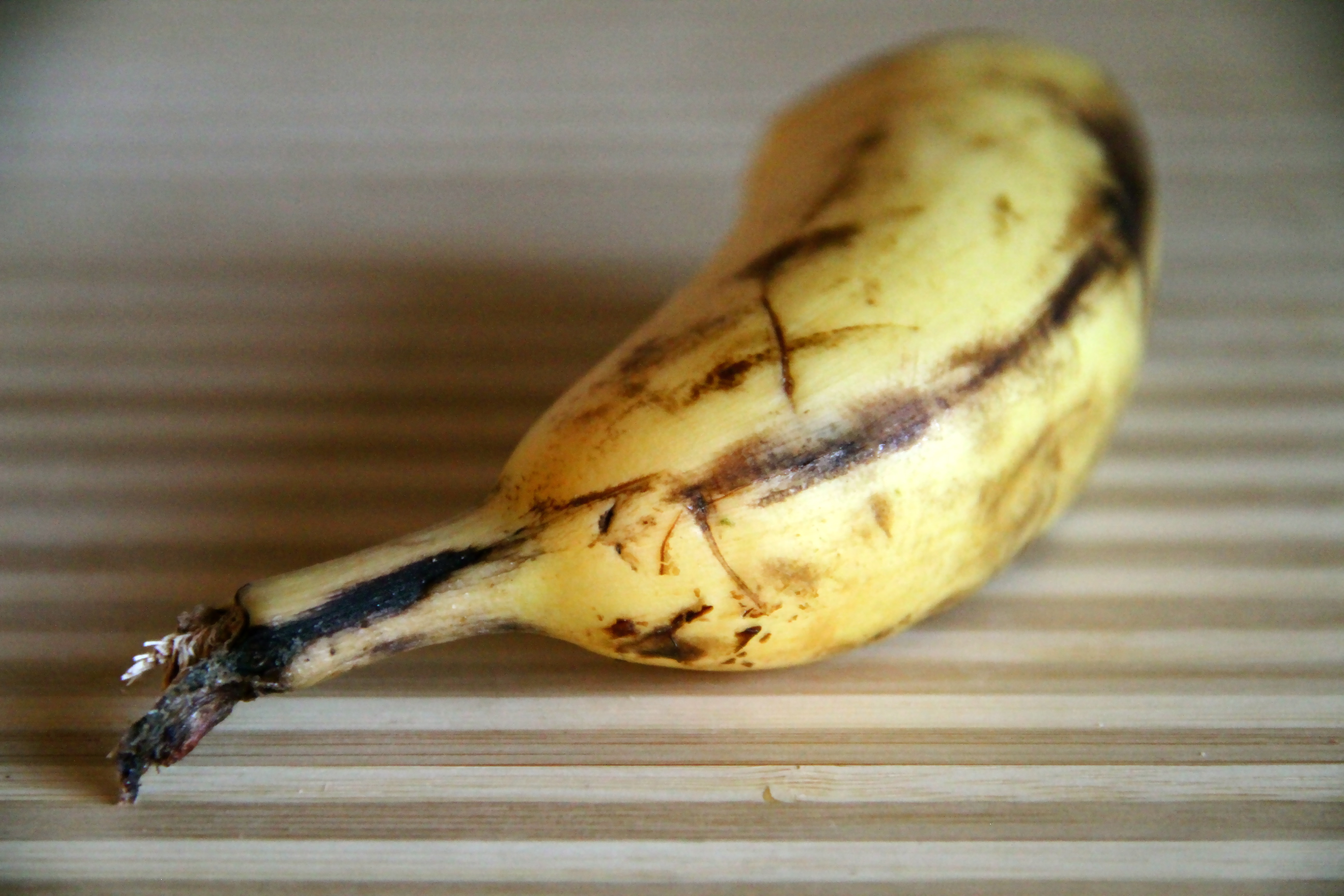 Behold the fancy 3:30 AM snack…
Half a banana and multiple spoonfuls of yogurt later, and I was passed out on the couch in a blissful state of slumber. And yes, I whipped out the camera just to capture the event. I think I deserve a pat on the back for my dedication. Either that or a referral to a psychiatrist. But that's neither here nor there.
The point is, I listened to my body and I was rewarded. After my snack, I drifted off to sleep without a problem and woke up at the much more acceptable hour of 6 AM feeling absolutely fabulous and refreshed. Lesson learned. And if you think that turned me off my breakfast, think again…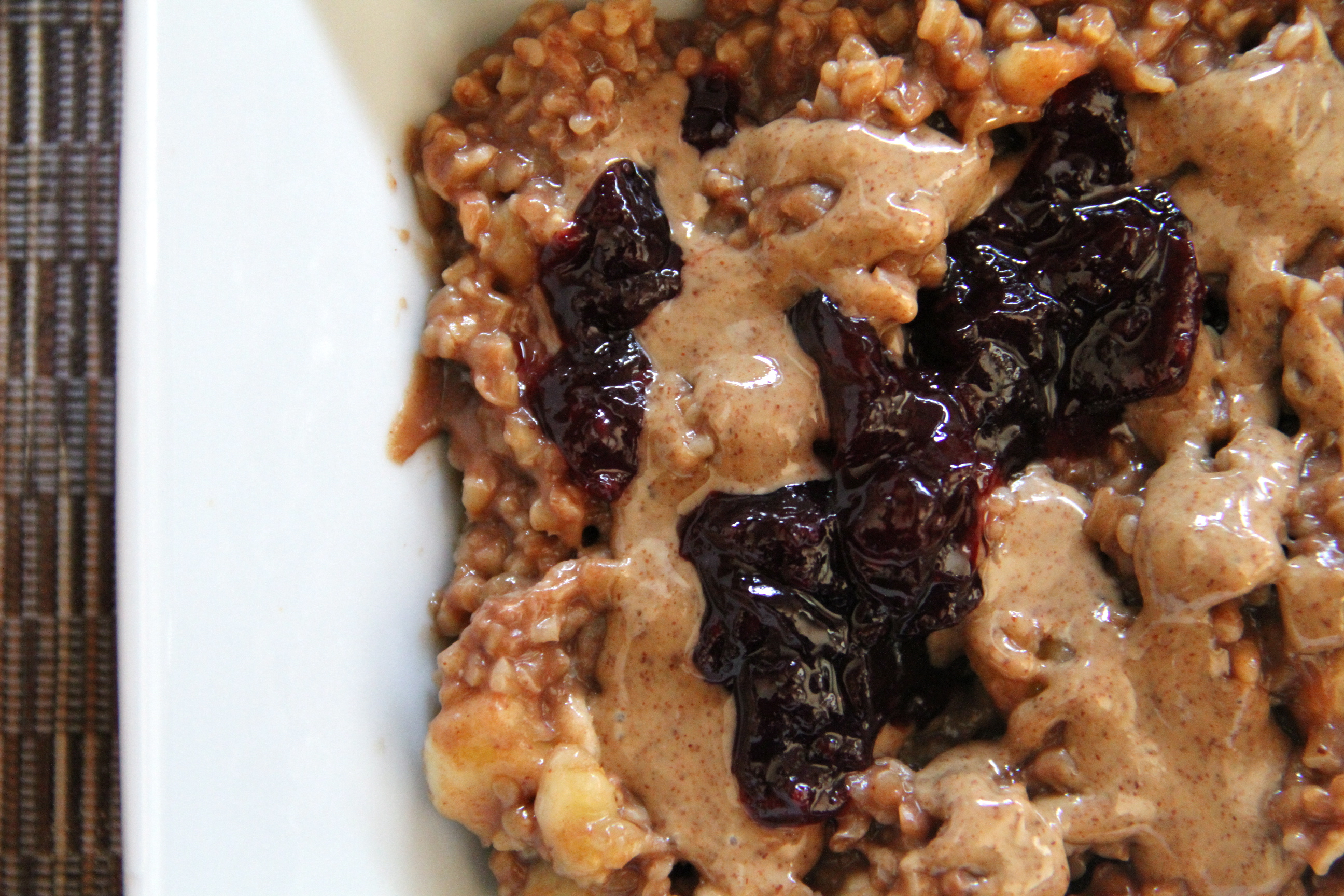 Chocolate AB&J Oats
Eggy bananafied steel cut oats, 1 Tbsp. cocoa, roasted almond butter, blueberry jam
Simple, but oh so satisfying; and with that in my belly, I was literally vibrating with energy. I ran some quick errands for work, stopped by the grocery store to pick up some necessities (read: yogurt, eggs, and salad), inhaled a snack…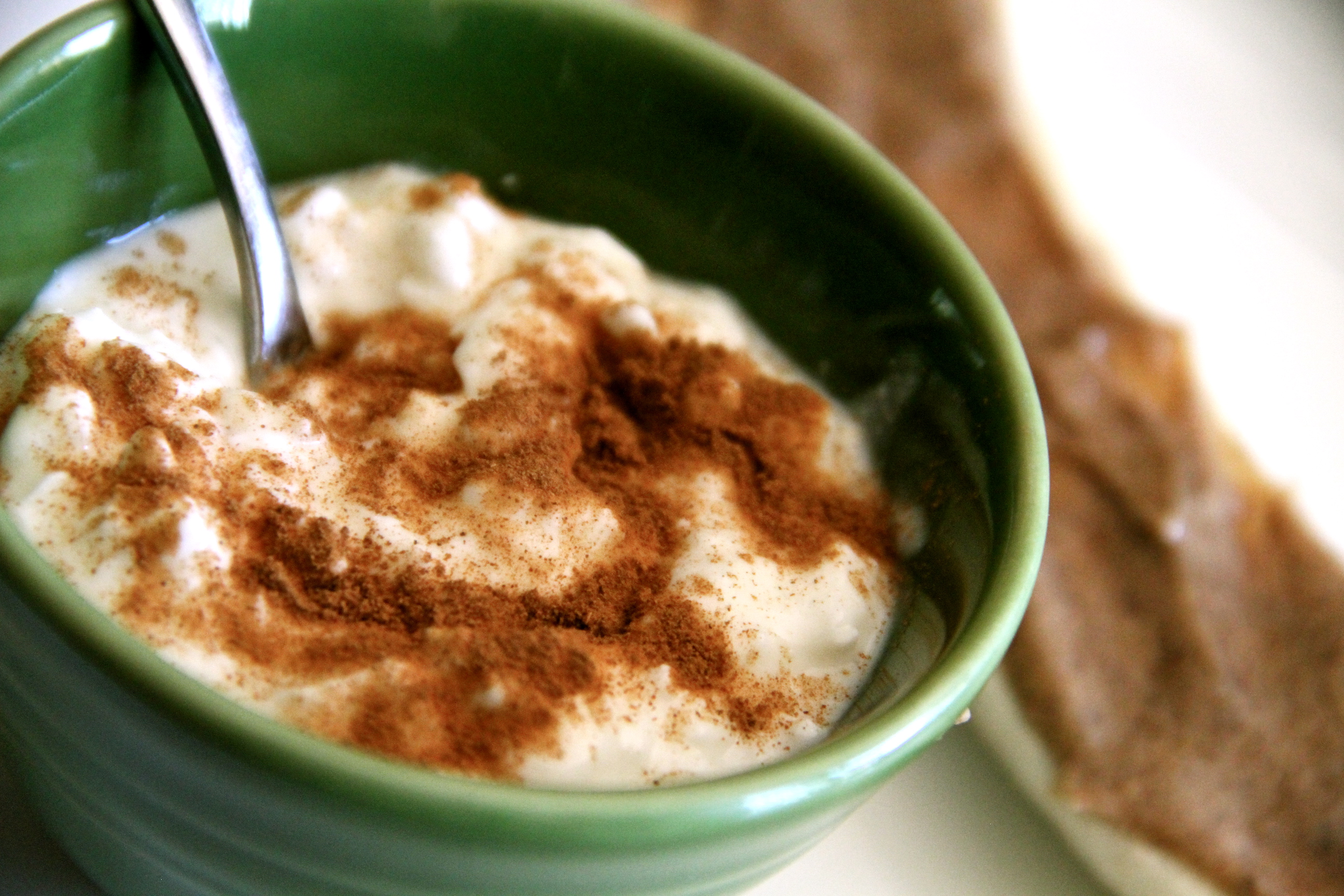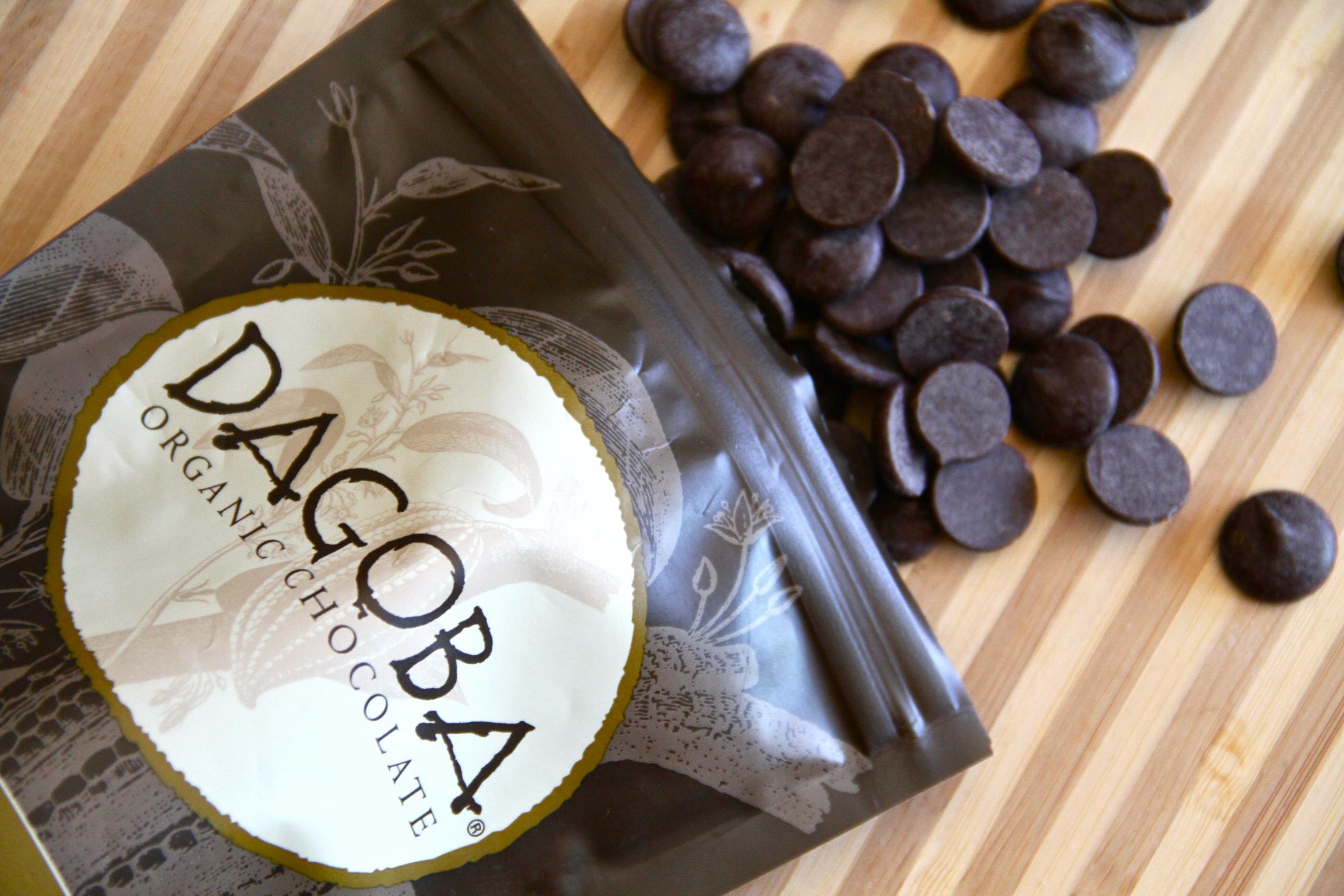 Cottage cheese with cinnamon, the other half of this morning's banana with almond butter, and a small handful of dark chocolate chips… best pre-workout snack ever.
… and kicked some serious butt in the weight room. Yesterday's rest day must have really paid off (or my pre-workout snack was just THAT good), because I dominated those dumbbells during today's strength session. I was totally in the zone, and felt like I could have gone longer and harder, but I decided not to push my luck, did my usual routine, and came home to refuel…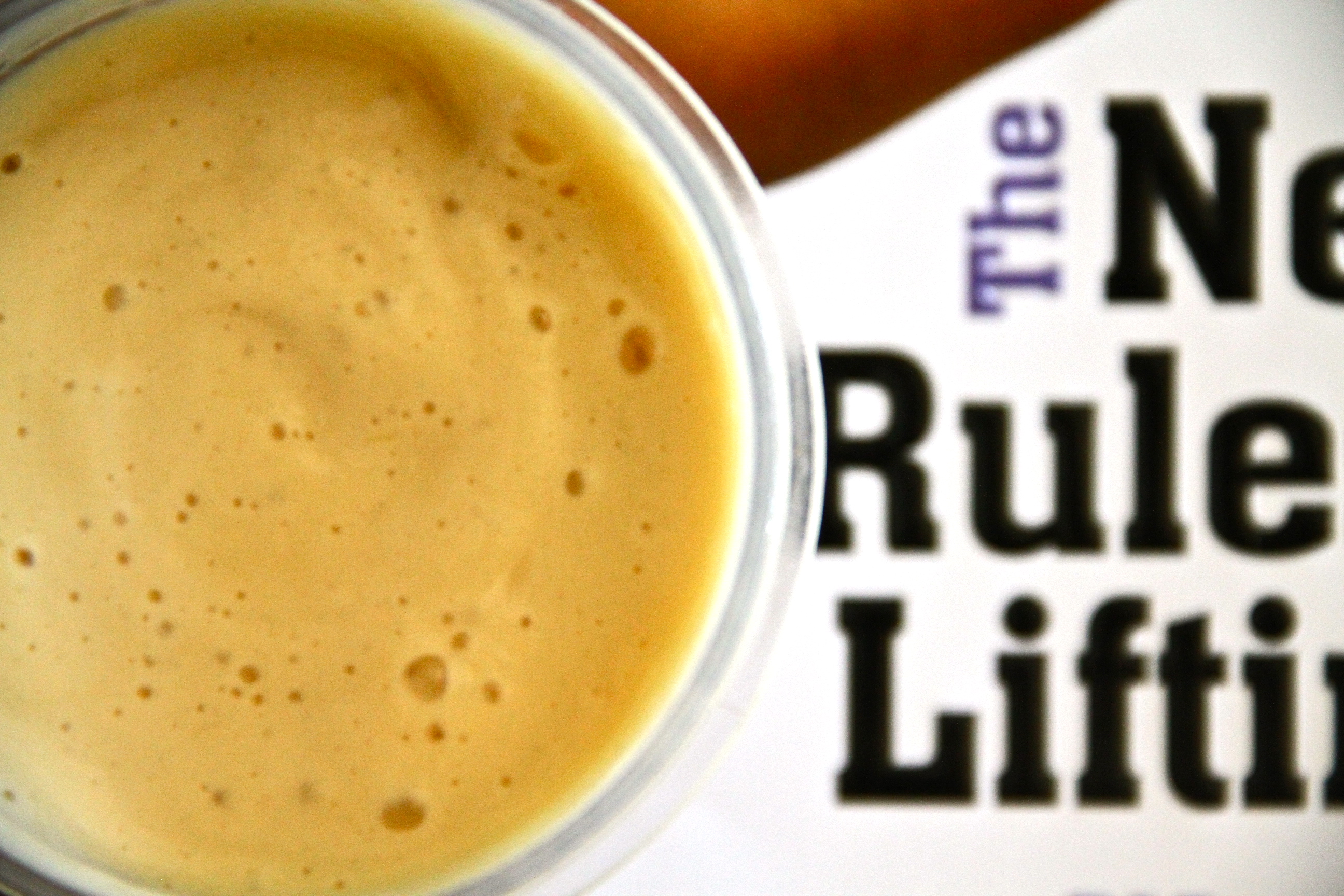 Mango tofu protein pudding
… and have lunch…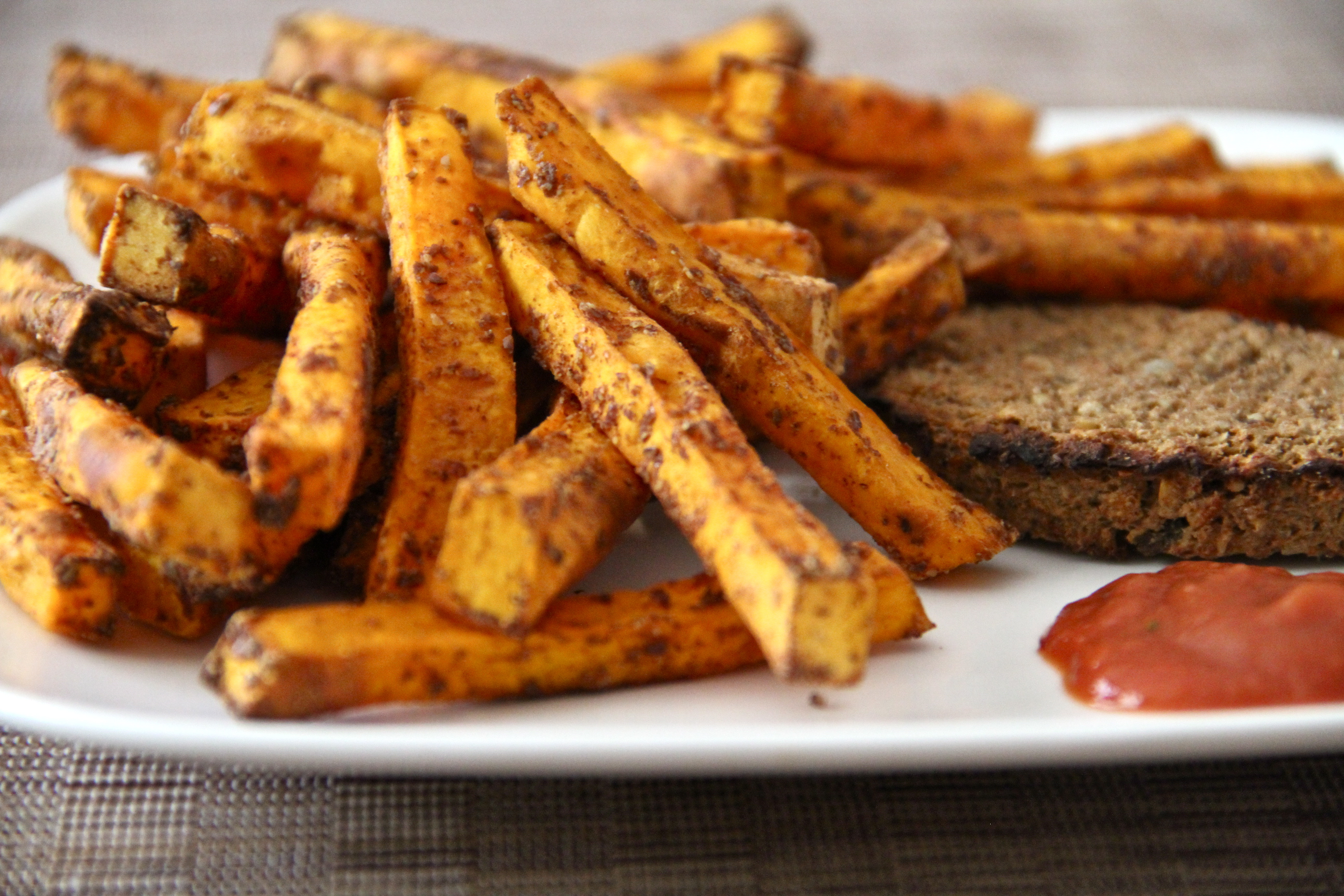 Baked sweet potato fries, Amy's Texas Burger, ke-choop, salad beast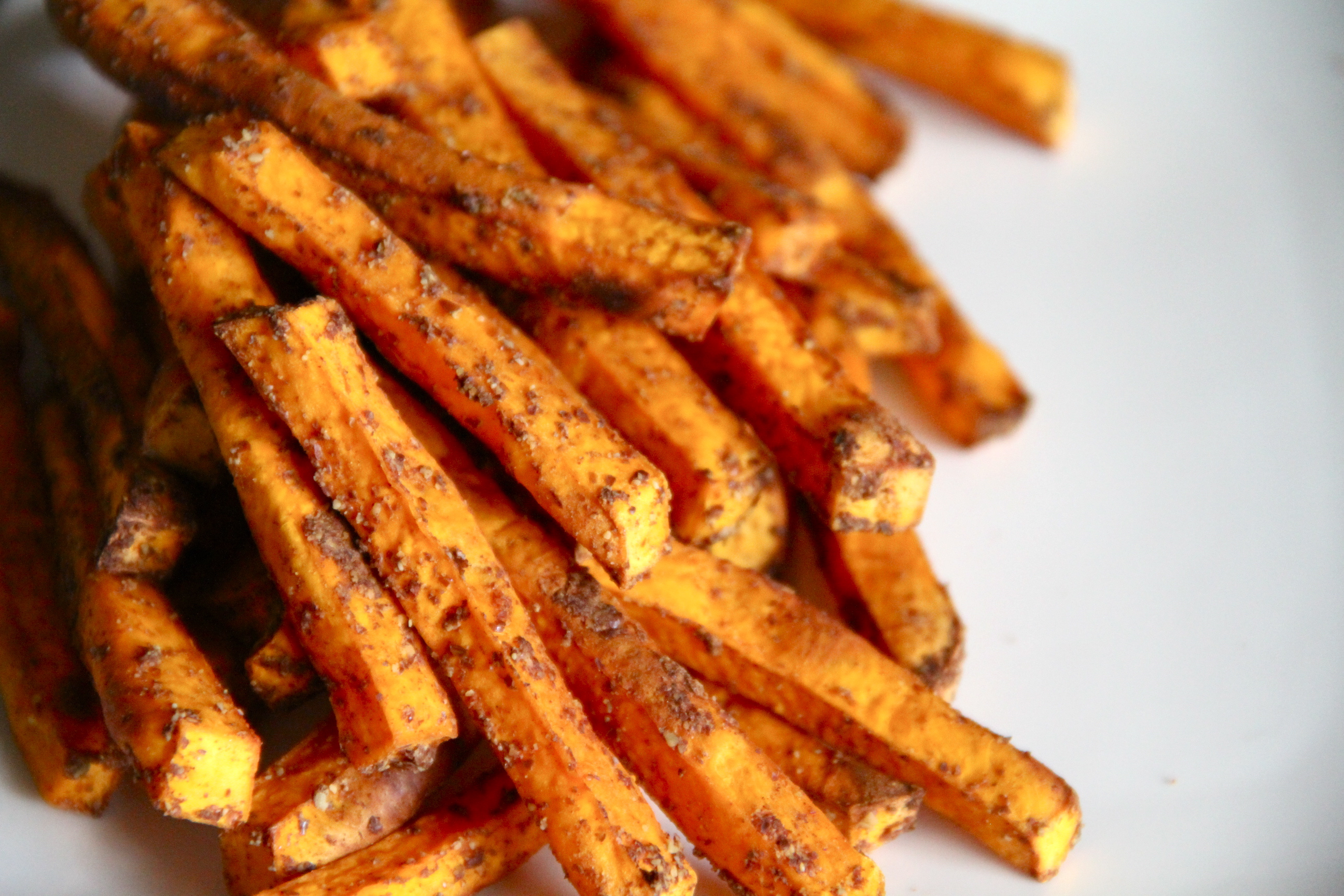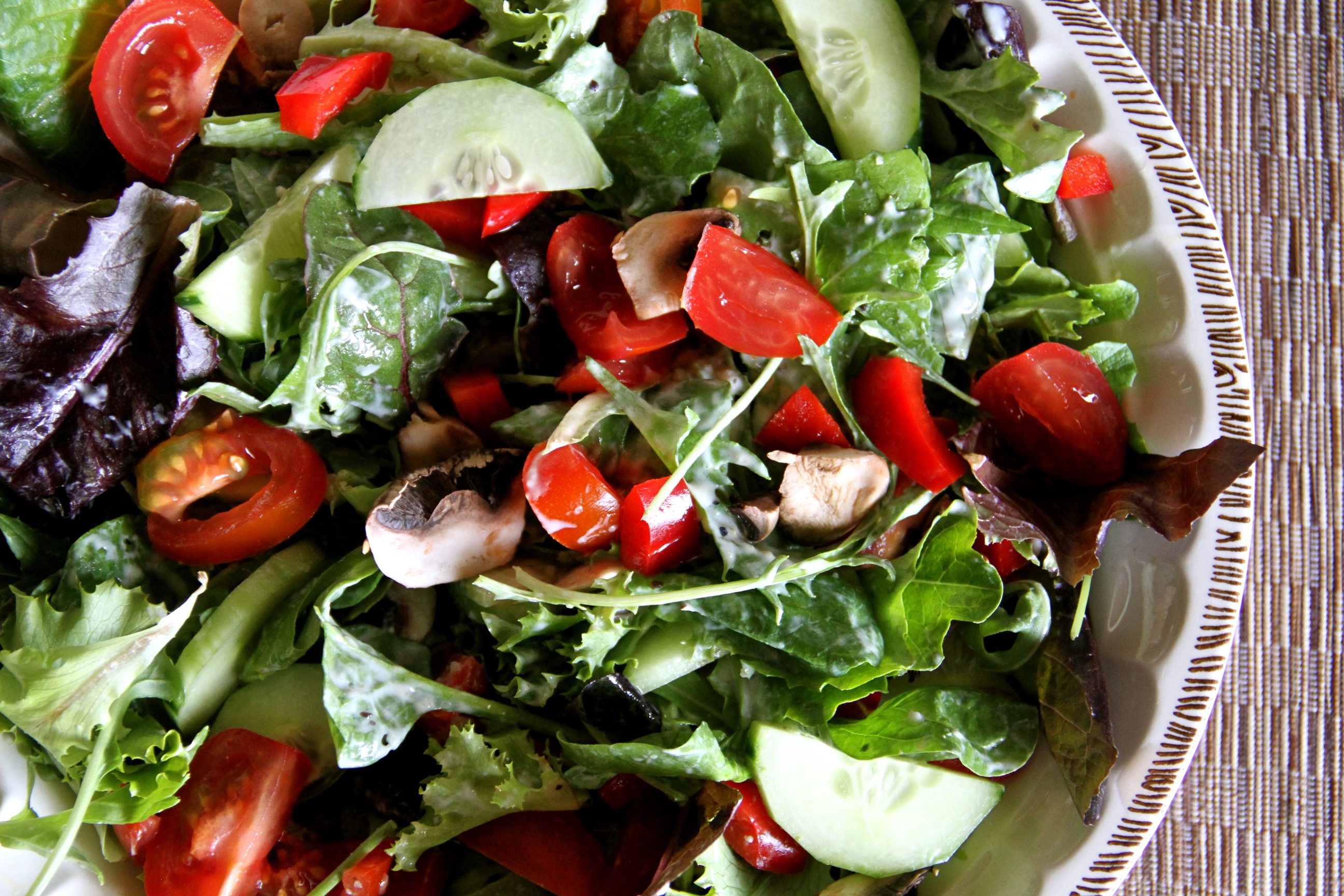 … and bask in the sun, tidy up the house, whip up a snack…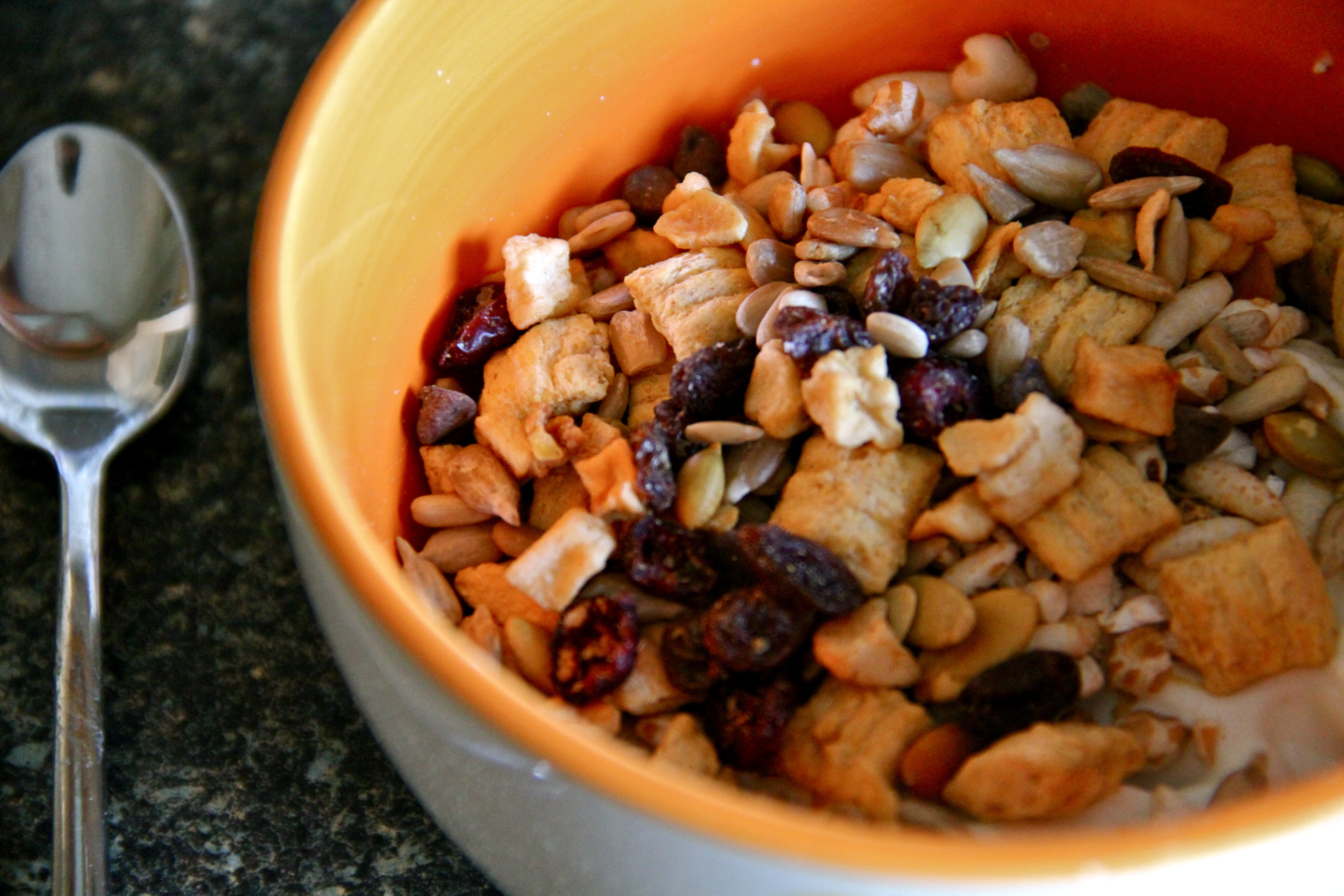 Greek yogurt, trail mix, Kashi Honey Sunshine, puffed wheat
… stalk blogs, tidy up some more, whip up a delicious dinner…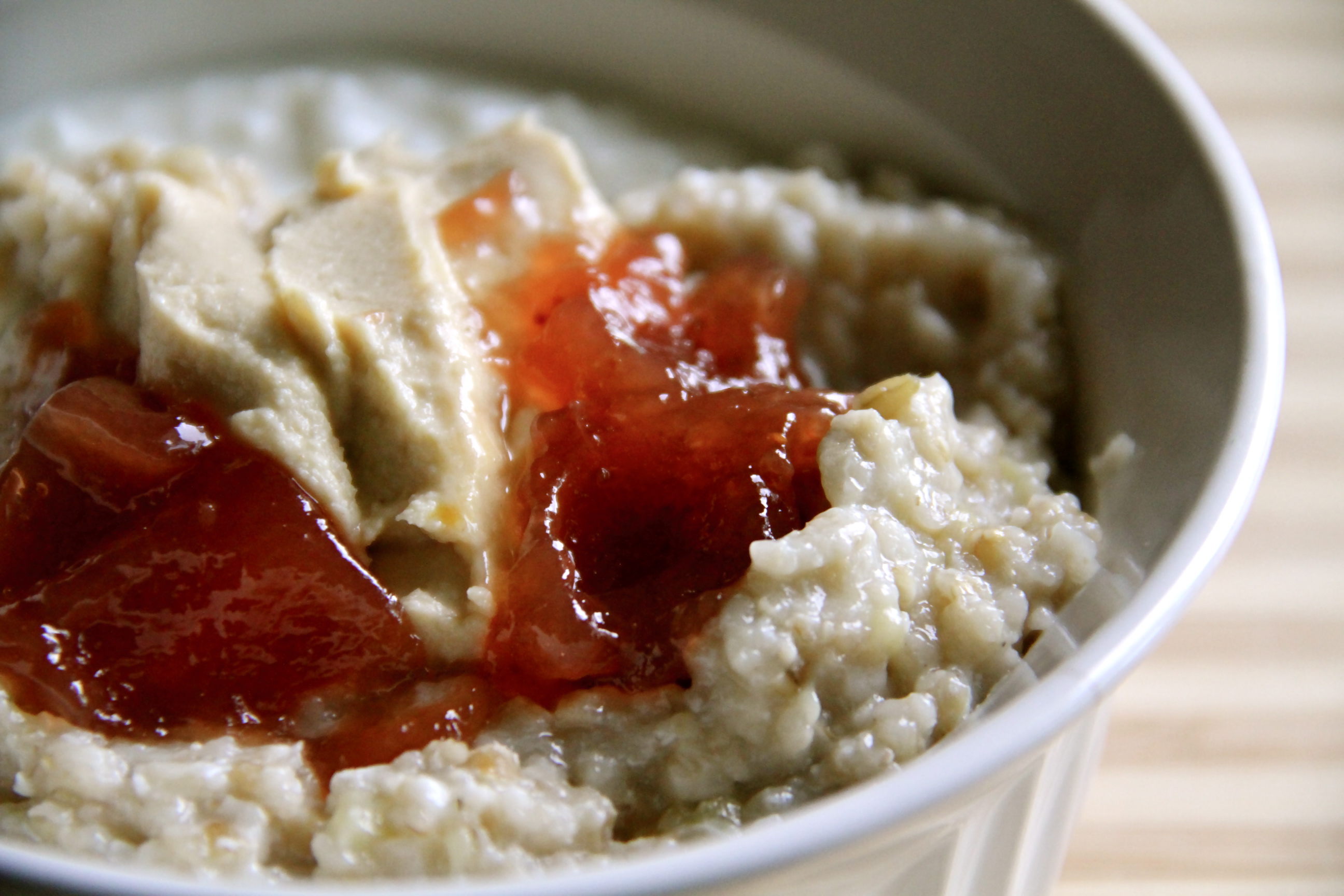 Sweet and savory oats with hummus and strawberry jam
… aaaaaand now I'll probably curl up on the couch with my laptop and a cup of tea, enjoy listening to the storm outside, blog stalk some more, and grab another snack before calling it a night.
I'm thinking popcorn with coconut oil and cinnamon.
I hope you guys all had a wonderful day, and thank you again for all of your support and well-wishes. I'm feeling much better today, but I might take another day off running tomorrow just to be sure. I'll see how it goes and let you know 😀
. – . – . – .
Have you ever gotten out of bed to grab a snack when you couldn't sleep?
Do you have trouble eating in the evening or at certain times of the day?