It's never an easy thing to transition back into normalcy after being impacted by tragedy. What happened in Boston made for a somber couple of days, and while I'm still dealing with a heavy heart and some lingering sadness, life has to go on…
It's funny. If it weren't for the blog world, the tragic events of Boston wouldn't have impacted me so profoundly. Outside of Twitter, Facebook, and Google Reader, I didn't come across anyone who so much as mentioned Boston; and when I brought it up, many people didn't even know. I mentioned before that I sometimes feel like I'm living in two different worlds, and the last two days really made that distinction more apparent. While the blog world mourned, the rest of my world carried on with business as usual… and I guess it's time for the blog world to follow suit, which means that today is all about the food with WIAW. Oh, and if you have a minute, hop on over and give Jenn a few kind words – she lost one of her beloved fur babies and could use a little bit of extra love.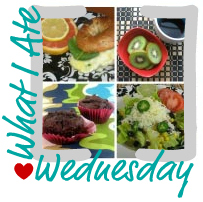 These are actually most of my eats from Monday – a day where my appetite was absolutely insane. I think I may have to go back to Monday's post and add "food" to my Happy List, because daaaaaaang… the days where my stomach feels like a bottomless pit really remind me how much my mood depends on how well fed I am…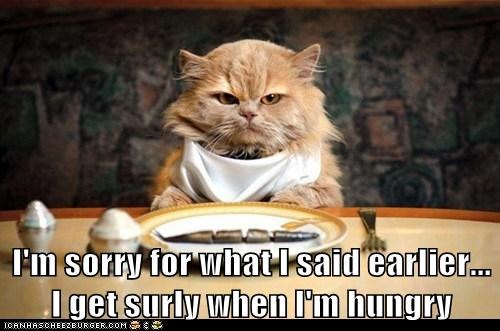 I blame snowboarding and travelling… My stomach has a tendency to wonk up when I travel, causing my appetite to swing back and forth between two extremes: stuffed and starving. I found it a little hard to eat for a big part of the weekend, which meant that I've been playing catch up for the past couple of days…
Breakfast…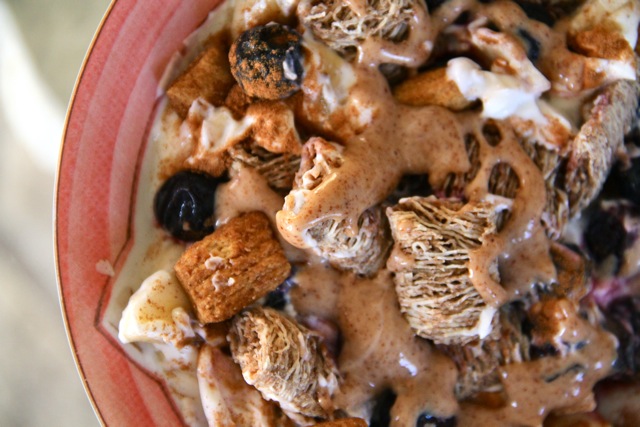 A yogurt mess made with: plain Greek Yogurt, sliced banana, frozen blueberries, Kashi Cinnamon Harvest, cinnamon Puffins, roasted almond butter, and extra cinnamon.
Mid-Morning…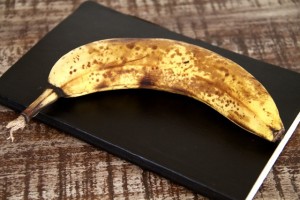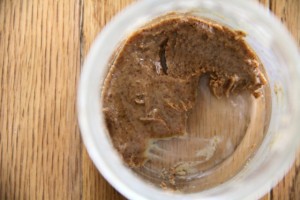 Best snack in the world: bananas and almond butter. Was missing some chocolate though…
Lunch…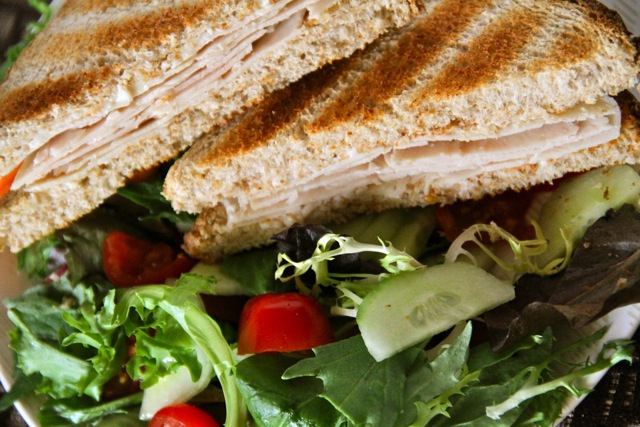 Turkey and hummus sandwich on toasted whole wheat bread – random veggies on the side.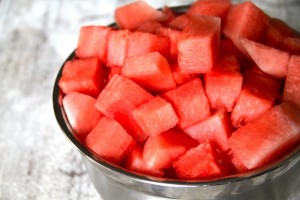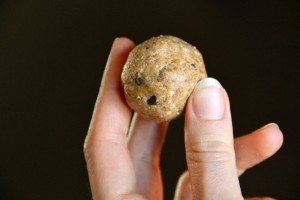 Dessert was a reasonable amount of watermelon and a chocolate chip cookie dough ball.
Afternoon…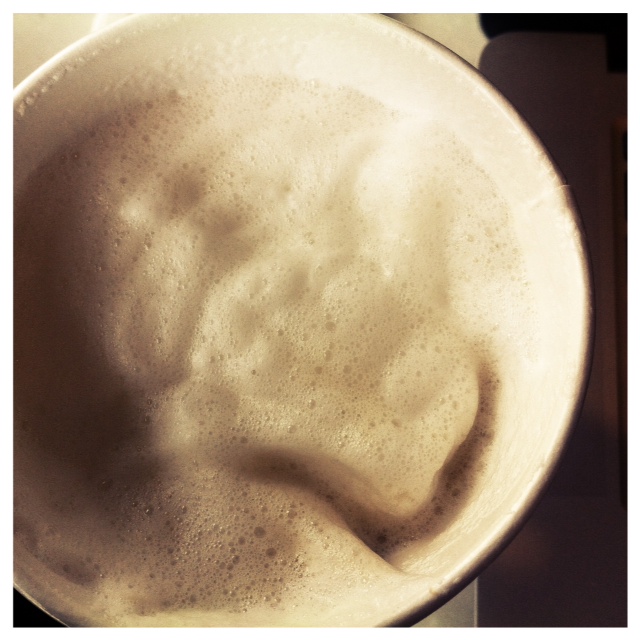 Deliciously foamy cappuccino from Starbucks.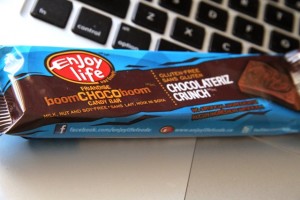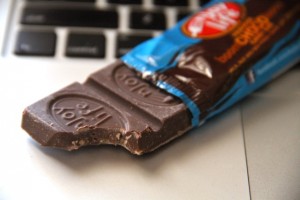 Enjoy Life chocolate crunch bar. This one had little bits of crispy rice cereal in it – big fan.
Dinner…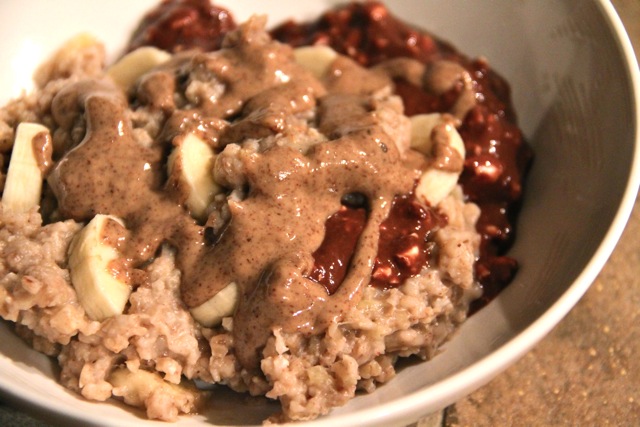 It was a breakfast for dinner kind of night… Eggy bananafied oats with chocolate-spiked cottage cheese and almond butter.
Evening…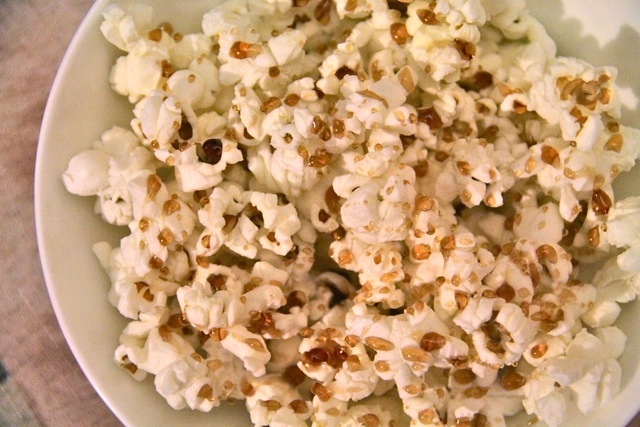 A big bowl of popcorn drizzled with coconut oil and honey – eaten while watching Breaking Dawn part 2. And just when I thought I was done for the night, I had to go back forrrr….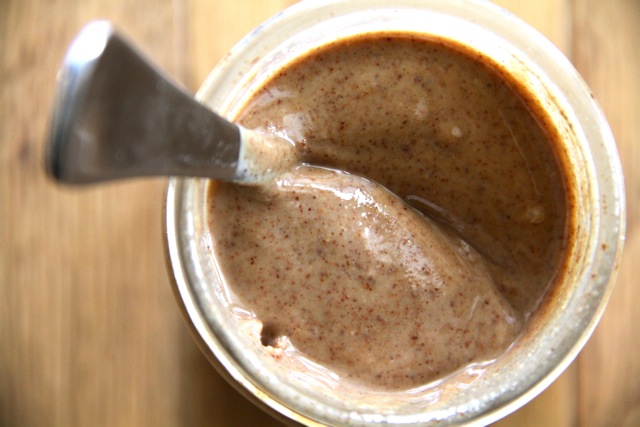 … a few more licks of almond butter. There's no way I can fall asleep when I'm hungry, and I'd rather not be up all night, thank you much.
. – . – . – .
So that basically covers it. Unpictured are the multiple handfuls of random things I snacked on throughout the whole day – cereal, fruit, chicken, Popchips… I stayed pretty much within three feet of my kitchen for the entire day, and, thankfully, managed to make it through without chewing off any limbs. I felt like I was basically eating all.the.time, which is something that would have taken a pretty big mental toll on me in the past, but doesn't really phase me anymore.
There are days when I undereat and there are days when I eat more to compensate. This is something that would have never happened back when I used to meticulously plan my meals to make sure I was eating the same exact amount every day, but it's a pretty common occurrence now that I no longer track my calories and macros. At first I thought it might be a problem but it all seems to balance out in the end.
Happy Wednesday, friends!
. – . – . – .
Are you a 'handful snacker' too? What are your favorite things to grab?
Do you go through days of undereating and compensating? Or do you try to make sure you eat the same amount daily?
What's your favorite breakfast for dinner meal?