Hey, hey, hey! Happy Wednesday!
Or should I say happy [What I Ate] Wednesday? It's been a couple of weeks since I last talked food with you guys, and I'm looking forward to sharing some delicious eats so let's skip over the fancy-shmancy intros and go straight to the good stuff, mmmmkay?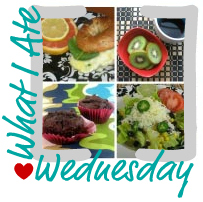 This week, we're starting from the end and work our way back. Why? Because I'm writing this on Tuesday night and having a hard time remembering what I did on Tuesday morning, so hopefully the process will jog my memory. Aaaaaand go.
Last thingI ate — an evening snack of cereal, plain Greek yogurt, and frozen berries.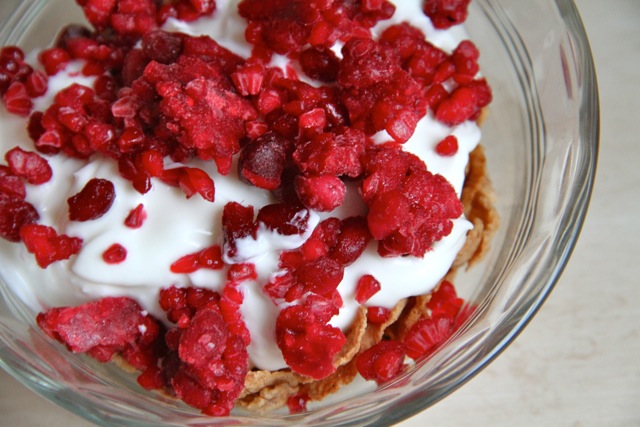 I don't know why I buy mixed berries when I don't even like half the fruit in there. This mix had cherries, blueberries, and strawberries at some point, but I picked out all the good stuff and was left with a bag of raspberries and pomegranate arils, which made for a sourer and crunchier snack than I would have liked.
It actually reminds me of the relationship I had with Lucky Charms as a kid — I'd pick out all the marshmallows and be left with a box of plain cereal, which I didn't care for but had to eat anyways because Mom wouldn't let me have another box otherwise… And even though there are no more rules saying I have to finish what I like to call the bottom-of-the-bag-baddies, I still feel bad for wasting food.
But I don't feel bad for enjoying breakfast for dinner!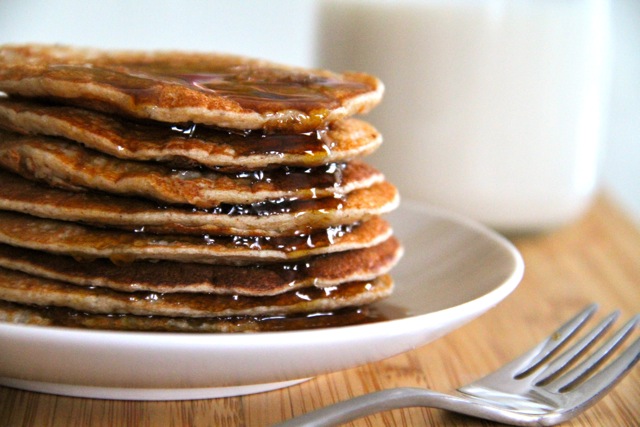 Greek yogurt banana oat pancakes — recipe coming soon!
I have a strange relationship with pancakes. I like them, but not for breakfast. The reason being that they require far more effort than I'm willing to put in at 6 AM. Oatmeal is easy… toss it in the pot with some water and walk away — it does its thing on its own. But pancakes? Pancakes need to be mixed, poured, monitored, and flipped… and the process becomes even more stressful when your pancake flipping skills are as sub-par as mine. I literally stand there with a white-knuckled grip on my spatula, constantly repeating "Not yet. Nooooooot yet. Wait for it. WAIT." Like I said… not the most peaceful way to start the day. Pancakes for dinner, though? That I can do.
For breakfast, there's oatmeal…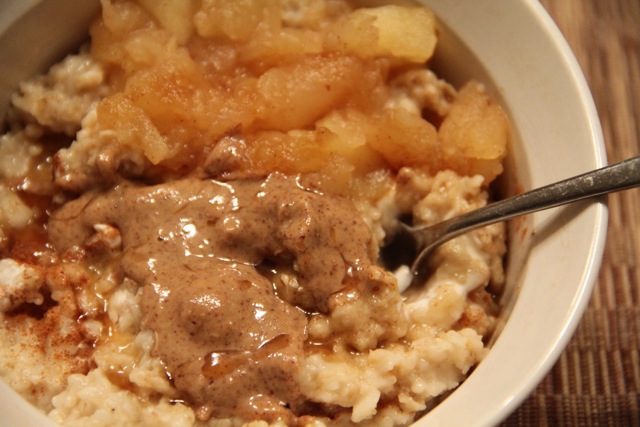 Eggy bananafied oatmeal layered with plain Greek yogurt and topped with roasted almond butter, honey, and homemade applesauce to be more exact. And yes, I realize that I just completely messed up the chronology of going from finish to start, but this is how my brain works — I'm just along for the ride. And since we're back at the beginning, let's just keep going from there.
After breakfast came a morning snack…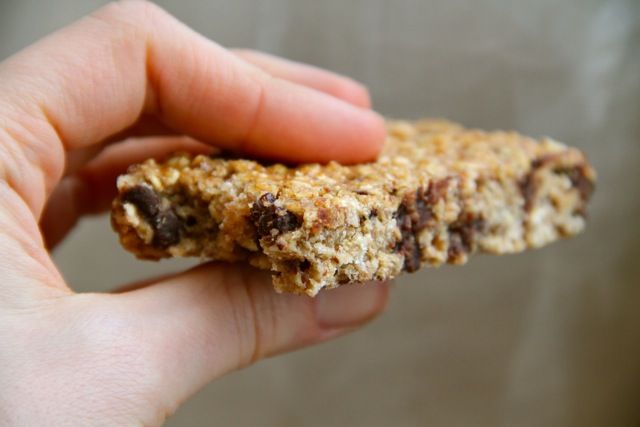 Soft and Chewy Protein Granola Bar
… which tastes even better on the second day. The oats get softer, the bar gets chewier… gah! I went to heaven at 10 AM… aaaaand promptly came back to earth at 10:05 to study until it was time for lunch…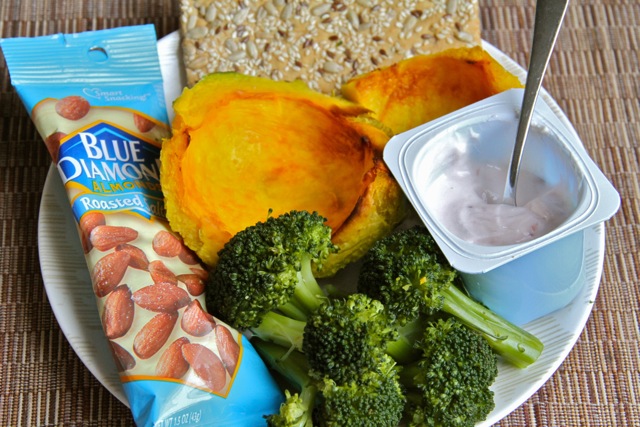 Nothing to see here, folks…. just a snack plate consisting of a Dr. Kracker flatbread, roasted almonds, strawberry yogurt, roasted kabocha, and broccoli. Random, but good. Lunch and I don't really get along, but at least we've learned to be cordial with each other. I like it far better when it consists of a snack plate, but let's not kid ourselves… I've really got my eyes set on the afternoon prize…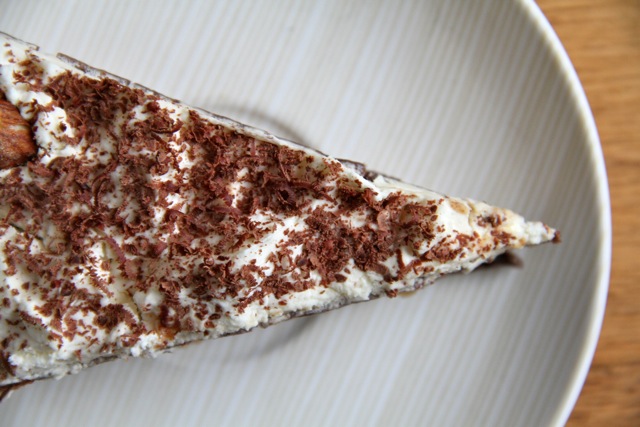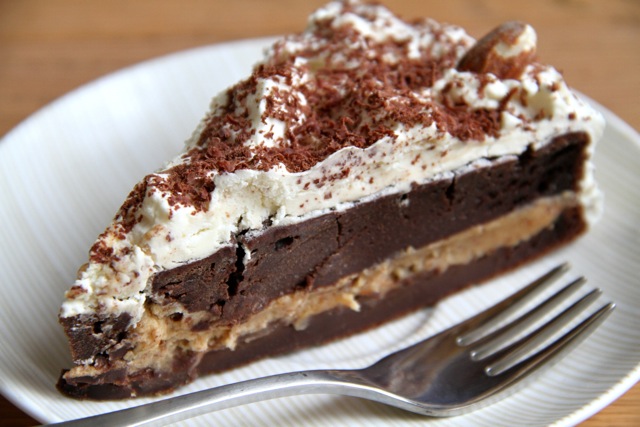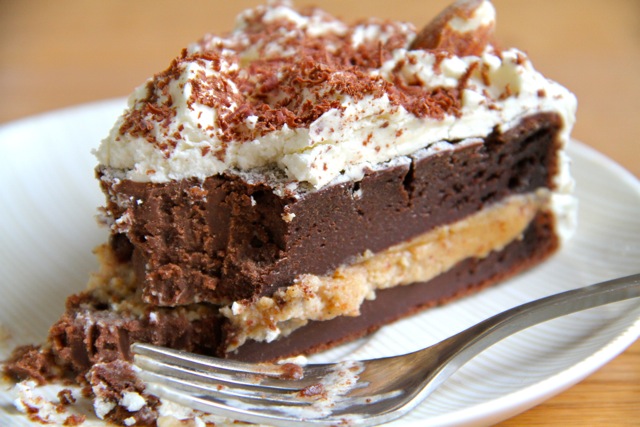 Birthdays mean leftover birthday cake, and leftover birthday cake means happiness. Sorry for assaulting you with the cake pics, but the only picture I posted didn't even come close to doing this cake justice, so I had to have a mini photoshoot with it when the lighting was better.
And because I like to end things on a sweet note, we're going to end it here. Wishing you a wonderful Wednesday, and I'll see you tomorrow for Thinking Out Loud!

What do you usually have for breakfast? Oats? Cereal? Eggs? Pancakes?
What are your favourite pancake toppings? Maple syrup, always and forever.
What did you have for dinner last night?