Yesterday.was.nuts. Almonds… not peanuts 😉
I know I said I was looking forward to getting back into a normal routine after the holidays, but yesterday was not normal — either that or I lost some of my work-related fitness after taking a few weeks off for Christmas vacation. Should have been doing [number] crunches or something. Dang. But I digress.
I feel like it's been forever since I've posted a recipe here on Spoons, and that's probably because… well… it has been [what feels like] forever. The last one was the holiday cookie energy bites that I posted waaaaaay before Christmas, so I'm well overdue for another — especially since my goal this year is to share more recipes. So… here's one for granola bars! (how's that for an intro? 😉 )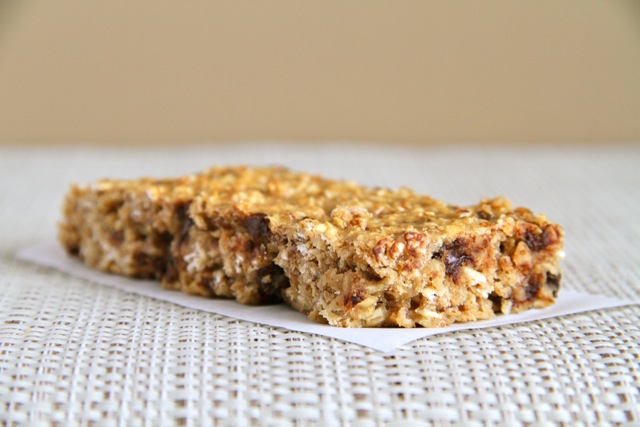 And because that picture makes them look kind of puny and insignificant, here are some better ones…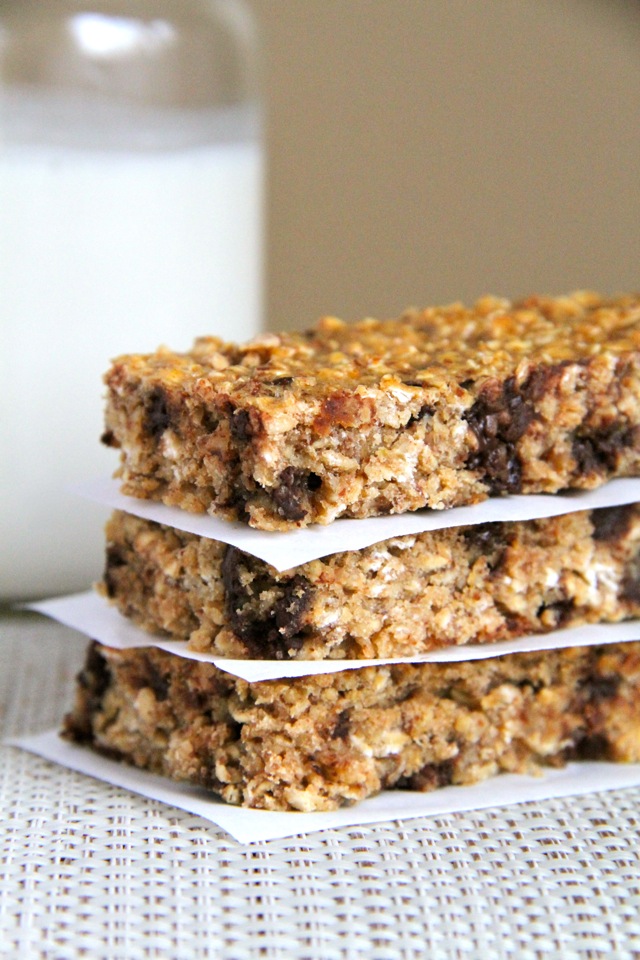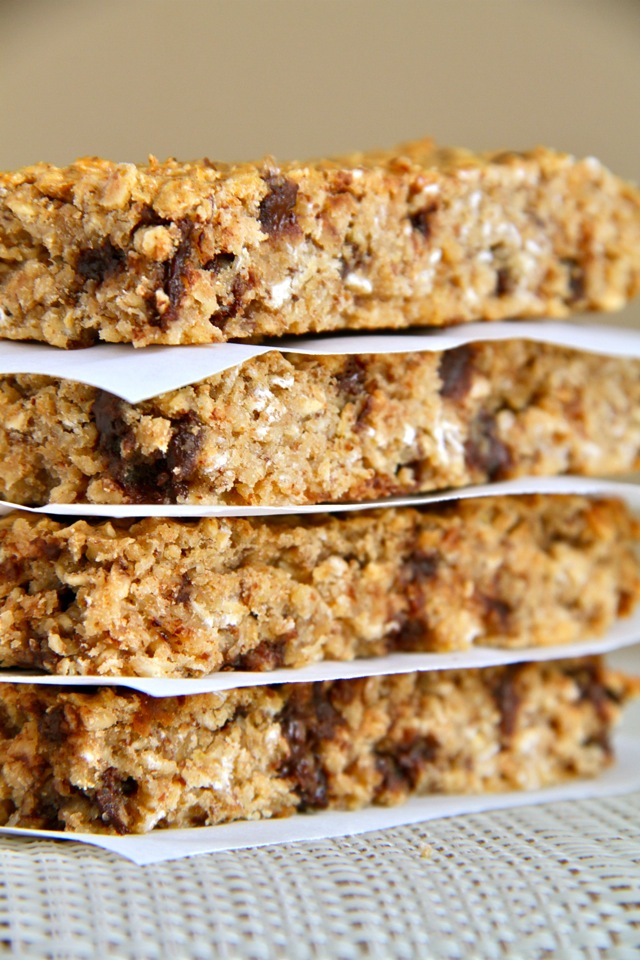 Now that's what I'm talkin' about… It almost looks like those one of those fancy glamour shots they take of McDonalds' Big Macs… Except that when you make these, they actually come out looking like they do in the picture, and not like that sorry excuse for meat, lettuce, and bread that they throw at you and try to pass off as a burger. But I digress.
I'm picky when it comes to my granola bars, and it pains me to say that none of the pre-packaged ones have been able to live up to my standards. Okay, that's not even close to being true. The reality of the matter is that it pains me to say that I have no idea whether or not the pre-packaged bars would live up to my standards because I can't eat 99.99% of them — let's just say that "may contain traces of peanuts" is definitely up there on my list of phrases I hate to hear the most. But, again, I digress. The point is… what? (brain fart). AH! The point is, if I want a bar, I have to make a bar; and when I make a bar, it has to be juuuuuuuuust right.
This means: soft, chewy, dense, chocolatey, nutritious, and filling. In other words, these: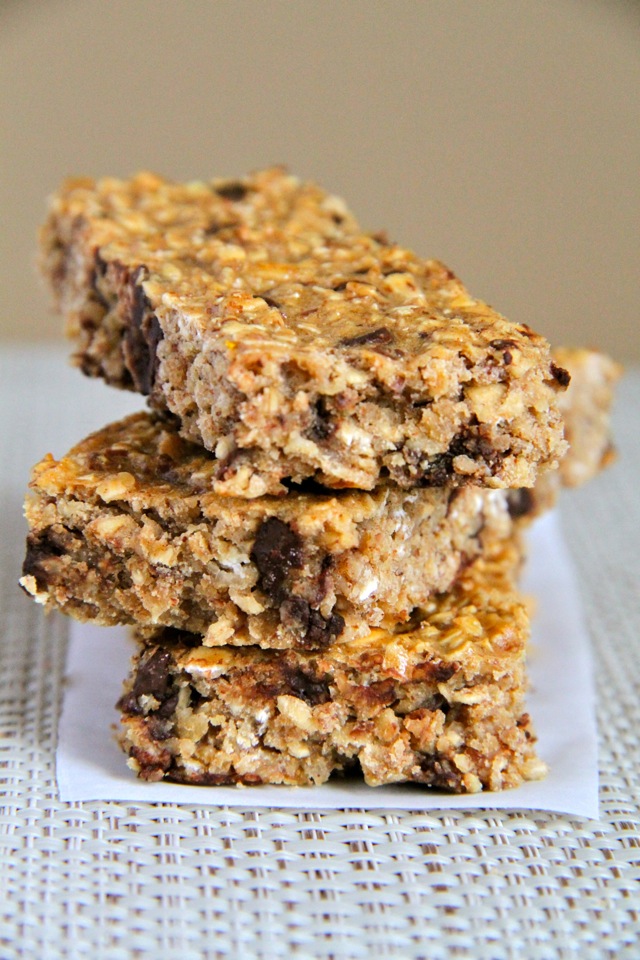 I'd love to know if you make this (or any!) recipe! Tag @runwithspoons on Instagram and Twitter, and be sure to subscribe to our mailing list to receive more healthy and delicious recipes straight to your inbox!
Print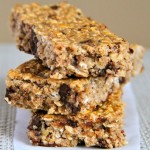 Soft and Chewy Protein Granola Bars
---
Author:

Total Time:

30 mins

Yield:

12

bars

1

x
2 cups

(

160 g

) quick oats

1/2 cup

(

40 g

) vanilla protein powder

2 Tbsp

(

14 g

) ground flax

1 tsp

ground cinnamon

1/4 tsp

salt

1/4 cup

(

64 g

) almond butter (or any nut butter)

1/4 cup

(

80 g

) honey, or brown rice syrup if vegan

1/2 cup

(

120

ml) unsweetened vanilla almond milk

1 tsp

vanilla extract

1/3 cup

(

60 g

) mini chocolate chips (dairy-free if vegan)
---
Instructions
Preheat oven to 350F (175C) and prepare an 8×8 (20x20cm) baking pan by spraying it with cooking spray. Set aside.
In a large mixing bowl, combine oats, protein powder, flax, cinnamon, and salt. Set aside.
In a medium-sized mixing bowl, combine almond butter, honey, almond milk, and vanilla. Mix until fully combined. Pour wet mix into dry mix and stir until fully incorporated. Fold in chocolate chips.
Pour into prepared baking pan. Using a spatula or your hands, spread the mixture evenly in the pan, pressing down firmly.
Bake for 18-20 minutes, until edges begin to turn golden brown.
Remove from oven and let cool in pan for 20 minutes before cutting into bars.
Prep Time:

10 mins

Cook Time:

20 mins
Keywords: baking, bar, granola bar, healthy, homemade, protein, recipe, snack
Click here for nutrition facts.

Bars are one of my favourite snacks because of how portable and filling they are. I'm sure there are a lot of great storebought bars out there, but for those of us who have allergies, or who are looking to save some money, homemade bars are the way to go — not only are they a breeze to whip up, but you can customize them to your heart's content… Not feeling chocolate? Toss in some raisins, dates, or dried cranberries instead. Need a little extra oompf? Add some nuts, seeds, or coconut shreds. The possibilities are endless, and the results are delicious.
Enjoy your Tuesday, friends! And don't forget to start Thinking Out Loud 😀