Oh hi there! 😀
In case you were wondering where I disappeared to yesterday, I'll just briefly say that I needed to take a blogging sick-day. I got hit with some crazy stomach pains on Monday night that left me curled up in a fetal position for most of the evening – not exactly the most ideal condition when it comes to writing a blog post.

So I took the day off and nursed my still-sensitive stomach back to an acceptable level of health. The only problem is that today is What I Ate Wednesday, and seeing as I spent most of yesterday eating pretty much nothing but plain oatmeal, buttered toast, dry cereal, and white rice, I don't exactly have the most interesting of spreads to share with you guys. BUT! I've figured out a way around that…
Everyone loves a theme!
When I look at how much my diet has evolved over the past couple of years, I can't help but notice one thing: I end up eating my words a lot. I'm sure you guys know what I'm talking about… You say you'll never do something, and then lo and behold, a few weeks/months/years later, you start doing (and enjoying) that very thing. Annoying. So, for today's WIAW, I figured it would be fun to share a few of my recent eats and eat-my-words moments with you guys, and remind you to never say never.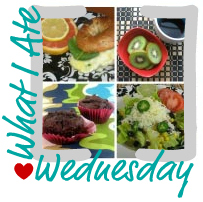 So you all know that I love my oats, but some point I became an oatmeal snob and said I would never go back to eating quick oats after falling in love with the steel cut variety…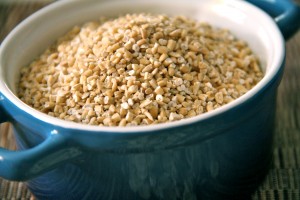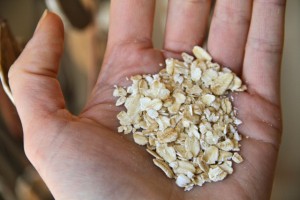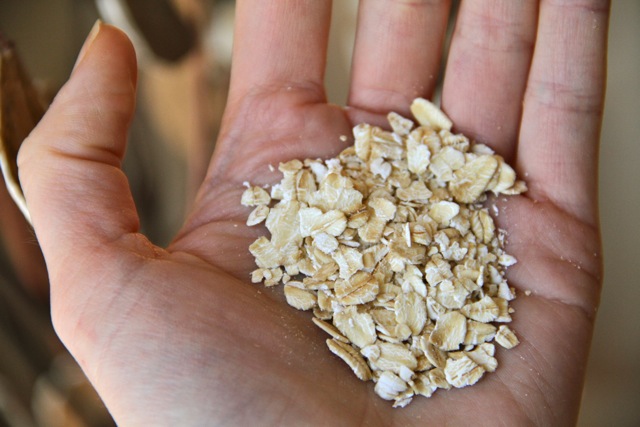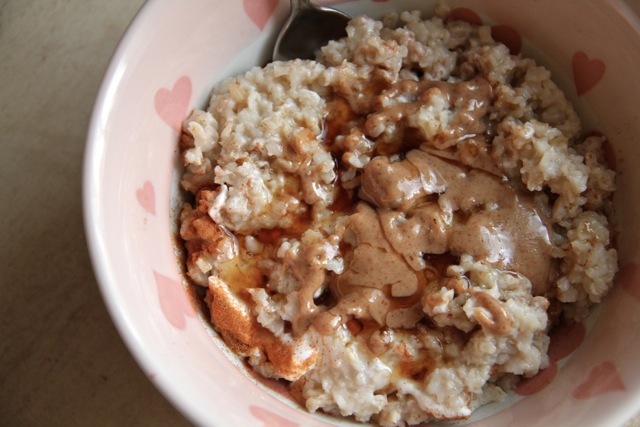 Breakfast: eggy oats with plain Greek yogurt, almond butter, honey, and cinnamon.
… when the reality is that quick oats are a lot easier for my stomach to handle. I actually gave up eating oats for about 6 months because I thought they were causing me some trouble, but [I guess] my stomach just had a harder time digesting the less-processed kind because I've been eating quick oats for months without any problems. The same applies to rice – I do much better with white than brown.
Never say never.
Waaaaay back in the day (we're talking ~10 years here), I used to think that coffee looked like sludge and tasted like tar. I boggled at the idea that people actually liked it and said I would never enjoy it myself…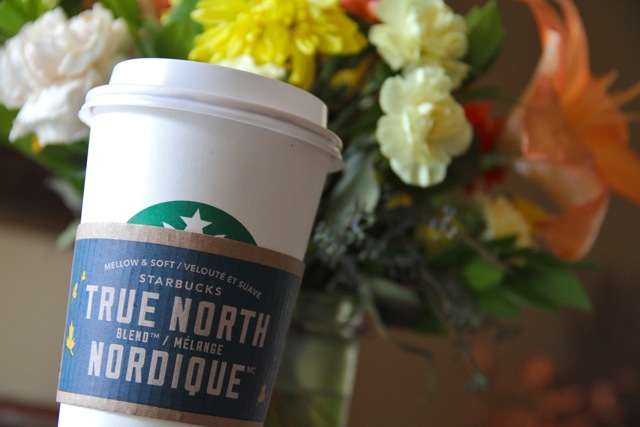 Morning coffee: dry cappuccino from Starbucks.
… and now I rarely go a day without – and when I do, it's usually because I'm having some kind of stomach trouble and don't want to aggravate things any further. I've heard coffee referred to as a "hug in a cup," and that's exactly what it is for me – liquid comfort and enjoyment. The buzz is just an added perk 😉
Never say never.
I followed a vegan diet for about a year and a vegetarian one for about 4, and during that time I told myself that I would never eat meat again…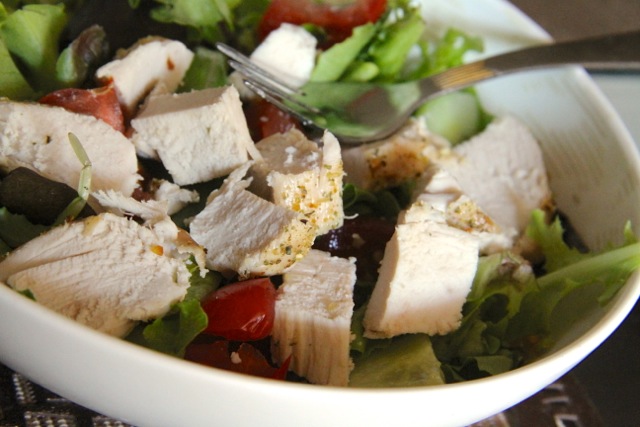 Lunch: usually includes a baked chicken salad.
… but the reality of the matter is that I feel a lot better when I include meat in my diet. This is one that I fought against for quite some time because I honestly enjoyed vegetarian cooking, but all of the beans and soy did a real number on my stomach, and the massive amounts of veggies I ate didn't help matters either. I'm not crazy about meat and don't find myself truly craving it all that often, but it does keep me feeling good.
Never say never.
After struggling with an eating disorder and being afraid of all things calorically unknown, I [thought] that I would never again be able to enjoy the sweet, doughy goodness of a freshly made bakery treat…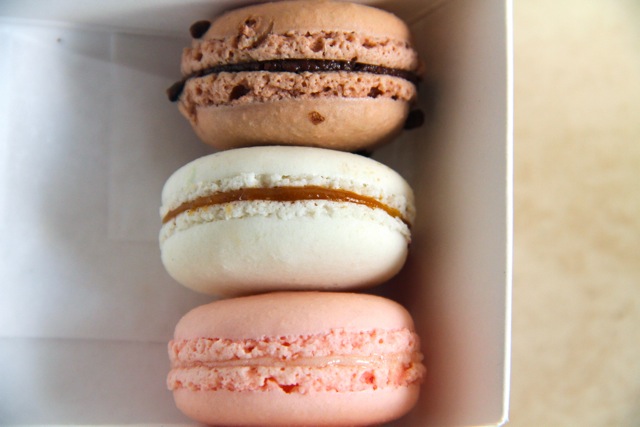 Morning delight: the dark chocolate macaron from Duchess Bake Shop. The rose and salted caramel ones were eaten on Monday afternoon.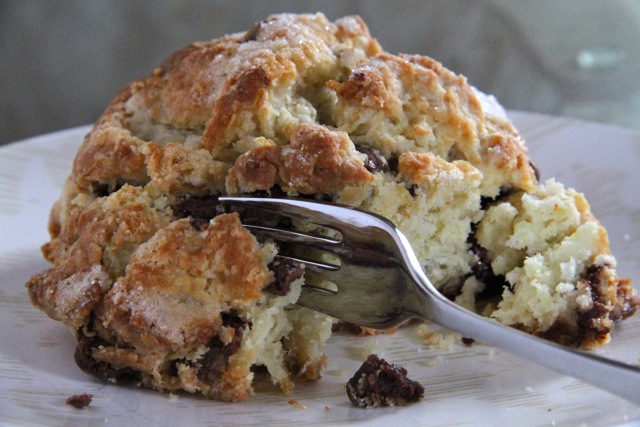 Afternoon delight: milk chocolate orange scone from Duchess Bake Shop.
… but I guess I didn't give myself enough credit because I do enjoy them very much and on a semi-regular basis. And while they're still a source of some anxiety, that's more a fear of winding up in the hospital from an allergic reaction than anything else. Eep.
Never [think] never.
With all of the controversy surrounding it, I said that I would never eat red meat, and stick to things like chicken and turkey instead…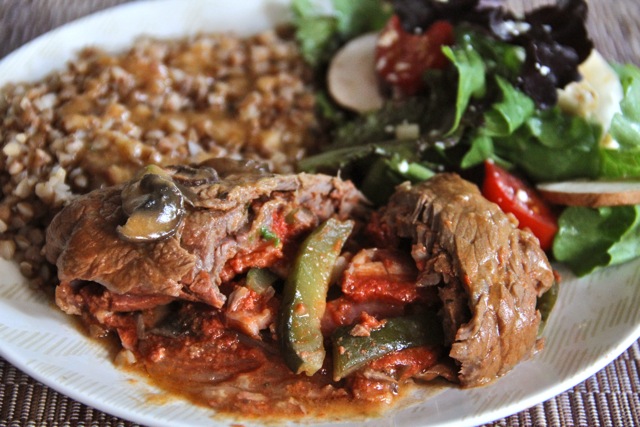 Dinner: leftover beef rouladen with buckwheat kasha and a salad.
… and now I enjoy a serving of red meat in moderation and see it as being responsible for some of the improvements in my health. What improvements? More energy (thanks to heme iron and B vitamins?), better skin/hair, and just an overall feeling of better well-being. I only eat it about once a week or less, but even that has been enough to reap some of the benefits.
Never say never.
At some point, I said that I would never eat cereal again because it did nothing to satisfy my hunger and I saw it as just being a waste of calories. And even when I started eating it again, I said I would never buy the "empty" sugar-laden kind…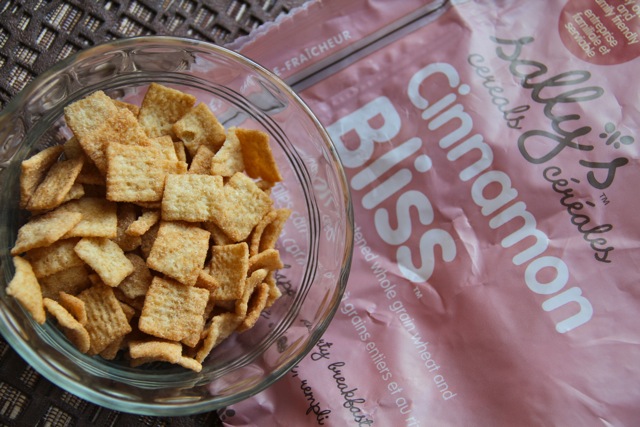 Evening snack: a few bowls of Sally's Cinnamon Bliss (aka: Cinnamon Toast Crunch)
… and… well… I'm pretty sure you guys know how that one turned out 😉
Never say never.
So there ya have it – some of the foods and words I've been eating. If there's one thing I'm trying to do, it's become more openminded about all things health, diet, and fitness related. Different things work for different people, and different things work for the same person at different times in their life. Change really is the only constant, and learning to embrace that concept and be open to experimentation plays a big role in staying healthy. I think that's part of the reason why I dislike the whole idea of labelling diets – too much restriction.
Happy Wednesday, lovely people! 😀
. – . – . – .
What's one thing you eat/do that you said you never enjoy? I'm still stubborn and say that I'll never eat fish or enjoy running, but I guess you never know… even if I don't want to admit it.
What's your favourite thing to buy at a bakery?
What is/was on the menu for dinner tonight!?