Happy Monday, friends!
Remember this dinner that I showed in one of my WIAW post a couple of weeks ago?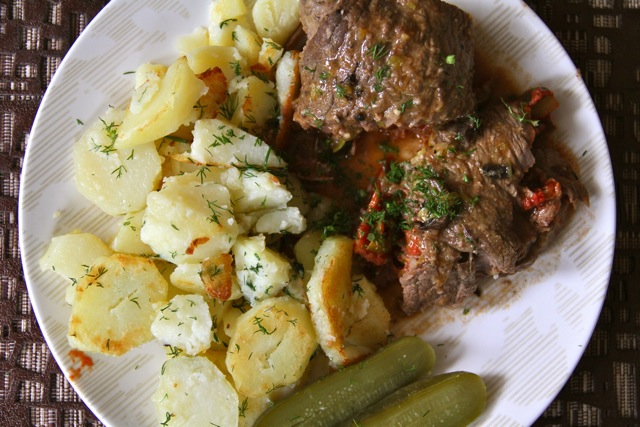 No? Don't worry – I won't hold it against you. I will, however, refresh your memory…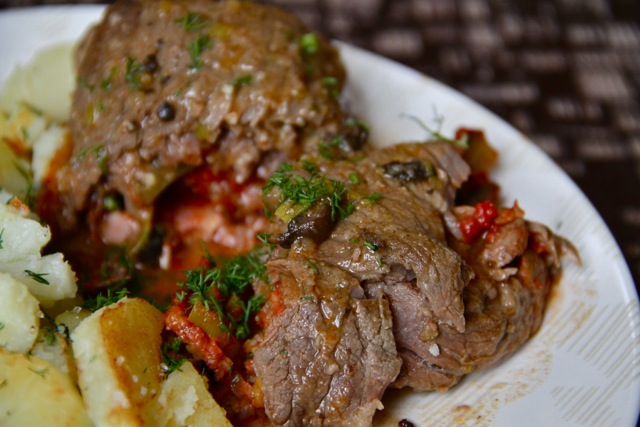 Beef rouladen. I don't eat red meat all that often, but I do include it in my diet every now and again. Why? Well, because it's a great source of protein, iron, zinc, phosphorus, magnesium, selenium, and B vitamins. Compared to chicken, beef has twice the thiamine and riboflavin, three times the iron, five times the zinc, and seven times the B12. Not bad considering:

Vitamin B-12 is needed for red blood cell formation. It is vital for the nervous and circulatory systems. Long term deficiency of vitamin B-12 can lead to brain and central nervous system damage. A lack of B12 damages the myelin sheath that surrounds and protect nerves. B12 deficiency can also lead to dementia, loss of memory, anemia, fatigue, weakness, loss of appetite and constipation.
Zinc in the body contributes to the development of bone tissue, stimulates the growth and division of cells, tissue regeneration, reproductive function and brain development. Zinc is an active agent responsible for triggering 100 internal enzymes that are required to metabolize food and nutrients.
Magnesium is necessary for the proper functioning of the brain, nervous and cardiovascular systems, bone strength, muscles, kidneys, hormone-secreting glands and the liver. It performs about 300 biochemical functions. Magnesium is a cofactor of many enzymes and enzymatic reactions, including energy metabolism, the synthesis of nucleic acids and protein. Magnesium deficiency can lead to chronic fatigue syndrome, diabetes, kidney disease, constipation, heart disease, sleep disorders, irritability, fatigue, hypertension, convulsions in children and an increased risk of cancer.
Iron is a vital mineral because it is involved in the transportation of oxygen to your cells. It is essential for hemoglobin formation and muscle function. In addition, iron is included in the antioxidant enzymes (catalase and peroxidase), which protect cells from the ravages of oxidation. Your thyroid gland and the central nervous system can not properly work without iron. Iron deficiency causes low immunity levels and anemia. Anemia leads to the reduction in hemoglobin, red blood cells and lymphocytes, which results in weakened immunity and a higher risk of infectious diseases.
[Source] – [Source] – [Source]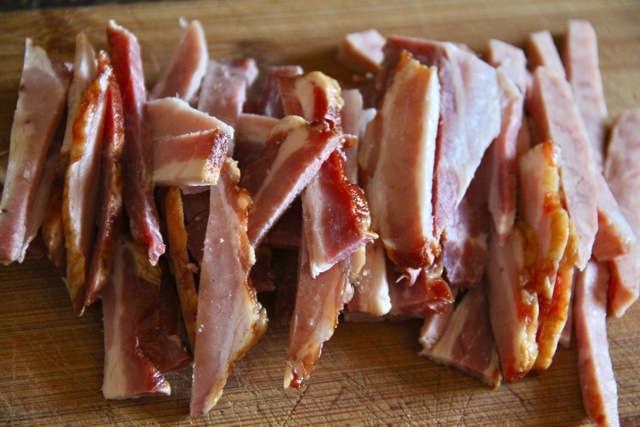 Now, I'm not suggesting you start stuffing yourself with steak and bacon on a daily basis, but neither would I suggest discounting it completely. Red meat does have its merits, and if you opt for lean cuts from well-rasied sources, enjoying it in moderation may actually be beneficial to your health. But enough talk of biology and controversy, let's get to the real meat (har har) of this post – a recipe.
This recipe is special for a few reasons. First, it's by Grandma, so you know it has to be good. Second, it's the first savoury recipe that I've posted in I-don't-know-how-long, so you know it has to be good 😉 Third, my mom got all giddy and excited when I asked her to share it with me, which I couldn't help but smile at.
I hope you enjoy!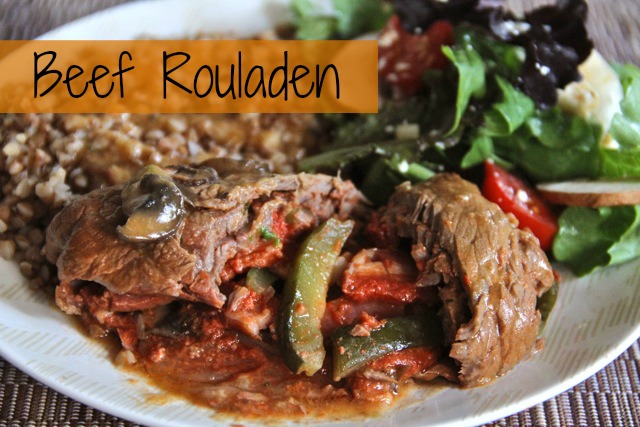 [amd-zlrecipe-recipe:3]
Pre-choppped stuffing ingredients.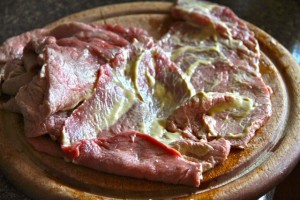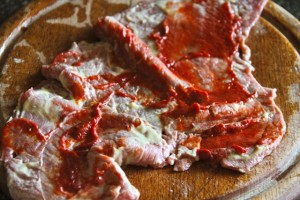 Coating with mustard and tomato paste.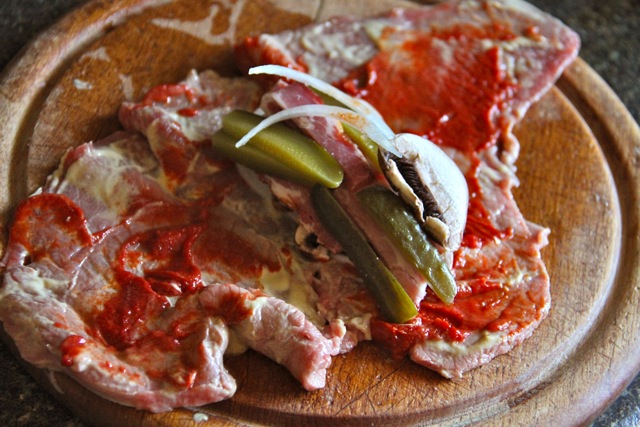 Layering the stuffing.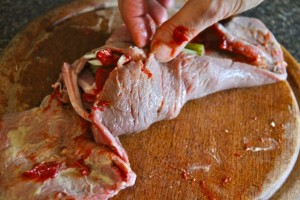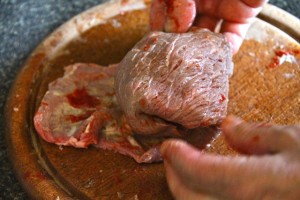 The rolling process.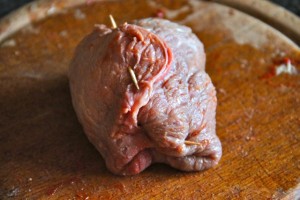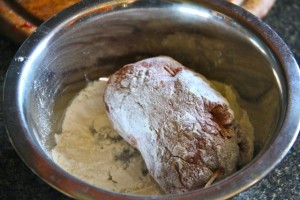 Securing with toothpicks and coating in flour.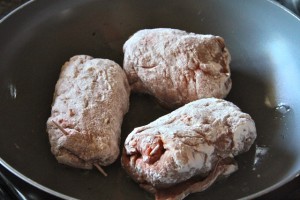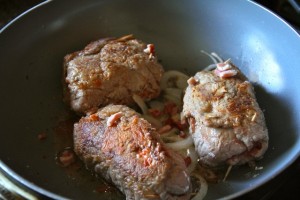 Browning the meat.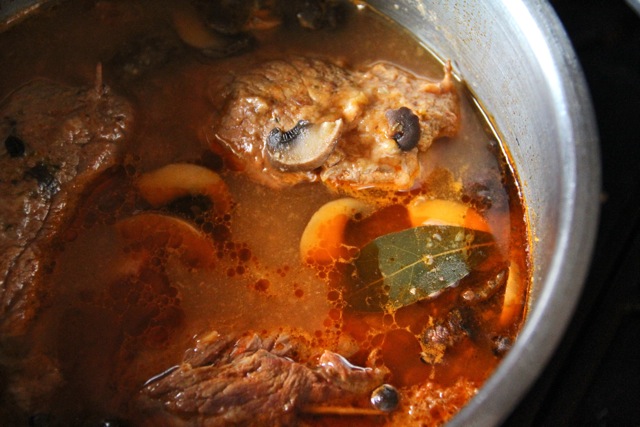 Simmering in broth.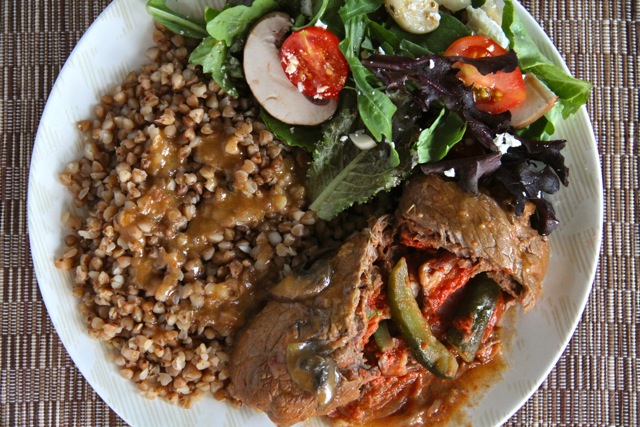 Enjoy with grains (kasha here) and greens.
. – . – . – .
What's your take on red meat? Do you eat it?
What's your favourite recipe by your mom or grandma?