Well whaddya know, it's already Wednesday.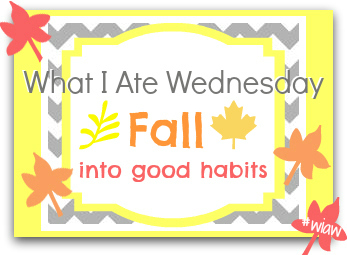 This long weekend stuff isn't half bad.
To be completely honest, I struggled quite a bit while trying to write up today's WIAW post. I sat, I thought, I paced, I picked; the words just wouldn't come, and I had no idea why. Frustrated and getting nowhere, I started thinking about this month's theme of focusing on good habits, and that's when things finally started to fall into place. See, the only good habit I could think of focusing on was doing my best to keep myself from falling back into bad ones.
Allow me to explain.
Blogging about food [and fitness] requires a certain amount of focus on food [and fitness]. You read about food, take pictures of food, write about food… you basically eat, live, and breathe food all day, every day.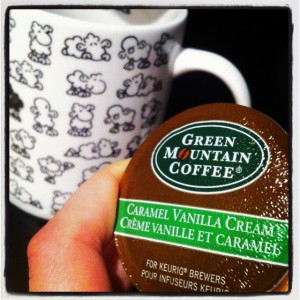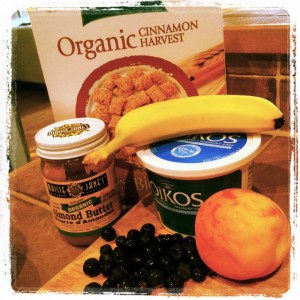 (do you follow me on Instagram? @runwithspoons)
That's all well and good; I get that food is a huge part of life and that it's a passion for a lot of people. The thing is… it really isn't one for me anymore, and I don't want it to become one again. Don't get me wrong, I still love to eat, and I get giddy when I see my favorite wraps on the shelf after they've been MIA for a couple of weeks…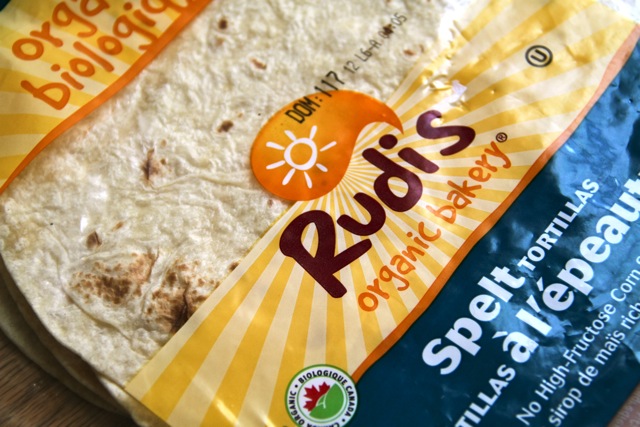 … but it no longer feels like my days revolve around food. I don't go to bed at night thinking about what I'm going to eat for breakfast in the morning. I don't constantly watch the clock to see if it's time to eat. It doesn't matter if it's 10:30 AM and I get hungry for lunch, or 11 PM and I want a snack – I'll eat it. I don't spend hours prepping meals or trying to come up with creative and exciting eats. In fact, I'd say what I eat is usually pretty basic and boring.
Take today, for example: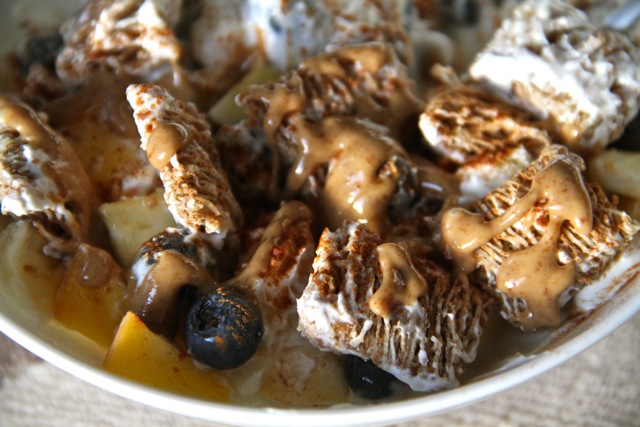 Breakfast was my typical yogurt mess made with plain 2% Greek yogurt, a nectarine, banana, and blueberries, Kashi Cinnamon Harvest, and almond butter… with an extra sprinkling of cinnamon for good measure.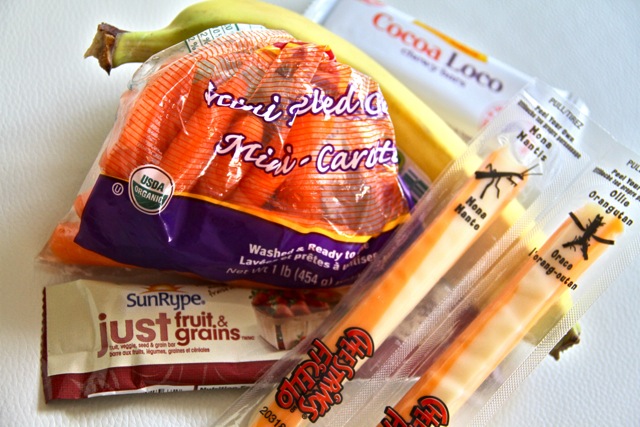 Since I'm out all day, I have to pack easy-to-go snacks, and today's included: baby carrots, a banana, string cheese, a SunRype Just Fruit & Grains bar, and an Enjoy Life Cocoa chewy bar.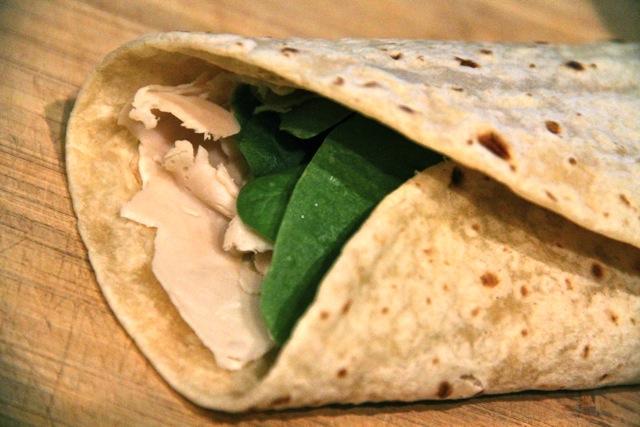 For lunch, I packed a wrap made with some deli turkey, cream cheese, and baby spinach. I also took along a small MIA salad made with mixed baby greens, tomatoes, cukes, a drizzle of olive oil, and crumbled goat cheese.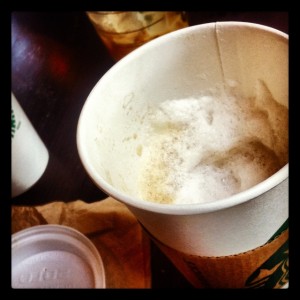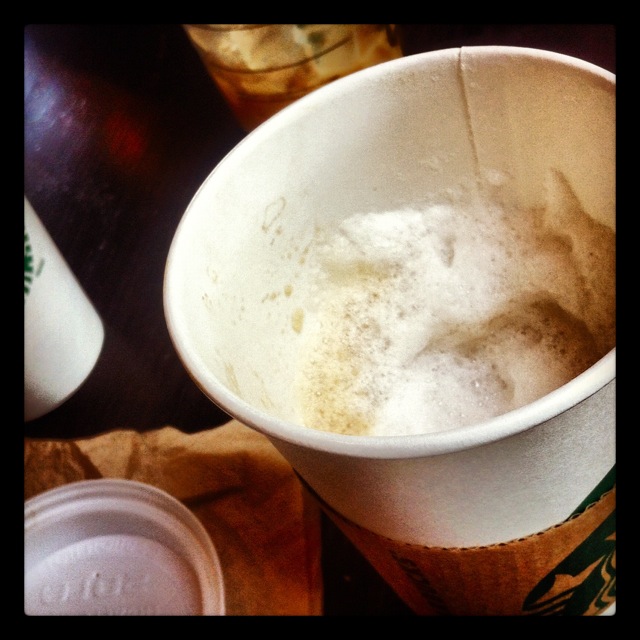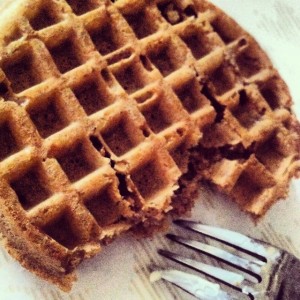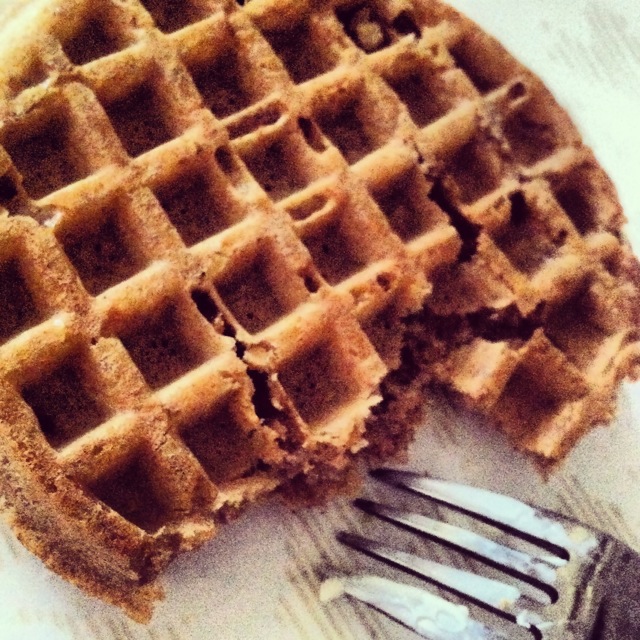 After work, I grabbed a cappuccino from Starbucks, satisfied a random waffle craving with a Nature Path Maple Cinnamon waffle, aaaaaand as of right now I'm still waiting for the dinner craving to hit.
. – . – . – .
See? Nothing too exciting or life altering – I just can't be bothered to put so much of a focus on food anymore. That's not to say that I never try new things, or cook up more elaborate meals, but I tend to eat things that don't require a lot of thought or effort on a more regular basis… and I like it that way.
So now you might be wondering: "Ooooookay. Why come back to food blogging then?" Well, I spent a lot of time asking myself that very same question before I dove back into it, and here's my answer:
For the people. For the friendships. For the connections. To share. To learn. To inspire and be inspired.
This community is full of great people, and I love being a part of it. I'm not interested in documenting every piece of food I ate on a particular day any more than I'm interested in reading about every piece of food someone else ate on a particular day. To be honest, I usually skim over meal and workout details when I read blogs and just focus on what that person did/felt/thought during the day. I know that food and fitness pretty much make up the main content of healthy living blogs, but there's a whoooooole other side of health that has nothing to do with eating or exercising, and I want to focus more on that stuff, with, you know, a few delicious meal pictures thrown in here and there 😀
. – . – . – .
Do you think that blogging about food can lead to an unhealthy obsession with food?
Outside of food and fitness, what else does a healthy lifestyle include for you?