Happy What I Ate Wednesday, friendly faces! 😀
I know. You're shocked. I am too. It's been about a month (!!!) since I've participated in the WIAW party, which is crazy considering I used to do it every.single.week. But don't you worry — I'm still eating!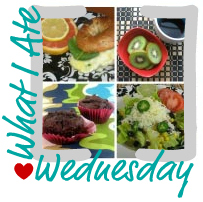 Breakfast… I'm still eating… smoothies and cereals.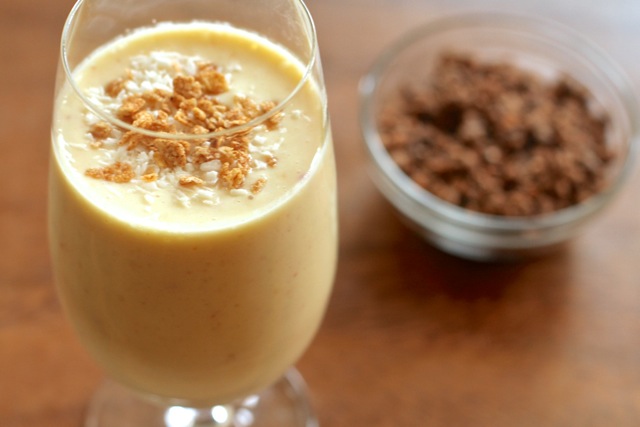 A peaches 'n' cream protein smoothie (recipe coming soon!) alongside a bowl of Enjoy Life chocolate granola.
Wait… what?! No oats?! No oats, friends. No oats. Actually, I haven't been eating oats on a regular basis for about a month or so. I'll have them every once in a while when the mood strikes, but definitely not daily like I did for so long. Why? No reason, really — our relationship had just run its course so I decided to start seeing other people breakfasts. We're still good friends, though 🙂 And I've got to say that starting the day with a refreshing peach smoothie ain't half bad… as long as I have something solid to go with them, because I very much enjoy chewing.
Morning snack… I'm still eating… homemade [un]baked goods.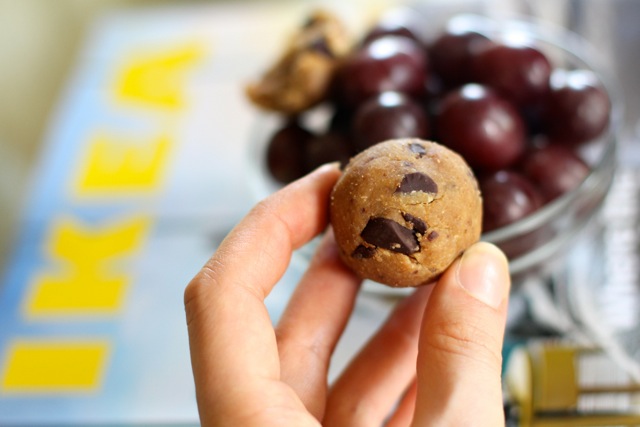 A chocolate chip cookie dough [bar]… and some grapes.
You guyssssss… I can.NOT get enough of this cookie dough. I think this is the first time that I made any kind of bites/balls without using dates as a base, and I've got to say that I'm a huge fan. HUGE. It's the texture that does it for me — soooo doughy and just… ungh! No words. Only inappropriate noises. And they get even better the longer they sit, too. Save me [from me].
Lunch… I'm still eating… snack plates.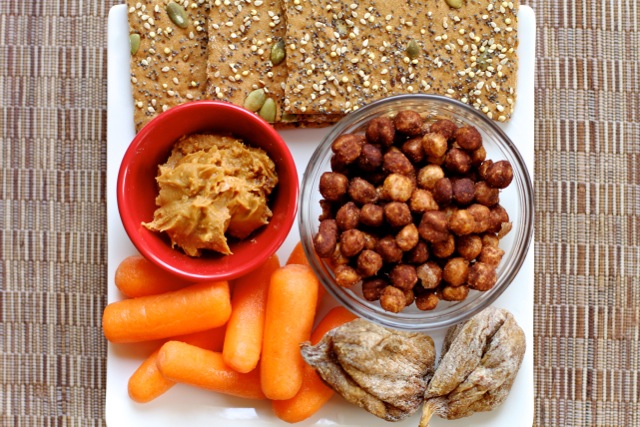 Dr.Kracker Seedlander crispbread, Barney Butter almond butter, The Good Bean's chocolate crunchy chickpeas, baby carrots, and dried figs.
My sweet tooth was in high-gear yesterday and I just didn't find myself wanting anything savoury when lunch time rolled around… hence the plate full of things that I could happily dip in almond butter 🙂 All I can say is thank goodness I'm at a place where I can eat what I want to eat instead of what I think I should eat… so much more satisfying that way.
Afternoon snack… I'm still eating… frozen treats.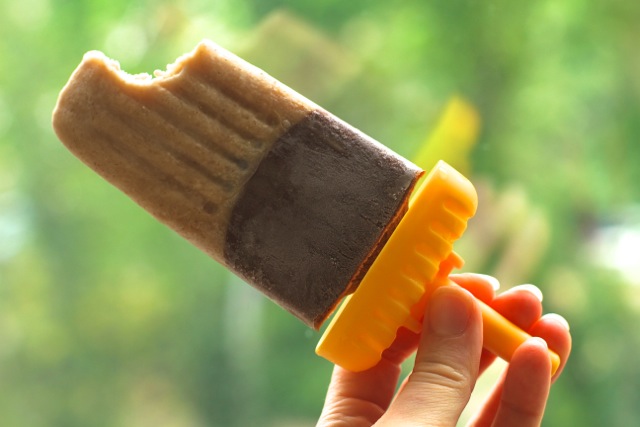 I had a mini panic attack when I looked in my freezer yesterday and realized that was out of my beloved ice cream sandwiches. Thankfully, a little more digging lead to the discovery of the sole surviving cocoa pop, which hit the spot juuuuust right. Actually, the bottom half tastes exactly like a fudgsicle… which means that I might have to whip up another batch and make the entire thing chocolatey this time. So good.
Dinner… I'm still eating… cold leftovers.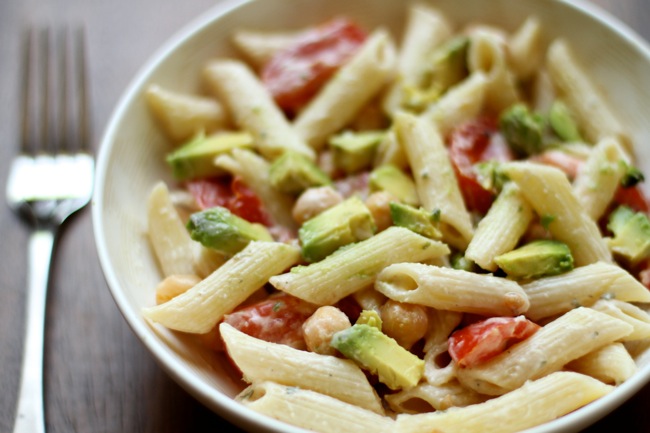 A bowl of Chickpea Avocado Pasta Salad.
Not gonna lie — cooking has been a huge struggle for me lately. Maybe it's the warm weather, or the fact that I've had too many other things keeping me busy, but the last thing I've wanted to do has been spend more time in the kitchen than I have to. Thank goodness that recipe development pulls me away from brinners and pizzas at least once every little while. Check out my latest post over at Savory Style for this deeee-lish dish. It's cool, creamy, loaded with flavour, and perfect for those hot summer days!
Evening snack… I'm still eating… yogurt messes.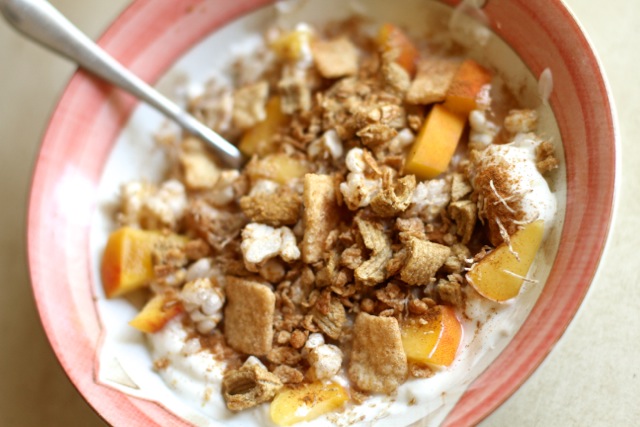 A yogurt mess made with plain Greek yogurt, fruit (banana & peach), cereal (I forget exactly what I threw in there), vanilla almond milk, and cinnamon.
Confession: I eat yogurt messes purely as an excuse to eat more cereal. I like yogurt well enough, but my cereal cravings have been off.the.charts lately, and while I'm perfectly content to sit there repeatedly dipping my hand into an open box, I do occasionally like to transfer it to a bowl and spruce things up… especially since doing so makes it a super satisfying snack.
And that's that! See you guys tomorrow for Thinking Out Loud!

Do you prefer fruity or chocolatey/vanilla-y smoothies?
Was yesterday more sweet or savoury for you?
And… anyone else feeling a total lack of motivation in the kitchen?
More places to find me!
E-mail — [email protected]
Twitter — runwithspoons
Facebook — runningwithspoons
Pinterest — runwithspoons
Instagram — runwithspoons
Bloglovin — runningwithspoons