It's that time of the week again! Happy What I Ate Wednesday! 😀
If you remember, last week I shared some of my favourite meals and snacks with you guys and asked you to share some of your favourites with me. I got some pretty great ideas, and since you know I love my themed WIAWs, I figured it would be fun to fashion an entire day of eats based solely on your recommendations. It took a little more planning than I'm used to, but it was fun and definitely tasty. So without further ado… a day of eats inspired by you…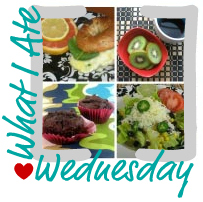 Breakfast… coconut flour oats suggested by Lucie…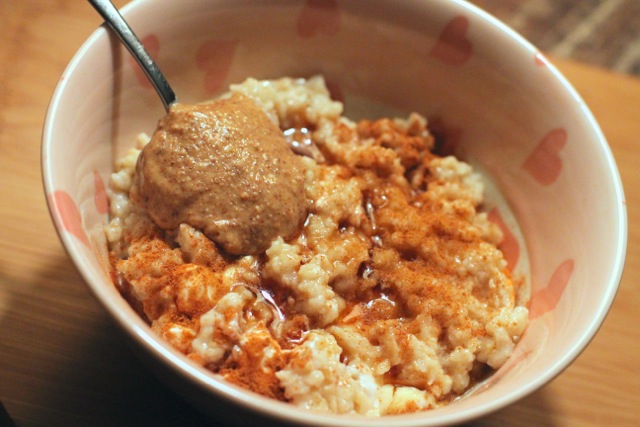 Eggy bananafied oats with a spoonful of coconut flour mixed in, then layered with plain Greek yogurt and topped with honey, cinnamon, and a spoonful of almond butter.
Do you ever go through those phases where you'll eat something constantly and then just stop for no reason at all? You'll forget about it for a handful of weeks or months before randomly deciding to eat it again and wonder why the heck you ever stopped? Story.of.my.life. I'm no stranger to adding a spoonful of coconut flour to my oats, but Lucie kindly reminded me that it had been a while since I've done it and I needed to change that, stat. In addition to adding a mild sweetness, coconut flour makes oats so much thicker and cakier — definitely a must try.
Morning snack… frozen melon smoothie suggested by reader Sarah…
A smoothie made from frozen honeydew, Greek yogurt, honey, and vanilla almond milk.
This was so worth the fact that I had to drink it bundled up by the fireplace. If you've never tried adding frozen melon to your smoothies, you definitely have to give it a shot. Because of their higher water content, frozen melons add a slightly frothy, shaved ice feel to smoothies, which is perfect when you need to quench your thirst. I can definitely see this becoming a regular thing in the summer. Thanks, Sarah!
Lunch… almond butter & apple sandwich suggested by Ms.J…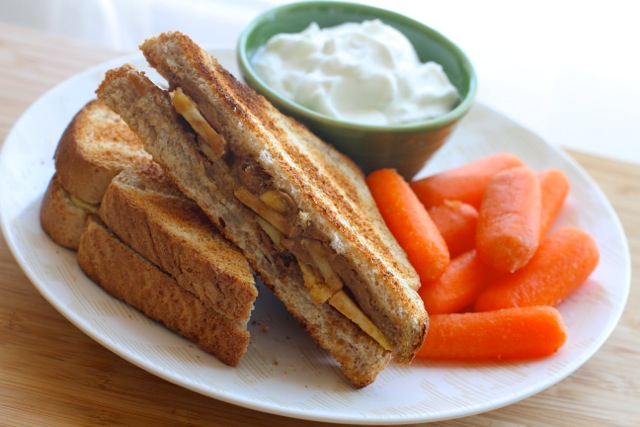 A toasted almond butter & apple sandwich with a bowl of plain Greek yogurt and a handful of baby carrots.
I've done AB & jam and AB & banana, but never AB & apple… at least not in sandwich form. Why?!? It's freaking amazing! All I did was slather two pieces of whole wheat toast with almond butter, add a layer of apple slices (I was out of applesauce), sprinkle on some cinnamon, and toss the whole thing in a toaster oven to get it all ooey and gooey on the inside, and crispy on the outside. I swoon. Thanks Ms.J!
Afternoon snack… cream cheese and jam suggested by Lauren…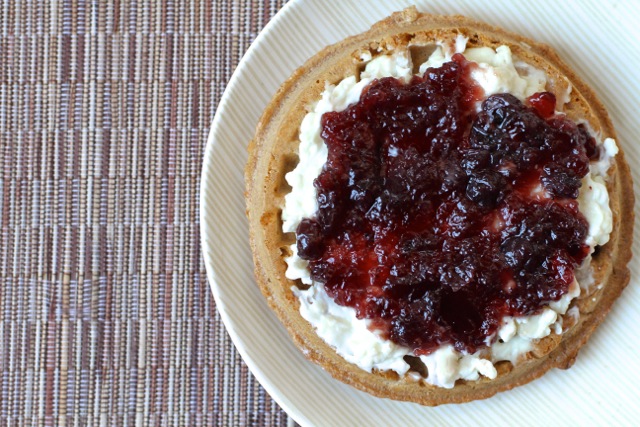 A Nature Path's maple cinnamon waffle topped with cream cheese and blueberry jam
CC & jam has been a favourite combo for pretty much as far back as I can remember. Not only is it delicious, but it holds a lot of sentimental value as well. My mom used to make crepes for breakfast on the weekends pretty often, and she would always stuff them with cream cheese and blueberry jam. So yeah… this combo makes me feel all sorts of warm and fuzzy inside. Lauren's original suggestion included an english muffin, but I didn't have one so I went for a waffle instead. Good stuff.
Dinner… sweet potato and hummus suggested by Chelsea…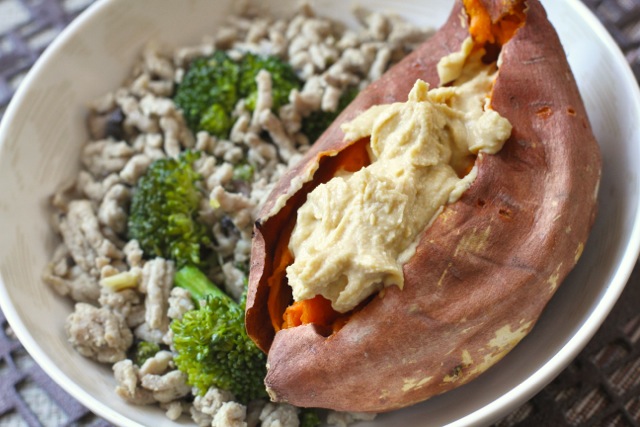 A sweet potato topped with hummus alongside some ground garlic/ginger chicken and veggies that I lightly stir fried in toasted sesame oil.
I feel like I don't love sweet potatoes as much as a lot of other bloggers do. That's not to say I don't enjoy them, but I don't think I've ever straight up craved them like I do things like oats, bananas, almond butter, or kabocha. I'd only ever tried sweet potatoes on the sweet side though (coconut butter & cinnamon, AB & maple syrup), so when Chelsea mentioned pairing them with hummus, I figured it was worth a shot. Verdict? Thoroughly enjoyed!
Evening snack… chickpeas and yogurt suggested by Miss Polkadot…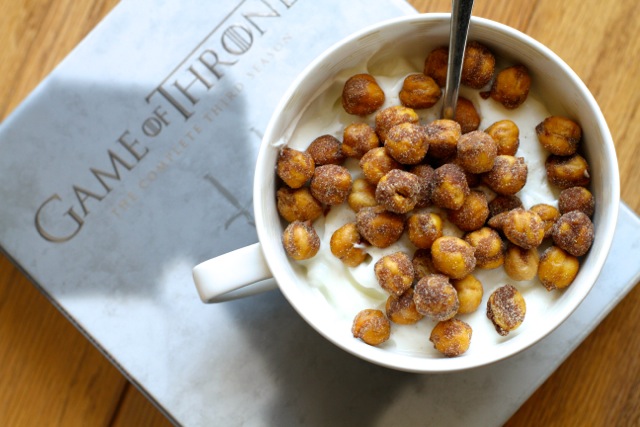 Plain Greek yogurt topped with crunchy honey almond roasted chickpeas and a sprinkle of cinnamon.
Like coconut flour oats, the combination of chickpeas and yogurt was a forgotten favourite until Ms.P mentioned it last week. I love the crunchy sweetness of the chickpeas paired with the creamy tang of the yogurt. Definitely the perfect way to end a night… even if it means I now have to roast up a new batch of chickpeas seeing as my last one barely even lasted two days. Oops.
And that's that! Thank you guys for the delicious inspiration, and I'll see you tomorrow for Thinking Out Loud! 😀

What's your favourite way to eat sweet potatoes? With almond butter and maple syrup.
What's a flavour/flavour combo that reminds you of your childhood? CC & jam, and chocolate chips & oatmeal.
What was your evening snack last night? I need some new ideas!
More places to find me!
E-mail — [email protected]
Twitter — runwithspoons
Facebook — runningwithspoons
Pinterest — runwithspoons
Instagram — runwithspoons
Bloglovin — runningwithspoons