Crunchy, sweet, salty, and oh-so-irresistible. These honey almond roasted chickpeas are a healthy and delicious way to satisfy the munchies.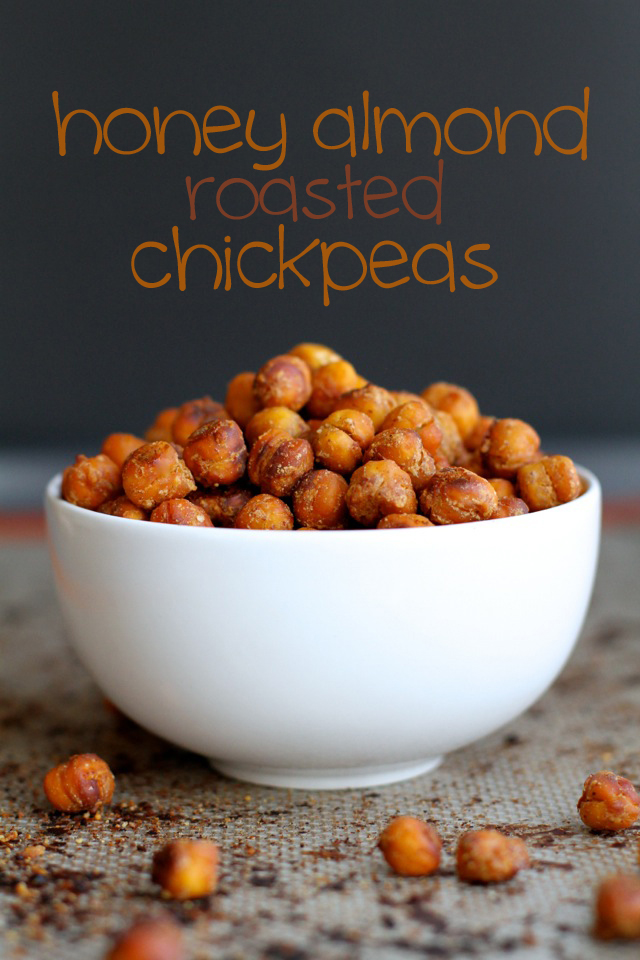 If you would have told me a handful of years ago that there would come a day where I would enjoy snacking on beans, I would have laughed myself sick before going to grab a handful of Skittles. I've always been a snacker, but my snacks of choice have definitely changed over the years. Back in the day I was all about the chocolate bars, gummy bears, and potato chips… and while I'm a firm believer that there's a time and place for all those foods as well, I try to eat them in moderation rather than downing them by the bagful like I used to.
I generally have a pretty big sweet tooth when it comes to snacks, but there are definitely times where I crave something with a little more oomph to it, ya know? Something with a decent amount of protein and fibre to get me through that afternoon slump between lunch and dinner. Something like… beans…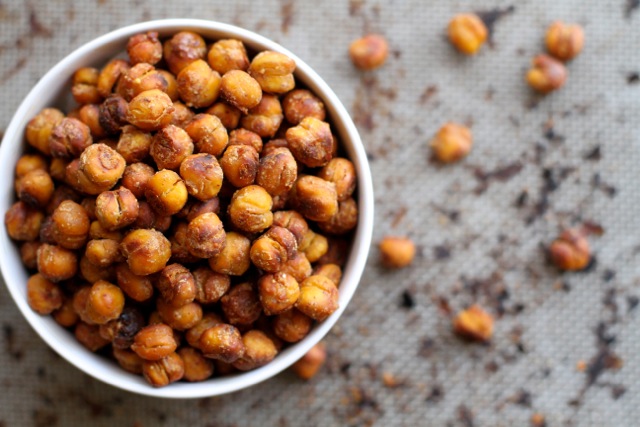 … but let's call them chickpeas because it sounds so much better. And let's roast them and coat them in almond butter and honey because it tastes so much better. It's no secret that I have a slight addiction to this combo, so it was only a matter of time before it made its way into my chickpea roasting experiments as well. And yes, I've been experimenting with chickpeas… Remember when I teased you with a batch in a WIAW post a couple of weeks ago? I went through another 3 or 4 cans since then and I'd like to think I have the process more or less down, so I figured it was a good time to spill the beans!
Let's talk prep work. How you handle your beans chickpeas prior to roasting them makes all the difference, and while you can get away with slacking on these steps, they definitely won't come out as good if you do.
First, you need to drain and rinse your chickpeas and use a paper towel to pat them very dry…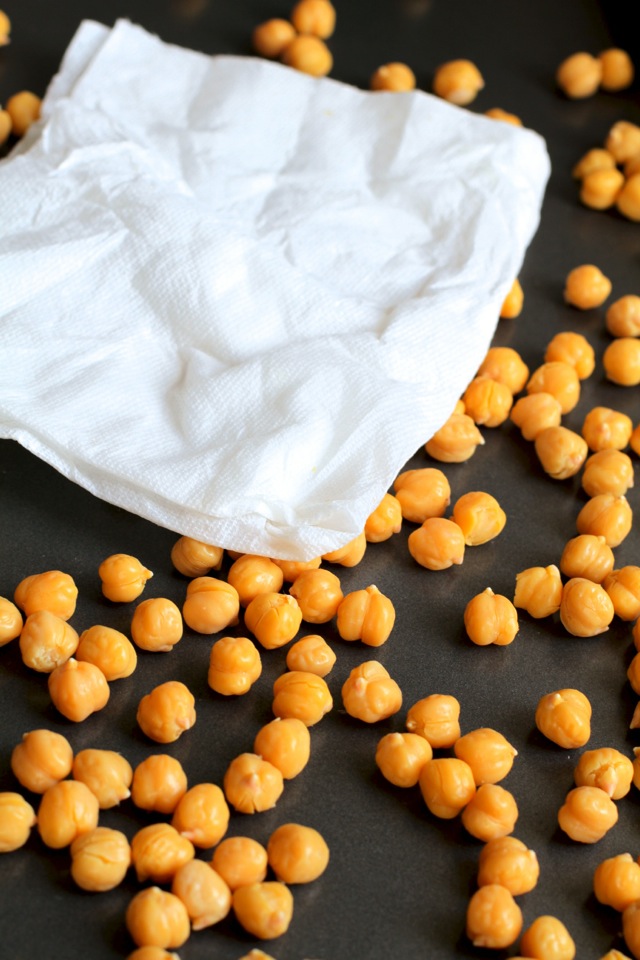 If you do nothing else, do.this.step. Any moisture left on your chickpeas will keep them from getting as crunchy as they should, so unless you want to snack on soft beans, towel those suckers off.
Second, you need to peel the skins…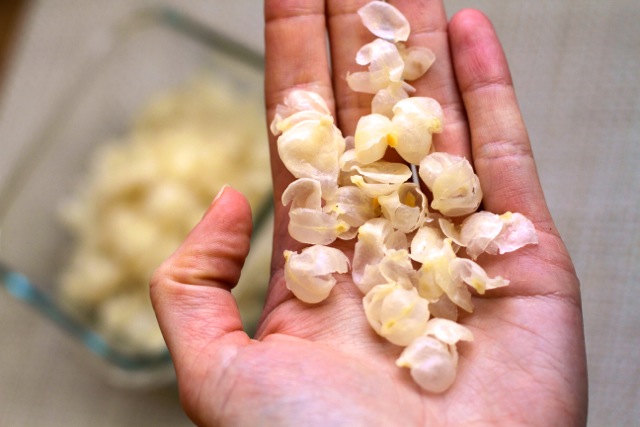 This is a step you could technically skip if you're running short on time, but it only takes about 10 extra minutes and it really does help in terms of upping the crunch factor. It also ensures that the chickpeas don't lose all their flavour if the skins fall off post roasting. And the process of peeling them is kind of mindlessly relaxing…
Next, it's time to dress up your naked chickpeas…
The sky is the limit in terms of what kind of combo you want to go with, but I already mentioned my obsession with honey and almond butter, so that was my dressing of choice. The honey for sweetness, the almond butter for depth, and a touch of sea salt to really enhance the flavours. So.much.yum.
Finally, it's time to toss your chickpeas in the oven and roast them up!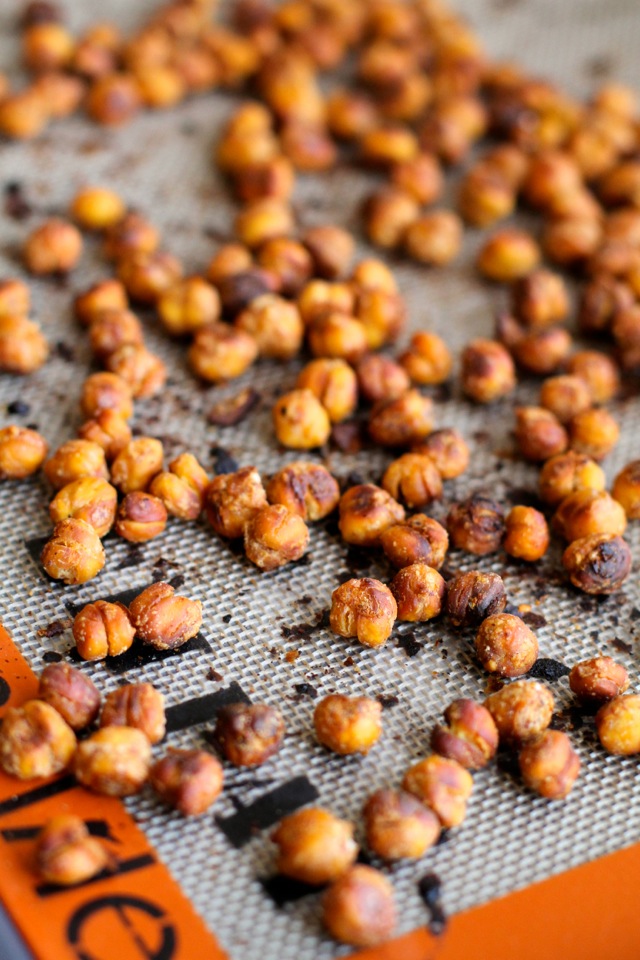 What you're left with is a healthy snack that's sweet, salty, and irresistibly crunchy — basically a guaranteed win no matter what you might be craving. And if you're anything like I was a handful of years back and laugh at the idea of snacking on beans, give them a try and you just might change your tune… literally 😉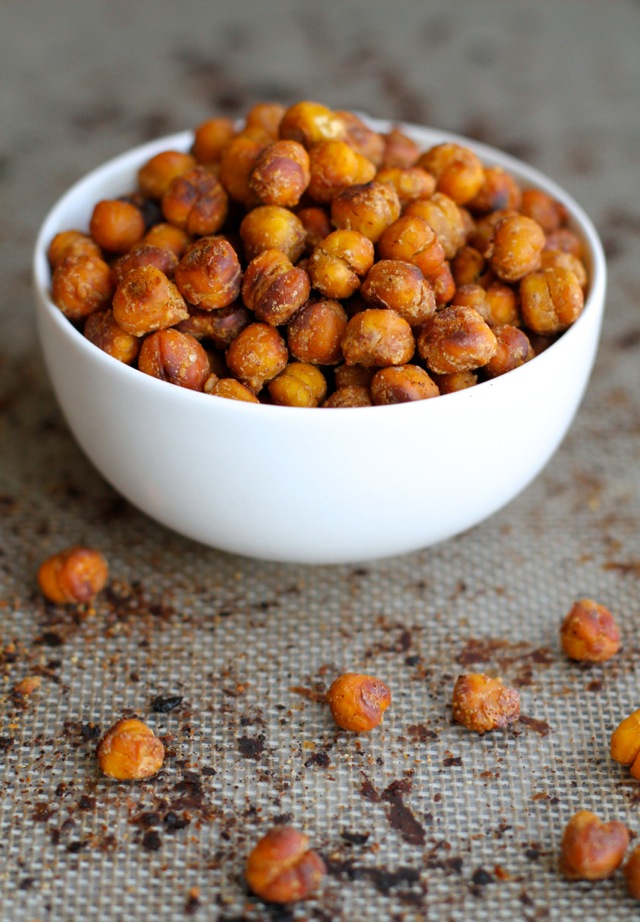 I'd love to know if you make this (or any!) recipe! Tag @runwithspoons on Instagram and Twitter, and be sure to subscribe to our mailing list to receive more healthy and delicious recipes straight to your inbox!
Print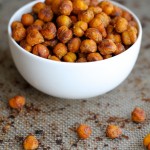 Crunchy Honey Almond Roasted Chickpeas
---
Author:

Total Time:

35 mins

Yield:

4

servings

1

x
1

15-ounce can chickpeas (garbanzo beans)

1 Tbsp

. creamy almond butter

1 Tbsp

. honey

1 Tbsp

. granulated sugar (optional, for additional sweetness)
salt, to taste
---
Instructions
Preheat oven to 375F and line a large baking sheet with parchment paper or a silicone baking mat. Set aside.
Empty can of chickpeas into a large strainer, allowing the juices to drain before rinsing well with cold water to remove the starch. Optional: remove the outer skins by lightly pinching each individual bean between your fingers. This step takes an additional 10 minutes and isn't mandatory, but it really helps add some extra crunch to the finished batch.
Spread chickpeas out onto prepared baking sheet and use a paper towel to pat them dry. You want to be sure to get as much moisture off as you can. The drier they are, the crunchier they'll be.
In a medium sized mixing bowl, add almond butter, honey, and sugar, mixing well to ensure that everything is well combined. Add chickpeas to mixing bowl and use a spatula to ensure that they are evenly coated with the almond butter and honey mixture. Pour them back onto the baking sheet and sprinkle with salt.
Bake for ~30 minutes, or until chickpeas are crunchy and no longer soft in the middle. Use a spatula to stir them every 10 minutes or so to make sure they don't burn.
When fully cooled, store in an airtight container at room temperature.
Prep Time:

15 mins

Cook Time:

20 mins
Keywords: chickpeas, crunchy roasted chickpeas, healthy snack, honey almond roasted chickpeas, roasted chickpeas