Get it? Full steam, fall steam? Har har! Oh, I'm corny and I know it 😉
But, corniness aside, I know you guys are just as excited as I am over the fact that it's officially fall. Even though most of us started enjoying pumpkin and kabocha preeeeetty much as soon as September hit, it's nice to feel less obsessed finally have things feeling a bit more legit, no?
Fall foods are some of my favourite… Warming spices, comforting dishes, soothing teas. Apple, pumpkin, cinnamon, maple, kabocha. Swoooon. Needless to say, I've been doing some serious fawning over fall flavours lately, and since today is a day that's dedicated to food (aka: What I Ate Wednesday), I thought it'd be the perfect opportunity to profess my love publicly and share some of the fall-inspired eats that I've been enjoying as of late.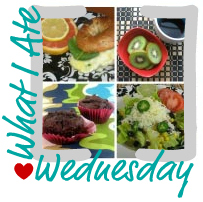 Breakfast… [pumpkin]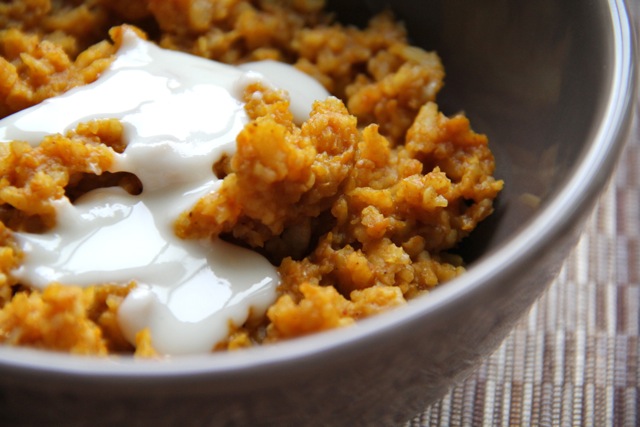 Confession: I'm not the biggest fan of pumpkin oats and rarely make them more than once or twice a year, but I figured… well… 'tis the season and all the cool kids are doing it, so pumpkin oats it was. Verdict? I still prefer my oats plain and topped with almond butter and honey, but these were a pleasant enough change.
In the bowl: 1/2 cup quick oats cooked in 1 cup of pumpkin chai tea, with 2 Tbsp. pumpkin puree, 1 Tbsp. ground flax, and 1 Tbsp. maple syrup stirred in near the end of cooking. Finished off with a healthy sprinkle of cinnamon and nutmeg, then topped with melted coconut butter.
Morning snack… [figs]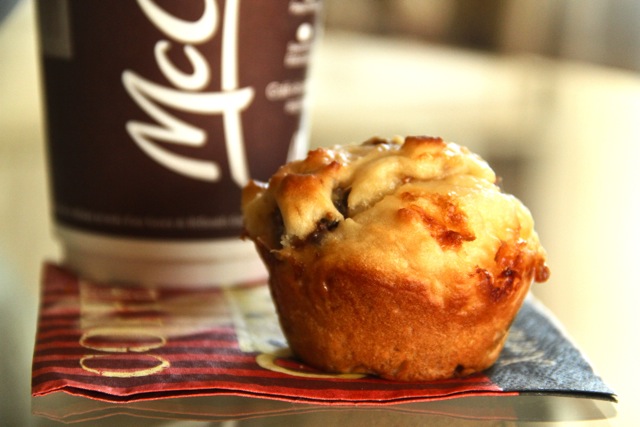 Confession: I have no problem eating the last muffin/cookie/chocolate/whatever it may be. We're going to conveniently overlook the fact that I live alone and don't exactly have to worry about sharing my food with anyone else (aside from the baked goodies I give away), but regardless of logistics, this last fig and goat cheese honey muffin tasted exceptionally good… especially accompanied by coffee.
Lunch… [pumpkin]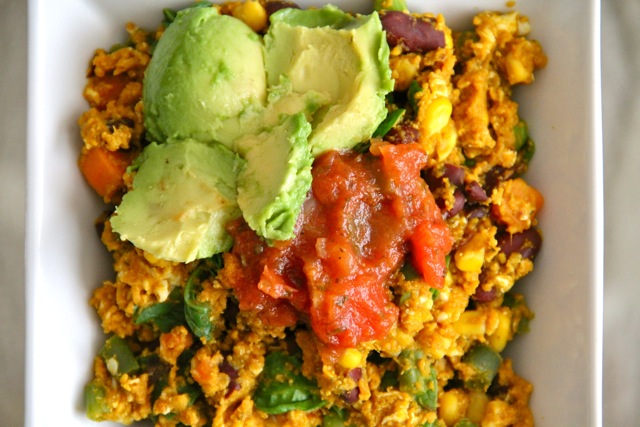 Confession: In my mind, throwing salsa on something instantly makes it a Mexican dish. And adding avocado? Even better! This pumpkin chili Mexican scramble, for example? I'm pretty sure that die-hard Mexican fans would cringe at my flippant use of the label, but let's not get caught up in semantics… let's just call it delicious and leave it at that.
Afternoon snack… [caramel and kabocha]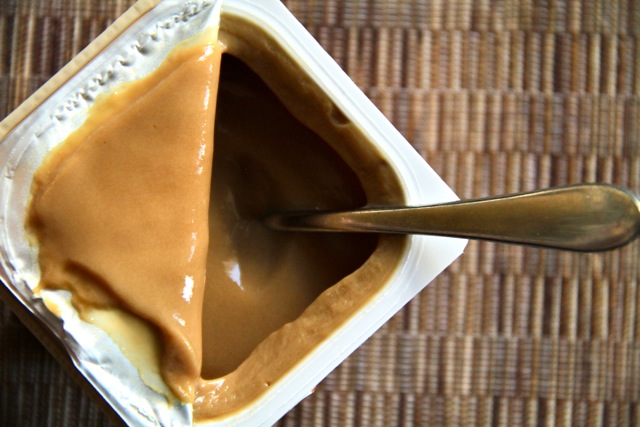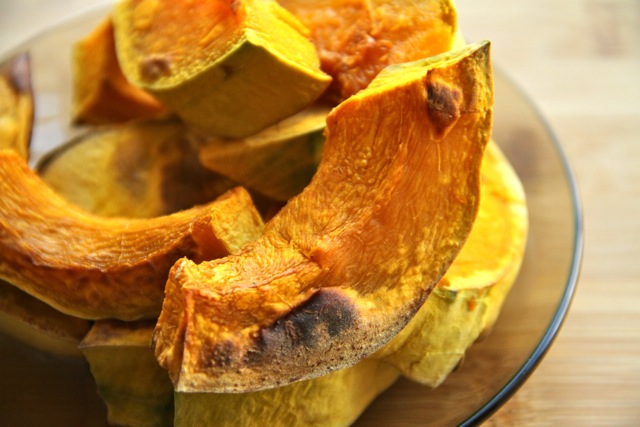 Confession: I'm kicking myself over this snack. Why? Because although it looks like I ate these two wonderful foods together, the reality is that it was actually a snack in two parts. The problem with that? Hellooooo! Am I the only one tho thinks that kabocha dipped IN caramel pudding would be an out-of-this-world combination!? Mental note: next time, dip kabocha into caramel pudding.
Dinner… […*crickets*…]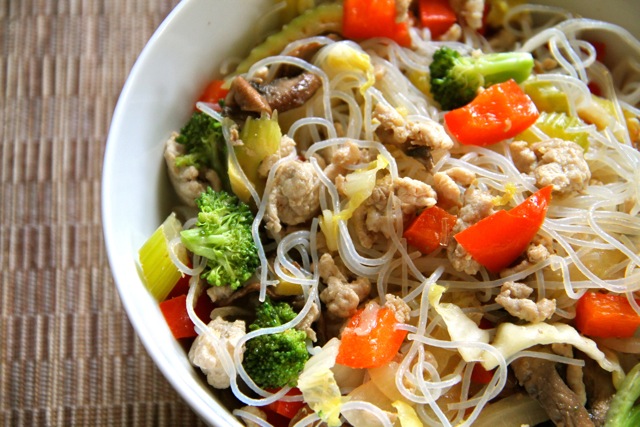 Confession: I realize that nothing about this meal is inspired by fall. I also realize that it's the third WIAW in a row that I've shown a stir fry dinner. Blogger fail. I promise that I do eat other things (at least I think I do), but apparently I just don't photograph them. And I pinky promise that I'll show you something different next week. Now just watch me forget…
Evening snack… [maple]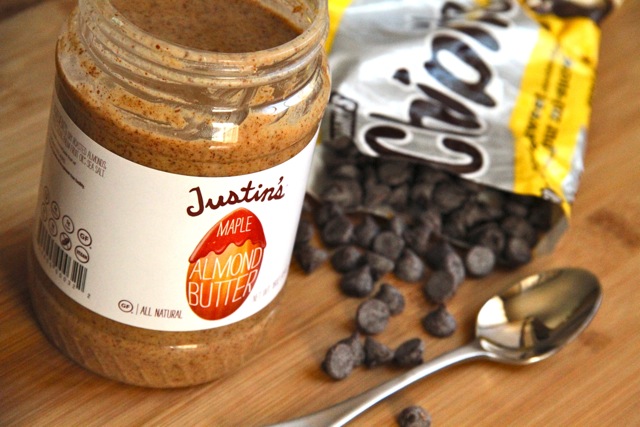 Confession: I'm completely smitten with Justin's maple almond butter. Yup. That's really all I have to say about that…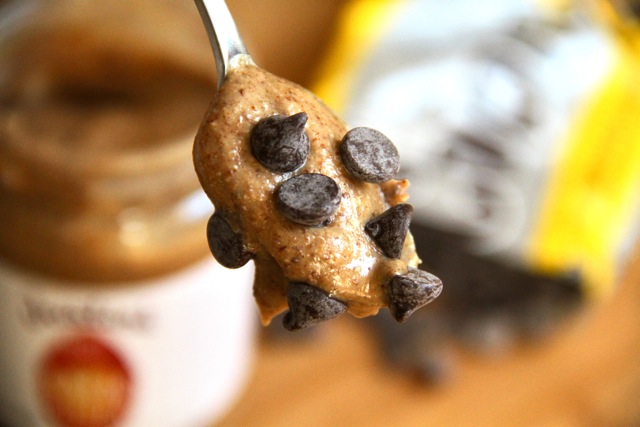 . – . – . – .
So my snack bag [and suitcase] is packed and I'm about to head out the door on my trip, but I'll be doing my best to check in with you guys while I'm gone, so make sure to follow me on Twitter and Instagram if you want to see scenes from the road.
Happy Wednesday, peeps! See you guys tomorrow! 😀
. – . – . – .
What fall-inspired meal have you eaten lately?
Do you like the flavour of plain oats?
What's your favourite Mexican meal?