First of all, I have to thank you guys for your incredibly sweet (and in some cases enjoyably heated) responses to my encounter with the weight loss guru Starbucks barista. Rest assured that there was no harm done, and I'm still enjoying my cappuccinos, 2% milk and all…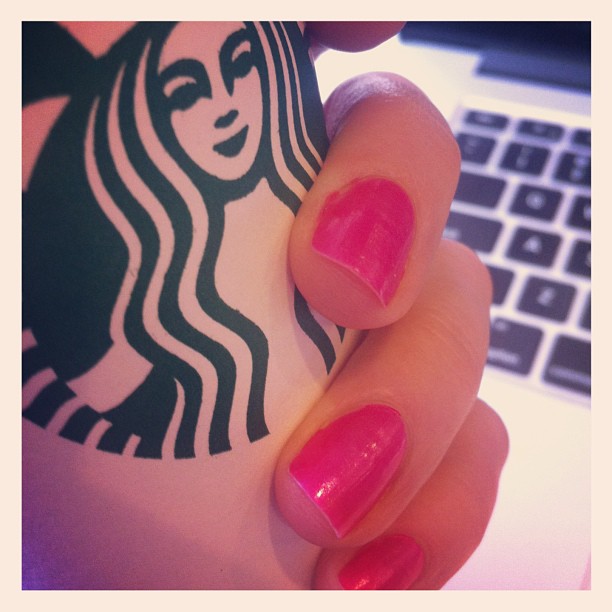 … with a side of pink nails, naturally…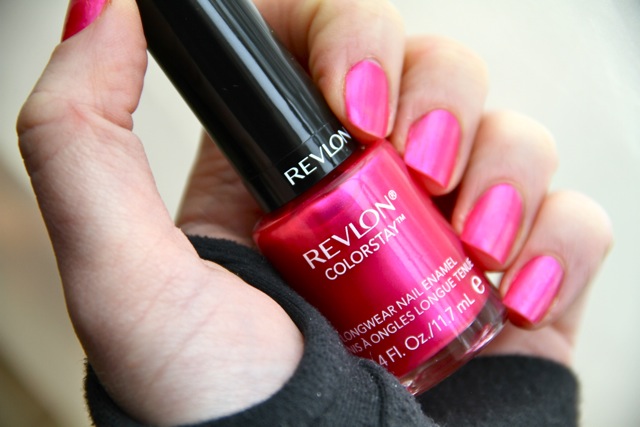 Newest nail polish obsession: Wild Strawberry by Revlon.
But I digress. Today isn't about beauty or bimbo baristas; it's about something far more enjoyable – food! It is WIAW after all. At this point I really don't have any set theme in mind, so I'm just going to take a look at whatever pictures I have and go from there…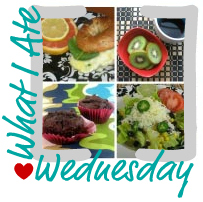 Unlike last week's instalment, this week has me mercifully free of all stomach woes. Thank goodness. Not that I don't enjoy eating breakfast all day, but sometimes even I get tired of cereal and yogurt…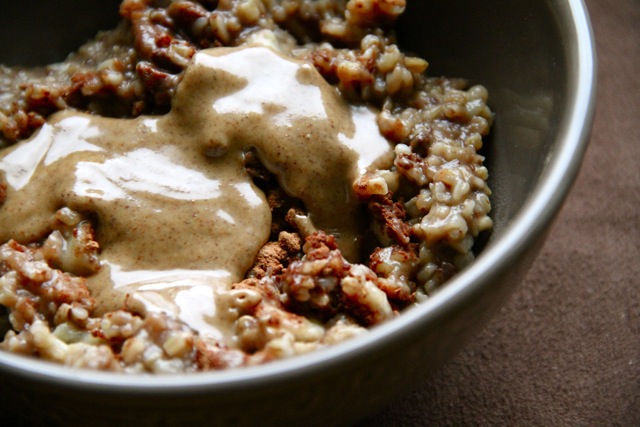 Eggy bananafied oats cooked in 2% milk and topped with cocoa powder and roasted almond butter.
So I just realized that I've never really updated you guys on what I believe was an oat intolerance. It's been about 8 months since I stopped eating oatmeal on a daily basis due to the adverse reactions it seemed to be giving me, and while I'm still not back to eating it regularly, the handful of occasions that I've had it over the past little while have caused me no problems. I guess I was eating too much of it and my body just needed a break? Whatever the case, I'll be enjoying oatmeal again on occasion from here on in, but nowhere near in the amounts that I was eating before.
And while we're on the topic of updates, I guess I should probably fill you guys in on the results of my little meal-bulking experiment. Going in to the whole endeavor, I had two major concerns:
That I would eat bigger meals and still end up snacking just as much out of habit/boredom/whatever.
That my stomach wouldn't take kindly to bigger meals and I'd end up feeling sick/lethargic/whatever.
Well, I've still been snacking…
Deep Chocolate Vitamuffin with plain Greek yogurt mixed with coconut milk.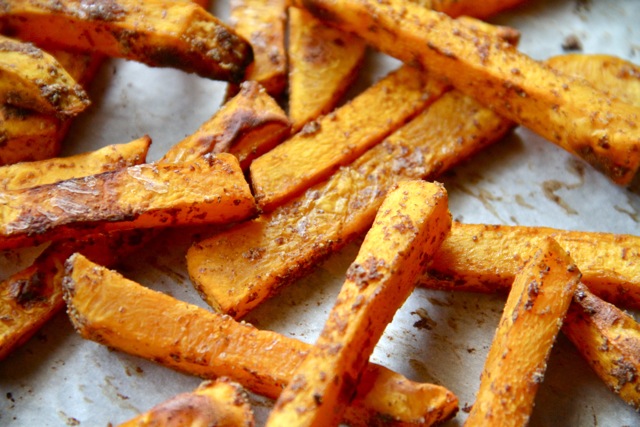 Maple-flax sweet potato fries.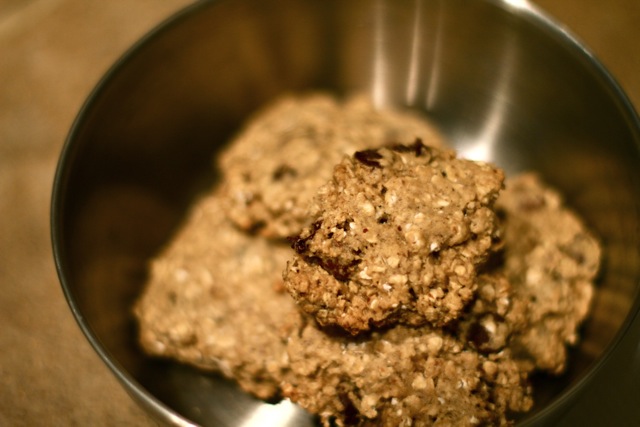 Chocolate chip oatmeal cookies.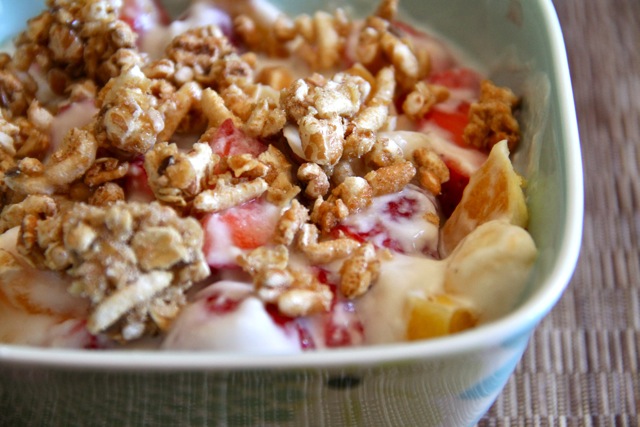 Plain Greek yogurt, strawberries, tangerine, Kashi GoLean Crunch.
… but nowhere near as much as I was before. I used to literally feel like I was eating all day because I always seemed to be picking away at something, whereas lately I haven't been getting as hungry between meals and can usually get by with two or three snacks. Success.
As for my stomach not taking kindly to bigger meals? That one, unfortunately, turned out to be true. My stomach has never been a fan of having to work hard to digest bigger meals, and it made for some pretty uncomfortable times in the early stages of my experiment. Luckily, I think I've figured out something that works. Take this smoothie lunch for example…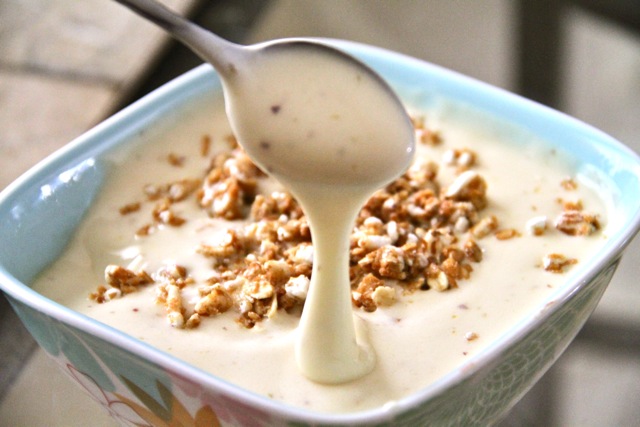 Looks small, but packs a pretty good punch:
1 cup frozen mango
¼ cup oatmeal
1 scoop vanilla protein powder
1 Tbsp. coconut butter
1 cup milk
… and it kept me full for hours. Or how about this quinoa bowl dinner: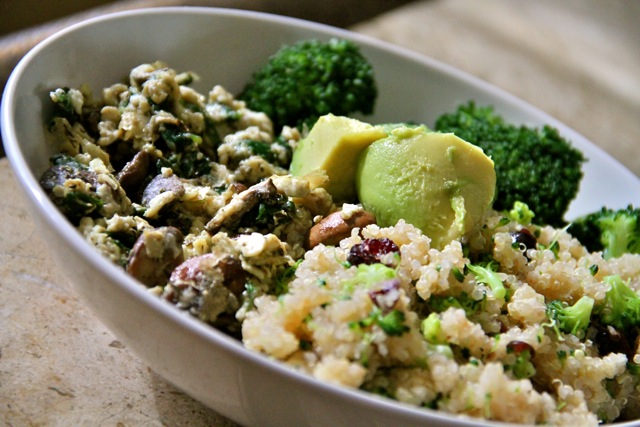 2 egg scrambled in coconut oil, quinoa with olive oil, dried cranberries, broccoli, avocado.
Low in volume, high in sustenance; and again, satisfied for hours. The trick? Adding energy dense foods (like oils). I used to be big on volume eating, scared that I'd be left hungry unless I stuffed my stomach ridiculously full, but all that really did was leave me uncomfortably bloated and still unsatisfied most of the time. With my current approach, it's been the complete opposite: comfortably full and definitely satisfied. Success.
So, the main things I've noticed from my experiment? Well:
I don't snack as much.

I don't feel hungry all the time.
My cravings for sugar have become less intense.
I can focus on other things for a decent amount of time without getting distracted by thoughts of food.
I did not become a whale by eating bigger meals.
All in all, I'd call it a success, and I'd highly recommend that you give bigger meals a shot if you find yourself feeling ridiculously snacky and unsatisfied all day. Happy Wednesday, friends!
. – . – . – .
Are you a volume eater? Or do you prefer more energy dense foods?
Random question: what kind of milk do you drink?