Oh, you guys… You're all sorts of fabulous, you know that?
It's funny. I was a little hesitant to share my lingering food anxieties with you guys in yesterday's post, but as always, you continue to remind me of what I love most about the blogging community – support, understanding, and perhaps the best feeling of all, the comfort that comes from knowing that I'm not the only one dealing with those kind of thoughts.
Seriously.
If you ever find yourself feeling anxious because you're extra hungry but afraid to eat before your prescribed meal time, take a glance through the comments in that post – they may just ease your mind and help you honor your hunger. OR… today's WIAW might just show you how things have a way of balancing out…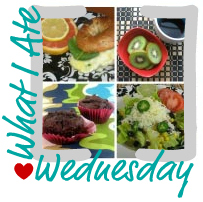 So, unlike the ridiculousness that was Monday's insatiable appetite, Tuesday's was basically nonexistent. So nonexistent, in fact, that I didn't really even end up eating a legitimate lunch. But more on that in a second. First, breakfast…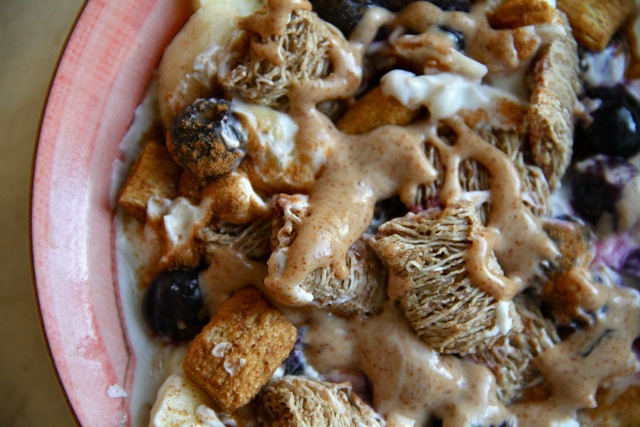 Plain Greek yogurt, banana, blueberries, Kashi Cinnamon Harvest, Puffins, and almond butter.
To be honest, I wasn't even really that hungry in the morning. I blame that on the fact that I ate a pretty hefty snack the night before (appetite, remember?), and that I actually managed to get a decent sleep in (yay!!). Nevertheless, there's no way I'm passing up an opportunity to eat my favorite meal of the day, so I enjoyed that with a side of blog reading before running out the door and heading to the dentist for a check-up/cleaning (no cavities… yay!!).
Does anyone else have a really hard time eating after they've had their teeth cleaned? Everything feels so nice and smooth that the idea of getting food stuck in there again feels all wrong. Solution? Drink your morning snack instead…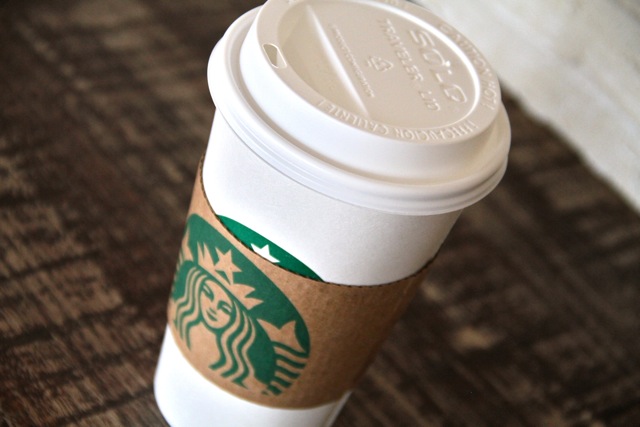 Cappuccino from Bux.
I realize that coffee is probably a lot worse for my teeth in the long run, but it made perfect sense at the moment (read: it's what I wanted). What didn't make sense was the fact that it was around 1 o'clock at that point and my appetite was nowhere to be found. Maybe it was the coffee? Or the nerves? (I'm scared of the dentist) Either way… no grumbling sensations in the stomach region.
That being the case, I decided to hold off on lunch and get some work done instead. Aaaaand this is the part where I admit that I didn't really eat a lunch. BUT! I did end up snacking the afternoon away…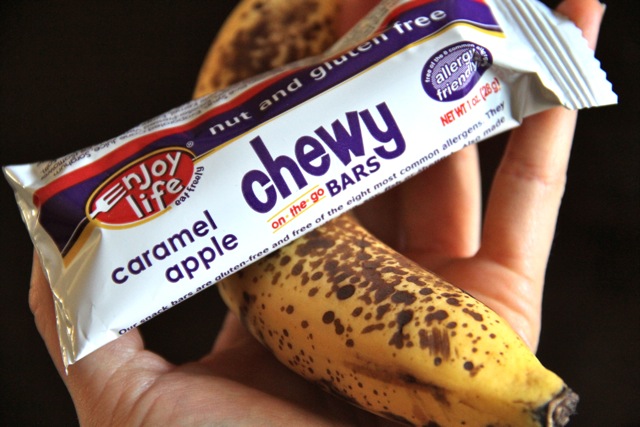 Spotty banana and an Enjoy Life caramel apple bar.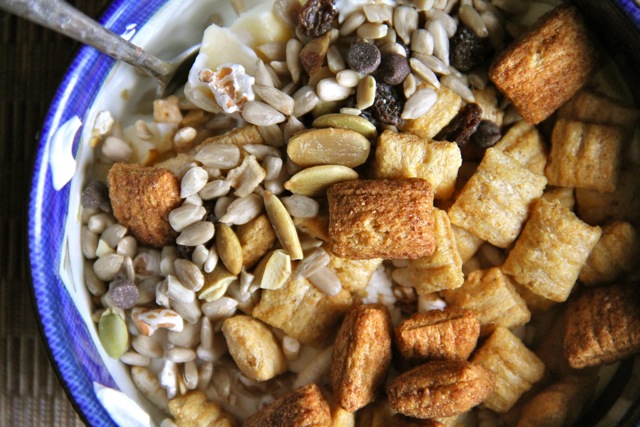 Kashi Honey Sunshine, Puffins, Enjoy Life trail mix, and milk.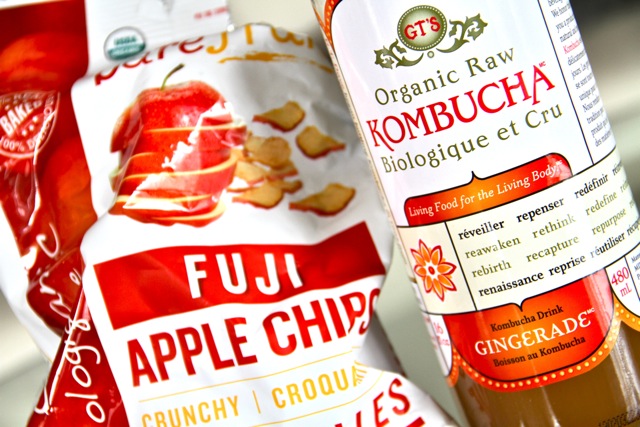 Barefruit Apple Chips and a Gingerade kombucha.
Don't give me that look – I know you've done it too. And yes, I realize there's nothing that even remotely resembles a vegetable in my eats so far, but I have a perfectly good explanation for that… Okay, no – I really don't – but who wants to eat veggies when their appetite is lacking? I did manage to squeeze a few in to dinner…
Grilled chicken over mixed greens, tomatoes, cucumbers, and carrots, drizzled with olive oil and ketchup (??).
… buuuuuut that was only while I worked on the real star of the show…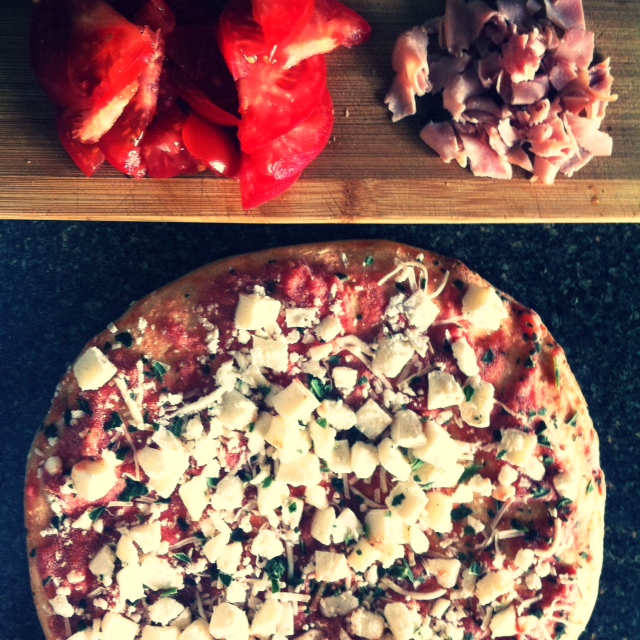 Playing dress up with an Amy's Margherita pizza by adding some tomatoes, ham, and parmesan cheese.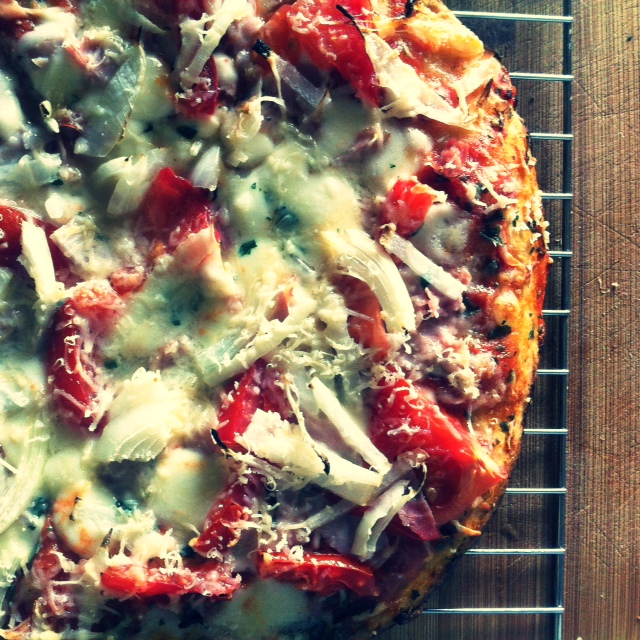 And even though I was pretty satisfied at that point, I was still craving a little something…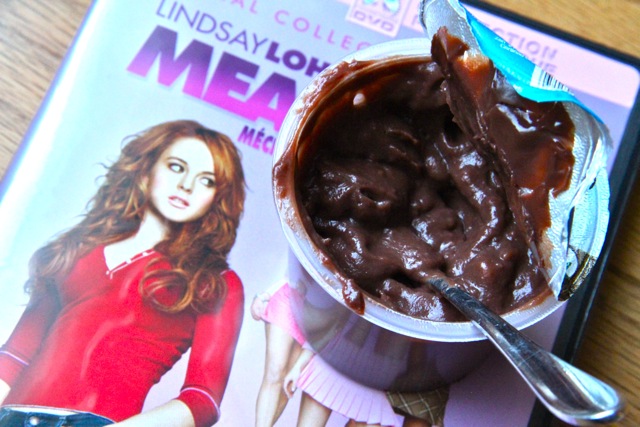 Eyes off my chocolate pudding, Lindsay!
Gotta end the day on a sweet note, am.i.right? So, appetite or no, I guess I still managed to get a pretty decent day of eats in. Back in the day, I used to adore days where I had no appetite because they'd make it that much easier for me to restrict and eat almost next to nothing. These days, I may end up eating a little bit less (and a little more randomly) than I normally do, but I still make sure to eat; and the funny thing is that even when I'm not exactly hungry, hungry, I still enjoy munching on something. I guess I just like food

Happy Wednesday, friends!
. – . – . – .
Do you eat when you're not hungry? Definitely. Sometimes because I feel like I haven't eaten enough, and sometimes just because something looks/tastes good.
Snacking the afternoon away: yay or nay?
Do you ever "dress up" ready-made, store bought meals? I do it a lot with soups too.