Books and food – two things I can't live without.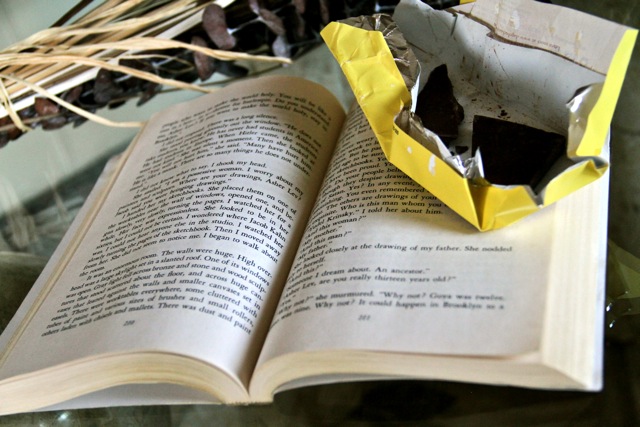 Food to keep me going, books to keep me sane. Let's not argue over the latter for now – the point is, I like to eat and I like to read. That being the case, I hope you guys don't mind me tossing in a short little book review at the end of today's WIAW. I was recently sent a copy of Witness to Fitness by Donna Richardson Joyner and asked to give my opinion, so that's what I'm going to do. But first, the food…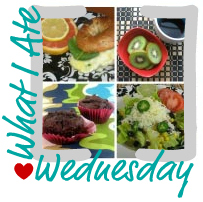 I think it's safe to say that we've spent enough time talking about breakfast lately…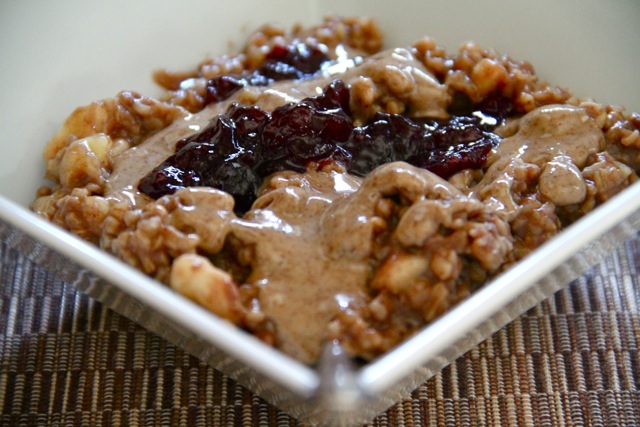 Eggy banana oats with a spoonful of cocoa added. Topped with almond butter and blueberry jam.
… so all I'm going to say about this bowl of oats is that you need to make it now and thank me later. Heck even I wanted to make it later, but what I didn't want was to push my luck and risk developing another oatmeal sensitivity, so I went with something different for lunch…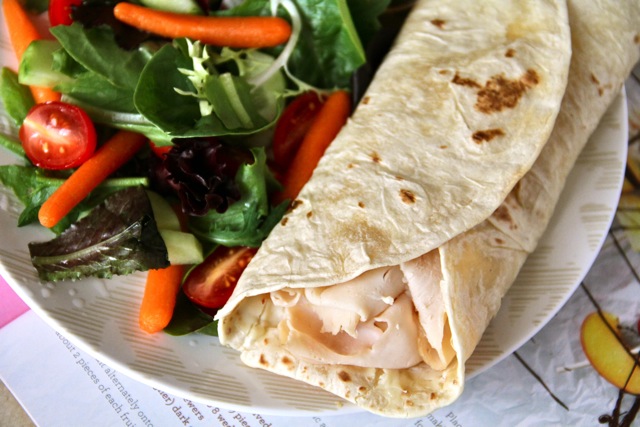 Turkey, hummus, and cheese wrap with random veggies on the side.
… and dinner…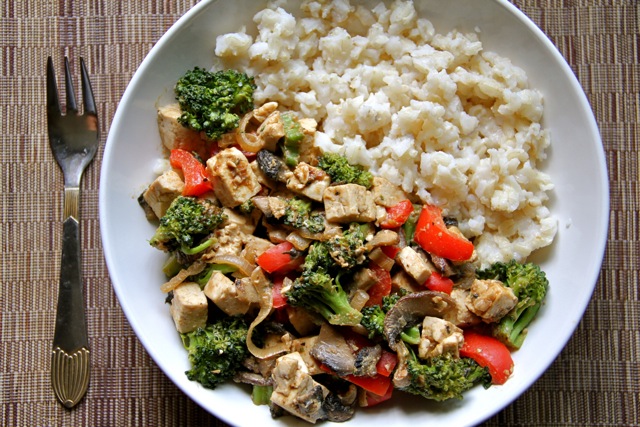 Sesame ginger tofu stir fry with brown rice.
And I even managed to refrain from including a bowl of oatmeal in my snacks…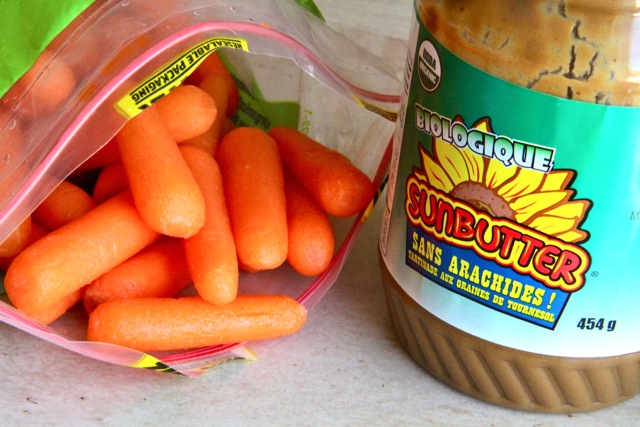 Sunbutter and baby carrots.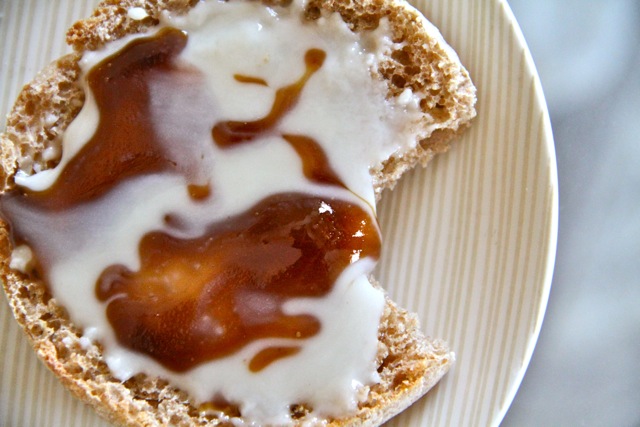 English muffin topped with melted coconut butter and buckwheat honey.
Coffee Crisp.
Although I can't say the same about cereal…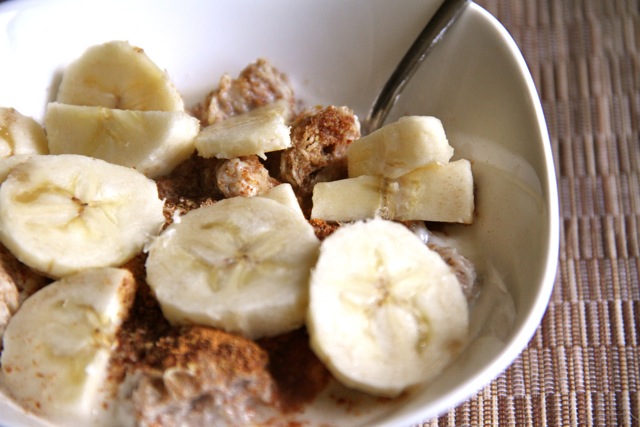 Kashi Cinnamon Harvest with 2% milk, a banana, and extra cinnamon.
… but you guys know how much I adore the stuff so that shouldn't come as much of a surprise 😀
. – . – . – .
Earlier this month, I was contacted by TLC Book Tours asking me if I'd like to review a copy of Witness to Fitness by Donna Richardson Joyner…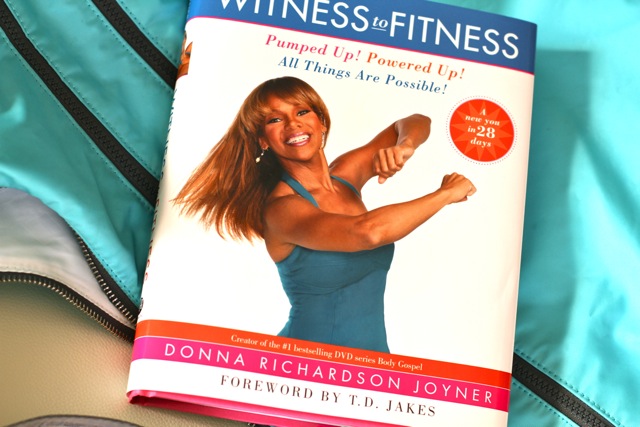 I was originally a little hesitant since I wasn't exactly in the market for a book on how to lose weight, but after a brief glance at the description, I became more than a little intrigued…
In WITNESS TO FITNESS, Donna Richardson Joyner brings together faith, food, and fitness in a way no one else has done before. She inspires the reader to follow her on a journey to good health and a deeper love of God, using faith to raise up each reader and provide the strength to make the changes needed.

Each day of Donna's dynamic 28-day plan begins with an inspiring scriptural quote and a brief note from one of the people Donna has worked with whose life has been transformed by the Witness to Fitness plan. Additional features include a daily menu with delicious recipes, clear and instructive photographs of Donna demonstrating the workout for the day, and an inspirational song suggestion that adds just the right beat to keep moving.

Donna's joy in her Christian faith is contagious. So is her belief that losing weight and taking care of your body means giving glory to God. And Witness to Fitness provides a unique fitness program that harnesses the strength, support, and joy to be found in His love.
Faith, fitness, and a focus on getting healthier instead of just how to lose weight? I could get down with that…
Things I liked:
The emphasis on making long-term lifestyle changes as opposed to offering a quick-fix diet. The suggestions offered are easily maintainable and encourage a gradual adoption of healthier habits that will stick over time.
The idea that a healthy mindset has to be adopted before a healthy body can be achieved. The author emphasizes the importance of seeing our body as a temple and learning to love ourselves enough to want to invest the time and energy that it takes to live a healthy life.
The emphasis on nourishing the body by eating whole foods as opposed to trying to trick it with low-calorie diet food.
The emphasis on movement rather than exercise. We are made to move, and even if we're not doing any formal workouts, every little bit of activity helps.
The 28 day plan is detailed and easy-to-follow. Each day includes a Scripture reading, a motivational success story, positive affirmations, a detailed meal plan (with recipes), and a workout with photos showing how to do each move. The workout plan includes cardio, strength, stretching, and rest days.
The book is easy to read and the author is extremely genuine and motivational.
Things I didn't like:
The daily meal plan is only 1400 calories, which seems a bit low to me. However, the author does state that more may be needed and offers additional healthy snack ideas.
The book seems to be geared at those who are at the very beginning of their fitness journey. However, the workouts, readings, affirmations, and recipes are things that anyone at any fitness level can benefit from.
Overall, I really enjoyed reading Witness to Fitness. Although it's written with the ultimate goal of weight-loss in mind, I found that there was actually a lot to take away in terms of healthy living in general – I especially enjoyed the focus on developing a healthier mindset and working on spiritual and mental health instead of simply focusing on physical.  I didn't follow the 28-day plan, but going over it provided me with some great workout and recipe ideas. Also, I found this book to be really motivational – reading it made me feel like I was getting my own personal pep talk. Donna's enthusiasm is seriously infectious and she seems to really care about helping people get healthier. You can learn more about Witness to Fitness by visiting the Donna's website, or you can leave a comment on this post for a chance to win your own copy. All you have to do is tell me the best thing that changed about your life since committing to a healthier lifestyle. The giveaway will be open until Friday, February 1st, and I'll be announcing the winner on Saturday. And if you're not interested in a copy, then tell me: what's your favorite thing to combine with nut butter?
Disclaimer: I was given this book free of charge but not compensated for my review. All opinions are my own.