1. Last week pink, this week red. 1 coat, 2 minutes, 3 days of not fussing. Win all around! This has seriously become my new favorite nail polish.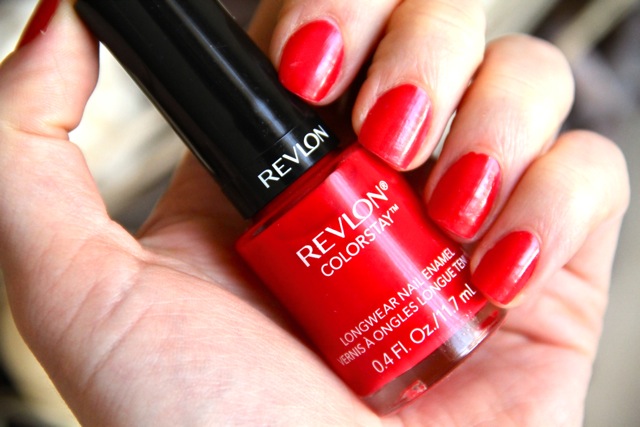 Revlon Colorstay in Red Carpet.
2. I've recently discovered a delicious new use for overripe bananas. As much as I love using them to bake up a loaf of banana bread, lately I've had nothing but cookies on the brain. Nothing wrong with that, except for the fact that last week I bought a few too many bunches of already ripe bananas that have recently turned overripe. Solution? Freeze them Dunk them in cocoa powder, obviously…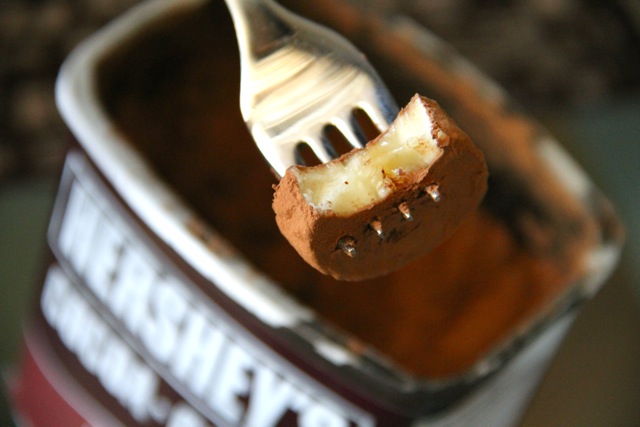 I have no idea what possessed me, but there you have it. The overly sweet banana gets balanced out by the bitter cocoa for a strangely satisfying snack.
3. I've come to the conclusion that I cannot work out first thing in the morning. I just can't. Why? Because my appetite basically becomes uncontrollable for the rest of the day. I woke up the other day with another hefty dose of early morning energy and decided to hit up the treadmill for another early morning walk. After that, I proceeded to spend the rest of the day eating everything in sight. Woof. Then again… maybe that's not such a bad thing? It can get expensive though…
4. You know you might have a slight coffee addiction when you need a fix so bad that you don't even care that they take shortcuts with your name…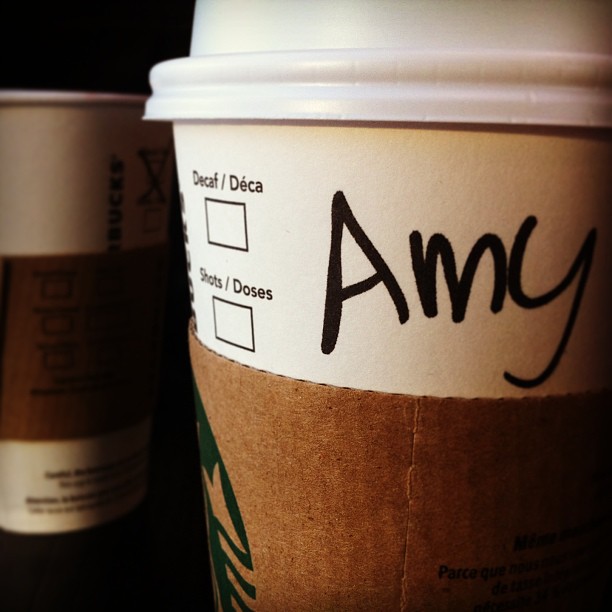 Hi, my name is Amy and you can call me whatever you like as long as you give me coffee. Apparently Amanda just takes too long to spell out when there's a lineup of people waiting to be served…
5. And speaking of coffee addiction, I need this in my life…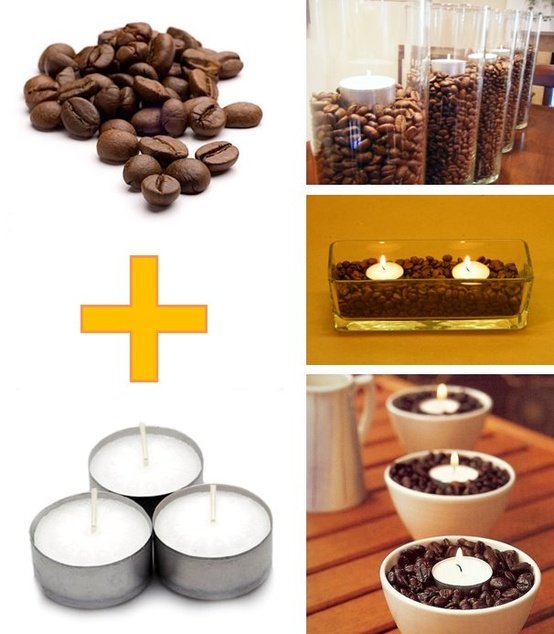 6. I also need to acknowledge that my mom is pretty darn awesome (Hi Mom!). Promise not to laugh when I tell you that despite being all of 28 and living out on my own, I still beg bribe my mom to bring me food, which, bless her kind heart, she occasionally agrees to do…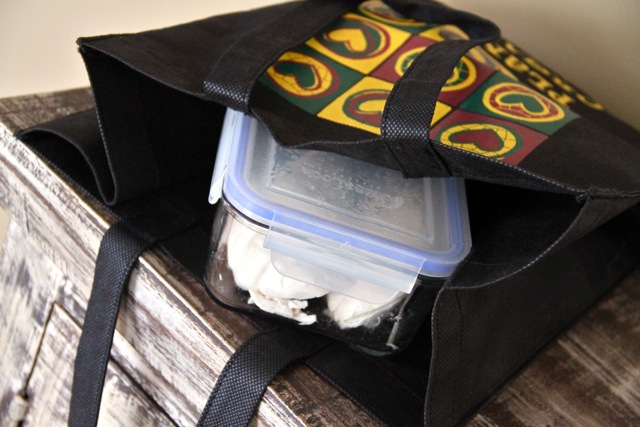 You're laughing, but hear me out! I love eating chicken, but I can't stand working with it when it's raw (hello fear of food poisoning!). I'll do it if I have to, but I'll also jump on any opportunity I can to avoid it. I'd consider our arrangement a fair one, though – she bakes me chicken, I bake her cookies.
7. Speaking of baking, I recently got a new kitchen toy to play with…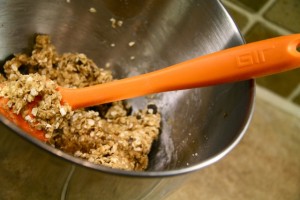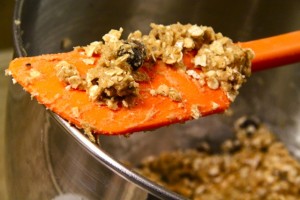 That would be a new spatula from GIR, and I'm kind of smitten. I used to think that all spatulas were created equal, but after taking this one through a couple of test runs, consider my mind changed. What makes it so special? How about that it's super sturdy yet flexible enough to make mixing even the thickest and toughest of cookie doughs a breeze? Or that it's one solid piece so you don't have to worry about it breaking or gunk getting in any cracks? … Or the fact that it's apparently indesctrictible. I really have no idea why you'd need an indestructible spatula, but I guess it doesn't hurt? Either way, I'm a fan.
8. Taking a trip down memory lane with this week's song obsession…
[youtube="http://www.youtube.com/watch?v=eBHmcORu4og&w=560&h=315″]
9. The book I'm currently reading (The Wise Man's Fear) has 1000 pages. One. Zero. Zero. Zero. That in itself is no big deal – it's an amazing book and I would read it even if it were 2000 or 3000 pages. The problem is that the dratted thing is heavy, and trying to hold it up with one hand while I'm laying in bed exhausted after a long day does not make for a pleasant reading experience. And no, I still refuse to get a Kindle or Nook – begone you crazy kids and your crazy technology!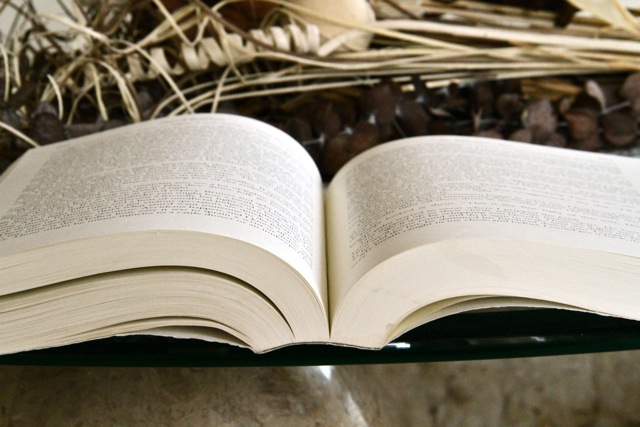 10. Did you notice that this was the first post in a long while that hasn't included any mention of breakfast? Well we can't have that now, can we?…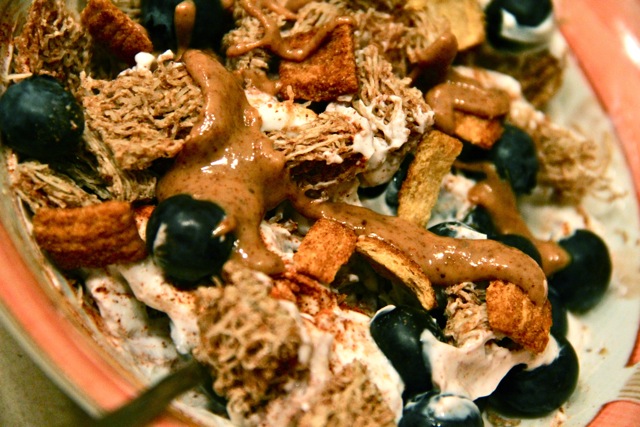 Happy Thursday, my beautiful people!
. – . – . – .
Anyone else feel ravenous for the rest of the day after a morning workout?
Do you use a Nook/Kindle?
What was breakfast this morning?