Why hello there February. I don't much like you, but promise not to drag your feet and I'll keep things civil.
Does anyone else feel like February is one of those months that we just have to get through? We're tired of winter. We want warmth, and sun, and the ability to go outside again. Gah! I'm sorry – what a horrible attitude to start a new month with. February really isn't all that bad, there's just something that I'm really looking forward to happening at the beginning of March, so I'm kind of counting down the days. I'll share more with you guys in a future post, though, because today I wanted to talk about my January favorites and my February goal. First, the goal.
Lately I've been feeling like I've become some mysterious voice behind a computer screen. I don't post many personal pictures and I don't share many details about my life; not because I have anything to hide, but because I'm shy and have a hard time talking about myself… which is kind of strange considering I have a personal blog. This is something I really want to work on changing. My favorite blogs tend to be the ones where I feel like I really get to know the blogger better through pictures and details. Pictures of food and informative posts are great and all, but at the end of the day, it's all about the people, right?
That being said, I'm going to do my best to try and push myself out of my comfort zone and get more personal, so I need you guys to hold me to that, okay? Okay. I've also been toying around with the idea of occasionally posting more than once a day, since sometimes there are things that I want to share with you guys that kind of get lost along the way; that and my list of blog post ideas is getting epically long, and I can never seem to make a dent in it. So let me know what you guys think about that! And with that out of the way, let's get to the favorites…
. – . – . – .
. Food Favorites .
Given all the cereal love around these parts lately, it probably doesn't come as much of a surprise to find cereal topping my list of favorite foods. January was special, though, because I rekindled a love affair with an old favorite…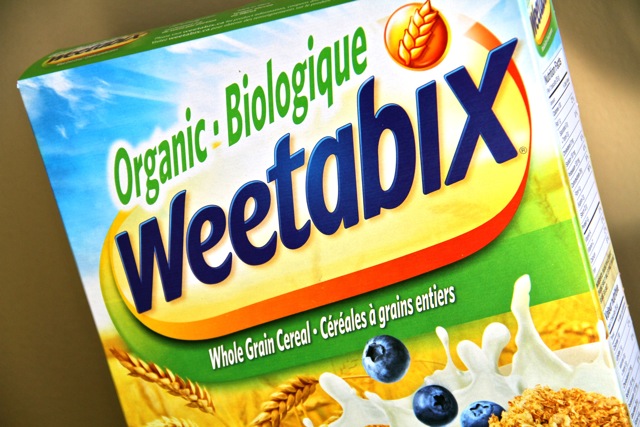 I used to eat Weetabix all the time back in the day, but my love for these wonderfully wheaty biscuits got pushed to the side when I discovered things like Kashi Cinnamon Harvest and Puffins. As luck would have it, I was at my parents' place one cold Sunday evening, when I got hit with a sudden craving for cereal. Problem was that Mom and Dad don't exactly share my love for this fine breakfast food, so their supply was pretty dismal. After some serious digging, I struck gold when I came across a box of Weetabix (which I ended up stealing) and we've basically been inseparable ever since. I don't know what it is, but I love the flakey-ness of this cereal. It's great with milk, but I've pretty much just been craving it dry, crumbled over some yogurt…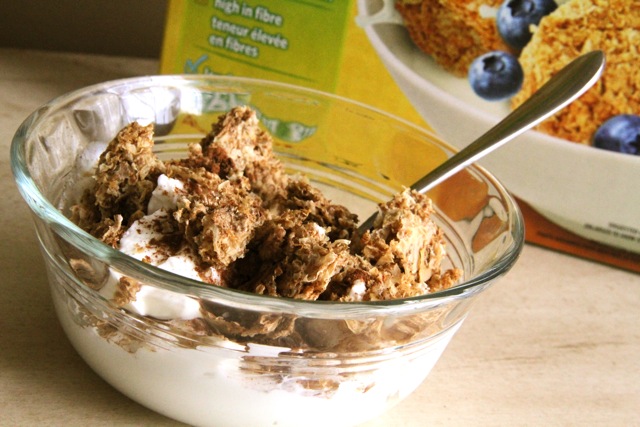 Another rekindled love? Chocolate chip oatmeal cookies…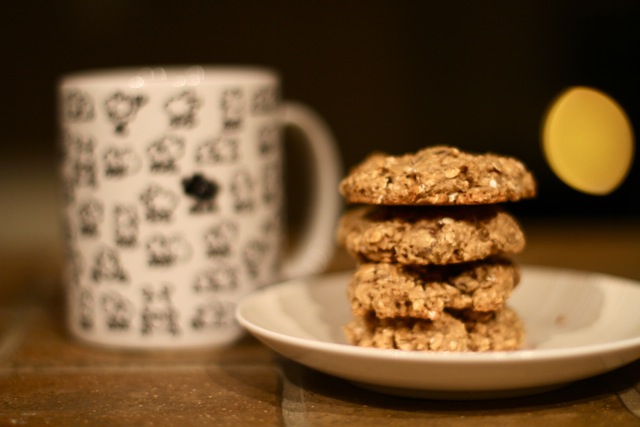 These have been my all-time favorite cookie since as far back as I can remember. My mom used to bake them for me all the time when I was little, but just like with Weetabix, they got lost in the sidelines as I started experimenting with different things. January saw them come back with a vengeance, though – I actually just baked my fifth batch of the month last night and enjoyed a couple alongside a cup of Sugar Cookie Sleigh Ride…
… which just so happens to be another monthly favorite. And finally…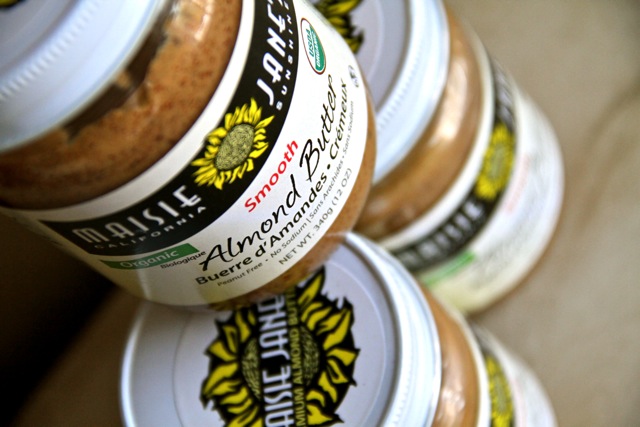 … Maisie Jane's roasted almond butter. This has been my go-to AB for years now, but lately I've been getting some questions as to what I love about it. First, the taste: the roasted almond give it a wonderfully rich and nutty taste. Second, the consistency: it's always drippy and never gets stiff. Third, the ingredients: no added salt or sugar, and no traces of peanuts! Woop!
. – . – . – .
. Beauty Favorites .
Another month, another Lush favorite; this time in the form of Honey Trap lip balm…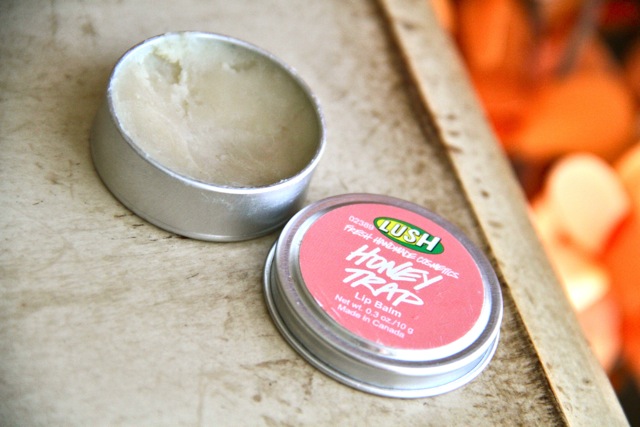 I'm not going to gripe about the weather, but it's been bad. Cold. Windy. Dry. Basically the perfect conditions if you're looking to ravage your skin/hair/nails. I'm not really into the dry and flakey look, so I've been taking extra precautions. Made with oat milk, almond oil, white chocolate, olive oil, and shea butter, this balm has been working wonders – no chapped lips for this girl.
No dull and lusterless skin either, thanks to MAC's Mineralized Skinfinish in Soft and Gentle…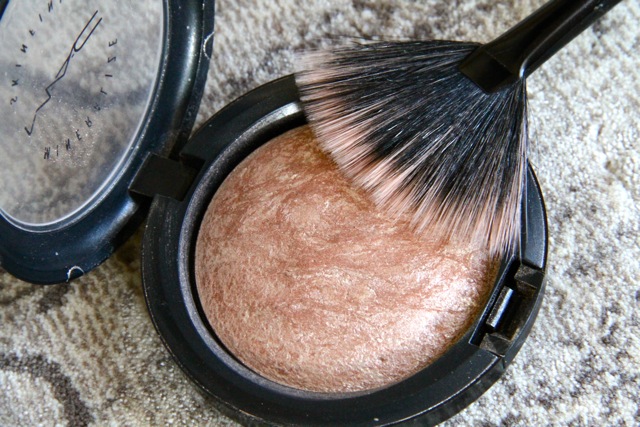 Dry winter air means dull winter skin – not a good look for me. To help brighten up my skin, I've been sweeping this highlighting powder across my cheekbones, nose, and forehead. It gives me a nice summer glow without making me look shiny or greasy.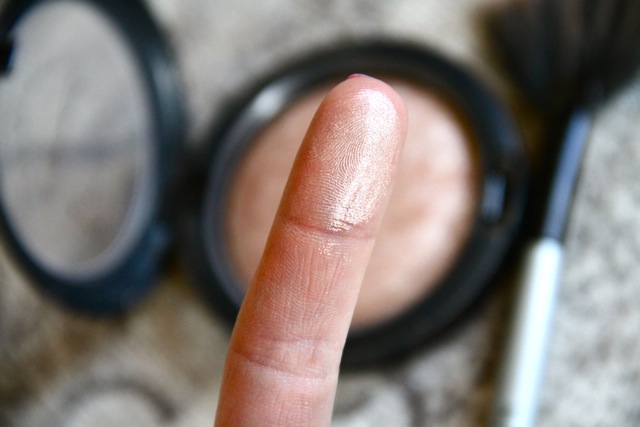 And for a little extra radiance, a spritz of MAC's Fix+…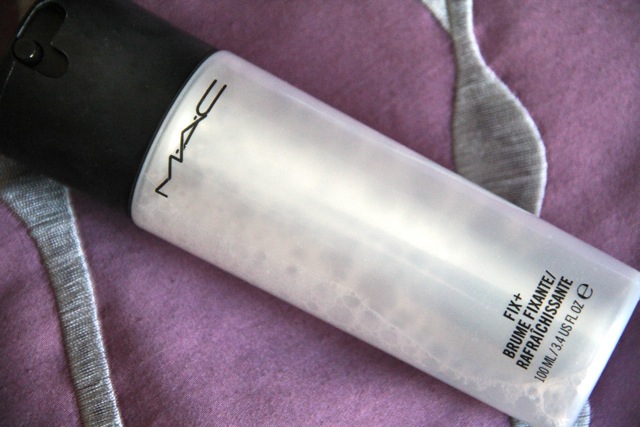 Not only does this blend of green tea, chamomile, and cucumber help set face makeup to make it last longer, but it adds that nice dewey glow that's so hard to get in winter. I'll often spritz my face a few times throughout the day if I feel like my skin is starting to look a little tired – it's wonderfully refreshing.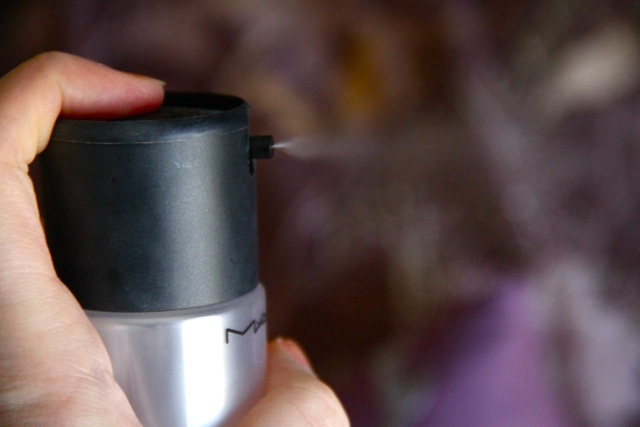 This next beauty favorite takes a bit of explaining, so hear me out…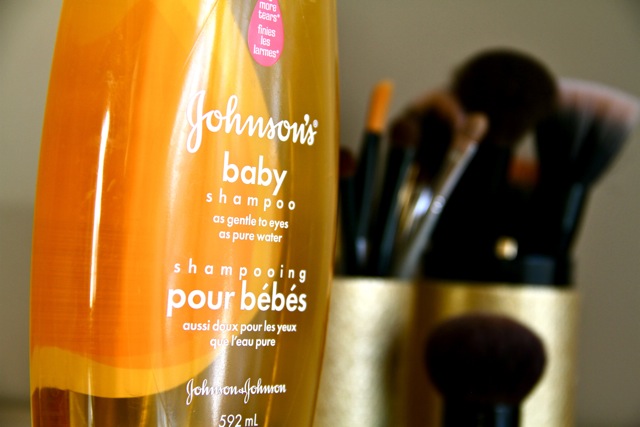 Baby shampoo. No, I haven't been cheating on my Lush solid shampoos – this stuff hasn't touched my hair since I was a teeny-tiny human being. Instead, I've been using it to clean my makeup brushes. If you use brushes to apply your makeup, it's important to clean them regularly to prevent the build-up of bacteria, which can lead to some nasty breakouts. I used to use a designated makeup brush cleaner from MAC, but that stuff gets expensive. After hearing that baby shampoo could be used instead, I gave it a shot and never looked back. All you have to do is wet your brush, squirt a little bit of baby shampoo in your hand, and swirl your brush around in it. When you work up a nice lather, wash our the shampoo and voila! Clean, soft brushes at a fraction of the cost.
Aaaaand I couldn't end my beauty favorites without mentioning my new favorite nail polishes…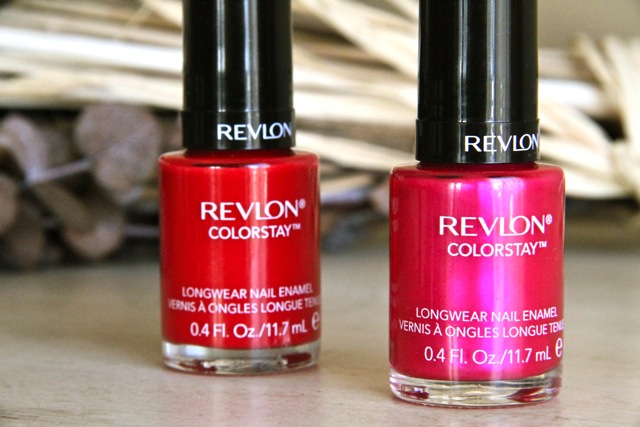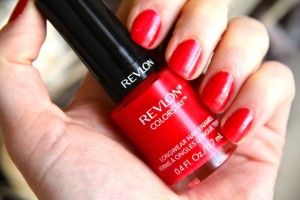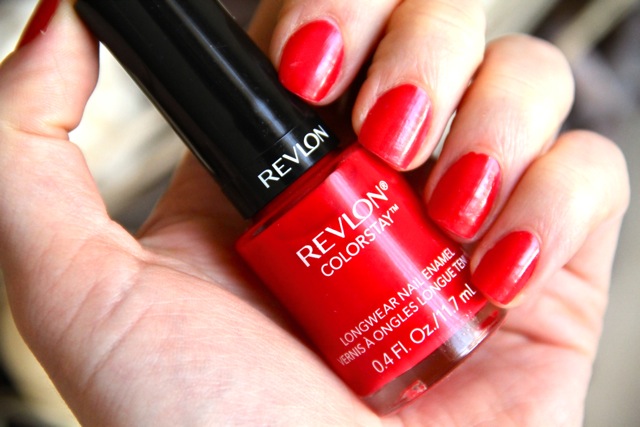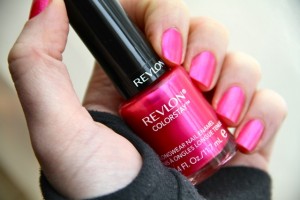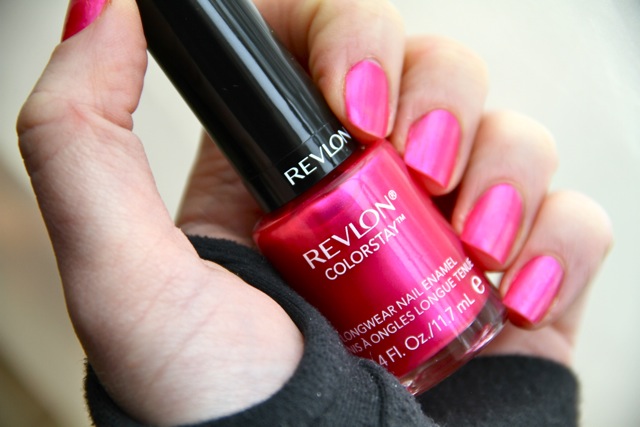 You guys have heard me rave about the Revlon Colorstay polishes enough already so I'm not going to say too much about them. They're fast and they last. In short, they're wonderful.
. – . – . – .
. Book Favorites .
My book pick for this month is The Name of the Wind, by Patrick Rothfuss.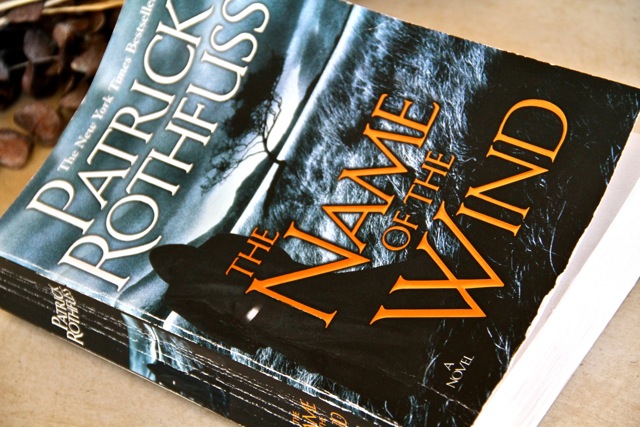 Oh.my.goodness. Where do I even start with this one. I'll give you the description while I think…
The riveting first-person narrative of a young man who grows to be the most notorious magician his world has ever seen. From his childhood in a troupe of traveling players, to years spent as a near-feral orphan in a crime-ridden city, to his daringly brazen yet successful bid to enter a legendary school of magic,The Name of the Wind is a masterpiece that transports readers into the body and mind of a wizard. It is a high-action novel written with a poet's hand, a powerful coming-of-age story of a magically gifted young man, told through his eyes: to read this book is to be the hero.
If you like fantasy books, I can pretty much guarantee that you'll love this one. It's been compared to works like The Lord of the Rings and The Song of Fire and Ice, but dare I say that I think I might like it even more than either of those. First of all, Rothfuss' writing is just beautiful – there were countless instances where the beauty of the prose took my breath away. His choice of words and the manner in which he delivers them is almost poetic in nature. Rothfuss creates a vivid world that you can easily picture in your mind, giving just the right amount of detail without losing you in it.
The Name of the Wind is a bildungsroman, a coming of age story. It focuses on the growth and development of the main character, which the author goes about doing in a brilliant way. The story of the book takes place over the span of a few days, but covers years of the character's life. When we're first introduced to the present-day Kvothe, he's already grown up and living as a simple innkeeper in a quiet town, hiding who he truly is. Certain events unfold that bring his true identity closer to the surface, and the reader begins to realize that there's more to him than meets the eye. Pushed to share his story by a Chronicler, Kvothe sits down in his inn and begins to tell it. At that point, the book delves into the past, with several interludes that bring it back to the present. The stark contrast between who Kvothe is and the man he was in his youth makes the reader wonder what it was that happened to get him to where he is now.
Kvothe is a powerful hero, but at the same time he's incredibly fallible and human. He makes mistakes, he gets badly beaten, he suffers, he barely manages to get by – his story is real. It's the good and the bad. The joy and suffering. The great acts and the stupid mistakes. Stop listening to me rave about it and go pick up your own copy! You won't be sorry.
. – . – . – .
How do you guys feel about more than one post a day?
I could use some encouragement! I could definitely get a little more personal, eh?