Happy What I Ate Wednesday, friendly faces!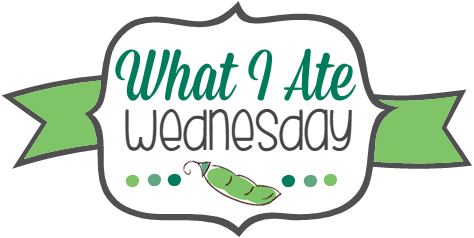 I know! I haven't shared a full day of eats in forever (with "forever" being since June of this year), and to be honest… I kind of missed it! Not only because it's nice to get a little more personal and chat about something other than random thoughts and recipes every now and again, but because I know you guys like these posts… and I like to give you what you like to read 😀
Besides! I've been tinkering with my diet a little bit (as is always the case), and that's always fun to talk/read about, right? Right.
So without further ado, let's jump right into it and take a look at what I ate on Wednesday some day in the past week. Maybe Thursday.
. – . – . – .
So I bet you're wondering about the title of this post… Death to the snack monster? From a self-professed snacking fiend?! I've made it no secret that I love to snack, oftentimes forgoing actual meals in favour of eating a lot of smaller snacks throughout the day, and while I wouldn't say that my inner snacker is completely dead and buried, I've definitely had to rein her in a bit.
Why? Well, it got to the point where I was literally eating all.day.long, and while that might sound fun in theory, it wasn't all that great in execution… for a few reasons. And please keep in mind that this is all just theorizing based on my own personal experience.
[Breakfast:] 1 cup of oats with a banana cooked in. One scoop of vanilla rice protein powder, a heaping spoonful of almond butter, and copious amounts of cinnamon added post-cook.
First, small snacks, no matter how plentiful, are not overly satisfying… hence why they have to be so plentiful. With the exception of breakfast, which was always a meal meal, I'd usually go through the day grabbing a handful of this or a bowlful of that, which would last me about an hour before I had to go back and grab something else. And that was annoying because I would end up feeling hungry/unfocused way too often.
Second, the amount of snacking I was doing was probably a little taxing on my digestive system, since my stomach was constantly having to digest food and never really got a chance to rest and do whatever it is that stomachs do when they're not otherwise occupied.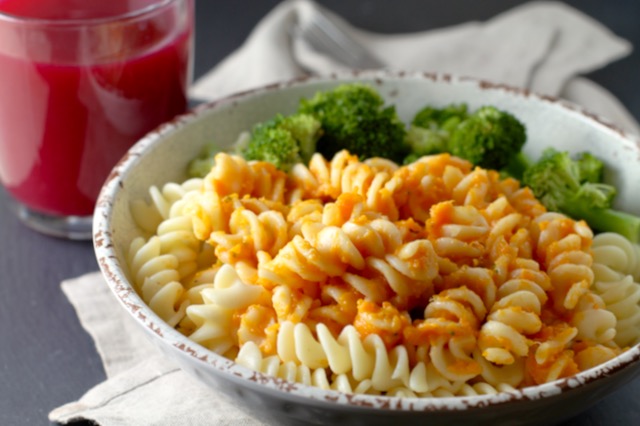 [Lunch:] whole wheat noodles and steamed broccoli topped with a "sauce" made from 1 small sweet potato, a spoonful of tahini, garlic powder, aaaaaand I forget <– not a recipe; I was just messing around. On the side, a cup of Pressed beet/apple/lemon/ginger juice that I came across in Costco.
So why the constant snacking? I mean, I've always gravitated towards it, but things definitely got a little extreme for a while there.
I think a lot of it was due to the fact that I work from home and have access to my kitchen all day, or because I'm literally in my kitchen all day when I'm testing recipes. Working on the computer gives me mad munchies, and recipe testing means I'm often eating muffins, cookies, or bars instead of an actual dinner. Plus sometimes I just get too busy and/or lazy.
SO! In an effort to curb the snack monster, I've been making it a point to eat bigger meals. That way I stay nice and full for a lot longer and don't feel the need to snack all.the.time.
Sounds good in theory, but what about in execution?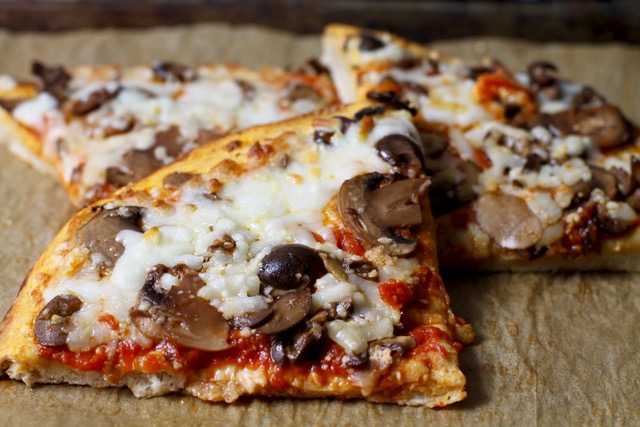 [Dinner:] Amy's mushroom and olive pizza, with the olives picked off because… NO.
So far, so good!
I never thought I would say this, but I might actually prefer the bigger meal route. Why? Because it feels nice to eat, feel 110% satisfied, and forget about food for a good handful of hours. Before I was constantly getting distracted by snack breaks, but now? Eat, enjoy, and don't think about food again until the next meal. Love it.
That's not to say that I never snack, because — let's get real — I love snack foods and couldn't get by without a daily dose of chocolate…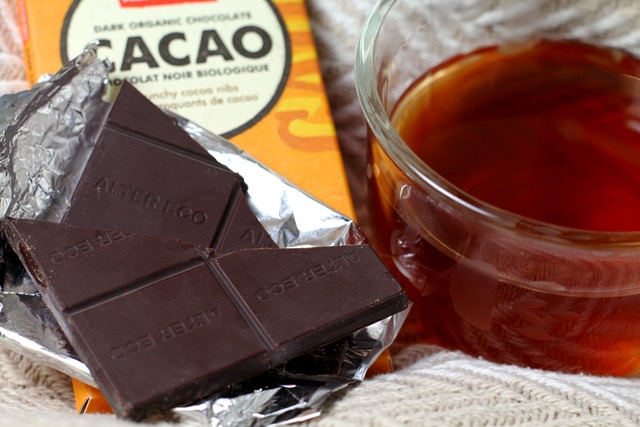 [Dessert]: Alter Eco dark cacao chocolate.
… but I've really been enjoying the bigger meals, and find that I don't even feel like snacking as much when I eat them… at least on days where I don't work out. Now hopefully I can stick to my guns and make this last 😆
Happy Wednesday, friendly faces! See you tomorrow for some Thinking Out Loud 😀

Are you big on snacking? Or do you prefer bigger meals?
What was breakfast this morning? What's for dinner?
More places to find me!
E-mail — [email protected]
Twitter — runwithspoons
Facebook — runningwithspoons
Pinterest — runwithspoons
Instagram — runwithspoons
Bloglovin — runningwithspoons
Snapchat — runningspoons