Guys… I think I can top my corny greeting from yesterday's post. Ready for this? Here we go:
Hip, hip hooray! It's What I Ate Wednesday!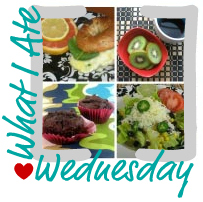 Ohhhh it makes me cringe; and I can't even blame hunger and a lack of food for this morning's corniness since I'm kind of in the middle of eating breakfast as we speak. No, instead I'm going to blame a lack of sleep…

Are we Twitter friends yet?
Today started out super early for me. In fact, the past 3 days have. I didn't exactly have any reason to be up at 5 AM, but there I was – wide awake at the crack of dawn and unable to get back to sleep. A normal person probably would have stayed in bed, hopped on the computer to read some blogs, or gotten a workout in, but me? I decided that 5:30 AM on a Wednesday morning would be the perfect time to make some homemade applesauce; so that's exactly what I did…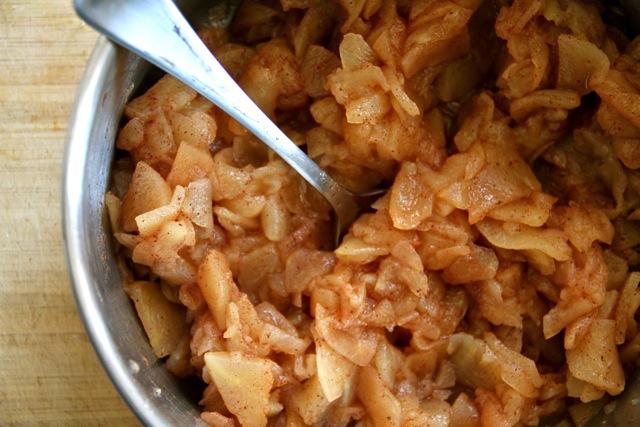 Can I just say that my fine motor skills are a little rusty at 5:30 in the morning? I must have dropped those darn apples at least half a dozen times, and I'm considering myself extremely lucky to still have all my digits attached. But it was more than worth it and made this morning's breakfast that much better…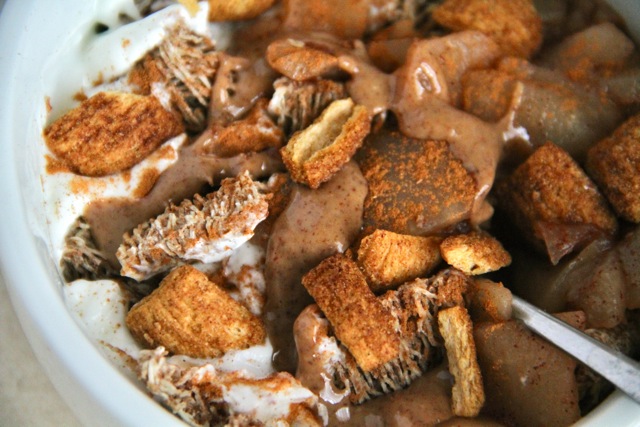 Plain Greek yogurt, banana, Kashi Cinnamon Harvest, Puffins, and roasted almond butter.
I've been just a tad obsessed with apples lately. Let's use yesterday's eats as an example. I already showed you my breakfast…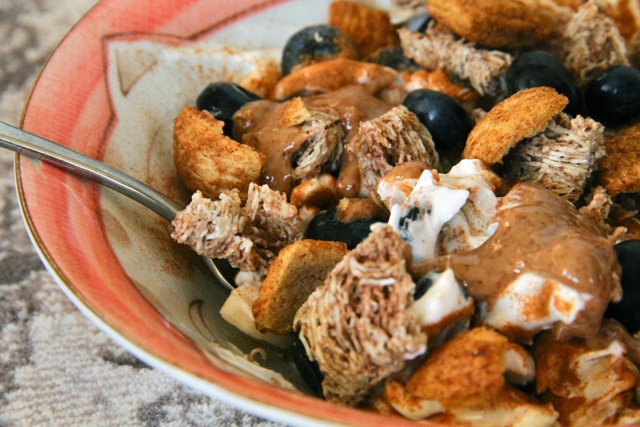 … which was [oddly] apple-less; but it wasn't long before the forbidden fruit began calling to me. Mid-morning, I dug into these Barefruit apple chips.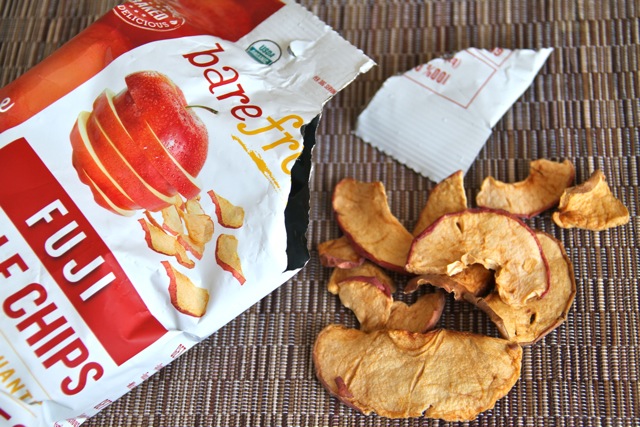 I can't even tell you guys how much I love these things. I'm not a fan of dried apples in general because I don't like their spongey/gummy texture, but these chips are wonderfully crunchy just the way chips should be.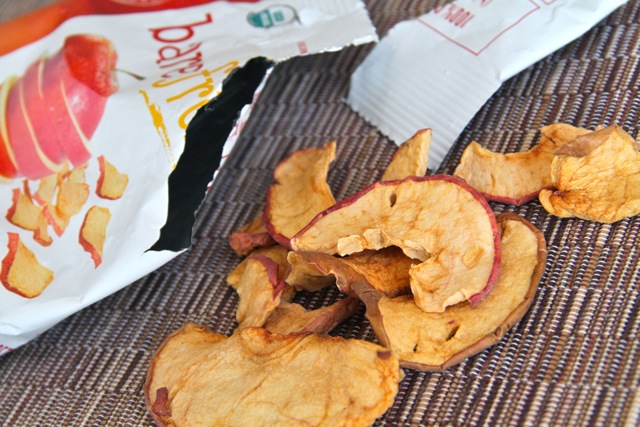 I would have loved to dip them in some coconut Oikos like I did last week, but there was none in arm's reach. I tell ya… I have it rough 😉 Insert a few boring uneventful hours of work, and I was more than ready for lunch…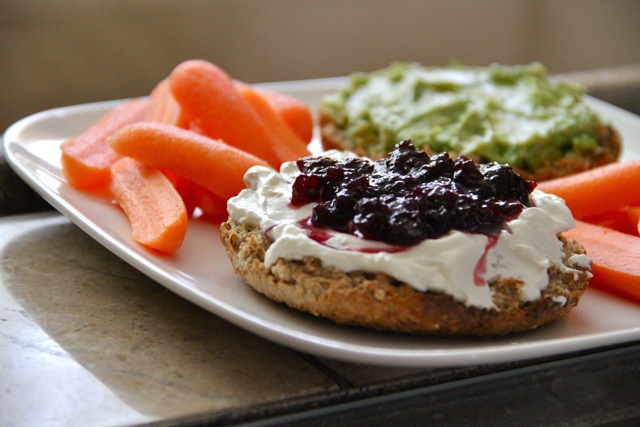 Ezekiel English muffin, half with cream cheese and jam, other half with avocado.
Lunches have been my least favorite meal of the day lately. I have no idea why, but I just haven't felt inspired to make anything creative, and since I don't really do a lot of cooking, I don't exactly have any leftovers to pack for the next day. Might be something to look into, but until then I'll make lunches a little bit better by making sure to always include something like this…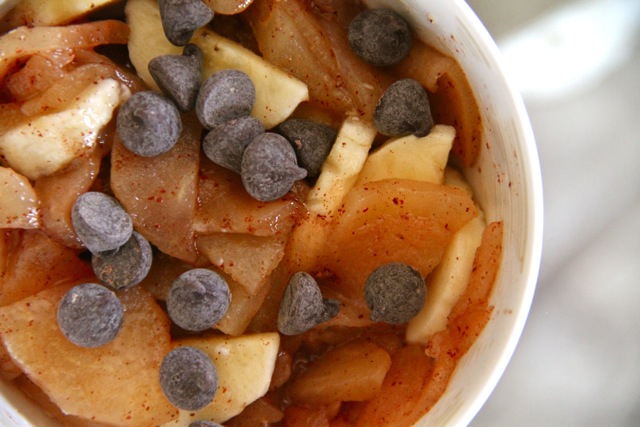 Homemade applesauce with sliced banana and chocolate chips. I always thought the combination of apples and chocolate was a little strange, but I have to admit that I'm definitely a fan. Then again, when is adding chocolate ever a bad idea? The only answer to that question is: never… which is exactly why I decided to enjoy some more as part 1 of my afternoon snack…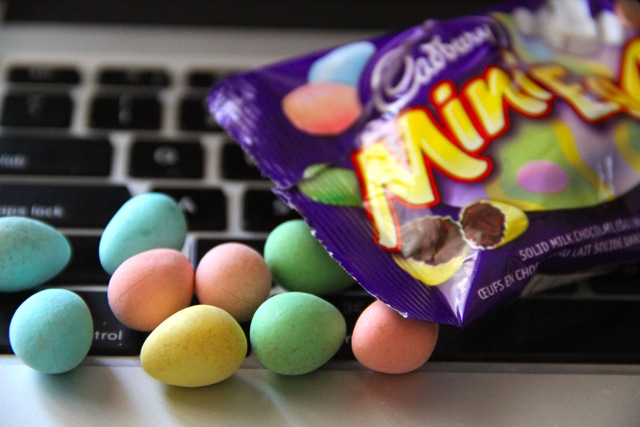 Mini Eggs are, hands down, my favorite Easter candy ever, and arguably one of my favorite things about spring. I remember buying enough baggies to last me a good six months back when they only came out around this time of the year, but thankfully someone smartened up and made them available pretty much year round. Part two of snacking included the customary cappuccino…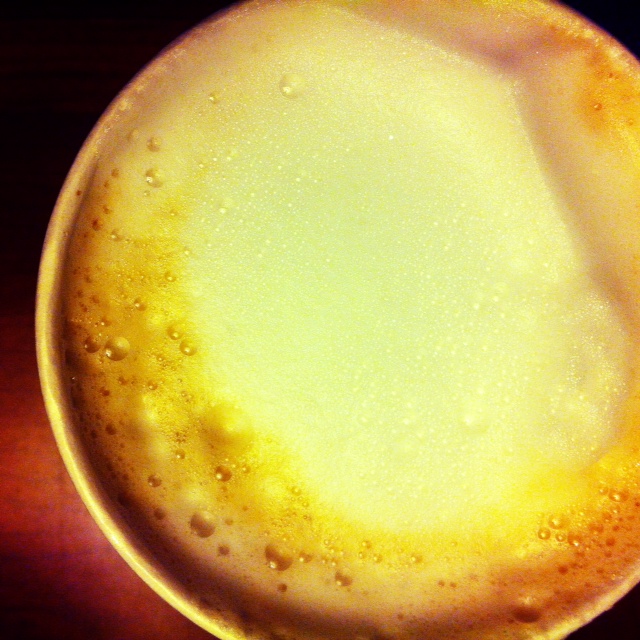 Oddly enough, my appetite was basically non-existent when I got home last night, so I put off making dinner and went for a quick 32:18 minute treadmill walk instead. Why 32:18? Because that's how long it took me to finish the remainder of the Game of Thrones episode that I started watching earlier in the day. After that, the good old appetite kind of decided to kick in, but nothing really sounded appealing. Enter breakfast for dinner…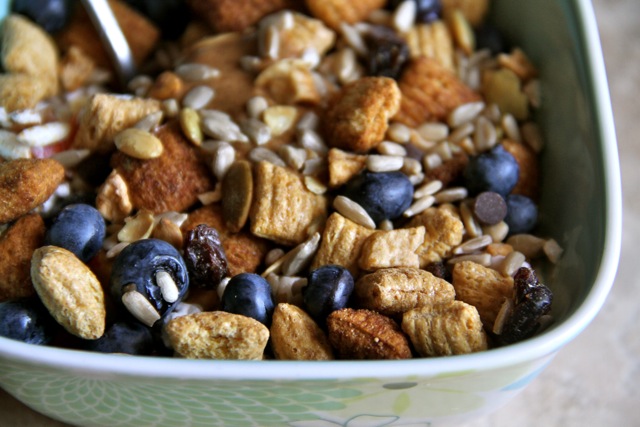 Puffins (cinnamon and plain), blueberries, Enjoy Life trail mix, roasted almond butter. Milk added post-shot.
… aaaaaand again before bed…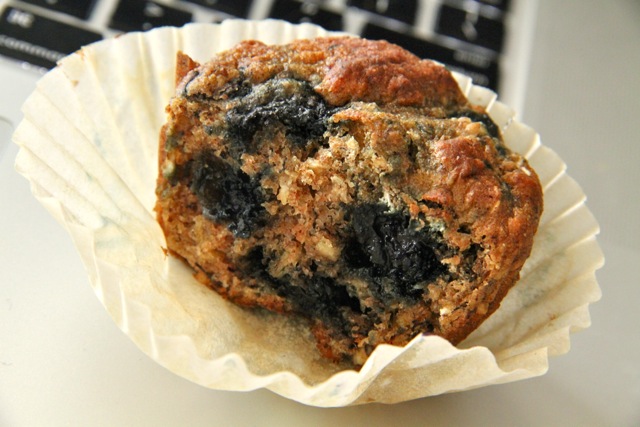 I look back at yesterday's eats and can't help but feel a little proud of how far I've come. Sure, to the average person my diet might not look all that healthy sometimes, what with all the cereal and sweets and the lack of veggies; but it's something that I never would have been able to do back when I was sick, so the fact that I can do it now makes me a happy camper. Besides, days like today are usually followed by days where all I want is chicken, avocados, and veggies, so I figure it all balances out in the end anyways
Happy Wednesday!
. – . – . – .
What were you doing at 5:30 this morning?
What's your least favorite meal of the day? (I'm assuming that breakfast is everyone's favourite 😉 )
What's one thing that always sounds good even when your appetite is a bit off?