Alternatively titled "Under the Influence," but I decided to go with something a little less risqué 😉
… and before your mind runs away with you, not that kind of influence. Rest assured that I'm serfectly pober perfectly sober as we speak. I'm talking about the blogging influence. We spend a lot of time browsing various food blogs, so it's inevitable that some of what we see rubs off on us. This can be both a good and bad thing, but for this week's edition of What I Ate Wednesday, I wanted to focus on the good. So, let's take a look at some of the blogging influence that can be found in my meals…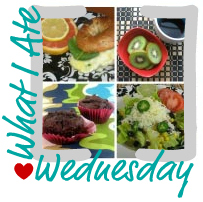 Breakfast… [Eggy oats with toppings galore]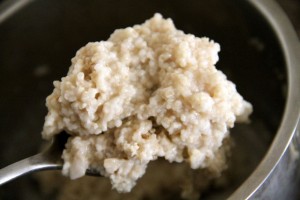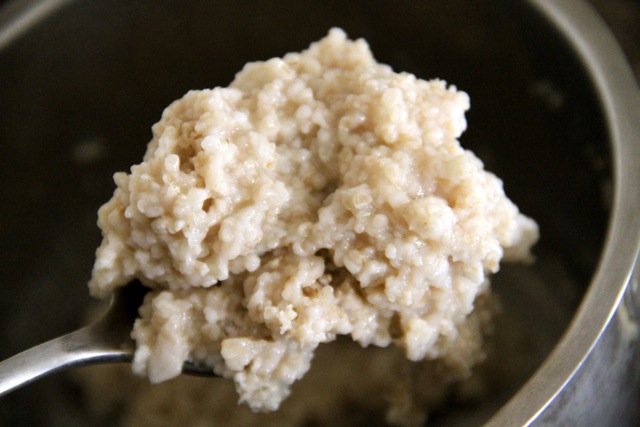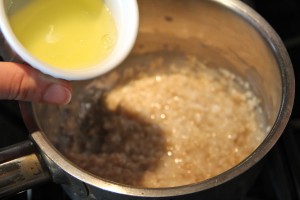 I've been eating oatmeal for pretty much as long as I can remember, but my current bowls definitely look a lot different from my bowls of breakfasts past. Back then I would have never thought to add egg whites to my oats, and I kept my toppings pretty basic with things like brown sugar, cinnamon, and a splash of milk. These days? Bring on the eggy bananafied oats and load 'em up with plenty of plain Greek yogurt, blueberry jam (or honey/maple syrup/pudding/etc), and roasted almond butter.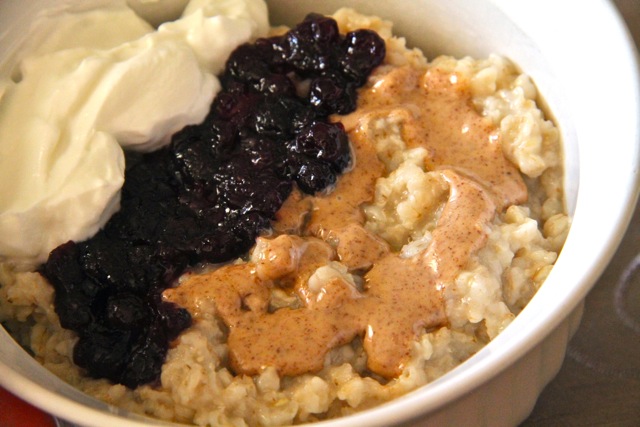 Morning snack… [Chia seeds]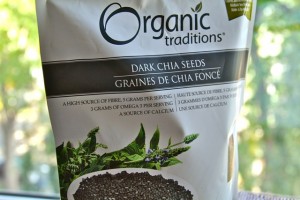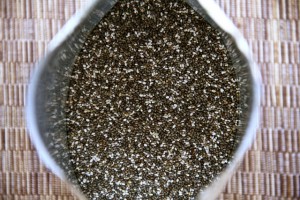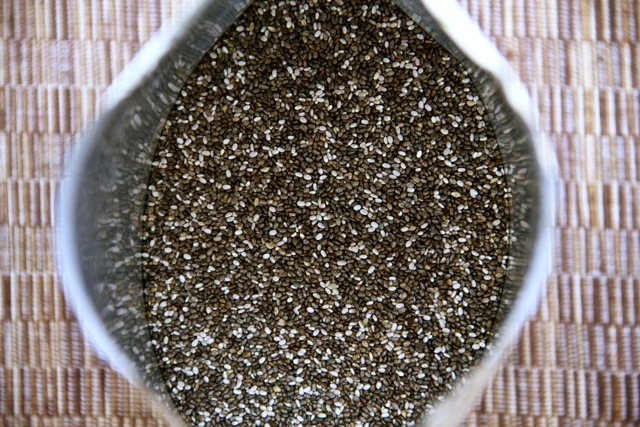 I can't even believe I'm saying this considering how much I've ragged on them in the past, but this is just another example of why it's a good idea to never say never – you may end up eating your words. I've been wanting to get these little buggers out of my pantry for a while now, and I think I may have found a way that I actually enjoy eating them – sprinkled on top of vanilla infused Greek yogurt that's been mixed with fruit; sliced banana and homemade applesauce in this case.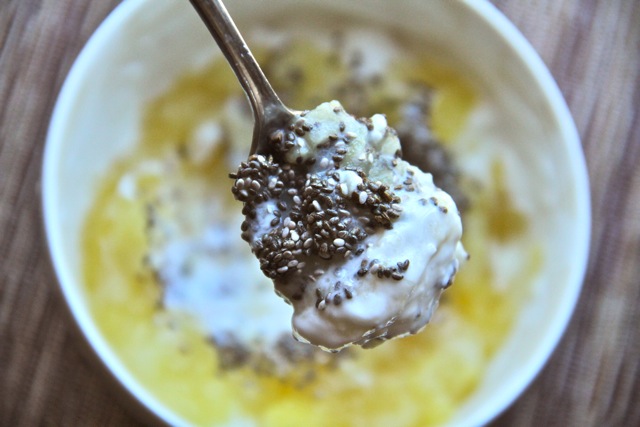 I'm still not a huge fan of them when they get all gelled up and goopy, but they add the most delightful little crunch to things before getting to that point. Sure I end up having to spend a minute picking them out of my teeth afterwards, but I'm willing to overlook that… for now.
Lunch… [Almond butter]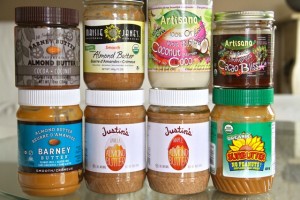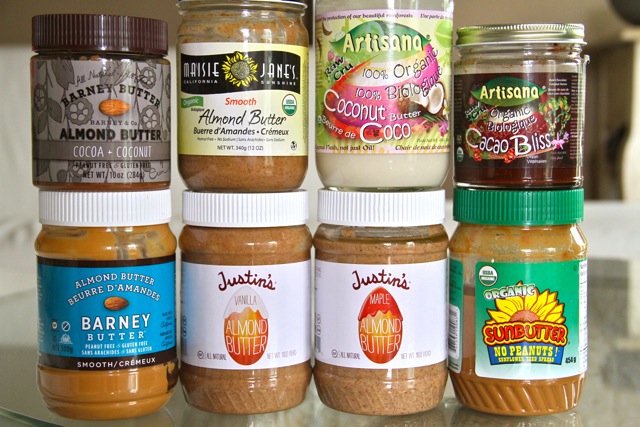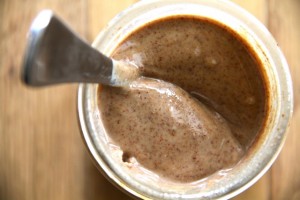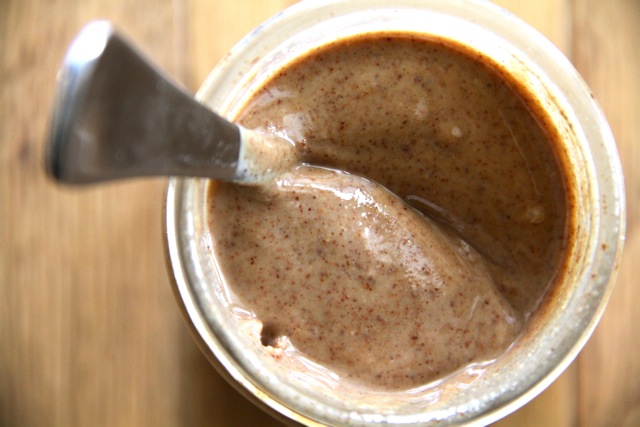 Wanna hear something crazy? I didn't have my first taste of almond butter until the ripe age of 25. Since I'm allergic to peanuts, peanut butter was obviously out of the question for me as a kid, and I didn't even know that something like almond butter existed until I came across it on the pages of various blogs. Let's just say I pretty much owe blogging for life for that one, because I don't think a day has gone by without AB in it since my first faithful taste. I love it on ALL things, and especially when it's paired with bread and [blueberry] jam…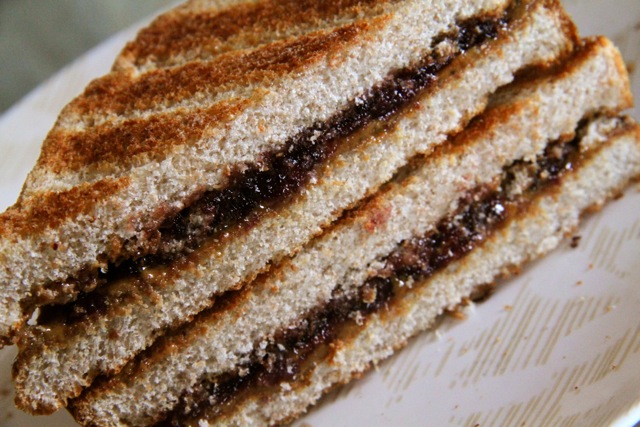 Afternoon snack… [Creating my own recipes]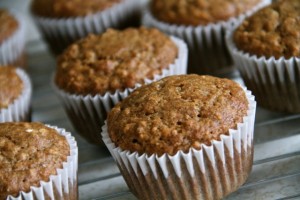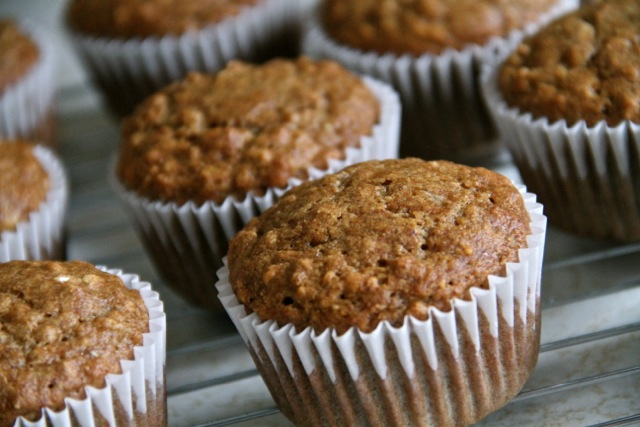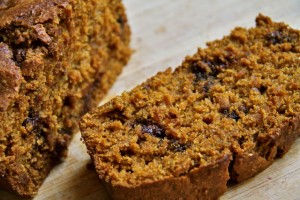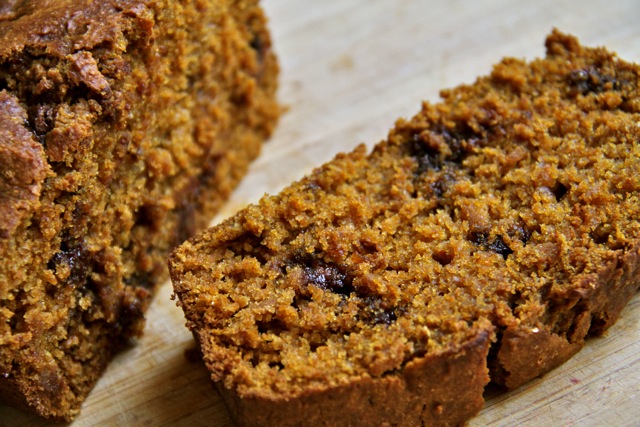 Before I started blogging, my creativity in the kitchen was basically non-existant. In fact, I'm pretty sure that one of the only things I could make was mac 'n' cheese, and I'm not talking about the fancy ones from scratch. I was a lot better with baking, but even then I was always following a recipe. It wasn't until I got into blogs that I became more adventurous in the kitchen and eventually started coming up with recipes of my own, like these no-bake almond fudge protein bars.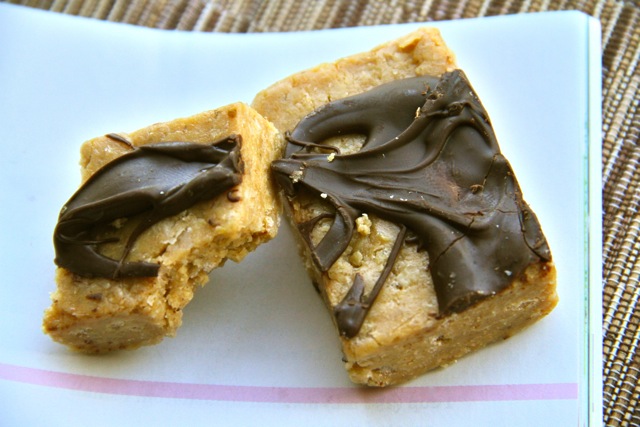 Dinner… [Kabocha squash]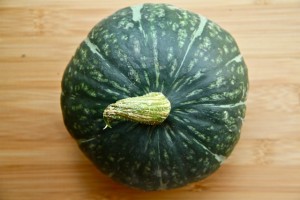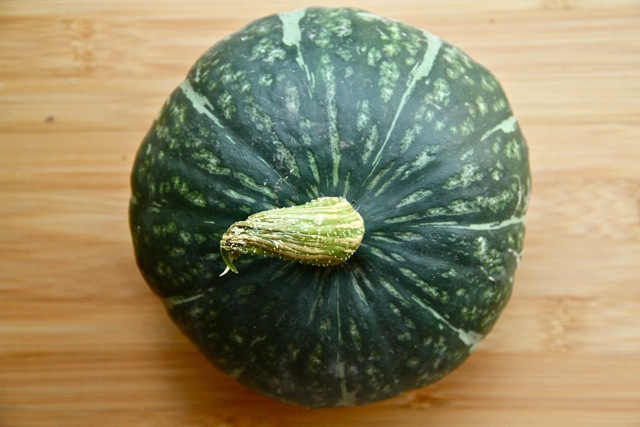 Before blogging, I thought that pumpkin and squashes were just for decoration; I never imaged that people actually ate them. But in my defense, they do look a little intimidating, and they are dangerous. I can't even tell you how many close calls I've had with knives – the fact that I still have all my digits is a miracle in itself. But I digress. The point is, I love squash, even if my stomach doesn't always share that love (helloooo, squash belly!). Thankfully, the small kabocha I picked up at the store the other day didn't cause any problems, and it was delicious roasted and eaten alongside almond butter and a baked chicken salad.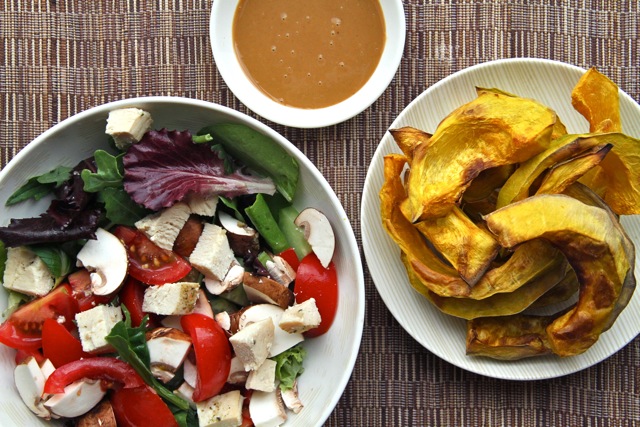 Evening snack… [Eating before bed]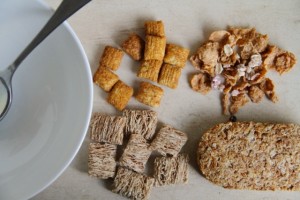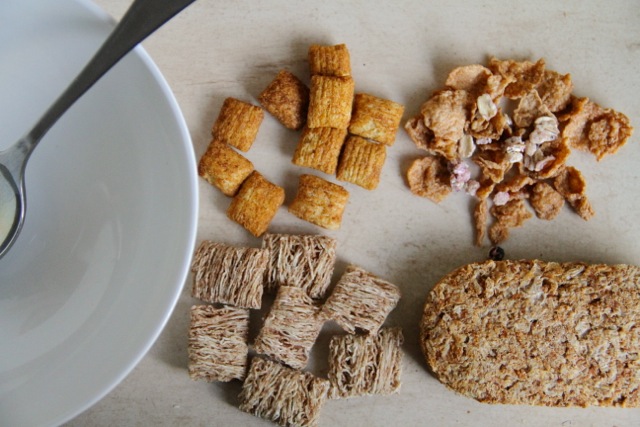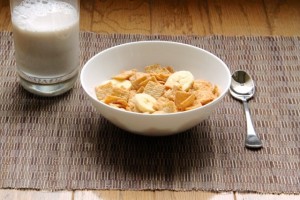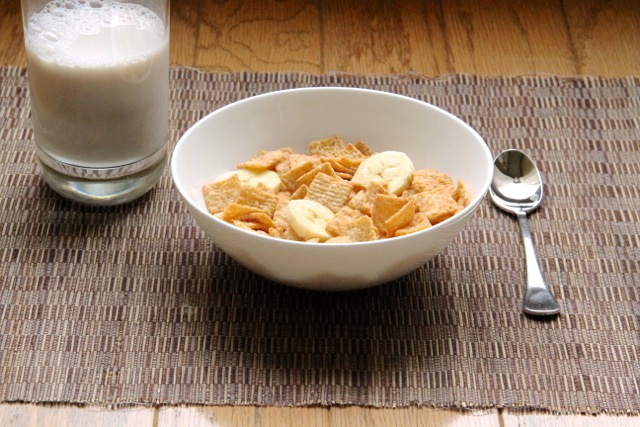 Okay, so cereal definitely isn't a new thing in my life, but eating before bed is. Even before my ED hit, I went through a phase where I bought into all the talk of not eating past 7 o'clock and usually ended up going to sleep hungry. It wasn't until I saw plenty of bloggers who looked great and ate late that I started doing the same. Thank goodness, because waking up due to hunger pangs is misery, while a bowl of Kashi Cinnamon Harvest with a sliced banana, almond butter, cinnamon, and almond milk is just pure bliss.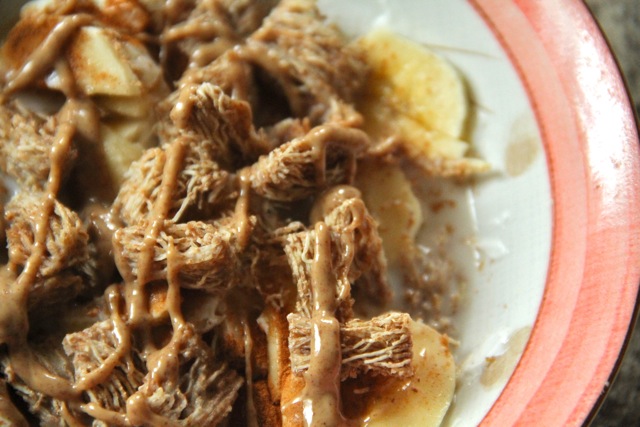 . – . – . – .
I could probably go on and on about the foods that blogging has introduced me to (Greek yogurt, coconut, kombucha, hummus, pumpkin, avocado, dark chocolate, sweet potatoes), but I've already rambled on for long enough so it's probably best that I end it here. But before I go, I wanted to mention that I just realized I had almond butter in 5 out of my 6 meals… Apparently I'm making up for lost time 😆
Happy Wednesday, beautiful people!
What are some foods you love that blogging has introduced you to?
What about some that you're not so fond of?