Happy What I Ate Wednesday, friendly faces! 😀
You know how they say that absence makes the heart grow fonder? That's definitely been the case around these parts. Not only have I missed doing a WIAW post after taking a few weeks off, but I've also missed some of my favourite eats after spending a few days frolicking around in the desert.
Since I didn't take a picture of virtually anything I ate on my trip, I'm going to use today's WIAW as an opportunity to talk about the foods that I missed while I was gone and was happy to come home to…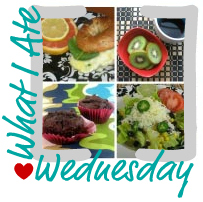 Breakfast… I missed my oats.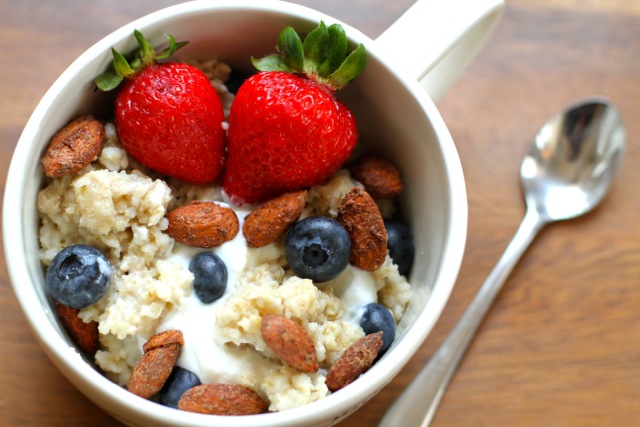 Eggy bananfied oats layered with plain Greek yogurt and topped with blueberries, strawberries, and roasted cinnamon glaze almonds.
This may have just been the best bowl of oats that I've ever eaten; and not because there was anything overly special about it, but because it was the first bowl I had in 5.whole.days. See, even though I was back home on Monday morning, I woke up pretty late and was too tired and lazy to cook up a bowl of oats, so I had some cereal instead. Still tasty, but definitely not the same. I think it's safe to say that my oatmeal addiction isn't going anywhere anytime soon.
Morning snack… I missed my homemade bars.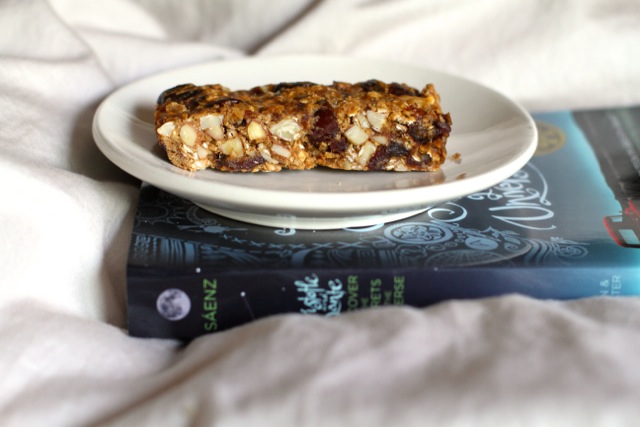 A fruit and nut bar (recipe coming soon!)
I usually whip up a batch of homemade bars, cookies, muffins, or something to take with me when I travel, but I was feeling a bit like a scatterbrained chicken before I left so I didn't get a chance to spend much time in the kitchen and had to rely on store-bought bars to get me through. Still tasty, but definitely not the same 😉 These are some fruit and nut bars that I made for Savory Style, and the recipe should be up in a few days so I'll let you know when it gets posted!
Lunch… I missed my snack plates.
Dr.Kracker Seedlander crispbread, dried figs & dates, half an avocado, baby carrots, cocktail tomatoes, and The Good Bean's sweet cinnamon crunchy chickpeas.
Even though most of the lunches I had while I was gone were snacky grab-and-go type deals, there's something about actually being able to plate food and sitting down to eat it that makes all the difference. That and I really missed the combination of avocado, figs, and crackers. Try it and thank me later.
Afternoon snack… I missed my yogurt messes.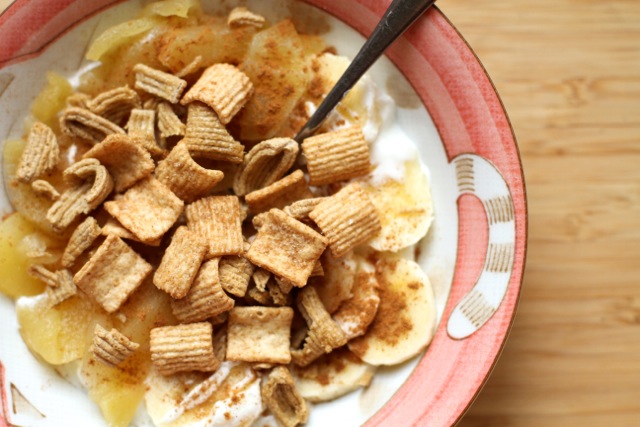 Plain Greek yogurt with a sliced banana, homemade applesauce, and Cascadian Farm Cinnamon Crunch.
Despite the fact that I had yogurt, fruit, and cereal on my trip, I did not have a bowl… which meant that I had to eat everything more-or-less individually at the same time… if that makes sense. Not horrible, but not ideal — yogurt messes really do taste better when all the elements have had a chance to mingle for a little while. Oh, that and I didn't pack any cinnamon in my suitcase. Sad face.
Dinner… I missed… nothing, really.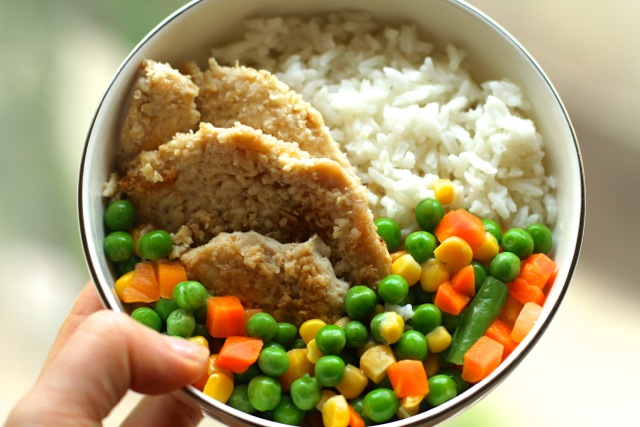 Coconut basmati rice with oatmeal-breaded chicken and mixed veggies.
I think dinners have replaced lunches as my least favourite meal of the day. It's not even that this one didn't taste good — because it did — but I ate a tonne of Chipotle while I was in Vegas and, well… I'd take that over most home cooked meals, especially since I don't know when I'll be able to get my next fix. One of these days I'm really going to have to try coming up with a mock Chipotle bowl recipe… Either that or Chipotle needs to make its way up here, stat.
Evening snack… I missed my ice cream sandwiches.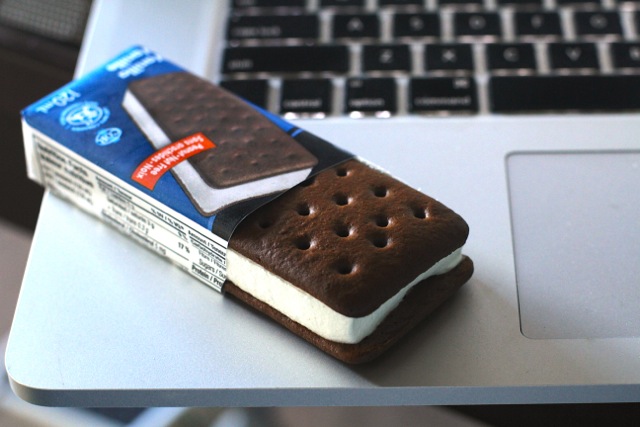 A Chapman's vanilla sandwich.
One of the things that has always bothered me the most about my peanut allergy is the fact that I can't enjoy any sort of frozen treat while I'm out and about since most places can't guarantee that their flavours haven't been cross contaminated with nuts. This means no grabbing an ice cream cone on the beach and no going out for froyo dates. Sad face. But at least I can still enjoy my ice cream sandwiches [at home]! Chapman's was one of the first peanut-free ice cream companies that I found, and I still love them to this day.
Home sweet home 😀 See you guys tomorrow for Thinking Out Loud!

Do you prefer eating out or eating at home?
What are some foods/meals you miss when you travel?
What are some things you always make sure to take with you?
More places to find me!
E-mail — [email protected]
Twitter — runwithspoons
Facebook — runningwithspoons
Pinterest — runwithspoons
Instagram — runwithspoons
Bloglovin — runningwithspoons