Yesterday was a good.freaking.day.
It started in the morning (as most days tend to), when I opened my eyes to discover that I managed to sleep in to the glorious hour of 5:30. Winning. The kitchen was my first second stop, where I brewed up a cup of my favourite tea before sitting down at the computer and getting some blog work done.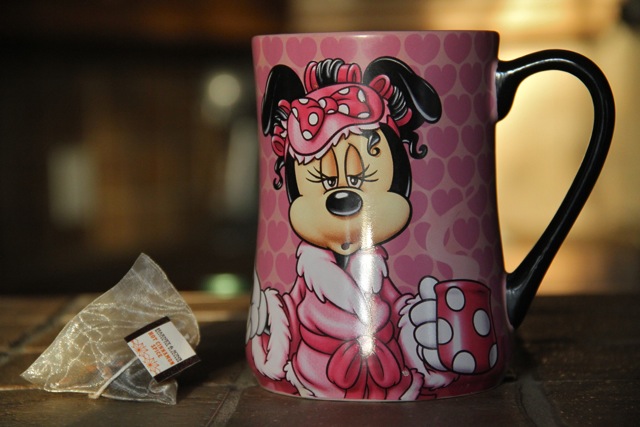 Not surprisingly, talking about donuts managed to successfully rev up my appetite, so I grabbed one from my stash and went to town. Okay, that's a lie — I had oatmeal [with yogurt, almond butter, and honey]…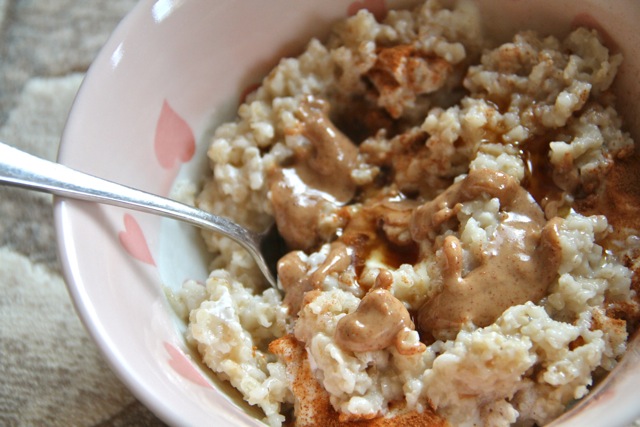 Gone are the days where I can eat donuts and Poptarts for breakfast and call it good. Oh the joys of growing up and making smarter choices. But I digress. A little while later, I munched on some apples while whipping up a batch of homemade applesauce.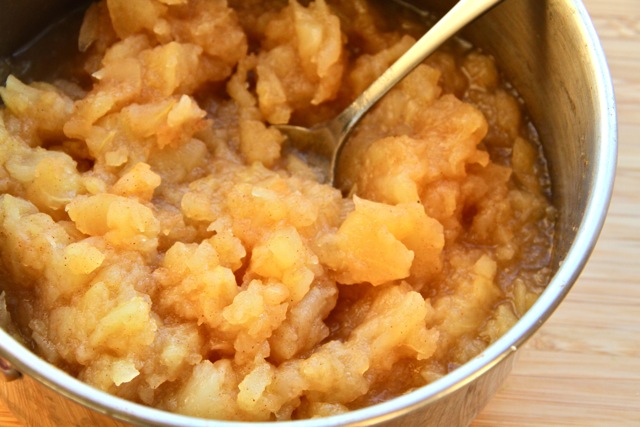 One, two, seven, ten… I don't know how many slices and spoonfuls I ended up eating, but I do know that I can't seem to prep anything without doing some serious snacking. Unless we're talking about kabocha…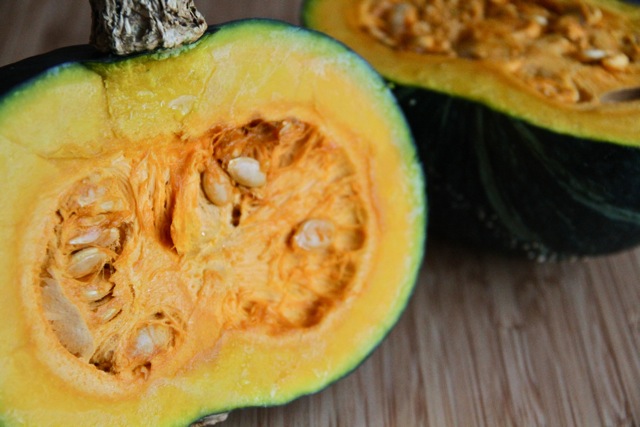 … but I'm pretty sure you can't eat that raw anyways. You can eat it roasted and topped with coconut Greek yogurt and cinnamon, though… even if you do feel a little strange for eating veggies in the morning 😯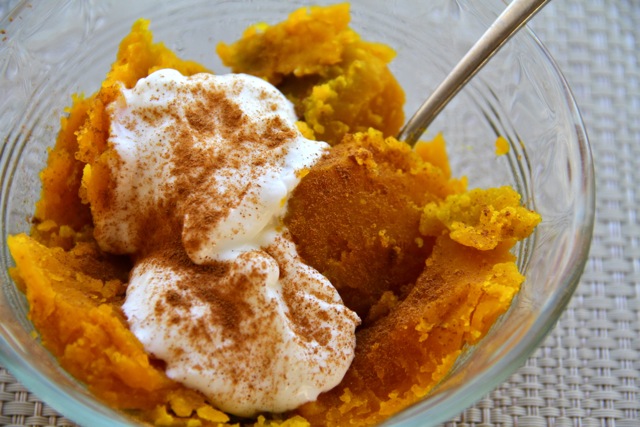 The rest of the morning involved talking to J, which is a rare enough occurrence around these parts that it totally justified the fact that I got absolutely no work done in the early part of the day. That's my story and I'm sticking to it. Break for lunch!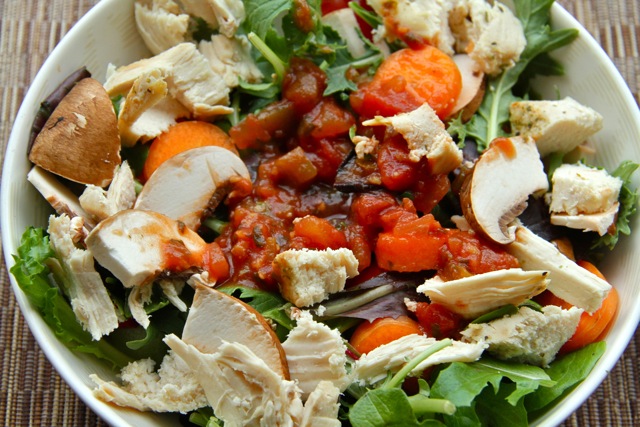 Despite the fact that we've already got snow on the ground, I'm still craving fresh salads. This one had baked chicken, random veggies, olive oil, and salsa, and was shortly followed up by a bowl of cereal with milk…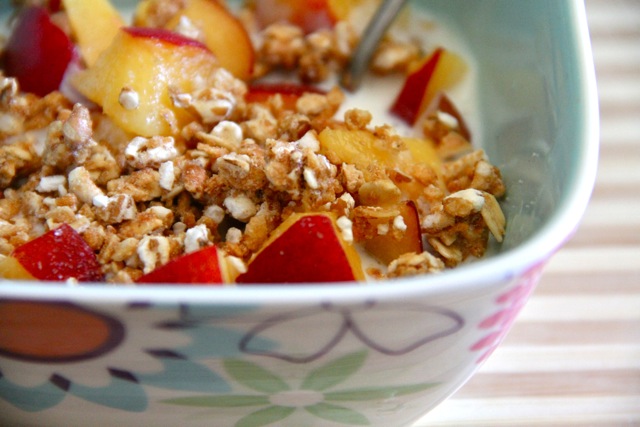 I know it may seem completely random, but I just wasn't feeling the whole salad and sandwich thing, so I went with cereal instead and ended up perfectly satisfied. Gotta love it when that happens.
Work, work, work… snack, snack, snack…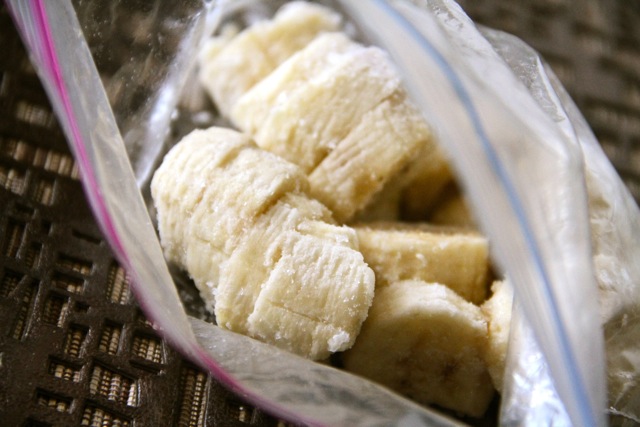 Frozen bananas. Aka: the bane of my existence.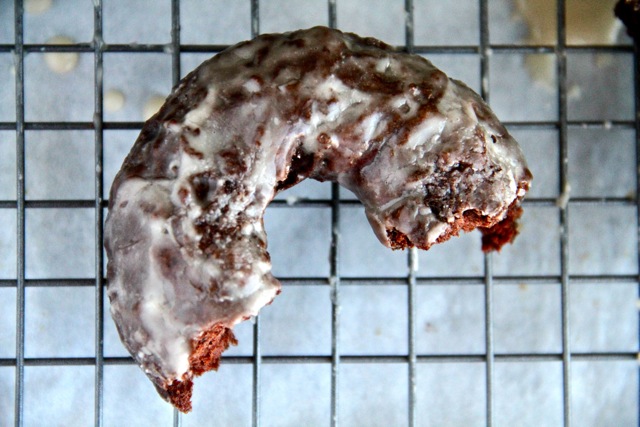 Am I the only one that gets super snacky whenever I'm sitting at the computer or studying? It's funny… being really active kills my appetite, but sit my butt down in a chair for any extended period of time and all I want to do is munch on something. Makes perfect sense 😯
Speaking of exercise, I managed to break away from my desk at some point in the late afternoon to squeeze in a short run. It.was.COLD. I have no idea how this running thing is going to work in the winter, but I'm probably going to have to take it inside. I'm a complete wimp when it comes to the cold (which is ironic since I snowboard), and as much as I prefer running outside, I'm not a big fan of frozen toes, fingers, or muscles.
On that note, it took me a good 30 minutes to defrost once I got back inside, and I was more than ready for dinner at that point. Thank goodness for leftover [beef stir fry and rice] is all I can say.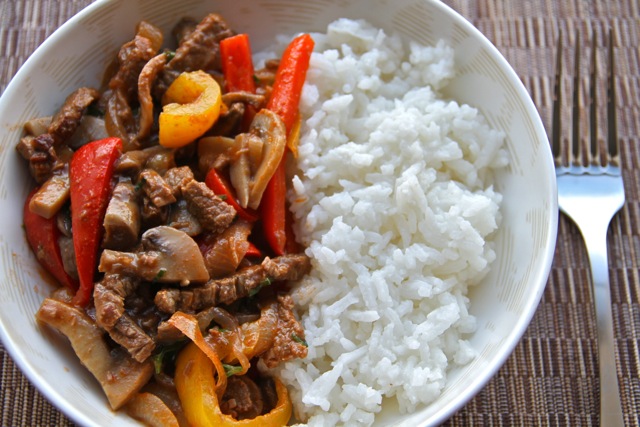 Actually, I can say more… I love white rice, especially if it's basmati. I know it tends to get overshadowed by brown rice these days, but I'll pretty much always go for white if given the option. Not only do I prefer the taste, but my stomach seems to have an easier time digesting it as well. And another thing? I prefer eating out of bowls as opposed to plates. Don't know why — bowls just seem so much more comforting.
I spent a few more hours working (oh the joys of working from home), before meeting up with a friend and heading out to the mall. By some miracle, I managed to refrain from buying anything… but before you commend me for my willpower, you should probably know that I avoided both Sephora and Lululemon like the plague — one step into either of those and I would have turned into a snivelling ball of goo.
Speaking of goo… Behold the wonder that was my evening snack…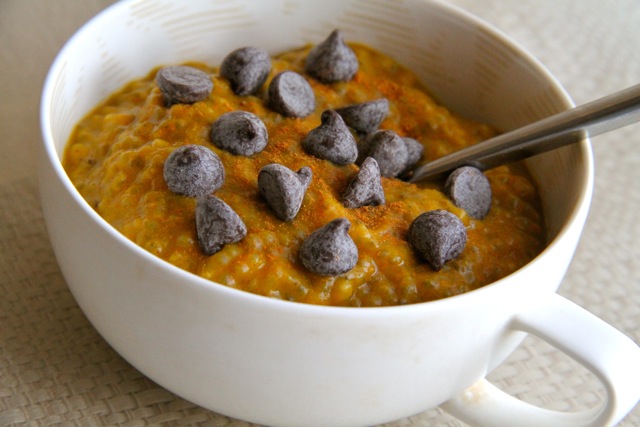 I whipped up a batch of pumpkin chia pudding after seeing it over on Jessie's blog last week, and while I'm still not completely sold, I can't say I hated it. All I did was combine…
1/2 cup pumpkin
1/2 cup vanilla almond milk
1 Tbsp. chia seeds
1 Tbsp. maple syrup
1/2 tsp. cinnamon
dash of ground nutmeg and cloves
… and let it sit for a while. It must have been the addition of pumpkin, because the texture didn't skeeve me out like it usually does. Okay, let's not kid ourselves here — it was all about the chocolate chips…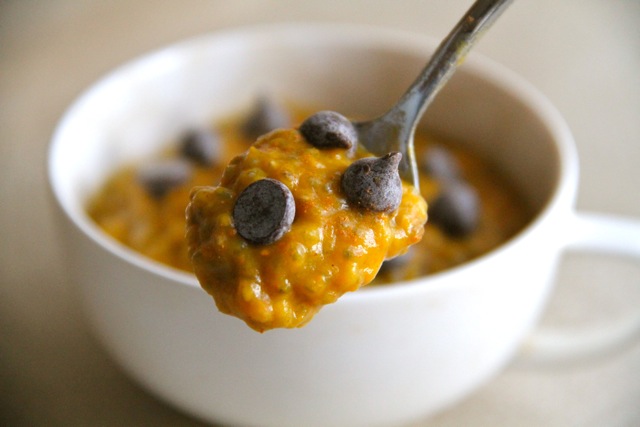 And that, ladies (and gentlemen?), was a full day of eats — from the moment my head left the pillow in the morning to the moment it hit my pillow again at night. Last week, Meghan shed some light on the fact that bloggers seem to be shying away from posting a full day of eats in favour of putting forth a better image or only sharing highlights from a handful of different days — something I've been guilty of as well.
But in Jenn's own words:
It's not about presenting an image of perfection or editing around eats to only show one recipe or a few pretty, carefully chosen photos — its about celebrating food, reflecting on what we love about our meals and sometimes what we hope to change, and inviting others into a day in your life! It's about inspiration and mindfulness and welcoming the uniqueness of what we choose to stuff our faces with. No gimmicks, no restriction, just food!
So that's what I'm going to start doing, and I'm hoping that others will join me as well. Its not about being perfect — it's about being real. Happy What I Ate Wednesday, friends!
. – . – . – .
How do you feel about posting a full day of regular old eats?
White or brown rice?
Bowls or plates?
Do you still eat salads in the colder weather? Ever pair them with weird things?
Do you like chia pudding?
Lots of questions… I feel chatty 😀