I must admit to some confusion.
Several different sites claim that today is National Doughnut Day, but if memory serves me correctly, didn't we already celebrate that all the way back in June? And while we're on the topic of donuts and my confusion, is it spelled donut or doughnut? Is it an American vs. Canadian thing? A personal preference thing? Both?
Either way, I suppose it doesn't really matter since today's recipe is neither a donut nor a doughnut, making the issue of spelling and holidays a moot point. See, donuts (I'm committing to this spelling) are fried whereas my little gems are baked… but for simplicity's sake, I'm calling them donuts anyways. I know it's slightly false advertising, but if it walks like a duck and talks like a duck… it's probably a duck. And if it looks like a donut and tastes like a donut… it's probably a donut.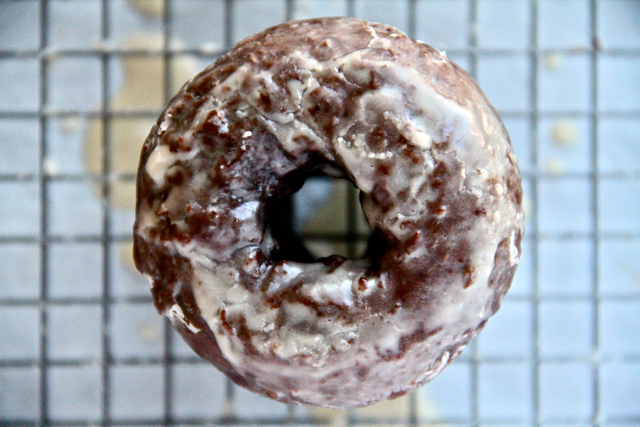 I was a huge fan of donuts back in the day — we're talking 2 or 3 trips to Timmy's every week. And my favourite kind? Chocolate glazed. Fluffy chocolate dough surrounded by a sweet crackly glaze? Dreamy.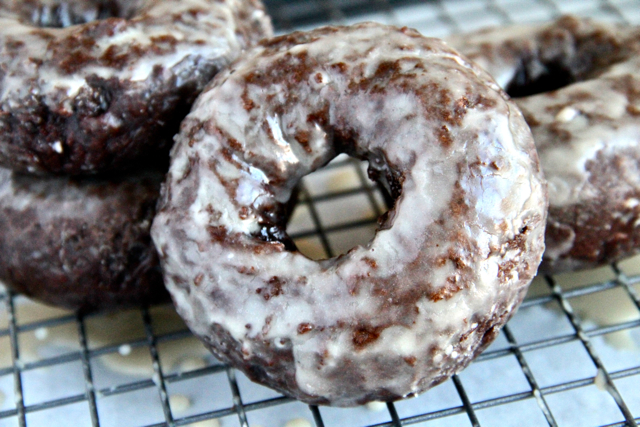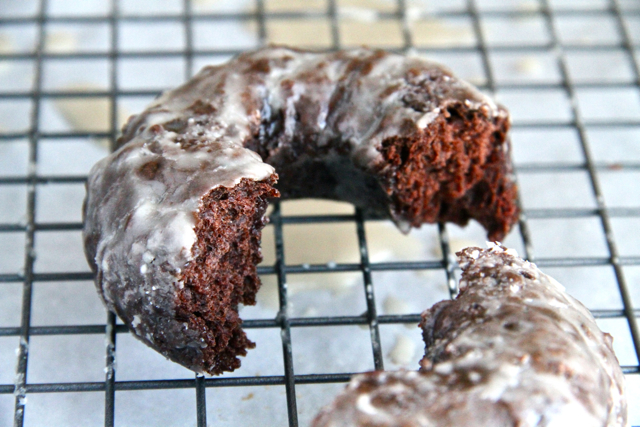 Not so dreamy? The nutritional stats. I'm all for occasional indulgences, but I'm pretty sure my body wouldn't appreciate that much sugar and saturated fat on a regular basis. I have no idea how I used to pull it off back in the day, but I must be getting old or something because I definitely notice a big difference in how I feel when my diet tips towards the more indulgent side for any extended period of time. But thanks to healthier options, I can have my cake donut and eat it too.
First, these guys are baked instead of fried, but you'd be hard-pressed to tell if you didn't know beforehand. They're moist, fluffy, and rich without being greasy or heavy… they do look like little chubsters though…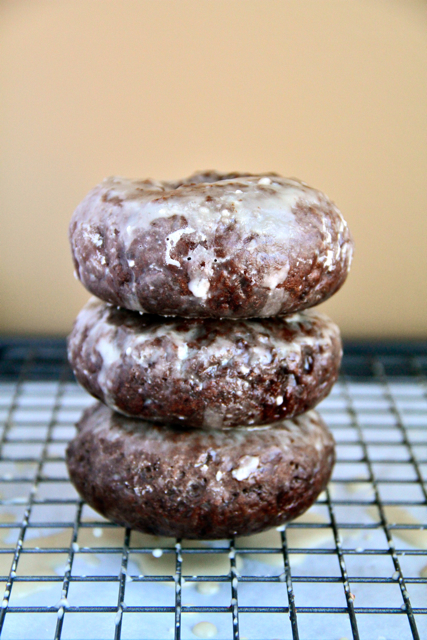 Second, they contain minimal amounts of sugar and oil, and can be made even healthier by replacing the powdered sugar in the glaze with a vanilla protein powder (it works, I promise).
Third… they're chocolatey, relatively healthy, and [shaped like] donuts — do you really need more convincing?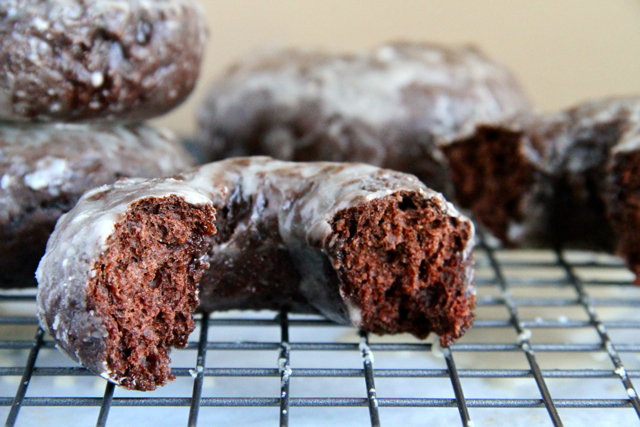 I'd love to know if you make this (or any!) recipe! Tag @runwithspoons on Instagram and Twitter, and be sure to subscribe to our mailing list to receive more healthy and delicious recipes straight to your inbox!
Print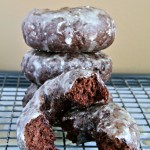 Healthier Chocolate Glazed Donuts
---
Author:

Total Time:

18 mins

Yield:

6

donuts

1

x
For the donuts:
1 cup

whole wheat flour

¼ cup

unsweetened cocoa powder

¼ cup

granulated sugar

½ tsp

. baking powder

½ tsp

baking soda

1

egg

¼ cup

unsweetened vanilla almond milk (or any milk)

¼ cup

plain Greek yogurt (can also use vanilla)

2 Tbsp

. coconut oil, melted
Optional: 2 Tbsp. chocolate chips, melted (for a more chocolatey donut)

½ tsp

. vanilla extract
For the glaze:
¾ cup

powdered sugar

2 Tbsp

. unsweetened vanilla almond milk

1 tsp

. vanilla extract
OR…
¾ cup

vanilla protein powder

2 Tbsp

. unsweetened vanilla almond milk
---
Instructions
Preheat oven to 375ºF and lightly grease a standard donut pan.
For the donuts: In a large mixing bowl, combine flour, cocoa powder, sugar, baking powder, and baking soda. Stir until well combined and set aside. In a separate mixing bowl, whisk together the egg, milk, yogurt, coconut oil, melted chocolate, and vanilla. Mix well before adding to flour mixture and stir gently until just combined.
Use a piping bag or ziplock bag with one corner cut off to pipe the batter into your prepared pan, filling each one about ⅔ full. Bake for 8-10 minutes, or until donuts spring back when touched. Allow to cool before applying the glaze.
For the glaze: Combine sugar, milk, and vanilla in a medium sized mixing bowl, stirring until smooth. Feel free to add more sugar (to thicken) or milk (to thin) to achieve desired consistency.
Place a wire rack over a sheet of parchment paper or baking sheet. Dip each donut into the glaze, using a fork to turn it over so that both sides are well coated. Remove from bowl and place on wire rack to set. Repeat until all donuts are coated.
Prep Time:

10 mins

Cook Time:

8 mins
Keywords: baked donuts, baking, chocolate glazed donuts, healthy baking, healthy chocolate donuts, recipe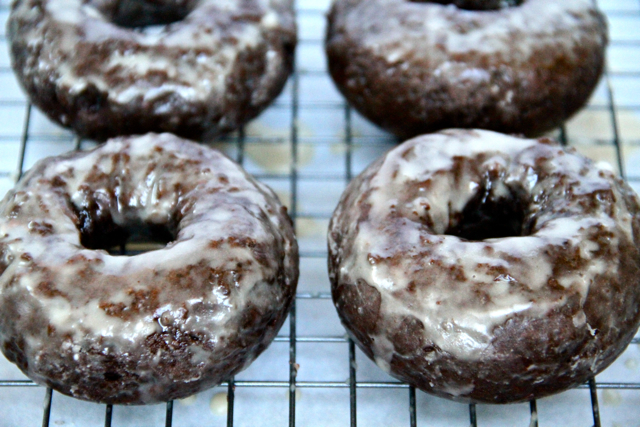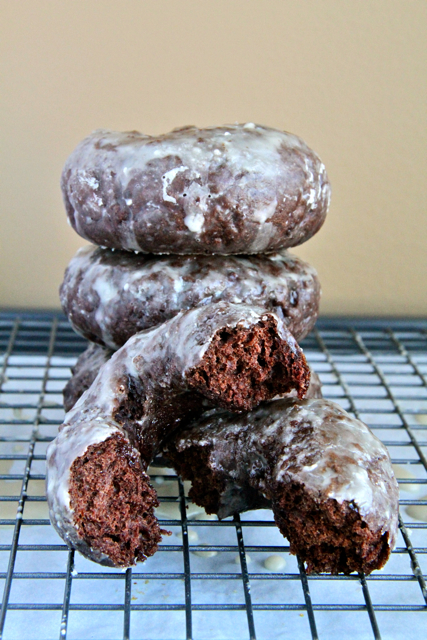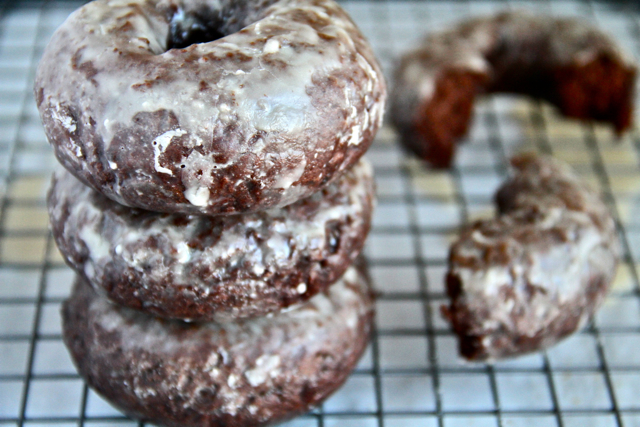 Fluffy chocolate dough. That crackly glazed shell… Everything I love about chocolate glazed donuts without any of the less-desirable aspects. And if you don't have a donut pan in your kitchen arsenal? No problem — you can make donut holes! Simply roll the dough into little balls and bake them on a cookie sheet.
See what I did, just there? I took away all your excuses. And if you didn't pick up on it, I've been secretly trying to take away your willpower with all these pictures…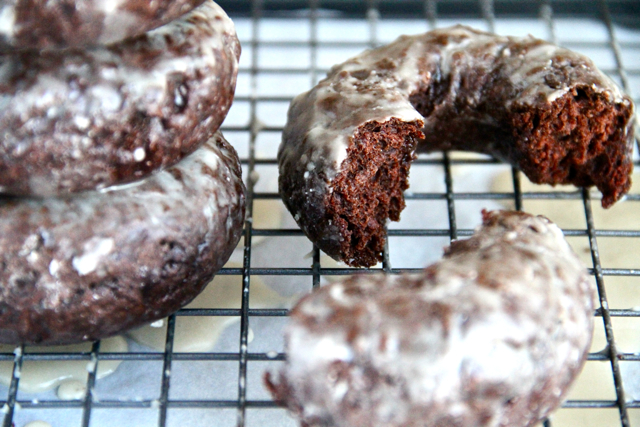 Dit it work? 😉