Hullo. My name is Amanda, and I don't eat meat.
You can call me a vegetarian if you like, but I'd really prefer it if you just called me Amanda. I used to hate my name when I was younger, and always wished that I had a "cooler" name (I have no idea what that even means 😯), but I've kinda grown to like it over the past 26 years. Amanda. That's me.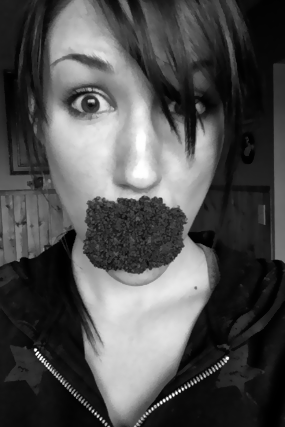 But I digress. And I don't eat meat.
Why?
Well, there are a number of different reasons, really. I'd love to say that my decision to avoid eating animal flesh is 100% motivated by my disgust at the inhumane practices of the meat industry, and while that's true to a certain extent, ethics aren't the only factor behind my choice. After all, there are plenty of farms around here which I know are cruelty free, so what keeps me from picking up some chicken or beef at the local farmer's market?
It simply doesn't appeal to me, [and it kind of skeeves me out].
… like zucchinis. But, again, I digress.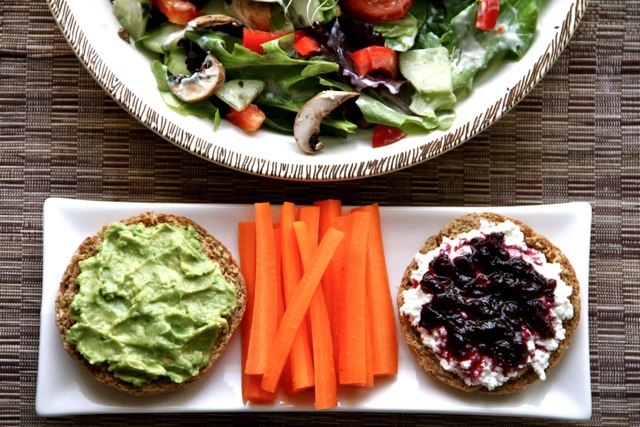 [Salad beast. English muffin with avocado and ricotta & jam. Carrot sticks]
I've never been a big meat-eater. Never really craved it. I ate meat when I was teeny tiny, but only because it's what my mom gave me. I ate meat when I got a little older, but again, only because it's what my family was eating, and I didn't know enough about vegetarianism back then to drastically change my diet.
But the older I got, the less meat I ate. In the two or three years prior to my adopting a vegetarian diet, I was only eating meat about twice a week – usually at times when I sat down with my family to a meal that my mom cooked. To this day, I've never actually prepared a meat-based meal on my own… I was actually always afraid that I wouldn't cook it properly and give myself food poisoning 😯
But I digress. Again.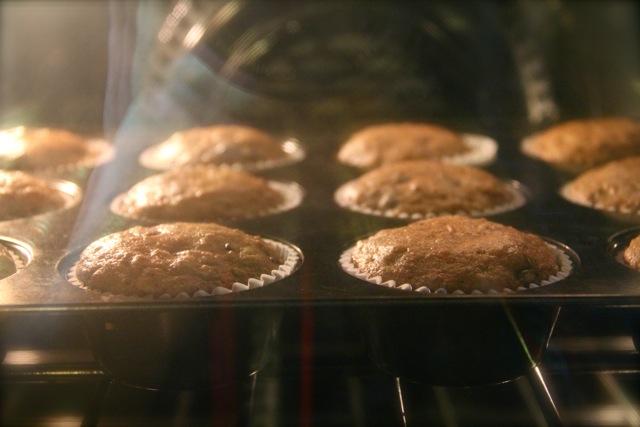 Baking: love the process, hate the clean up…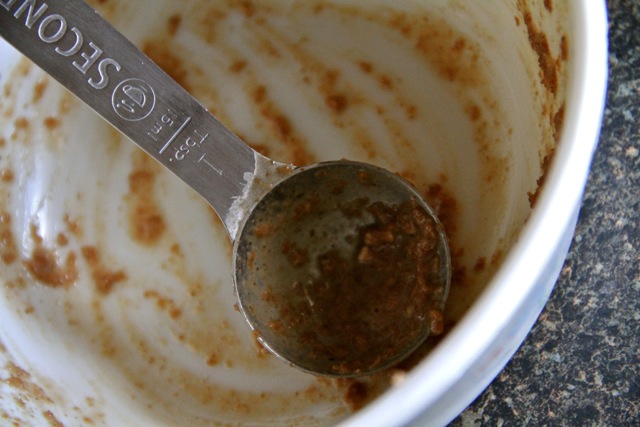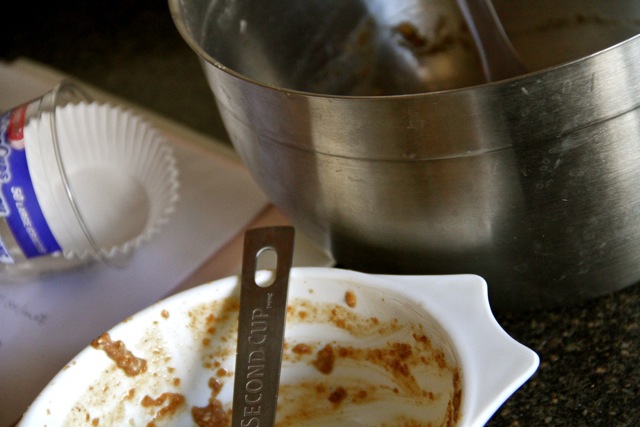 … but the product is more than worth it…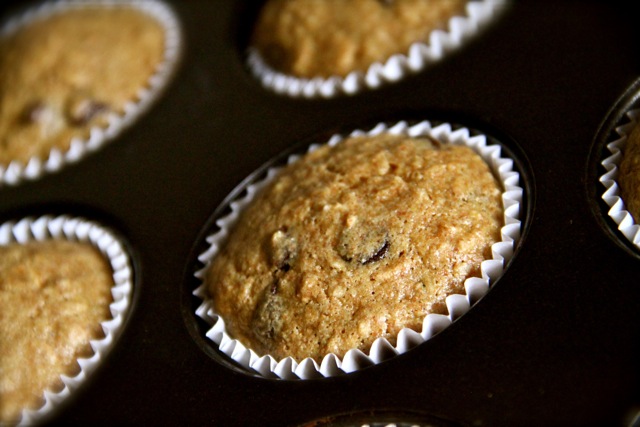 It pains me to say this, but my decision to completely eliminate meat from my diet came around the same time that my eating disorder began to surface. However, back then I didn't just eliminate meat… I eliminated all animal products and adopted a full vegan diet. Go big, or go home?
Something like that..
Anyways, veganism did not work for me. I ended up becoming the unhealthiest that I've ever been, which obviously had more to do with my eating disorder than the diet itself, but I found myself missing, and craving, a lot of my favorite foods. Yogurt. Eggs. Cheese. Honey… Foods that I genuinely wanted, but wouldn't "allow" myself to have.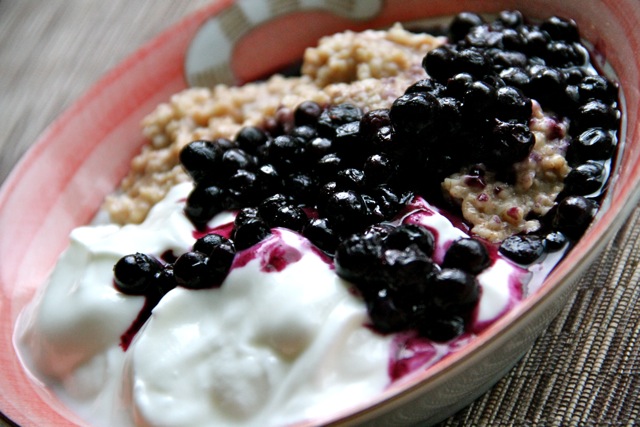 [An afternoon oatmeal snack. Oat bran, flaxmeal, Greek yogurt, wild blueberries]
Still, I clung to veganism, even during the initial stages of my recovery. It became a way for me to hang on to my eating disorder while giving the outward appearance that I was trying to recover, as it allowed me to continue restricting in a more socially "acceptable" manner.
"Sorry I can't eat that; I'm vegan" was my excuse of choice.
But I knew that it wasn't for me, and it was only a matter of time before I caved to my cravings. Yogurt came first. After spending countless amounts of time gazing longingly at the tempting tubs in the dairy section of my grocery store, I came home with a tub of my very own. And it. was. gooooood. I would only allow myself to have miniscule amounts of it at first, but I was definitely a fan.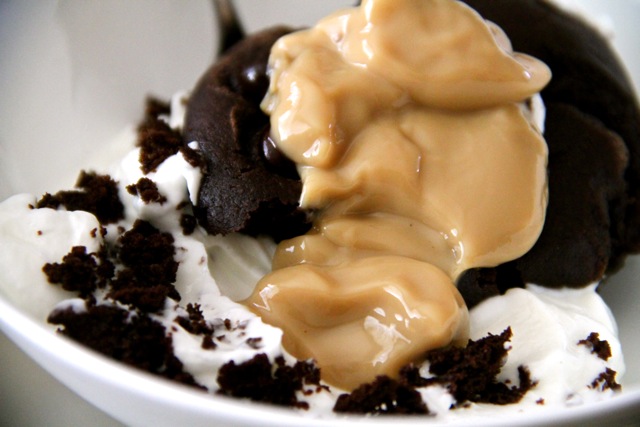 [Deep Chocolate Vitamuffin. Greek yogurt. Caramel pudding]
Eggs came next. Err. Egg whites I should say. I still had an irrational fear of yolks at that point, but quickly developed a strong liking for the whites (yolks showed up later, too). Eventually, cheese started to sneak its way back in there as well. Cottage. Cream. Parm. Mozza. Feta. Any kind but blue…
I was never a fan of the "stanky feet" cheese…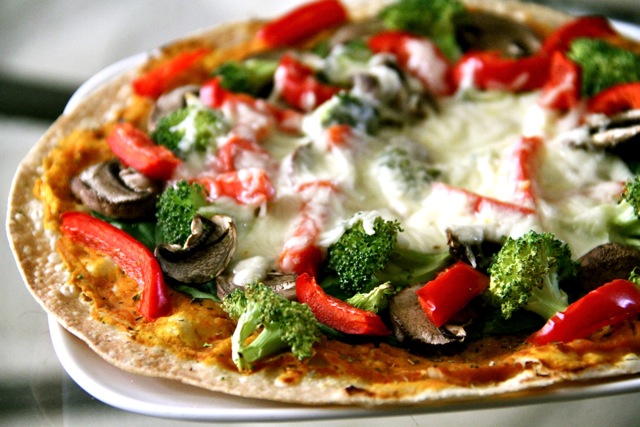 [Pumpkin Hummus Tortilla Pizza]
But one thing that never seemed to find it's way back into my diet? Meat. The cravings for it just never came. In the later stages of my recovery, I started getting a little concerned that the lack of meat in my diet was yet another tricky form of restriction, so I stopped referring to myself as a vegetarian, and told myself that if there was a time where I was really craving some meat, I would be "allowed" to have it.
So far it hasn't happened. Will it? Who knows. I'm extremely satisfied with the way that I eat now, and never find myself feeling wanting or deprived, but that doesn't mean that it'll always be this way. Tomorrow I might wake up craving bacon and eggs. Who knows. But judging from the way things have been for the past few years, it's probably safe to say that tomorrow I'll wake up craving oatmeal… like I always do.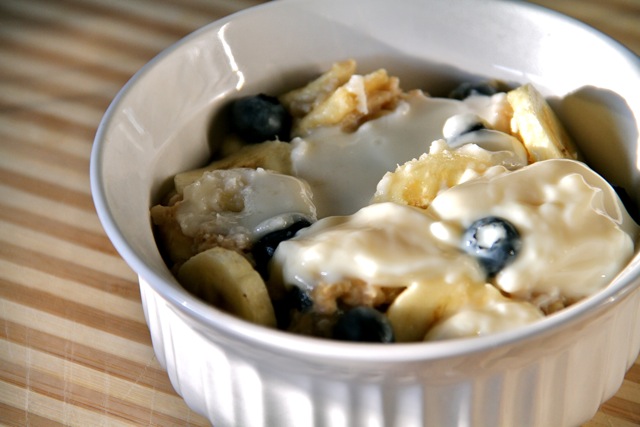 [Eggy bananafied steel cut oats with blueberries, vanilla pudding, and coconut butter]
As a final note, please do not take this as an attack on any specific diet/lifestyle. I have no problem with anyone's dietary choices, as long as they're eating what they want and what makes them happy and healthy. Meat-eaters. Plant-eaters. You could eat bugs for all I care, and I would still invite you over for dinner. I can't promise that I'd be serving crickets, but if you'd like to bring a plate of your own, then hey, that's perfectly okay with me. Just don't be offended when I politely decline one.
The only time I have a problem with the way someone eats is when their choices are influenced by disordered thoughts, or when they try to push their dietary beliefs onto others. So if you're not a Food Nazi, or in denial about a disorder, then we'll get along juuuuust fine 😀
. – . – . – .
Do you eat meat? If not, why not? Ethics? Health? Preference? Fear?
Would you eat it if you started craving it?
As always, I'd love to hear your thoughts 😀