I know I spend a lot of time doting on fall here on Spoons, but that's because I literally can't get over how much I love this time of the year. It's the way the sunshine hits the golden leaves and sets them ablaze. It's the coziness offered by oversized sweaters, chunky scarves, and worn-in riding boots. It's the comforting taste of roasted pumpkin, baked apples, and warming spices. It's the intoxicating smell of the crisp air and fallen leaves.
But more than anything else, the thing I love most about fall is the feeling that comes with it – the peace and calm that washes over me as soon as the leaves begin to change.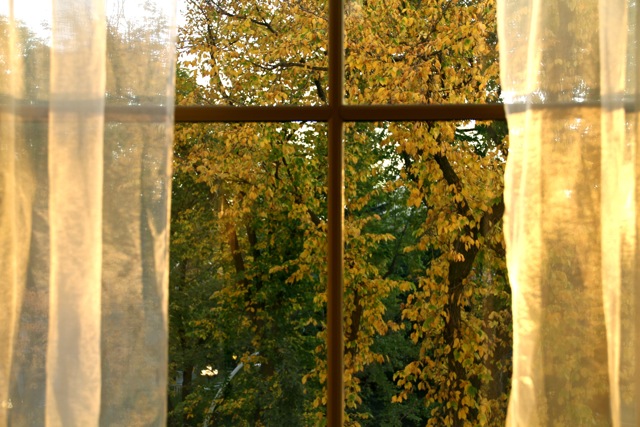 As much as I enjoy summer, I have to admit that I also find it somewhat exhausting. Not only am I not made for the heat, but the fact that it's still warm and sunny out at 9:30 PM means it's hard to spend a relaxing night at home in your PJs without feeling at least a tad bit guilty for not being outside and making the most of it.
But with fall comes stillness, and it's this, more than pumpkins, sweaters, and pretty leaves, that I welcome with open arms… especially because it means that I get to spend more time cozying up at home.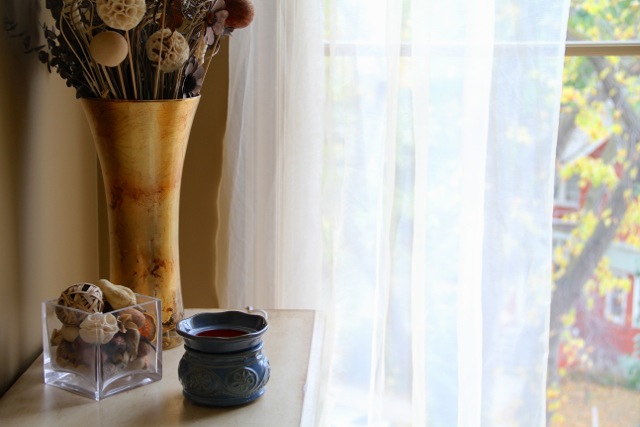 My idea of a perfect fall evening in requires four simple things: comfy PJs, a good book, a warm drink, and a relaxing aroma drifting through the air. Sometimes I'll achieve that last one by whipping up a delicious treat in the oven, but more often than not, it's the work of this little guy right here…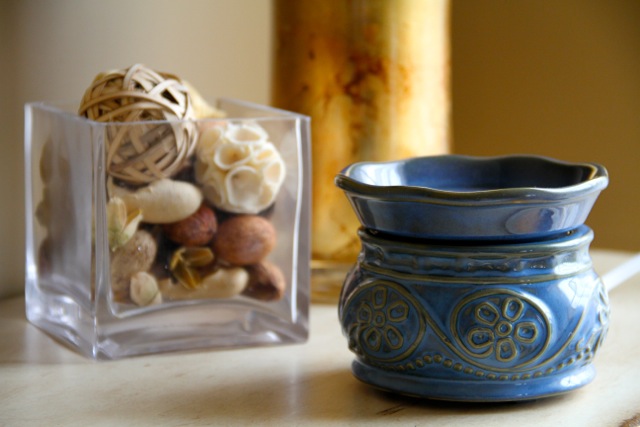 Allow me to introduce you to my Glade Wax Melts Warmer; also known as the pretty blue pot that makes my entire home smell ah.maze.ing. It works like a scented candle, only better because you don't have to worry about forgetting about it or leaving an open flame unattended. Another bonus is that the scent lasts forever – long after the warmer has been turned off. I started using my warmer before I left for the mountains last weekend, and the first thing I noticed when I came back home was that it still smelled like apples and cinnamon.
And if you need any more convincing, I can vouch for the fact that these wax melts are lifesavers. How so? Well, they're strong enough to mask any unpleasant odours that might be hanging around, which comes in handy if, say, you just steamed up a batch of broccoli and some friends decide to pay you a surprise visit. Not that I would know, or anything…
. – . – . – .
Glade® Wax Melts turn on your best feelings with up to 96 hours of fragrance per pack. Available in a variety of scents, they are designed to evoke your most beautiful emotions. Find out more about Glade® Wax Melts and our inspiring scents at www.glade.ca.

Disclosure: This post was brought to you by Glade® via Mode Media Canada. The opinions expressed herein are those of the author and are not indicative of the opinions or positions of SC Johnson & Son Inc.
. – . – . – .
What's your favourite thing about fall?