Hello, hello there!
Apologies in advance if this post ends up making little-to-no sense… After getting all of maybe three collective hours of sleep last night, my brain is finding it somewhat difficult to form coherent sentences and make sense of simple streams of thought. It was just one of those nights…
Oh, and if I end up accidentally falling asleep and this post ends with something like ffffffffGHHHAABbahijegjafgkjagbkjk, then… well… I apologize for that too, and I guess in that case we'll talk more tomorrow. Until that happens, though, I promised you a WIAW diet update so let's get crackin'!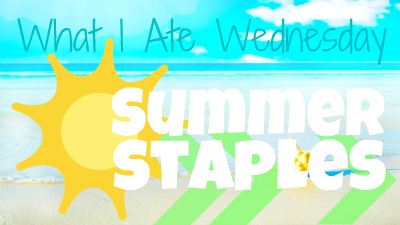 . – . – . – .
One of the biggest dietary changes that I've had to make over the past little while comes in right at breakfast. You guys remember how much I used to love my oats, right?…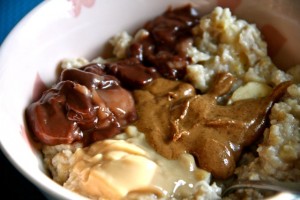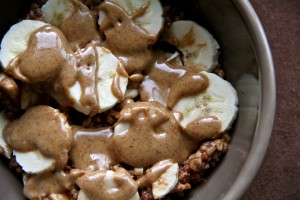 … well I still love my oats, and looking at pictures like that is incredibly painful because I can no longer eat them. Yes. Sad but true. These days, breakfast looks a little bit more like this…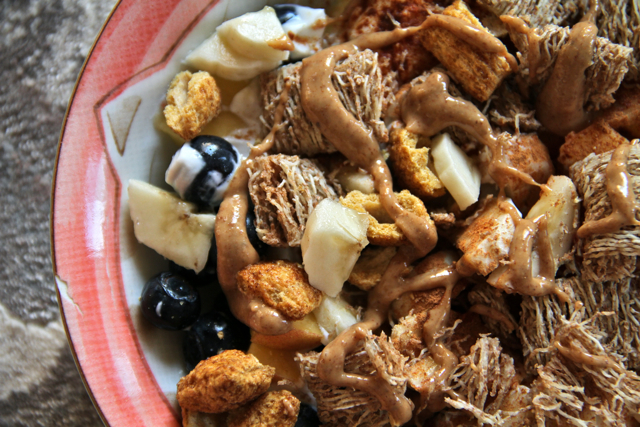 Greek yogurt – fruit (banana/blueberries/peach) – Puffins – Kashi Cinnamon Harvest – almond butter.
The reason? Well, I started to notice that every day, shortly after eating breakfast, my heart would start to race, my thoughts would get foggy, and I'd start feeling increasingly nervous/irritable/lightheaded. At first I thought that I might just be having too much sugar and not enough protein first thing in the morning, so I nixed the pudding, added things like cottage cheese, yogurt, or eggs, and hoped for the best.
Nothing changed. Wellllll, drat. Okay then.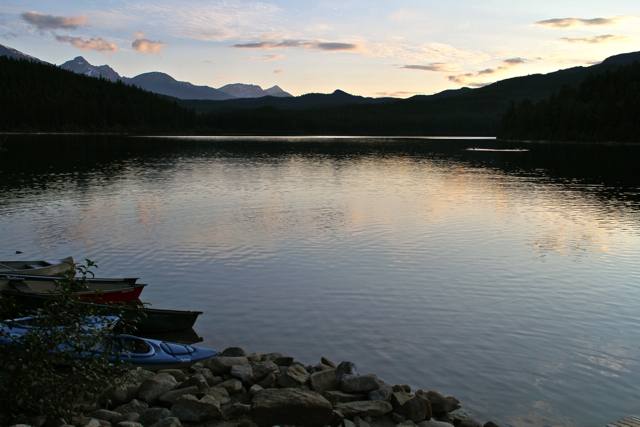 It wasn't until I went camping for a week and wasn't able to make oatmeal for breakfast that I realized that my symptoms disappeared as well. Iiiiiiinteresting. It must not have sunk in right away, though, because I went back to my favorite breakfast upon coming home and… you guessed it… my symptoms came right back as well.
This was a little more than 4 months ago, and I've tried eating oats again on a handful of occasions since then, always with the same results. I asked my doctor about it, and he suggested that I may have developed an intolerance to oatmeal somewhere along the way, perhaps from simply eating too much of it. He told me to stop eating oats for a while to give my system a break, and then re-introduce them in small quantities and see what happens.
Well, sad.freaking.face.
While I can't say that I'm necessarily pleased by the way things turned out, I can say that it's nice not to feel like I'm having a panic attack after breakfast anymore – I honestly thought I was losing my mind or going to have a heart attack. Oh, and spending 5 minutes on breakfast as opposed to 30 is pretty darn nice as well.
But still…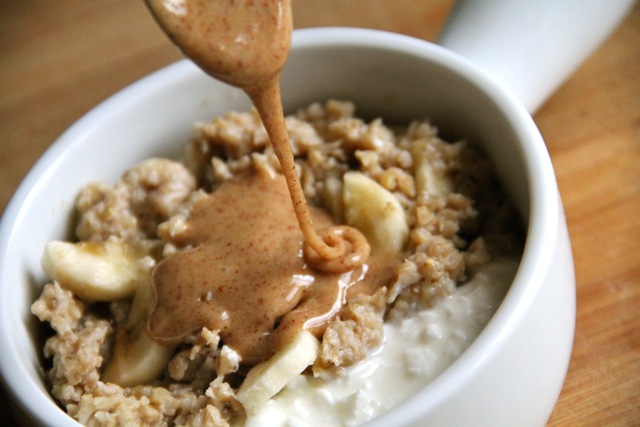 … ohhh how I lust…
Moving on! Now that we've spent far too much time talking about breakfast, let's move on to lunch/dinner.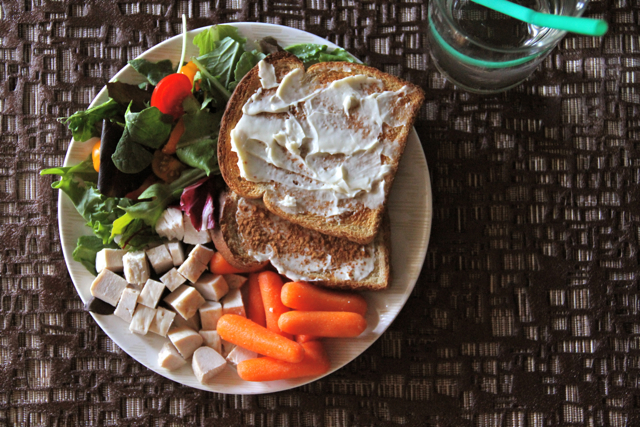 Toast with cream cheese – baby carrots – salad – grilled chicken.
The biggest difference here? Meat.
If you remember (which you probably don't because it's been over a year), I mentioned that I was considering giving up my vegetarian diet and going back to eating meat… and not long after, I did just that…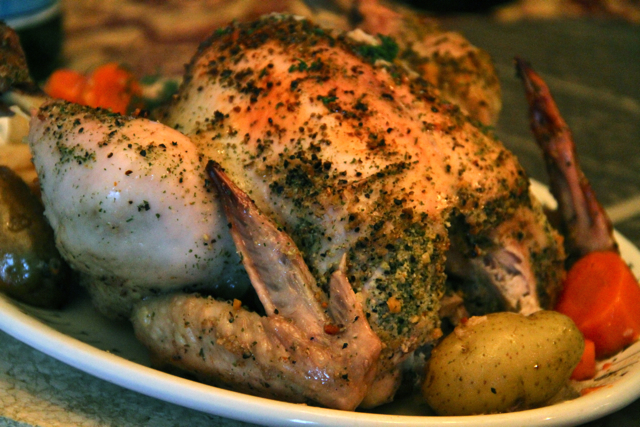 The bird that popped my vegetarian cherry… Thanksgiving turkey.
I'll admit that the first time I tried meat again, I thought I was going to gag. It was 100% in my head though, and after getting over the mental barriers that I put up myself, I began to recognize that my body was seriously craving meat. These days, meat makes an appearance in my diet on a daily basis, and I can't deny that I feel a lot better as a result – all those feelings of unsatisfied-snackiness have decreased significantly, and I find myself with a lot more energy than I had before. That, and saying goodbye to my heavy reliance on beans, lentils, tofu, and protein powders has done wonders for my stomach and digestion.
Just sayin'.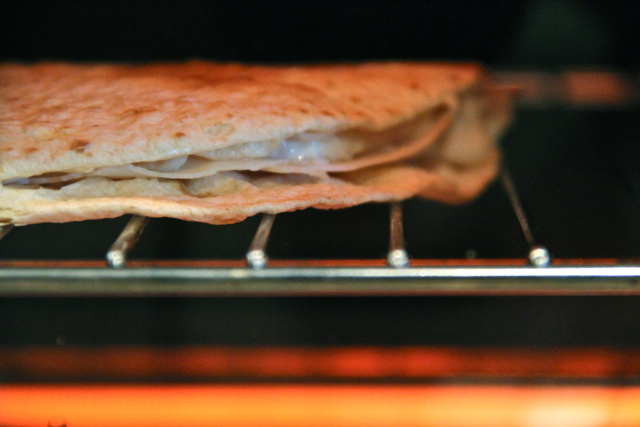 Turkey Quesadilla
I think the biggest change in my approach to food, however, would have to be that I just don't care about it as much anymore. I spent SO much time and energy analyzing every minuscule detail of my diet so that I could figure out the "perfect" one for me, and it got me absolutely nowhere – each time I thought I had it down, something would change and I was back at square one. I'm not a professional athlete, fitness competitor, or training for some big race – I'm just a regular girl who likes food and wants to be healthy, sure, but not if that means sacrificing my happiness, freedom, and sanity for it. And while we're on the topic of sanity, this is extremely beneficial in maintaining it…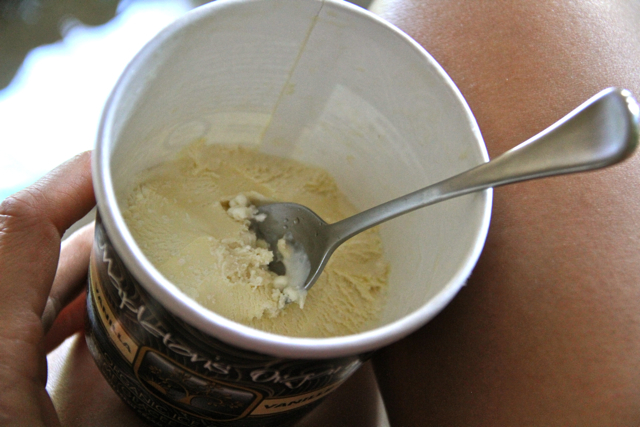 Ice cream, meet spoon. Spoon, meet mouth.
I remember that it used to drive me absolutely crazy when I would be obsessing over macros, trying to "optimally" balance a meal, and someone would say to me: "Amanda, just eat." My immediate reaction was always: "What!?! How can you say that?! It's not that simple! If I don't get X in, then Y might happen!" But honestly, it really is that simple. Just eat. Just listen to what your body wants, and eat. Granted, it's not always that easy at the beginning, especially if you've been snuffing out your body's cravings for a good amount of time, but practice makes perfect.
Hungry for a meal at an unplanned time? Eat it.
Really craving a donut? Eat it.
Because you know what? There are no concrete reasons that you can't, other than the unfounded restrictions that you create in your own mind. I used to think that if I deviated from my plan, or gave in to my "naughty" cravings, all hell would break loose and I would abandon all of my healthy habits and go on a wild, junk-food-eating rampage.
Never happened.
There are time where I eat less healthy, and times where I eat healthier. There are times where I eat less in general, and times where I eat more. It all balances out in the end. I'm tired of following plans, applying labels, and trying to meet quotas. Eating really is simple – even my 14 month old niece can do it like a champ.
And now, if you'll excuse me…. ffffffffGHHHAABbahijegjafgkjagbkjk (aka: nap time)
. – . – . – .
Do you follow a plan when it comes to eating? Or just wing it?
Do you allow yourself to eat what you truly crave? Or try to deny it and eat what you think you should instead?