I did something this weekend that I haven't done in almost 5 months…
I took pictures of everything I ate. I know. It's something that I used to do everyday when I first started blogging, before cutting back to just once a week for What I Ate Wednesdays, and then stopping completely. It's been kind of nice not to have to worry about plating my food and spending time taking pictures before digging in, but I did miss sharing my eats with you guys so I'm hoping to make these posts a more regular thing on Spoons. I can't promise that they'll happen every week, or that they'll even go up on a Wednesday, but there definitely won't be another 5 month hiatus.
So without further ado, I give you… Sunday's eats!
. – . – . – .
Breakfast was a modified version of my secret ingredient chocolate smoothie. And by modified I mean I left out the secret ingredient (read: sweet potato) and tossed in a handful of frozen sweet potato tots instead 😆 I know that might sound a little bizarre, but I had a lot of leftovers hanging out in the freezer from all my botched attempts, and well… they've gotta go somewhere! So into the blender they went, and I've gotta say the result was pretty darn fantastic. The sweet cinnamony-ness complimented the other ingredients perfectly, and the frozen SPs made for one heck of a creamy texture…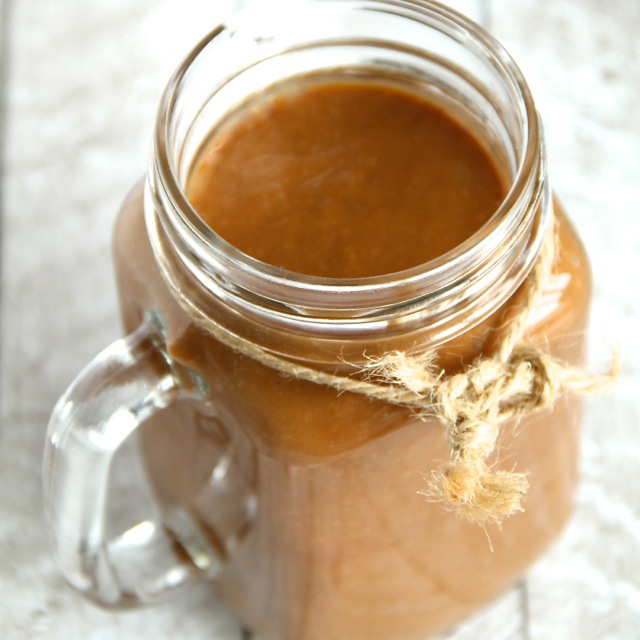 That was followed by coffee, obviously. Or a homemade almond milk latte, to be more exact…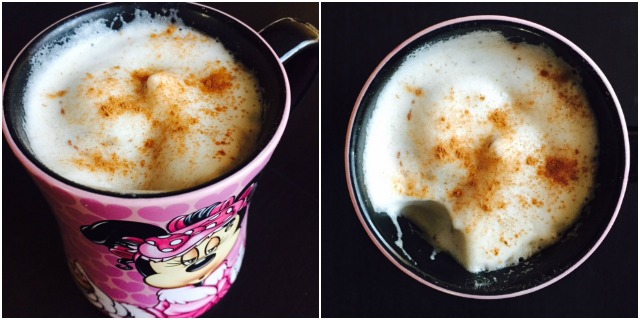 It's so foamy I could DIE. Buying a milk frother was definitely one of the best things I've ever done.
Insert a few hours of tidying since my place always gets neglected during the week, and I found myself feeling a little munchy (munchie?) so I sat down to snack on some dates and almonds while trying to come up with an itinerary for Maui.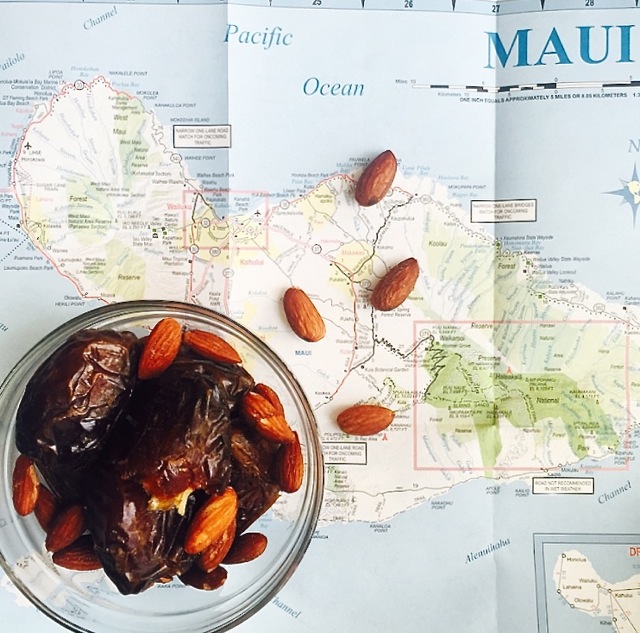 T minus 4 days until my trip. SQUEEEE! And I just wanted to send out a huge thank you to everyone who gave me advice on things to do and places to see. Much love to you. Much love.
Lunch was… not a snack plate. I was going through a big snack plate phase the last time I shared my eats with you guys, and while I'll still have them on occasion, now I've moved on to obsessing over bowls. Not the actual dinnerware, but the smorgasbord of delicious ingredients I can combine and call a meal. Today it was coconut basmati rice with chickpeas, avocado, and… and what? OH! And some steamed frozen veggies I had lying around. Broccoli, bell peppers, asparagus, spinach, snap peas, and… garlic sprouts, apparently. Basically this mix here.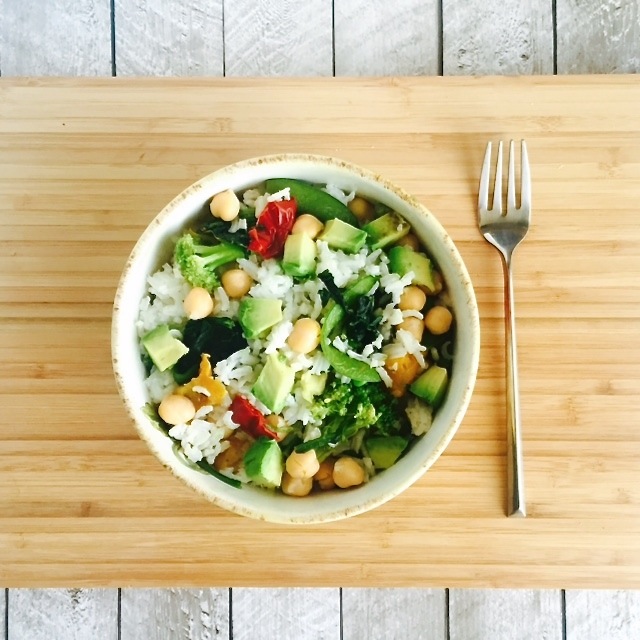 The weather was gorgeous, so I headed on over to my parents' a little early so that I could take Ky for a walk…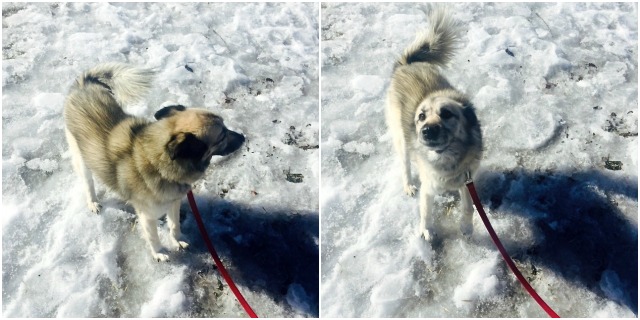 I miss seeing that ridiculous face on a daily basis, but there's no way I'd take her away from a big backyard and coop her up in a condo.
Following our walk, I whipped up a chocolate smoothie to snack on because it was way warmer than I thought it was going to be, and I ended up overdressing, overheating, and needing something cool and creamy…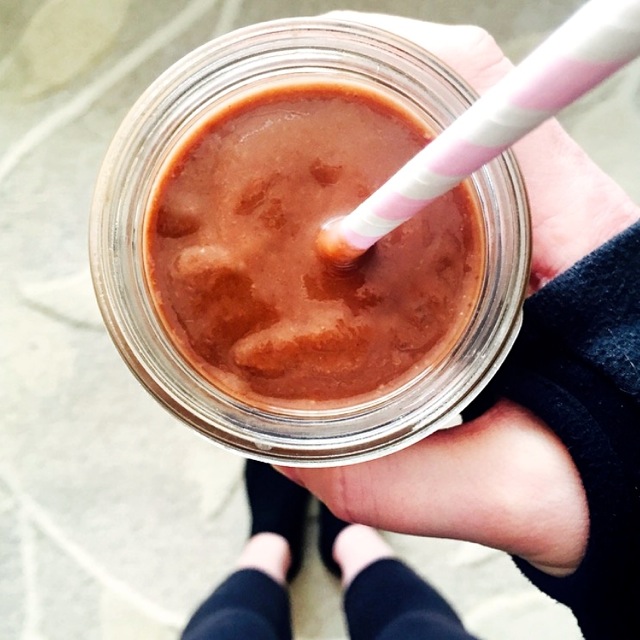 I think I threw a banana, a pear, some cocoa powder, a handful of oats, and some coconut water in there. I think…
Dinner was courtesy of yours truly, which is totally unfair since the main reason I go over to my parents' on Sundays is to mooch off my mom's cooking *ahem* see them. But I was doing some recipe experimenting so I brought over a wild rice casserole that I'll be sharing the recipe for later this week.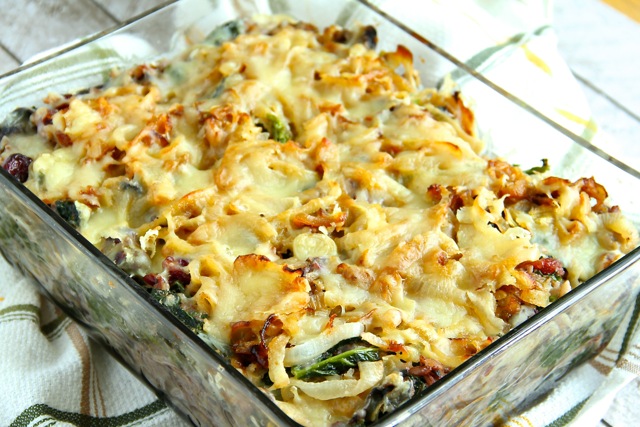 I didn't eat the whole thing, obviously, but I didn't want to whip out my phone at the dinner table, so I just took a picture before it got ravaged.
Aaaaaand because this is already getting longer than I'd like it to be, we're going to end things with a raw artisan chocolate snack…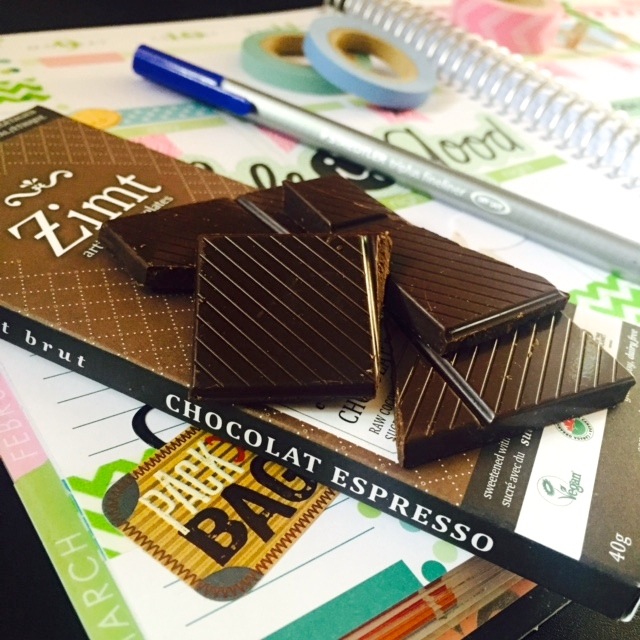 … even though my night ended up not ending for quite some time since, as delicious as that bar was, it had coffee beans in it and probably wasn't the best thing to eat so late in the evening. But that's okay because I had planning to do 😆
Happy Monday, friendly faces! And a big shoutout to Jenn for hosting!

Do you have any pets?
What did you have for breakfast today?
What did you put in the last smoothie you made?
More places to find me!
E-mail — [email protected]
Twitter — runwithspoons
Facebook — runningwithspoons
Pinterest — runwithspoons
Instagram — runwithspoons
Bloglovin — runningwithspoons