Well, hello there! Welcome to the new Running with Spoons.
Er… I guess I have some explaining to do, huh?
I know it's been almost a year since my last post [cringe], and I'll admit that after seemingly dropping off the face of the planet without any warning or explanation, randomly popping in like this is a bit… well… strange… but I haven't been able to come up with a stylish way of saying: "Surprise! I'm back from the dead," so I'm just going to say that while I did not actually die, I'm really sorry for making it seem like I did.
I definitely should have said something before I left, but between the craziness of moving, not being able to get an Internet connection at my new place for close to a month, not being able to put in the kind of time and effort into blogging that I wanted, and my all-or-nothing mentality, I decided to completely step away from the blog world until things settled down. The problem is that by the time things finally settled down, too much time had passed and I didn't really know how to come back without it feeling extremely awkward…
… and one year later, I still don't know…
I do know that I've really missed blogging, though. I would have come back a lot sooner, but it took me months to finally work up the nerve to write this post. I was kind of hoping that I could figure out a way to make all of this feel less awkward, but I've come to the conclusion that there really is no easy way to do this – I'm going to (and do) feel like a complete goober no matter how I go about it, but the blogging itch is getting harder and harder to ignore, so I'll suck it up and accept the fact that while I may be a goober for pulling a random vanishing act, I'm a goober that really misses you guys, and a goober that sincerely hopes that you'll have me back…
Anyways, I've already rambled on for longer that I had initially wanted to, and I really need to hit publish before I chicken out and take another two months to contemplate this whole endeavor. That and I should probably finish my iced latte before it gets too late and I'm left bouncing off the walls all night…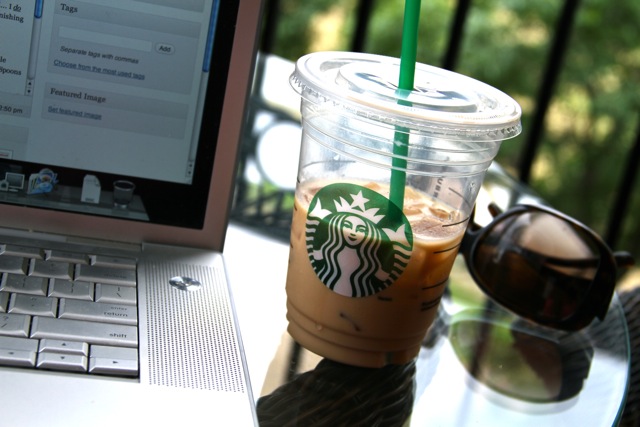 I promise to update you guys more soon, but for now I just wanted to get a quick post up and dip my toes in before taking the plunge again. Hope you're all doing well!
[confession: I kinda, sorta know you are because I've been lurking… shhh]
. – . – . – .
Say hi? 🙂