Chocolate lovers rejoice! This healthy two minute mug brownie is so fudgy, moist, and chocolatey that you'd never be able to tell it's made with NO flour, butter, or oil. Satisfy those chocolate cravings with a vegan, gluten-free, and paleo treat that's super quick and easy to make.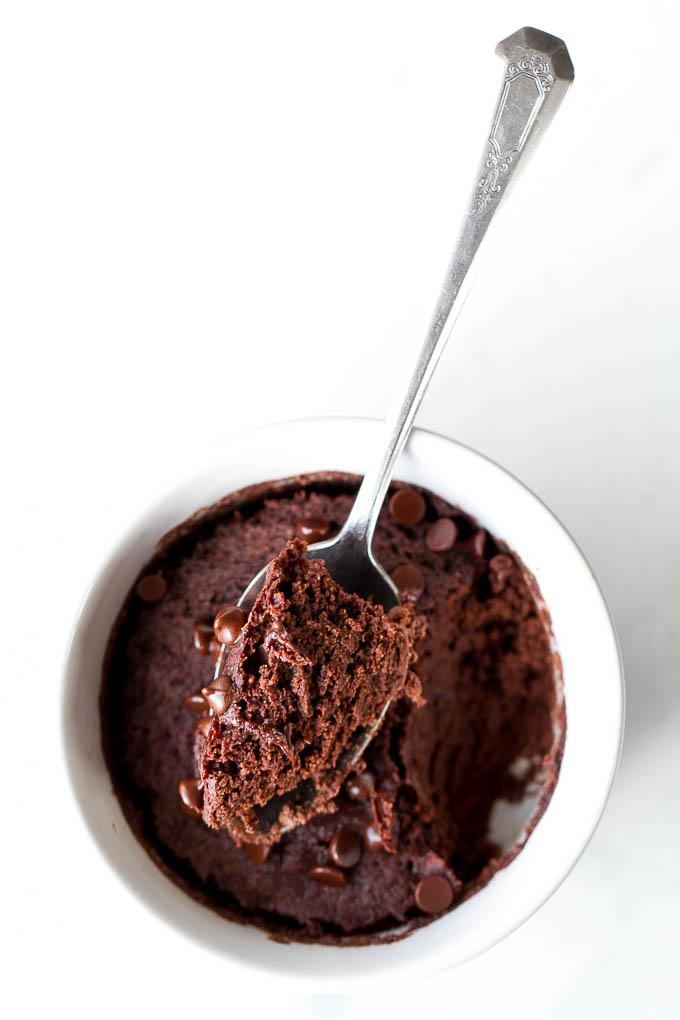 I pretty much only use my microwave for three things:
storing spare dish towels (yes, really),
melting coconut oil or chocolate, and
"baking" mug cakes.
Nope. Wait. I lied. Four things. Because I have this little bean bag stuffed bear that you can toss in the microwave and heat up when you need a little extra warmth. Which I do… often… because I live in Canada. So four things.
And no, this isn't going to turn into a debate about how healthy or unhealthy microwaves are. I just don't personally use one outside of the reasons mentioned above because:
I grew up without one and never really got into the habit of using them,
I don't like hot/warm food (I know) so rarely ever feel the need to reheat things anyways, and
I think food has a funny taste/texture when it's made in the microwave compared to the stovetop or oven.
Like… I tried microwave mac & cheese once, and that tasted like glue. And I know I'm a bit of a snob when it comes to my oatmeal, but I tried cooking it in the microwave once just to see what it was like, and… well, I never did it again.
The only exception to this rule is mug cakes. Or mug brownies, in this case.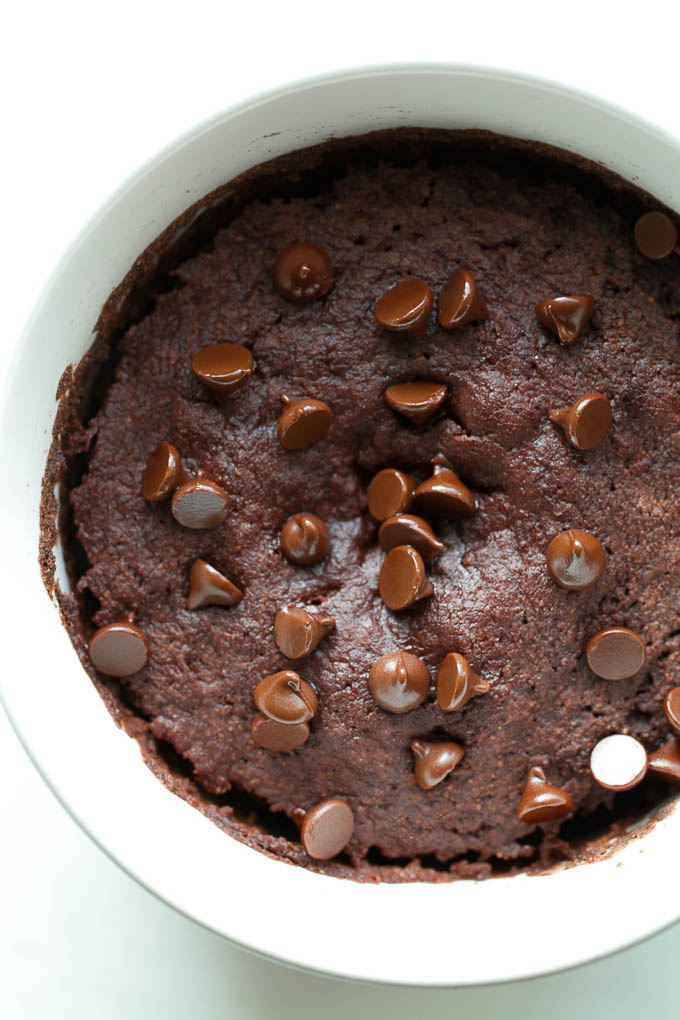 I will always and forever keep a working microwave at home just for this one thing. Well, that and my bean bag bear, because CANADIAN WINTER. But mug cakes are enough to guarantee a microwave's permanent residence in my kitchen. Honest. Mine broke down a couple years back and I went out to buy another one just because of mug cake withdrawals.
Is there a support group for that? Because there should be. These things are addictive.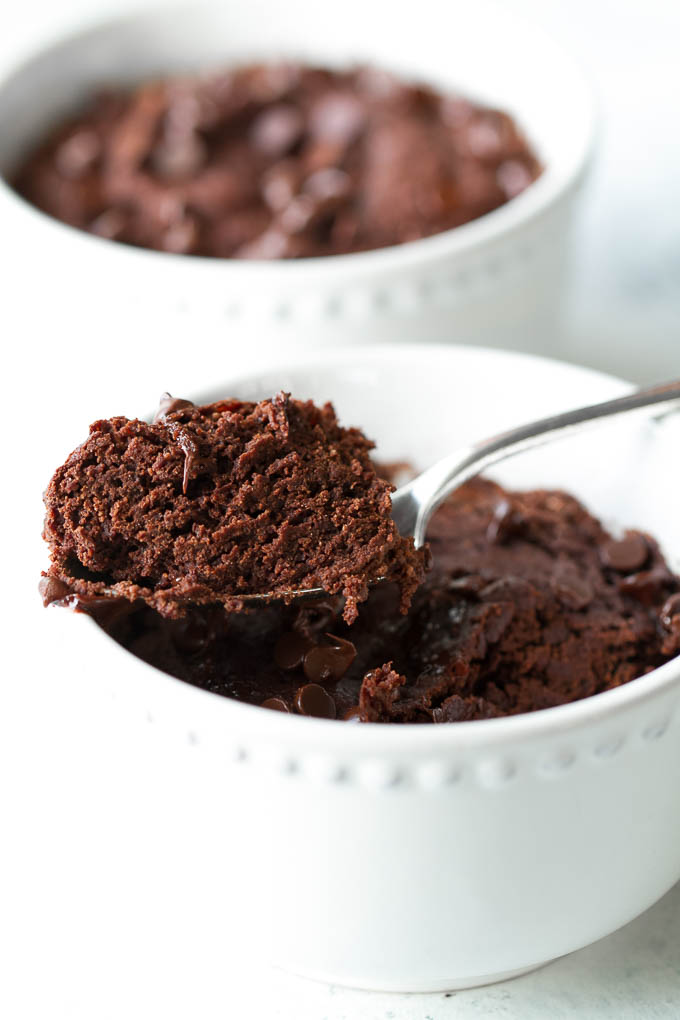 Thankfully, they're also quite healthy. Or at least this one is. I've seen a bunch of mug brownie recipes that call for a few tablespoons of oil and 1/4 cup of sugar for ONE serving… and while I don't get too hung up on stuff like that anymore, neither is it something I could see myself eating every day when the cravings hit at 4PM.
So I make my own. And put a healthier spin on things, naturally.
Instead of a wheat-y flour? Coconut flour. Just one tablespoon because a little goes a long way. And what's beautiful about this stuff is that it (plus cocoa powder) gives the brownie a really fudgy and dense texture without the need for any oil. Instead, we use a spoonful of nut or seed butter to: a) make it extra tender, b) add depth to the flavour, and c) give a nice little boost of plant-based protein. For sweetener, well… it's really up to you which way you want to take that one. The recipe calls for 2 tsp. of sugar (I usually use coconut sugar), but you can replace that with maple syrup or honey to make this guy refined sugar-free… and gluten-free, grain-free, vegan, and all those other hot #fitfam keywords that us bloggers like to sneak in everywhere.
Either way! In about 5 minutes, you can have yourself a perfectly-sized fudgy mug brownie that will knock those chocolate cravings out of the park and leave you feeling pretty darn fabulous about life.
Happy eating!!!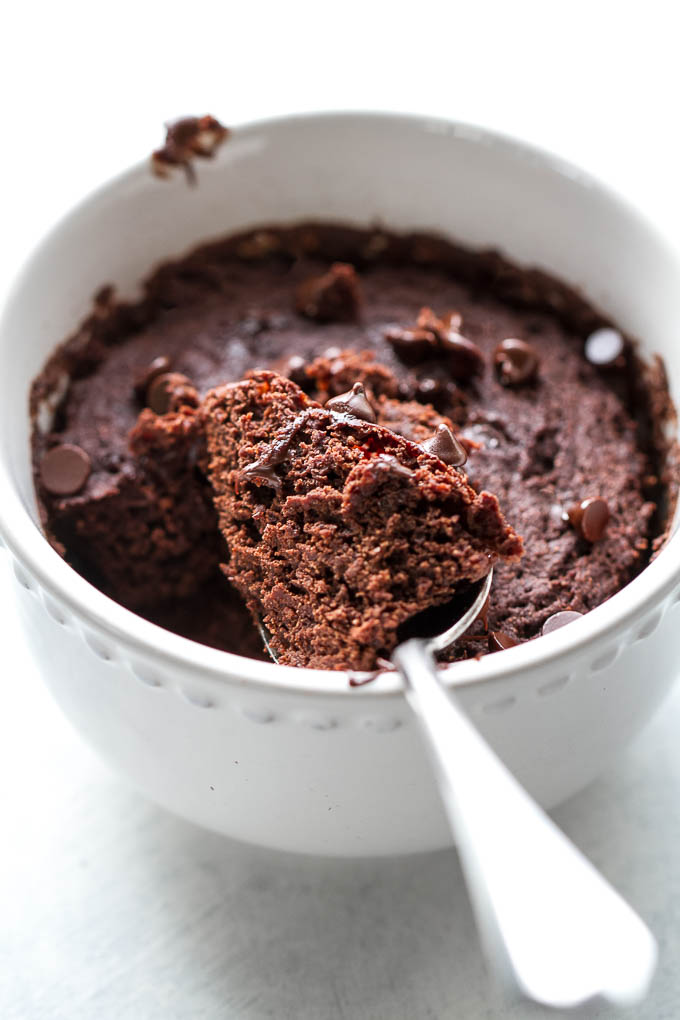 I'd love to know if you make this recipe! Leave a comment and rating down below to let me know what you think, and subscribe to our mailing list to receive new recipes in your inbox!
Print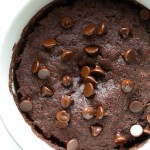 fudgy two minute mug brownie
---
Author:

Total Time:

7 mins

Yield:

1

serving

1

x
1 tbsp

(

7 g

) coconut flour

2 tbsp

(

10 g

) unsweetened cocoa powder

1/4 tsp

baking powder

2 tbsp

(

30

ml) unsweetened almond milk

2 tbsp

(

30

ml) unsweetened applesauce

1 tbsp

(

16 g

) nut/seed butter of choice*

2 tsp

(

8 g

) sugar**

1/2 tsp

vanilla extract
sprinkle of dairy free chocolate chips (optional)
---
Instructions
Add the coconut flour, cocoa powder, and baking powder to a small microwave-safe mug or ramekin, stirring until well combined.
Add the milk, applesauce, nut butter, sugar, and vanilla, mixing well to ensure that everything is fully incorporated.
Microwave on high for 2 to 3 minutes, depending on microwave strength and thickness of mug. If the brownie has not set by then, continue to microwave in 30 sec intervals until desired consistency is reached.
Carefully remove from the microwave (mug will be hot!), sprinkle with chocolate chips,*** grab a spoon, and enjoy!
Notes
* I like to use a nut butter that's made with just nuts and maybe salt. The drippy butters work the best because they're easier to mix in. ** You can use any sugar you have on hand. Granulated, brown, coconut, etc. OR use 1 tsp. of maple syrup or agave to make this refined sugar free. *** You want to add the chocolate chips after baking or the brownie might not rise as well. It'll still be hot enough coming out of the microwave to melt the chips.
Prep Time:

5 mins

Cook Time:

2 mins
Keywords: brownie in a mug, brownies, chocolate, gluten-free, grain-free, healthy, microwave brownie, mug brownie, paleo, recipe, two minute brownie, vegan

Looking for more healthy mug cake recipes? Try one of these!
Chocolate Chip Cookie Dough Mug Cake
Two Minute Sweet Potato Brownie
Blueberry Banana Bread Mug Cake
Honey Almond Oatmeal Mug Cake
Fudgy Double Chocolate Mug Cake

*Disclosure: Some of the links included in this post may be affiliate links, meaning I'll earn a small commission if you purchase through them, at no additional cost to you. I only recommend products I personally use and believe will add value to my readers. Thank you so much for helping support Spoons!