Happy #thinkingoutloud Thursday! No idea what I'm going on about? Click here!

1. I have a hardcore addiction to chips and salsa. It started somewhere in high school (even though I hated tomatoes + every sort of vegetable at that point in my life) and, despite going through phases where it might disappear for a while, it hasn't really let up. I could eat these things 'till I'm food coma-ing hard… if you can actually put yourself in a food coma with chips. And I do that thing "they" tell you you're not supposed to do where you just take the entire bag & jar and plop yourself down at the computer. Welcome to lunch three days in a row. Fancy.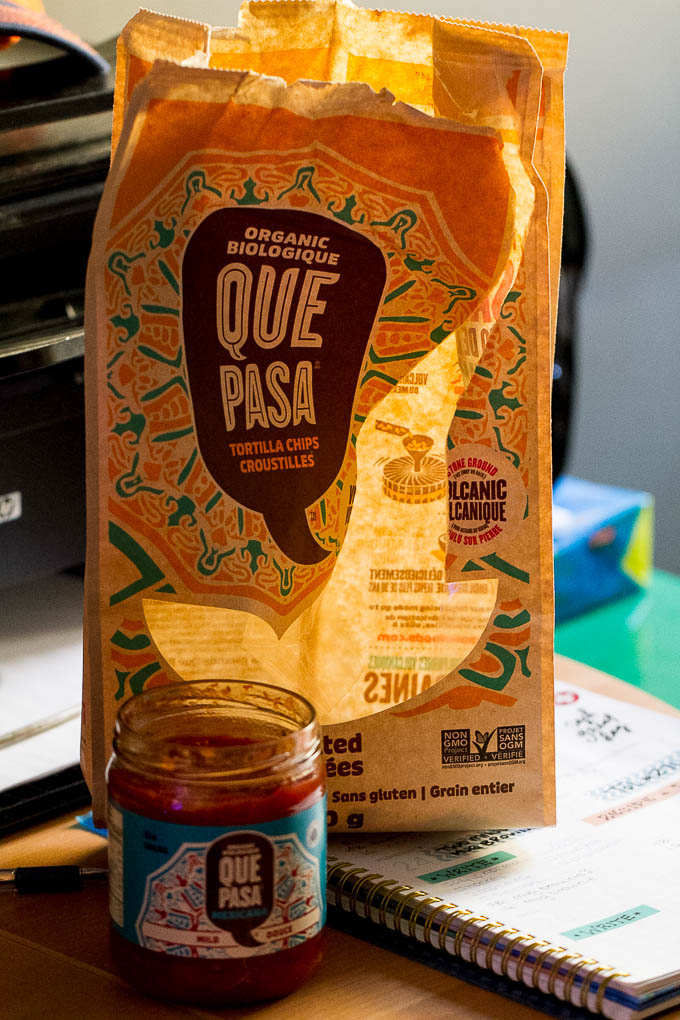 2. But the crazy beautiful thing is that it doesn't phase me at all. Like, no shits are given whatsoever. I know popular diet advice tells us to portion things out, keep meals balanced, this, that, and the other, but… I feel like, in a culture that puts so much focus on food and really encourages people to obsess over what/how they eat, just hearing someone talk about food freedom is one of the most beautiful things… even if at first glance it might not seem so healthy. I dunno. It's just kind of something I've picked up over my years of first struggling with an eating disorder and then recovering from one. The healthier I tried to be, the unhealthier I actually became because the extra stress I put on myself with all that obsessing was way worse for my body than the food was good. If that makes sense. Like… right now, I don't fuss over what I eat at all; I never count calories or macros; I don't stress about sugar or salt or fat or balance or making sure to eat all the right things for all my meals; I only get a moderate workout in 2 or 3 times a week, I probably go to sleep way too late… and I feel great. I have a tonne of energy, I'm happy, intuitive eating comes super easy, my body leaned out and found it's happy place without much effort on my part, and things have just kind of fallen into place without me having to mess with them too much. And I feel kind of bad saying all this because I know it's something people struggle with and I don't want anyone getting discouraged thinking that it was super easy or quick to get to this place when they're having a hard time with it… because honestly? It took me years. Like… it's been a long process with a lot of ups and downs and plenty of changes to my body. But it's totally possible, and I guess what I'm trying to say here is… don't give up hope if you are struggling with something relating to food or body image, because things change all the time and where you are now isn't where you're going to be one or two years down the road, so don't take a snapshot of how things are at this very moment and beat yourself up over that tiny little sliver of your life. The most important thing is to keep on keeping on and just be easy on yourself and treat your body with the same sort of kindness that you would treat someone else. You got this, fam.
3. Also… I have no idea why I went off on that huge serious ramble in a post that's supposed to be about random nothingness, but it was just something that's been on my mind for a while and I wanted to get off my chest. The only problem is that now I have no idea how to segue into the randomness, so I might just leave it at that and call it a day. Happy Thursday, friendly faces! Eat something delicious 🙂


Let's chat!
No questions! Just tell me whatever randomness comes to mind!
More places to find me!
E-mail — [email protected]
Twitter — runwithspoons
Facebook — runningwithspoons
Pinterest — runwithspoons
Instagram — runwithspoons
Bloglovin — runningwithspoons
Snapchat — runningspoons