Happy Almost-Friday! 😀

1. J left yesterday and I'm pretty sure my home is cleaner than it's ever been as a result. Not because he was a messy house guest, but because I literally spent 4 hours deep cleaning each and every nook and cranny of my condo in a feeble attempt to keep myself occupied. Nothing like tile cleaner fumes to make you high lift you up when you're feeling down.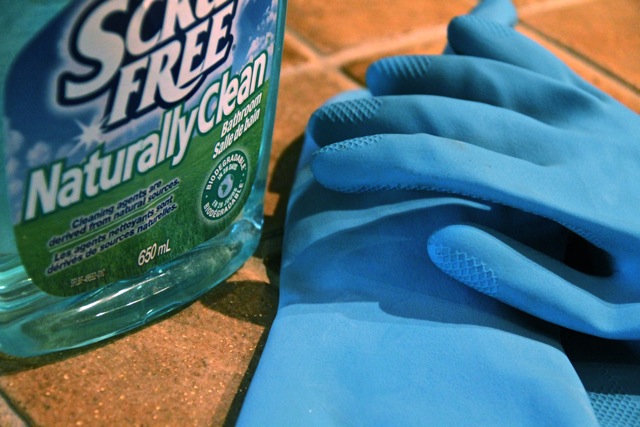 2. On the bright side, at least I can comfortably eat broccoli again 😆
3. I did a very stupid thing the other day… I let myself completely run out of bananas, and when I went to the store to buy more, all they had were slightly green ones. I was in desperate need of a fix so I bought a bunch and tried to eat one anyways. Omigosh… 😯 😯 😯 … I'm sorry, but no — those things are not made for human consumption. I need 'em to be brown and spotty.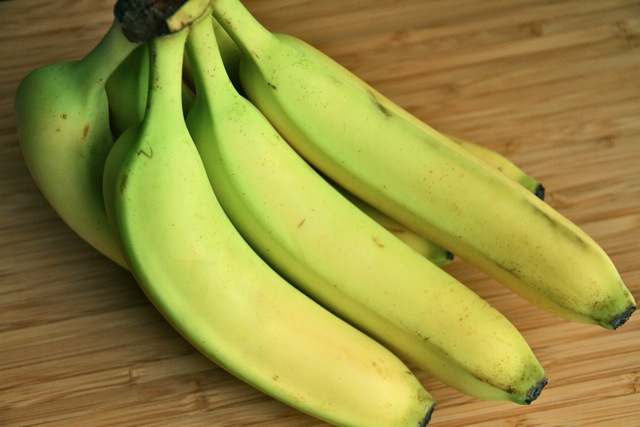 4. I also need Emoji to be available for computers. I mean… how am I supposed to accurately express myself in comments and posts if I'm lacking the kissie, lovestruck, and laugh-till-I-cry smilies!? WordPress emoticons are the pits 😥 🙂 😀 😆 😡

5. Advent calendars are a cruel joke. I love the tradition and buy one every year, but what.is.up with the microscopic chocolate pieces?!? Eating the daily "treat" only sparks a massive chocolate craving, and while I would gladly polish off the entire calendar in one sitting, I'm pretty sure that would defeat the entire purpose…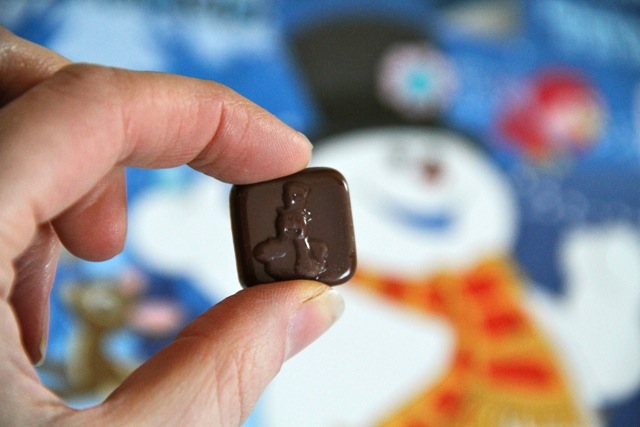 6. It's nice to be able to sit down and talk to you guys again. Breaks are nice and all, but pre-writing posts just feels awkward when you're publishing a post in a different frame of mind than the one you were in when you were writing it #bloggingproblems.
7. Speaking of blogging problems, food photography will seriously be the death of me. Props, composition, winter lighting… argh! I've learned a lot in the last couple of months, but I still feel like I have a lot more to learn… especially since FoodGawker has shot me down on more than one occasion — I'm never quite sure what to expect when I open their e-mails…

8. That's why I finally bought Pinch of Yum's Tasty Food Photography e-book. I've heard so many great things about it, and while I'm only about 1/4 of the way through, I can say that it definitely lives up to the praise. Talk about learning things I didn't even know I didn't know. I can't wait to start trying out some of the new tips and tricks I've picked up.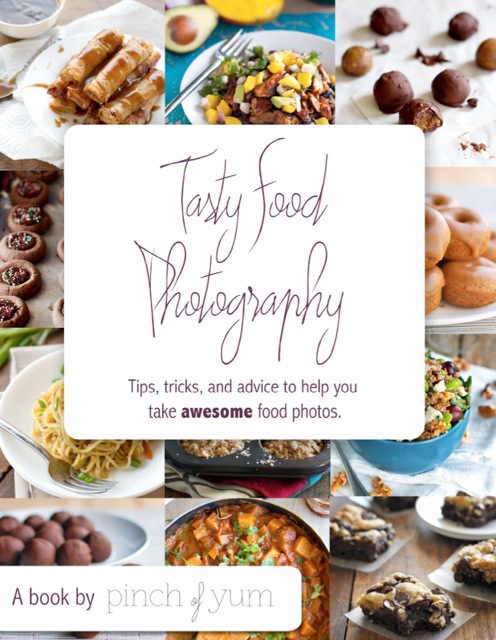 9.  Oh, and in case you were wondering how I spend some of my daylight hours, here's a behind-the-scenes look at what I'm working with 😉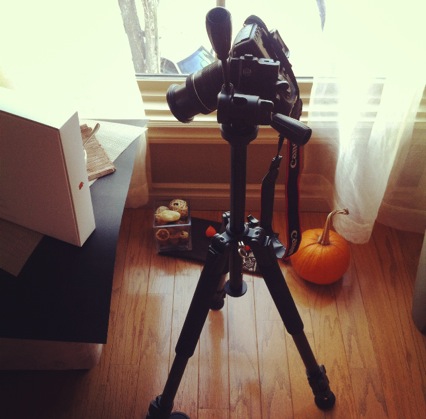 Please note the empty Macbook box acting as a light reflector 😆
10. I wanted to run an idea past you guys… Random thought posts are among some of my favourite to write and read, and I've been thinking about starting up a Thinking Out Loud linkup on Thursdays. I haven't quite worked out all the finer details yet (whether there'll be a theme/question/task etc.), but I wanted to toss the idea out there and get your guys' input on it first. So whatcha think? Would it be something you'd be interested in seeing/participating in?
. – . – . – .
Do you find cleaning therapeutic too?
Do you have an Advent calendar this year? What's the theme? Frosty the Snowman for me.
If you're a blogger, what do you find to be the most tedious part of blogging?
What do you think about the idea of a linkup?