1. Four. I ended up getting four whole (not half, mind you) trick-or-treaters last night, which is honestly four more than I expected to get. I always hope for the best (which is why I end up buying way too much candy), but last night's snow had me expecting the worst. Needless to say, the kids I did get ended up getting huge handfuls of candy.
2. On that note, does anyone else feel like Halloweening is kind of dying off? I remember when I was a kid, the streets were literally packed with trick or treaters, and houses were running out of candy left, right, and center. Now though? I barely saw any kids out last night and there weren't even too many houses with decorations up. It makes me kind of sad… so many things seem to be fading away.
3. Something that makes me happy, though? Getting surprise packages in the mail. Okay, so it wasn't really a surprise since I won a giveaway for some Adora calcium disks on Alex's blog (which you should definitely be reading if you're not already!) a little while ago and was impatiently eagerly waiting for them to get here, but still… getting a knock on the door and opening it to find the UPS man standing there with a big box? Feels like Christmas 😀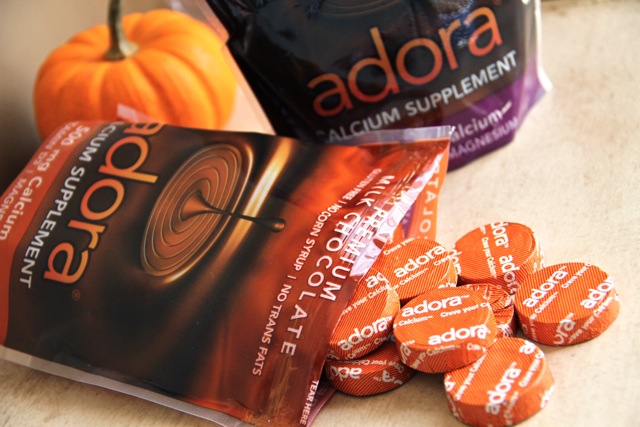 4. Err… how much calcium is too much calcium? 😯 Because these things are dangerously gooooood.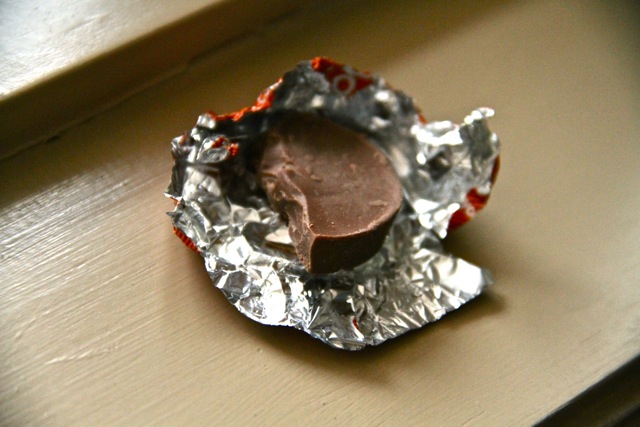 (don't worry… I'm not OD'ing on the chocolate crack)
5. I finally got around to actually trying to figure out my Facebook page yesterday. I never made a personal Facebook page, so the one I have for Spoons is basically my first go at it, and I.am.lost. What the heck are you supposed to do with it? How do you connect with people? Heck, how do you even like people? No giggling. Social media is not my forte… It's something I definitely want to work on, though.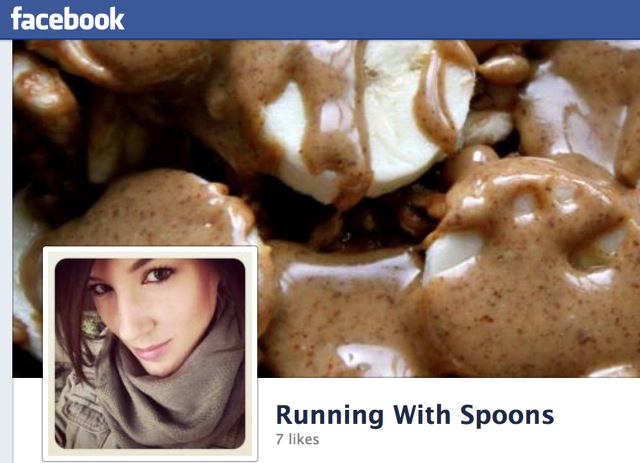 6. Did you know that November is is National Blog Post Month? It's basically a time where you 'blog for blogging's sake' by committing to post daily for 30 days. Since it's pretty much something I do anyways, I figured that I'd participate in the event by joining up with a couple of great blogging communities…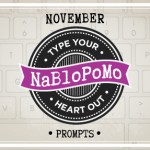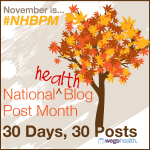 BlogHer simply requires that you post daily, while WEGO takes it a step further and encourages bloggers to blog about things related to health and provides daily prompts for possible post topics. There's still time to join, so click on the links if it's something you'd be interested in!
7. On that note, today's prompt was: 'Why I write about my health'… My answer? Because I know firsthand what it's like to lose it and how much of an impact that loss has on every other aspect of life. Health is life; without it there really is no life. After spending years battling an eating disorder that nearly cost me my life, I want to inspire others who are struggling to never give up and show them that a happy life after anorexia is possible, no matter how deep the illness' claws go. I want to encourage people to take care of their bodies and never take their health for granted because a healthy body is a beautiful gift that's meant to be cherished and not abused.
8. The incredibly sweet Jessie over at Jessie Loves to Run started up something called Thankful Thursdays, which encourages bloggers to blog about some of the things that they're thankful for…

I'm a big fan of anything that reminds us to practice gratitude on a regular basis because there are so many things to be grateful for. Seeing as I'm kicking off a month where I'll be talking about health though, this week I'm going to say that I'm thankful for my health. I still remember the days where I didn't even have the strength to get myself out of bed, so the fact that I'm no longer plagued by constant fatigue, pain, and hunger is just… wonderful beyond words.
. – . – . – .
How many trick-or-treaters did you get last night? Is Halloween dying?
Any Facebook tips you can offer this noobie? What do I use it for? Seriously…
Any random thoughts to share? It's snowing outside and I could use some entertainment…