Hi friends! Happy Monday Tuesday! How the heck have you been?!

It feels like it's been forever since I last talked to you guys, and believe me when I say that I didn't really plan on just up and leaving you like that. I wish I could say that my extended absence was the result of an awesome weekend getaway or a little too much Cinco de Mayo celebrating, buuuuuut that would be a lie. The truth is that I spent the majority of the weekend at home, nursing a wonky stomach and a bad mood.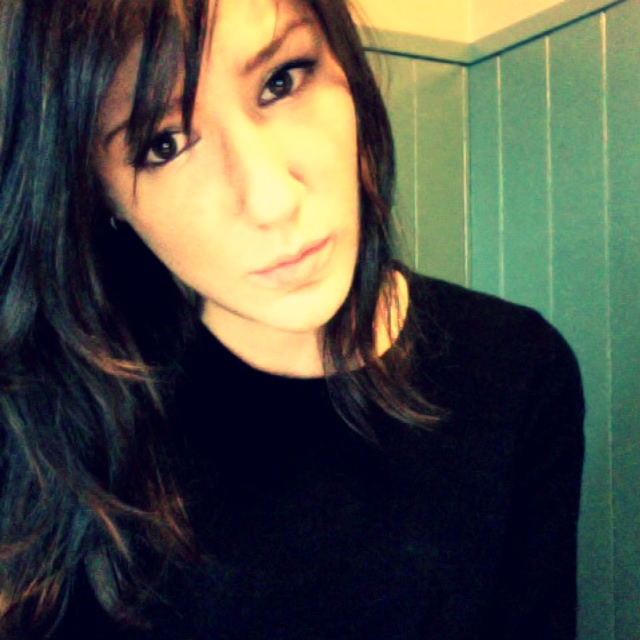 True story.
I have no idea what it was, but my stomach decided to start hating me on Saturday afternoon and it didn't let up until yesterday afternoon, despite all of my babying, tip-toeing, bullying, and swearing. Maybe it was stress or hormones (aka: what I blame pretty much everything on), but yeah… nothing I did helped; and despite my initial attempts to try and smile through it, eventually I just gave up and gave in to feeling sorry for myself. Not one of my proudest moments, to be sure, but sometimes we all need to mope around for a day (or three), am.I.right? And thank you so much to everyone who tweeted/texted/e-mailed me to see if I was still alive – you guys made my heart smile. And so did these…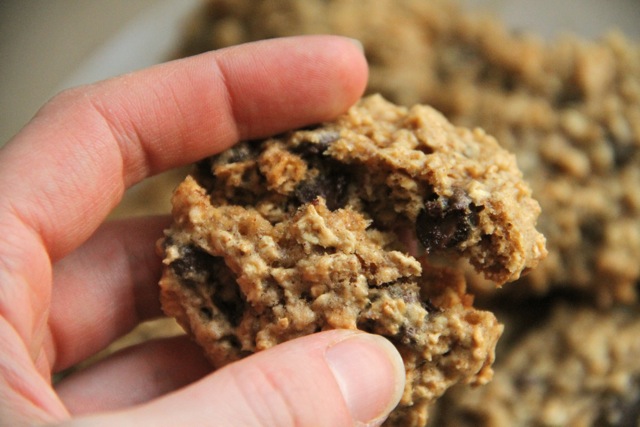 So at least the weekend wasn't a total bust 😉 But I digress. You want to know the worst part about the whole thing? The lack of inspiration and heavy dose of writer's block. Ugh. I can't even tell you how many times I sat down at my computer, trying to come up with something to say, only to stare at a blank screen and walk away ridiculously frustrated. I swear… stomach problems seriously mess with my head. BUT… thankfully that's all over now, and not only am I feeling like my normal self again, but I came across something while I was waiting in line at the grocery store the other day that totally inspired this post. Behold: Starbucks can now help you lose weight! (please note the heavy use of sarcasm)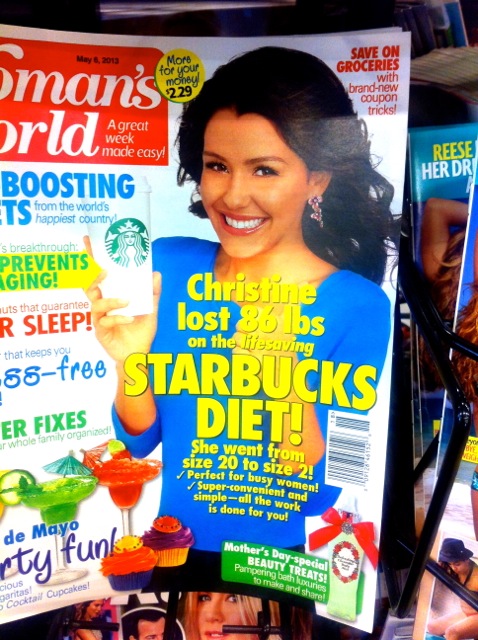 I didn't have a chance to flip through the magazine while I was at the store, but I have to admit that curiosity got the better of me and I Googled it when I got home. I thought it would have something to do with drinking tonnes of coffee or green coffee bean extract, but coffee actually has very little to do with it. Apparently, some woman (not the one on the cover, interestingly enough) lost 86 lbs. eating nothing but Starbucks for 2 years.
Brilliant news for all my fellow Starbucks lovers, right?! Not exactly. I mean, sure, it sounds better than losing weight on rice cakes, egg whites, and broccoli, but we're not talking about enjoying brownies, bagels, cookies, and cakes. Oh no. We're talking: oatmeal and black coffee for breakfast, and either a bistro box or panini for lunch and dinner.
Please tell me I'm not the only one who realizes that a) that's just madness, and b) Starbucks has nothing to do with it. A diet like that would barely clock in at 1000 calories a day (don't even get me started on severe calorie restriction). You could eat 1000 calories worth of Twinkies or cereal a day and still lose weight. Hey! Now there's an idea!! I wonder if a cereal diet actually exists – excuse me while I Google it…

It does! Hallelujah, my prayers have been answered! It's a good thing I stocked up this weekend…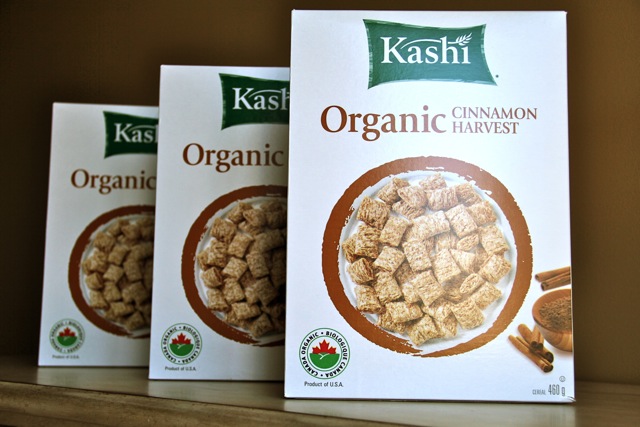 😆 😆 😆 Ahhh. Nothing makes for a good laugh better than a stupid diet. I mean, you guys know how much I love my Starbucks…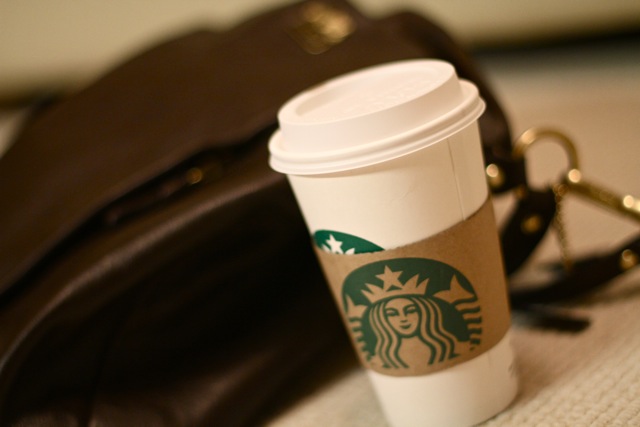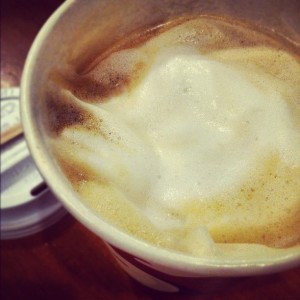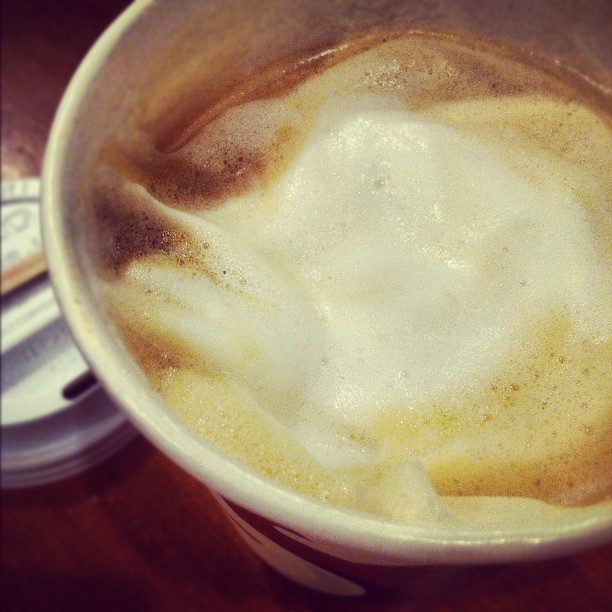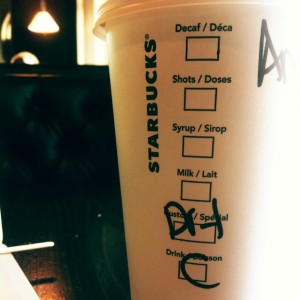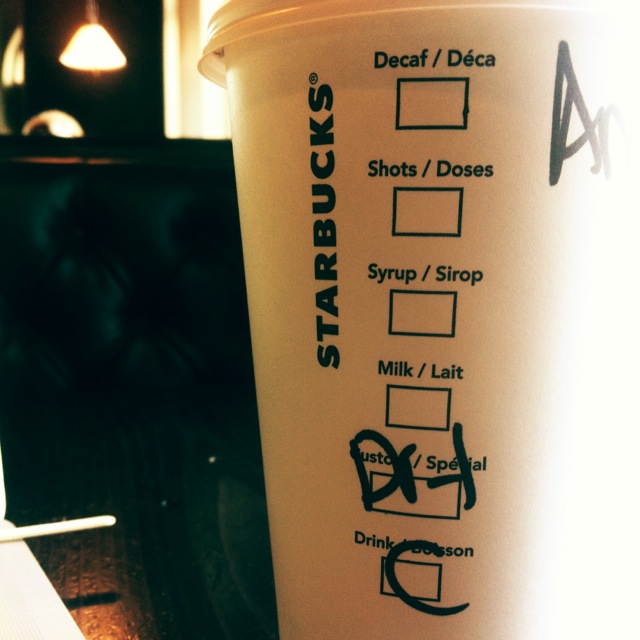 … but I think I'll stick to their coffee and keep eating normal food. And speaking of food, it's time for me to go get some breakfast in my belly. I hope you guys are having an awesome Tuesday, and I'll see you tomorrow for What I Ate Wednesday!
. – . – . – .
What are some of your favorite ridiculous diets? I do love the Twinkie one 😆
Anyone else become a grumpy hermit when they don't feel well? Tell me I'm not alone in this one…