It has been nearly impossible to find ripe bananas in these parts over the past couple of weeks…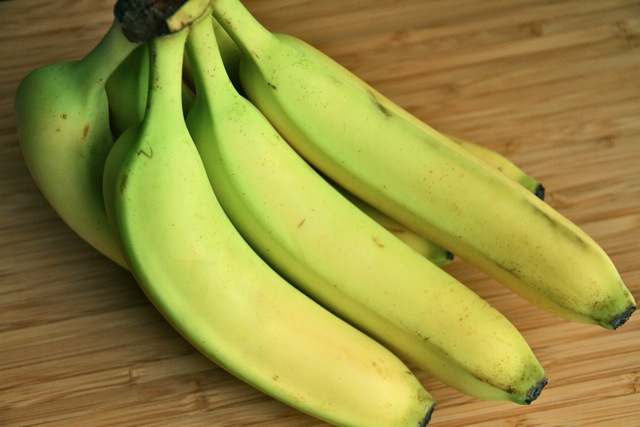 That was the first thing that popped into my head when I was trying to decide what I wanted to write about today, so we're going to roll with it and see where it takes us. Sound good? Good. Here we go…
So yeah… ripe bananas have been a rare commodity around these parts lately, which does not sit well with a girl that needs at least 3-4 a day to function. Okay I realize that might be a tad bit overly dramatic, but after noticing quite a few positive changes in how I've been feeling since increasing the amount of bananas in my diet over the past month or so, I'd very much like to keep that feel-good ball rolling, thankyouverymuch.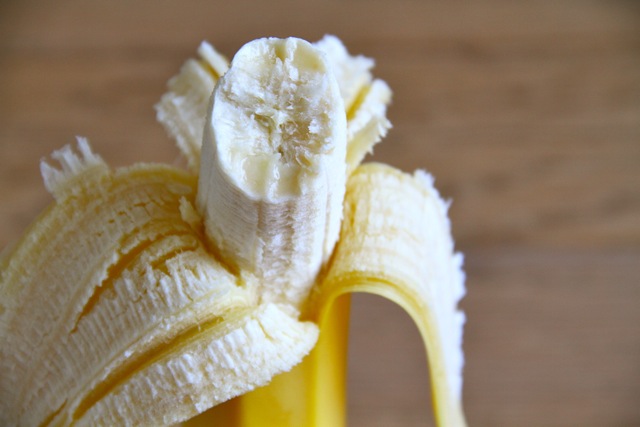 Bananas are probably my all time favourite food. In fact, if I had to pick one thing to live off for the rest of my life, I'm 99.872% sure that my answer would be bananas… both for health reasons and because I genuinely do love them that much. But what's not to love?!? Not only are bananas extremely versatile and delicious, but they're packed with vitamins and minerals, and their list of health benefits is pretty impressive as well.
What kind of health benefits? I'm glad you asked!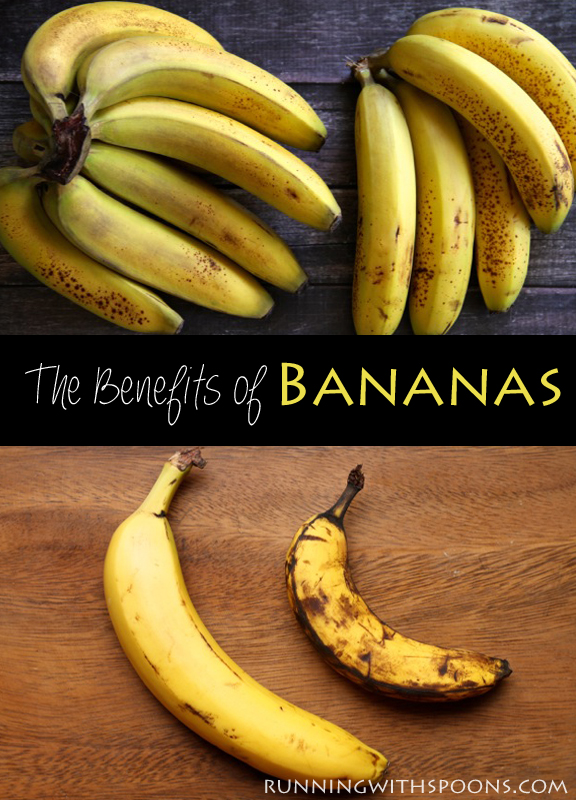 Before we talk specific benefits, let's take a look at exactly what we're eating when we eat a banana.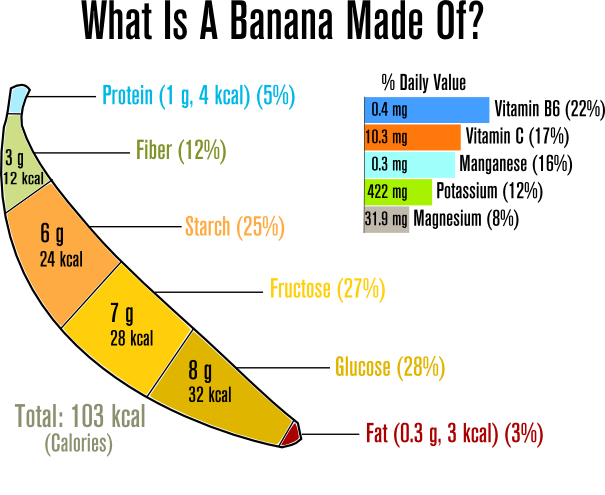 [source]
Despite the fact that they're almost entirely made up of carbs and sugars, bananas actually rank low on the glycemic index, meaning they won't spike your blood sugar levels. This is because, in addition to sugars, bananas come equipped with a good amount of fibre and other substances that help in both carbohydrate digestion and blood sugar regulation. Which brings us to…
Digestive Health
Bananas are little miracle workers when it comes to digestive health. A medium banana boasts an impressive 3g of fibre, which regulates the speed of our digestion (thus helping to control blood sugar levels) and helps normalize bowel motility.
Bananas also contain pectins, which are a specific type of fibre that helps in the normalization of carbohydrate digestion (thus helping to control blood sugar levels). The only catch is that the bananas need to be fully ripe since that's when their pectin levels are the highest. Yes, this is also when their sugar levels are the highest, but the increased pectin and increased fructose concentration actually help moderate the impact that a banana has on our blood sugar. Bananas have also been found to have increased antioxidants and immune boosting properties in their ripest stage.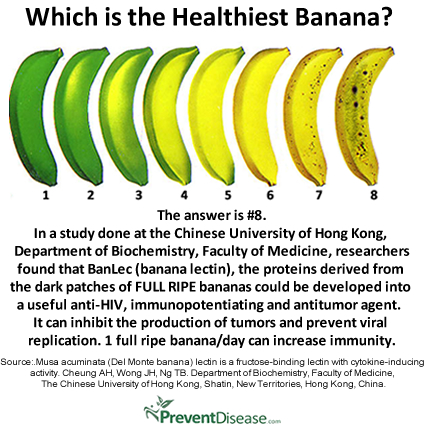 [source]
Finally, bananas contain fructooligosaccharides, which are a unique family of carbohydrates that aren't broken down in our digestive tract. Instead, they travel down to our lower intestines and become "food" for the good bacteria that live there (we carry around at least 5-8 lbs. of bacteria in our gut at any given time), which goes on to have a big positive impact on our overall digestive health. Studies have shown that participants who ate at least two bananas a day for a two month period had significant increases in good bacteria, while experiencing fewer gastrointestinal problems and having more regular bowel functions [source]. And while this may be TMI, I can definitely speak to the truth of that.
Heart and Muscle Health
One medium banana contains an impressive 400 mg of potassium, which is a mineral that is essential for the maintenance of normal heart function. Potassium helps lower blood pressure and reduces the risk of developing atherosclerosis, so making bananas a part of your diet can help protect you against cardiovascular disease — one of the leading causes of death in today's society. There is also some evidence to suggest that potassium is useful in the prevention and treatment of muscle cramps, making bananas ideal for athletes and those who suffer from nighttime muscle cramps.
Bananas also contain a small amount of sterol, a type of fat that is structurally similar to cholesterol and can help keep our blood cholesterol levels in check by binding to receptors and preventing the absorption of dietary cholesterol.
Mood Boosters
Bananas contain tryptophan — one of the essential amino acids. Tryptophan is the precursor to the neurotransmitter serotonin, which contributes to feelings of well-being and happiness.
Stable and Sustained Energy
Due to their high natural sugar and fibre content, bananas provide an easily accessible and sustainable source of energy for our bodies. They're a great pre-workout snack for athletes, and also a great snack to eat between meals to help stabilize blood sugar levels.
The Takeaway
Bananas are a good source of vitamin B6, manganese, potassium, fibre, copper, and biotin.
While they may be high in sugars, bananas are actually low on the glycemic index thanks to their fibre and pectin content.
Bananas contain fructooligosaccharides, which feed the good bacteria in our gut and contribute to good digestive health.
Bananas should be eaten when fully ripe. This is when they are highest in all their beneficial properties, and also when they're the easiest for us to digest.
Bananas contain lots of potassium, which helps maintain normal heart function.
Bananas are considered a "happy food" due to their tryptophan content.
A Few Recipes…
While bananas are perfectly delicious on their own, they also make a great ingredient in baked goods and smoothies. Here are a few recipe ideas to get more bananas in your diet!

Have I convinced you to show bananas a little more love?
Would you be interested in seeing more health and nutrition related posts on Spoons?
More places to find me!
E-mail — [email protected]
Twitter — runwithspoons
Facebook — runningwithspoons
Pinterest — runwithspoons
Instagram — runwithspoons
Bloglovin — runningwithspoons