Bursting with the goodness of cinnamon and sugar, these soft and tender snickerdoodle donut holes are made healthier by being baked instead of fried!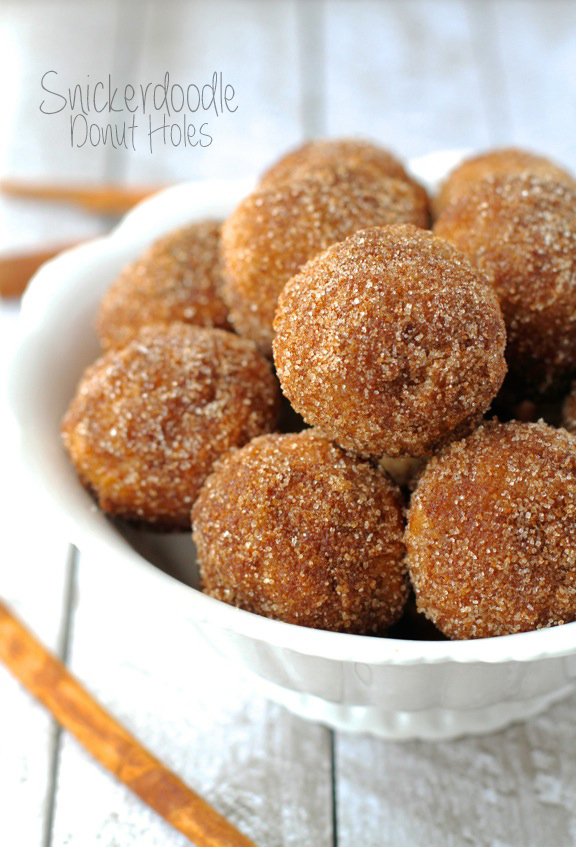 You'll never guess what I was doing at 7 AM on Sunday (read: yesterday) morning.
Nope! I wasn't sleeping (although that would have been nice).
Nuh uh. Wasn't making pancakes or waffles either.
And newp… I wasn't in the gym getting my sweat on.
I was actually in the kitchen licking cinnamon and sugar off my fingers. Err… that is… I was dusting donuts.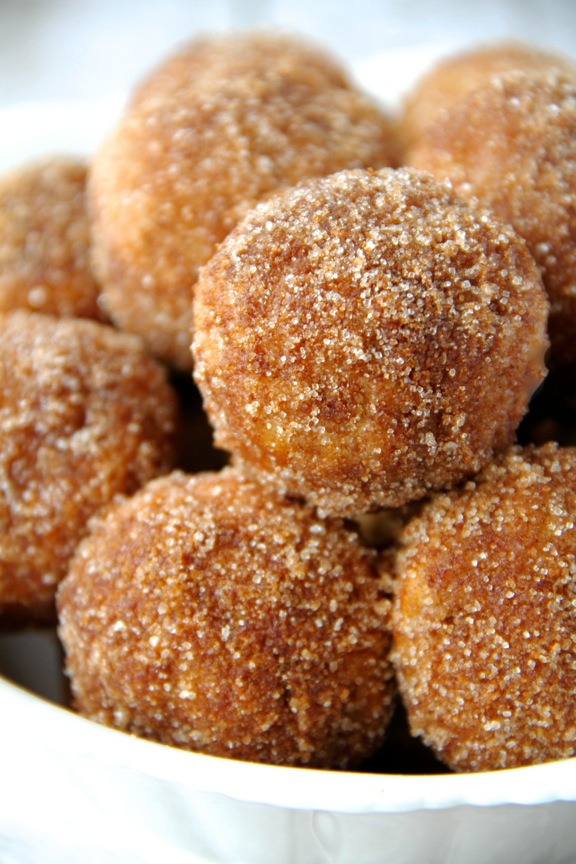 Snickerdoodle donut holes to be more precise. And would that be considered coating since there was no powdered sugar involved? Either way… I was adding even more cinnamon sugary goodness to what were already cinnamon sugary donut holes to begin with, and enjoying the fruits of my labour in the process.
Don't worry — I only ate the lumpy/misshapen ones 😉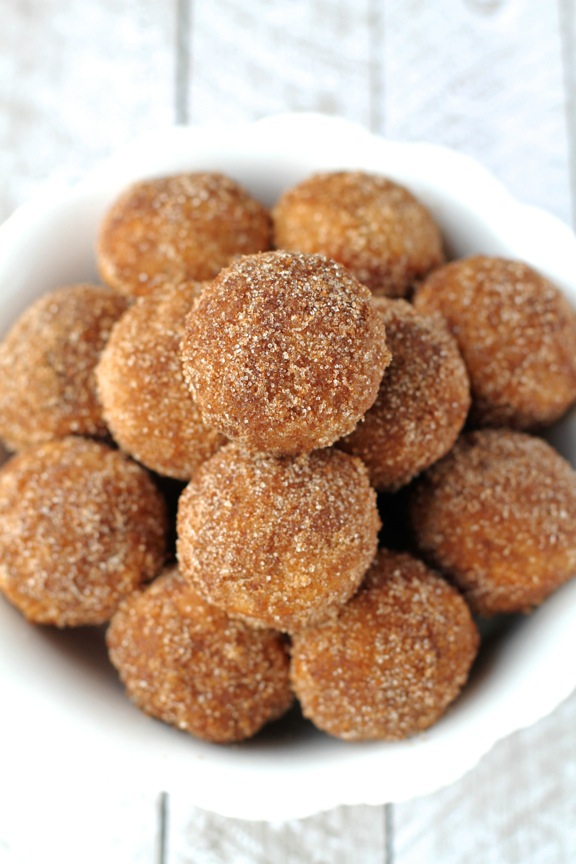 I've been obsessed with the combination of cinnamon and sugar for as long as I can remember. As a kid, I could polish off a box of Cinnamon Toast Crunch like it was nobody's business (1.5 days is my record), and one of my favourite meals growing up was actually a combination of rice and yogurt sprinkled with buried under mounds of cinnamon and sugar. I don't mess around.
I also don't hate the fact that the cinnamon sugar combo reminds me of Christmas, which I have to admit that I've been slooooowly transitioning to over the past week or so… as evidenced by the fact that my home is currently devoid of anything/everything pumpkin related. I know it's still technically fall, and that all of my American friends haven't even celebrated Thanksgiving yet, but:
a) Thanksgiving was so October for us Canadian folk,
b) it doesn't look like fall around here (read: we're buried under a nice blanket of snow), and
c) I really just want an excuse to eat more snickerdoodle donut holes while listening to Mr. Buble tell me that he'll be home for Christmas…
Focus, Amanda. Focus. Donut holes. Right.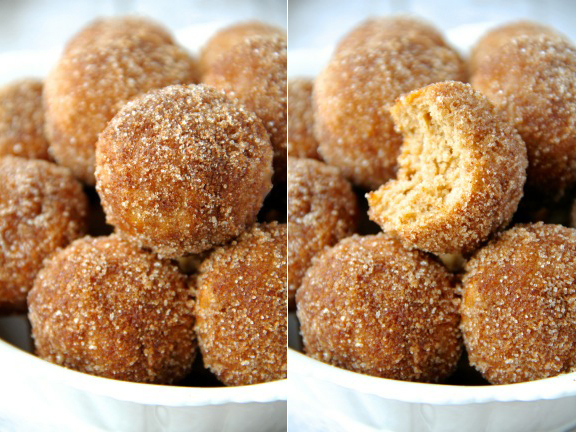 I guess these should technically be called mini muffins since they're baked in a mini muffin pan and all, but when you taste this good, names don't really matter all that much. You could bake them in a regular donut pan if you felt so inclined, or even in a regular muffin pan — it matters not.
The only thing that matters is that soft and tender doughiness…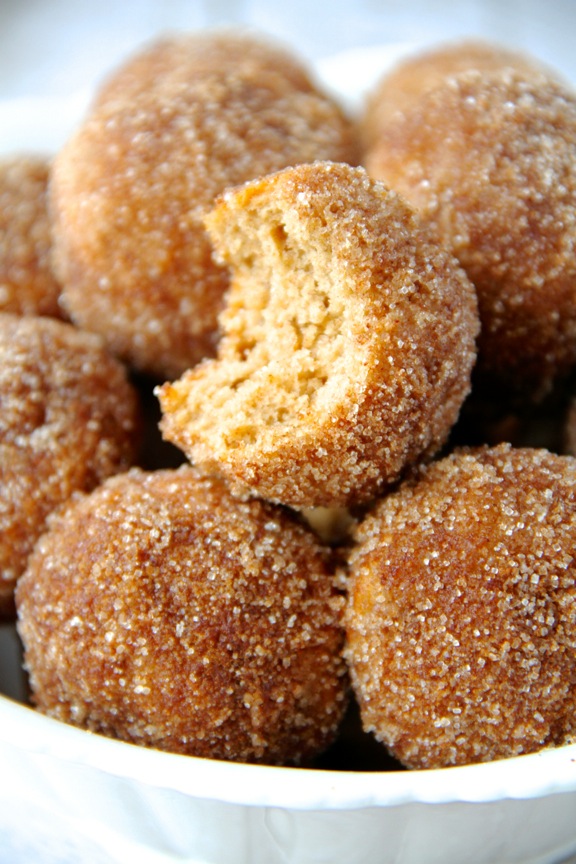 These guys are like little pillows of cinnamon sugar goodness. The donuts themselves are spiked with an extra dose of cinnamon, and the cinnamon sugar coating not only adds even more flavour and sweetness, but helps keep the donuts moist while adding the subtlest little crunch as well. So dreamy.
Because they're baked and not fried, you won't feel weighed down and heavy after enjoying one four. And yes, I speak from personal experience — I think I mentioned a slight obsession with the cinnamon sugar thing?
The recipe calls for buttermilk for added moisture, but I made a second batch using a milk + yogurt combination (read recipe notes) and it was just as good. Other than that, there's only one thing left to say.
You need these in your life, stat…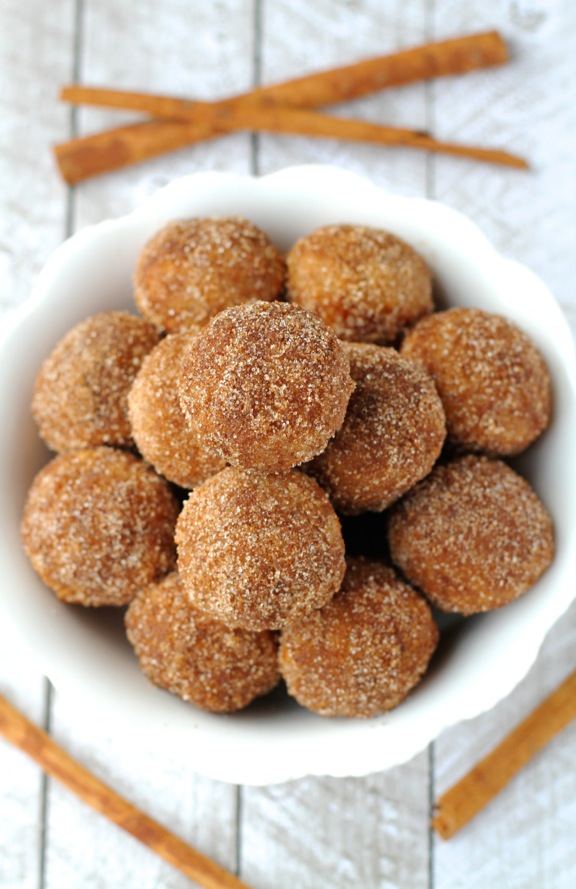 I'd love to know if you make this (or any!) recipe! Tag @runwithspoons on Instagram and Twitter, and be sure to subscribe to our mailing list to receive more healthy and delicious recipes straight to your inbox!
Print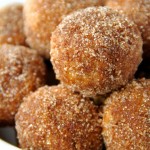 Baked Snickerdoodle Donut Holes
---
Author:

Total Time:

20 mins

Yield:

24

donut holes

1

x
1/4 cup

butter, softened

1/4 cup

granulated sugar

1/4 cup

brown sugar

1

large egg

1/2 cup

buttermilk*

1 tsp

. vanilla extract

1 1/2 cups

all-purpose flour

1 1/2 tsp

. baking powder

1/4 tsp

. salt

2 tsp

. ground cinnamon

2 Tbsp

. butter

1/4 cup

granulated sugar

1 tsp

. ground cinnamon
---
Instructions
Preheat oven to 375ºF and lightly grease a 24-count mini muffin pan**. Set aside.
In a large bowl using either a hand-held or stand mixer, cream together butter and sugars until pale and fluffy. Beat in the egg, milk, and vanilla, stopping to scrape the sides of the bowl when necessary.
Add flour, baking powder, salt, and cinnamon, mixing on a low speed until just combined. Do not overmix.
Use a tablespoon to divide the batter evenly among the 24 muffin cavities, filling each cavity about 2/3 of the way full. Bake for 8-10 minutes, or until donuts holes begin to turn brown on the edges and spring back when touched. Remove from oven and allow to cool before applying the cinnamon sugar coating.
Prepare the coating: Place butter in a small microwave-safe bowl and microwave on high for until fully melted, about 30 seconds. In a separate bowl, combine sugar and cinnamon. Quickly dip each donut hole into the melted butter and then roll it in the cinnamon-sugar, shaking off any excess. Set on wire rack to set. Donuts can be stored in an airtight container for up to 1 week.
Notes
* If you do not have buttermilk, you can add 2 Tbsp. of plain yogurt to 1/2 cup of milk and use that instead.
** If you do not have a mini muffin pan, these can easily be made into regular sized donuts or muffins. Simply adjust baking times accordingly (12 minutes for donuts, 18 minutes for muffins).
Prep Time:

10 mins

Cook Time:

10 mins
Keywords: baked donut holes, baked snickerdoodle donuts, cinnamon and sugar, snickerdoodle donut holes, snickerdoodle donuts, snickerdoodle muffins
Looking for more donut & muffin recipes? Try one of these!
Healthier Chocolate Glazed Donuts
Flourless Apple Cinnamon Muffins
Banana Oat Greek Yogurt Muffins