I know a lot of people like to get all fancy with their Sunday morning breakfast, taking the extra time to whip up a mean batch of pancakes, waffles, or French toast, but I tend to keep things pretty simple around these parts…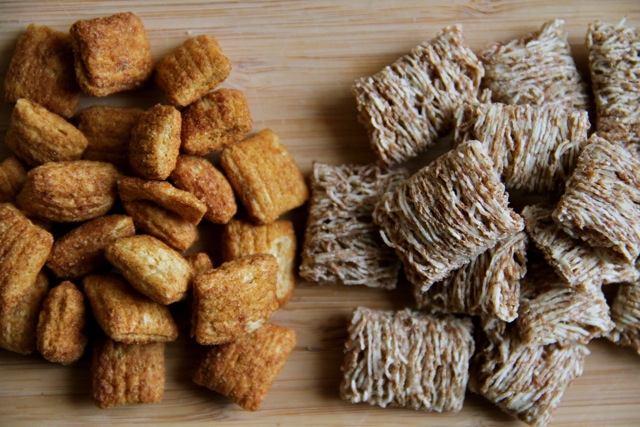 I used to turn my nose up at cereal, seeing it as nothing more than a flimsy snack food that didn't have what it took to fill me up, but when I had to give up oatmeal and find a new breakfast obsession, cereal was actually the first thing I turned to – and it did not disappoint. Since I'm feeling particularly fond of it this morning, and I like to keep Sunday's posts pretty lighthearted and relaxed, I decided a cereal survey was a good way to go. Hope you guys enjoy!
. – . – . – .
How often do you eat cereal? Every.single.day. Usually multiple times…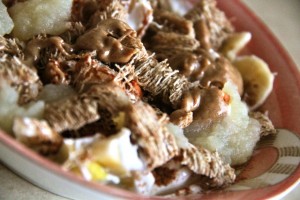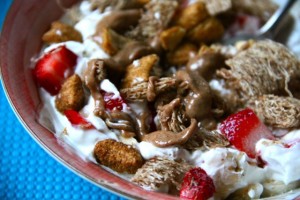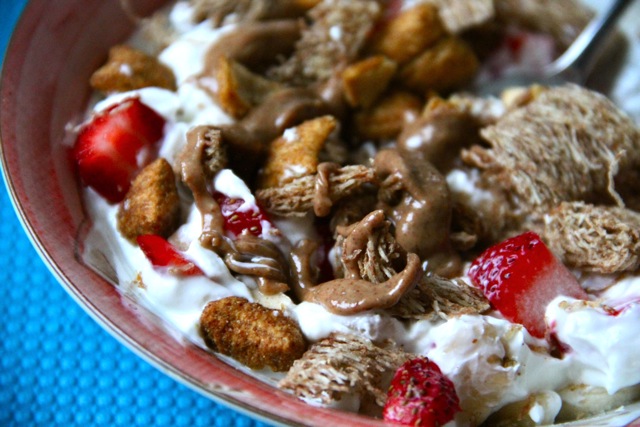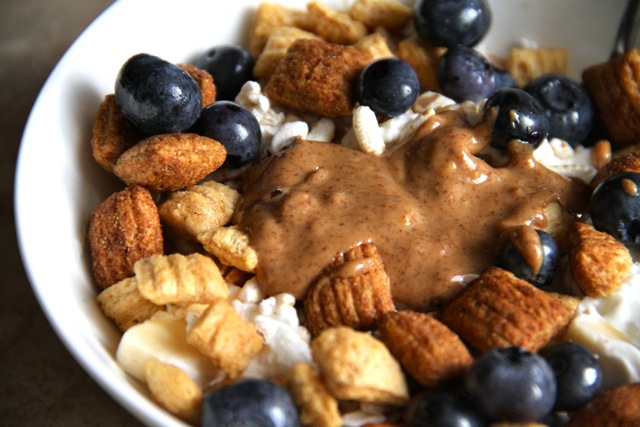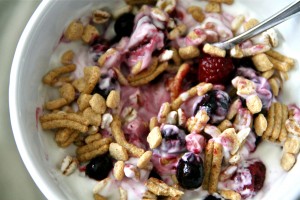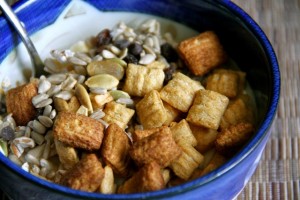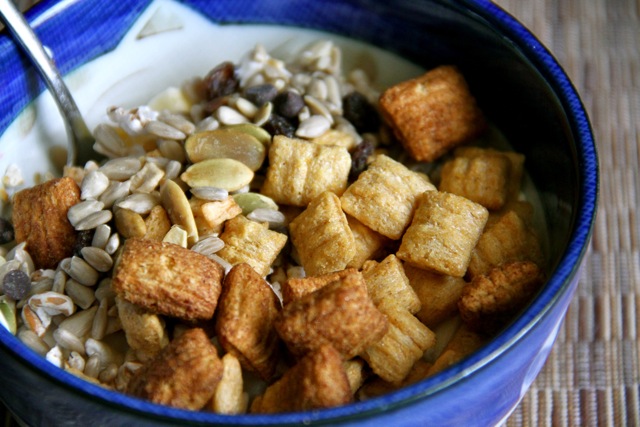 Do you measure out one serving or are you a free pourer? Free spirit, baby! I used to be really strict with making sure I never ate more than a single serving, but… who can honestly be satisfied by such a small amount?! It's cereal! It's wonderfully delicious! Well, there's that and the fact that I gave up all that counting/measuring nonsense and have no desire to go back.
What is the last kind of cereal you ate? Kashi Cinnamon Harvest and Puffins with breakfast…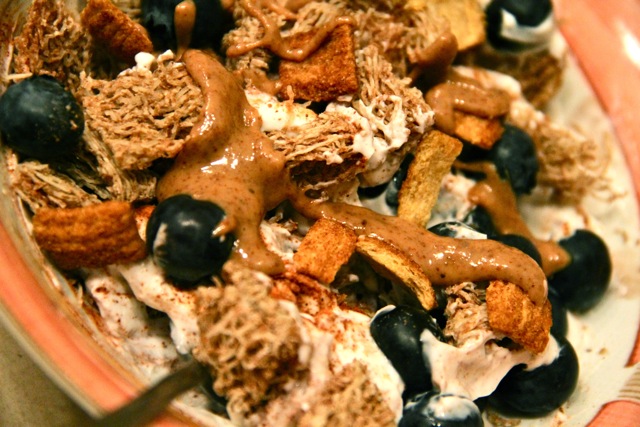 What is your favorite "healthy" cereal? I'm gonna have to go with Kashi Cinnamon Harvest or Weetabix.
What is your favorite "unhealthy" cereal? Cinnamon Toast Crunch.
What is your favorite fruity cereal? Erm. There are fruity cereals? I was never a fan of things like Fruit Loops or Fruity Pebbles so my answer to this question will beeee… pie. The answer is pie.
What is your favorite chocolatey cereal? Enjoy Life Double Chocolate Crunch granola.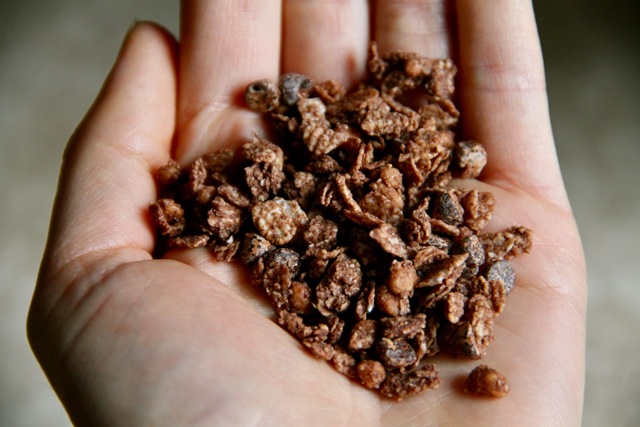 What is one cereal you can't stand? I wouldn't say I really dislike any cereal, but I'm not the biggest fan of granola. I know people tend to be crazy about the stuff, but it's way too dense and chewy for me. I prefer my cereals in biscuit/puff/flake form – I can only handle light a light sprinkle of granola as a topping.
What kind of milk do you prefer in your cereal? This kind…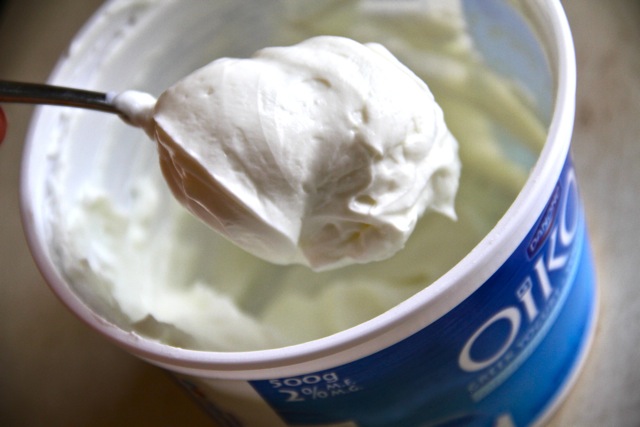 What was your favorite cereal as a kid? Cinnamon Toast Crunch, Cap'n Crunch, Corn Pops, Golden Grahams, and I liked picking the marshmallows out of Lucky Charms.
Did you ever buy a box of cereal just for the toy inside? Heck yeah I did! Didn't everyone? And I didn't even bother waiting until I finished the cereal to get the toy at the bottom of the box. Oh no. I just dug around until I found it. Do they still put toys in cereal boxes? I honestly can't say that I've seen any lately. Sad face.
What is the most amount of cereal you've eaten in one sitting? I don't know about one sitting, but there have been numerous occasions where I polished off an entire box over the course of a day. Cereal for breakfast, lunch, and dinner? Don't mind if I do!
Best cereal for snacking on dry? Kashi Cinnamon Harvest… especially when it's dunked in applesauce.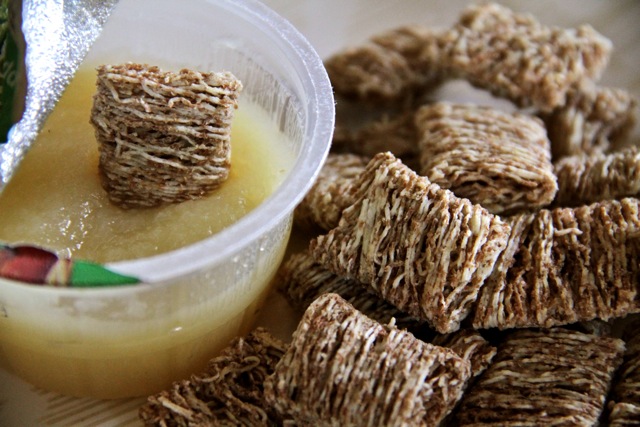 Do you put fruit/sugar/other toppings in/on your cereal? Definitely. A big bowl of cereal with milk used to satisfy me when I was younger, but now it takes a pretty fancy mix of yogurt, fruit, and almond butter to fill me up.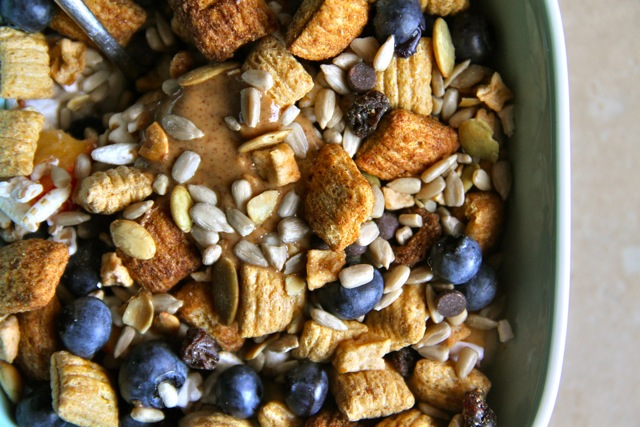 Do I have you craving some cereal yet? 😀 Happy Sunday, friends!
. – . – . – .
Do you make a fancy breakfast on Sundays?
How often do you eat cereal? As a meal or snack? Do you stick to one serving?
Is there any cereal you don't like?