These strawberry almond oat bars are so tender and buttery that you'd never guess they're made without any flour or butter! A gluten-free combination of oats and almond flour gives them an irresistibly flaky crust, which pairs beautifully with an easy homemade strawberry chia seed jam.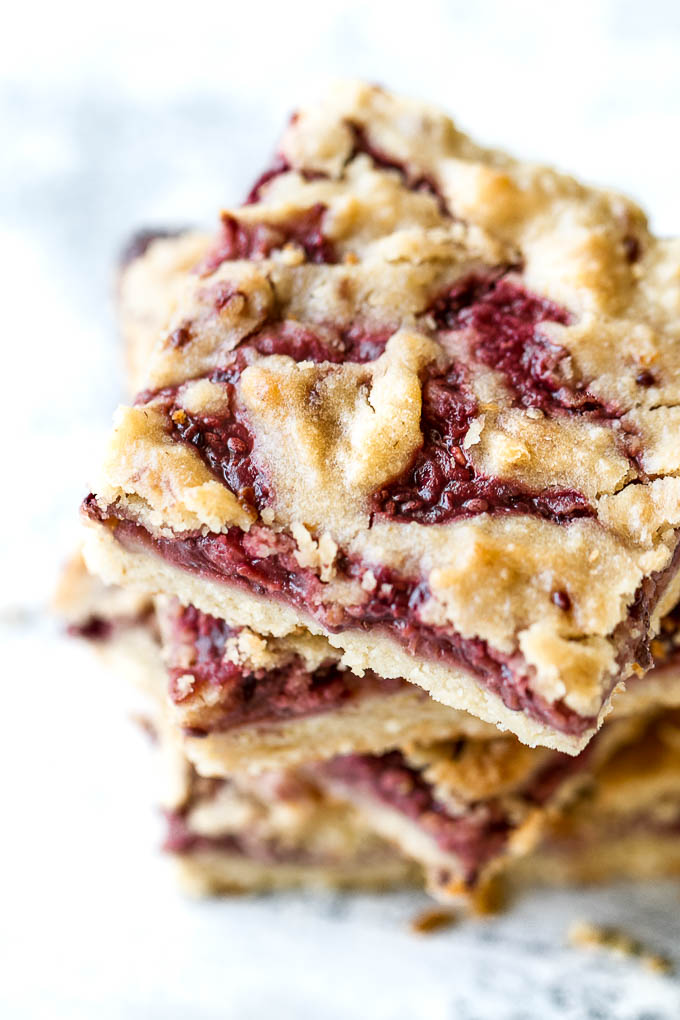 I was half tempted to title this post "What To Do With Those Pesky Frozen Strawberries"… but then I realized: a) that's not great for SEO, and b) you don't technically have to use frozen strawberries. Or strawberries at all, really. That's just what I used because that's what I suddenly found myself drowning in.
And if you're wondering how one drowns in frozen strawberries, it's quite simple… You just buy bags of frozen mixed berries, pick out the strawberries because you don't like them, put them in a separate container, and over time find yourself with 5 lbs of frozen strawberries cluttering up your freezer and no idea what to do with them.
So what's a girl to do when life hands her lemons frozen strawberries? Make jam…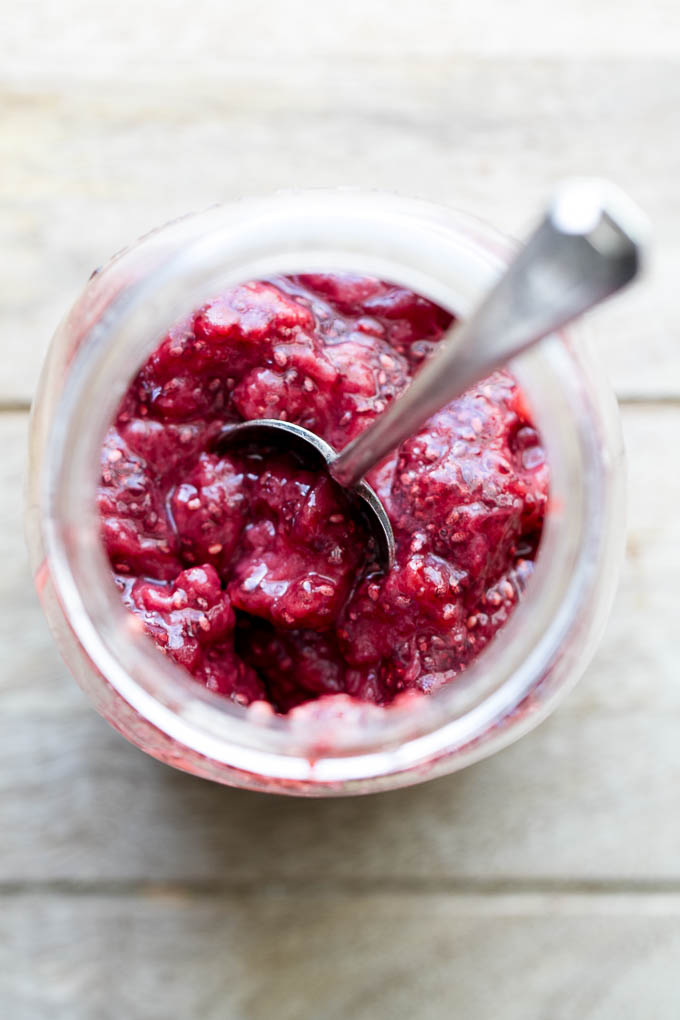 And like I mentioned before, you could totally do this with fresh strawberries as well. Or just skip the whole jam-making process in general and use store-bought. No judgement. I mean, you're looking at a girl who's always bought packaged hummus and never bothered making her own because… why? And I know, I know – it's super easy and I should totally do it – and I will one day, but today is not that day. Today, we're making waffles chia seed jam.
And with that jam, we're making the most amazingly delicious strawberry almond oat bars…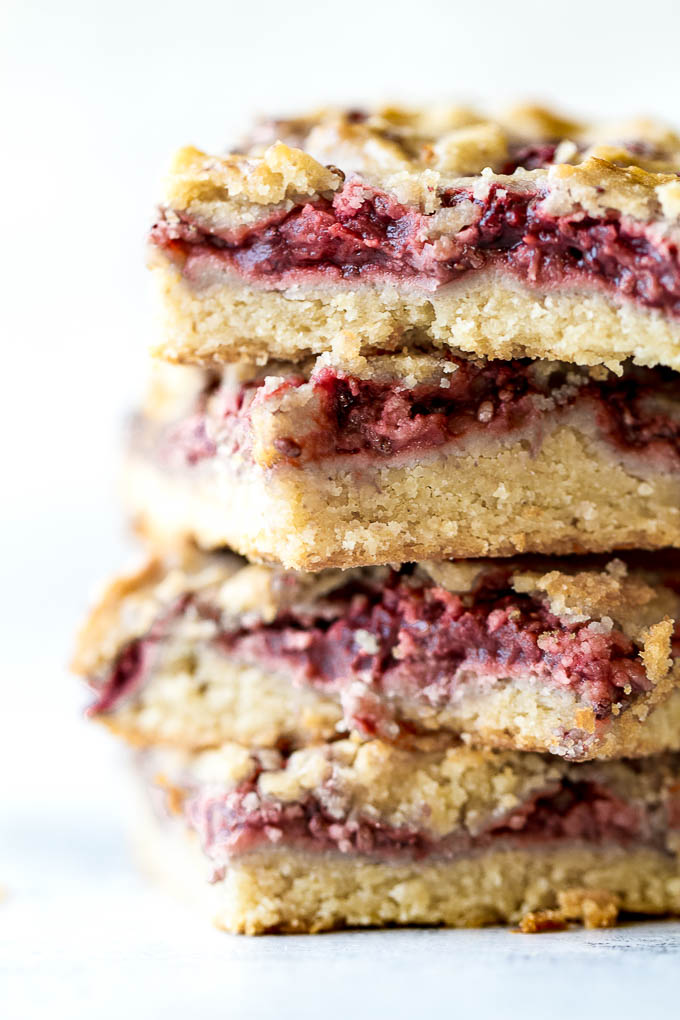 So let's talk about these bars.
The strawberry part obviously comes from the chia seed jam. It's super easy to make, with the most annoying part being waiting for it to finish 'jamming up' before you can actually make the bars. BUT! I've found the perfect way around this is to just make the jam in advance… or don't and just make everything at the same time since it's not really that big of a deal. I'm just a tad impatient.
And then there's the almond oat part. You.guys. The almond oat crust is where it's at. It's so.freaking.good that I I'm pretty sure I came close to reaching the point of no return with how many spoonfuls I scooped straight out of the blender. You know… the point where you eat so much of the dough that you're not sure you have enough left over to make the entire recipe anymore? I was definitely flirting with that line.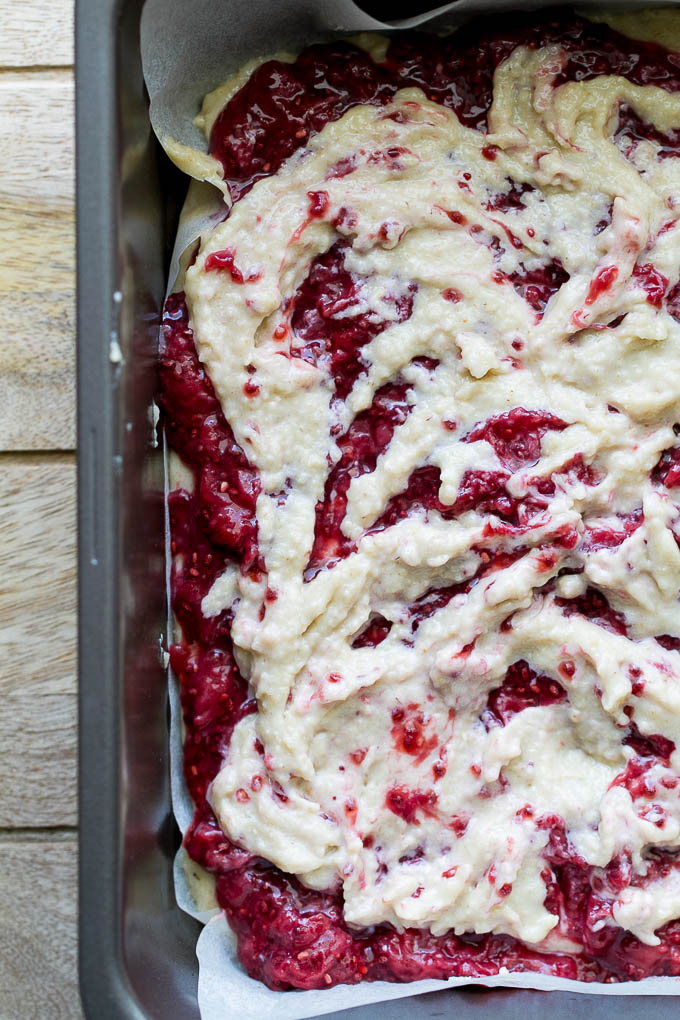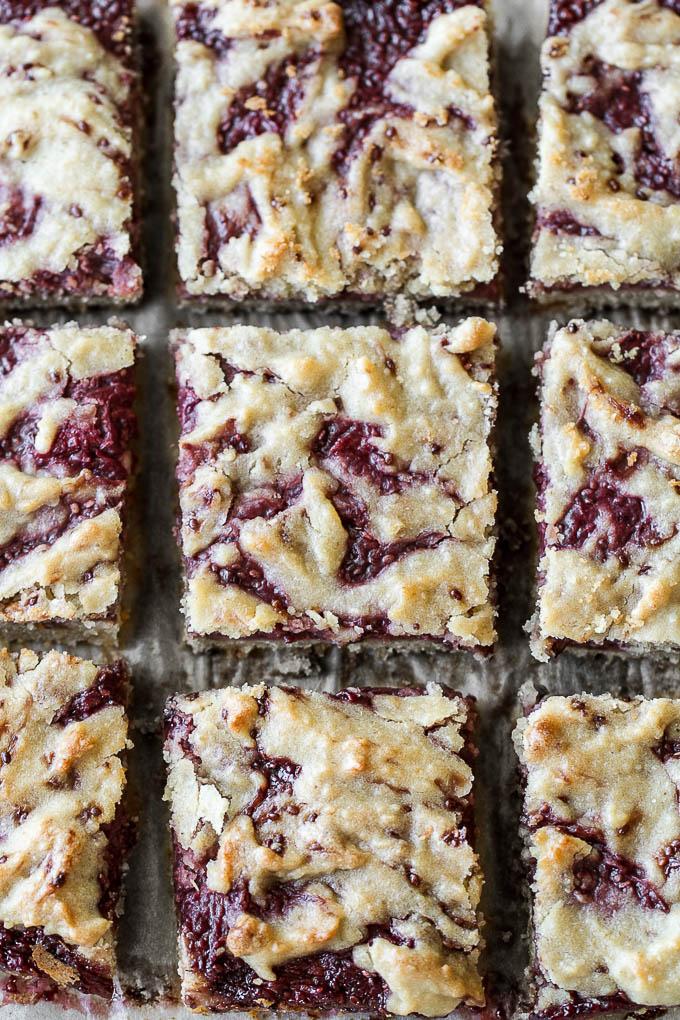 What makes it so good? Well, it's so tender and buttery without being made with any butter at all. It's actually made from a mix of oats (gluten-free,* if needed) and almond flour, which combine to make some pretty beautiful magic together and produce a crust that's buttery and flaky, but made without any flour or butter. It's craziness. The only downside is that it can be a little tricky to spread out in the pan, but it's nothing a trusty spatula and a couple extra minutes of patience won't counter.
Top that subtly sweet flaky doughiness with some naturally sweetened homemade jam, and you've got yourself a deliciously healthy snack bar that you can enjoy any time of the day.
Happy eating!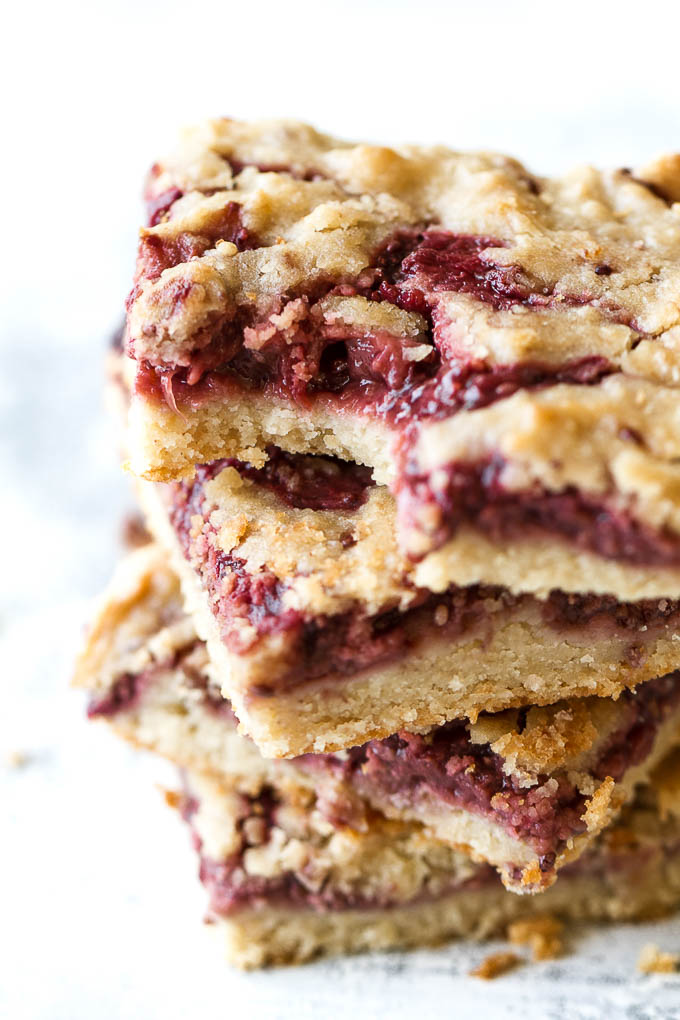 I'd love to know if you make this recipe! Leave a comment and rating down below to let me know what you think, and subscribe to our mailing list to receive new recipes in your inbox!
Print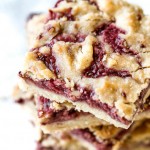 Strawberry Almond Oat Bars
---
Author:

Total Time:

55 mins

Yield:

12

bars

1

x
For the strawberry chia jam:
2 cups

(

350 g

) frozen strawberries*

2 Tbsp

(

30

ml) maple syrup

2 Tbsp

(

14 g

) chia seeds

1 tsp

vanilla extract
For the bars:
---
Instructions
Make the jam:
Add the strawberries and maple syrup to a medium saucepan set over medium heat. Heat until the berries begin to release their liquid, about 5 – 15 minutes depending on whether or not they were thawed first. Bring to a boil, stirring occasionally, until the berries begin to break down and thicken, about 5 -10 minutes. Use your spoon to break them apart further if desired.
Stir in the chia seeds and vanilla, continuing to cook for another 5 minutes. Remove from heat and allow the jam to cool. It will continue to thicken the longer it sits, which is why I usually like to make it the night before I'm planning on making these bars.
Make the bars:
Preheat your oven to 325F (162C) and prepare an 8×8 (20x20cm) baking dish by lining it with a sheet of aluminum foil or parchment paper, leaving a few inches of overhang on the sides to allow for easy removal.
Add the oats and almond flour to a high-speed blender or food processor and process on high for about 10 seconds, or until the oats have broken down into the consistency of a fine flour. Add the remaining crust ingredients and continue processing for about 20 – 30 seconds until la sticky dough begins to form. Make sure to stop and scrape down the sides of your blender/processor as necessary.
Transfer 2/3 of the dough into your prepared baking pan, using your fingers or a spatula to ensure that it is pressed down tightly and evenly. It might be a little stubborn, so just take your time and spread it as best you can – it doesn't have to be perfect. Spoon the chia jam over the surface, and use a spatula or knife to spread it evenly, making sure to only go within 1/4 of the edge to prevent the jam from burning. Top with remaining dough by dropping it on top in in a few separate globs, and then using your spatula to spread them out.
Bake for 35 – 40 minutes, until the centre has set and the bars begin to turn golden brown. Remove from the oven and let them cool in the pan for about 15 minutes before transferring them to a wire rack to cool completely. Use a star[ knife to cut them into individual bars and store them in an airtight container at room temperature for up to 5 days.
Notes
* You can easily sub out strawberries for your favourite frozen fruit. Or use 3/4 cup store-bought jam if you don't have time to make your own. ** You can also use any other lightly flavoured oil. *** You can also use brown sugar.
Prep Time:

15 mins

Cook Time:

40 mins
Keywords: almond, baking, bars, breakfast, gluten-free, healthy, oatmeal, recipe, snack, strawberry, vegan

Looking for more healthy snack bar recipes? Try one of these!
Double Blueberry Muffin Bars
Greek Yogurt Oatmeal Bars
Soft Baked Brownie Breakfast Bars
Strawberry Banana Oat Bars
No Bake Vegan Oatmeal Fudge Bars

*Disclosure: Some of the links included in this post may be affiliate links, meaning I'll earn a small commission if you purchase through them, at no additional cost to you. I only recommend products I personally use and believe will add value to my readers. Thank you so much for helping support Spoons!