Made with a dairy-free yogurt alternative, these overnight oat parfaits combine the delicious flavours of strawberries and coconut in a healthy gluten-free and vegan breakfast option that'll start your day on the right foot!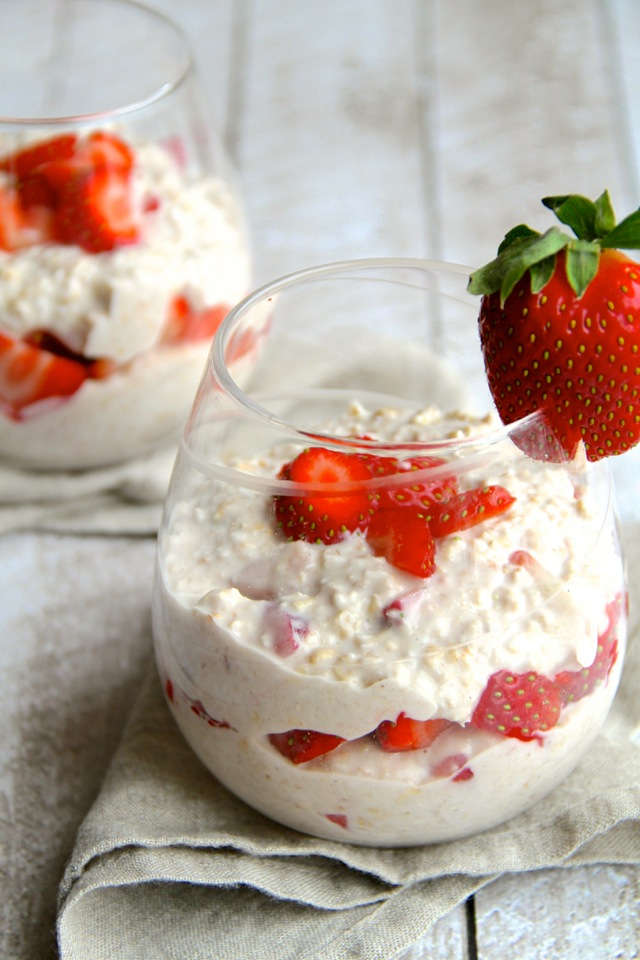 Besides being peanut-free, I don't really follow any specific diet. I may end up eating vegetarian for a week or two because I'm not crazy about meat and don't like working with the raw stuff, or baking gluten-free treats because most of my favourite ingredients are naturally GF, but it's not something I really put much conscious thought into. After years and years of meticulous planning, counting, measuring, and restricting, followed by a free-falling recovery period where I [finally] allowed myself to "eat ALL the things," I feel like I've fallen into a pretty relaxed and intuitive place with food. In fact, my thought process when choosing what to eat is pretty simple:
STEP ONE: Is it peanut-free? If yes, proceed.
STEP TWO: Does it taste good? If yes, proceed.
That's pretty much it — sorry if you were expecting something a little more elaborate and earth-shattering 😛 Of course I try to be conscious of what I put into my body on a regular basis (and I'm lucky that my body naturally seems to gravitate towards healthier foods), but as long as those two conditions are met, then basically everything is fair game… whether it be gluten-free, vegan, Paleo, raw, cooked, or whatever. I don't discriminate when it comes to dietary labels — it's all good to me.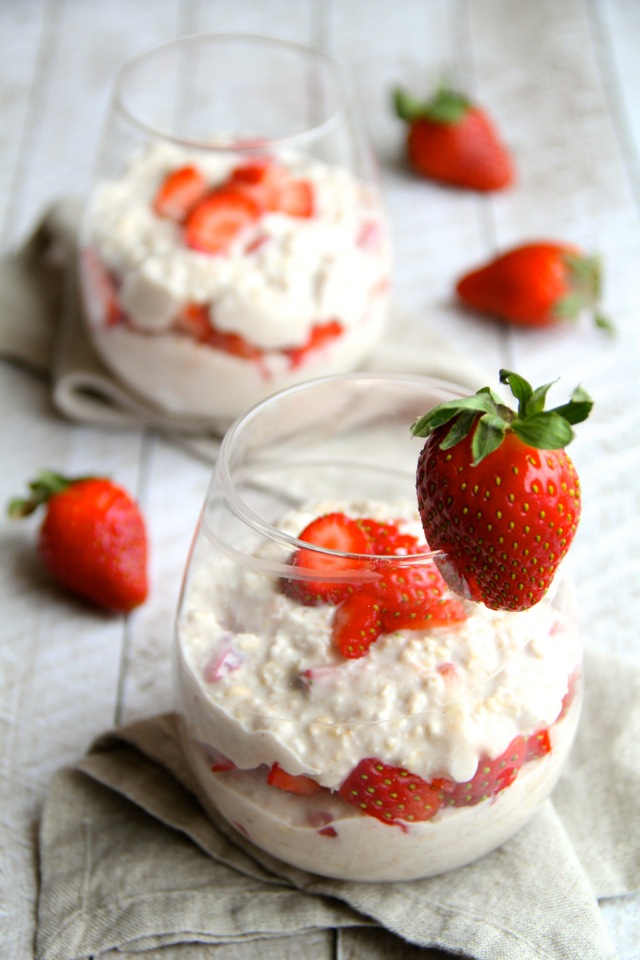 I will admit that I can't help but feel a little more affinity towards any food sporting a "peanut-free" label, though. I see that nut-free sign on a package and my heart instantly does a little happy dance. And anyone who suffers from any sort of allergy or intolerance knows what I'm talking about. It's nice to see the world take notice and try to accommodate your dietary restrictions. It's like they're thinking about you; like they went out of their way to make whatever it may be just for you to enjoy. Makes you feel all warm and fuzzy inside. Kind of like when it was your turn to be the "Special Person of the Day" at school and everyone would be extra nice to you.
Okay, maybe not that special, but it is nice to see the food world becoming more accommodating to allergies and intolerances. And yes, I realize that the media has gone a little overboard and turned a lot of legitimate dietary restrictions into fad diets (gluten-free, I'm looking at you!), but for those of us who really do have to avoid certain foods for health/ethical reasons — whether it be gluten, dairy, meat, nuts, etc. — it really is great to have those alternatives. And for those lucky souls who don't have any dietary restrictions to worry about? Well, it doesn't hurt to have more great tasting options.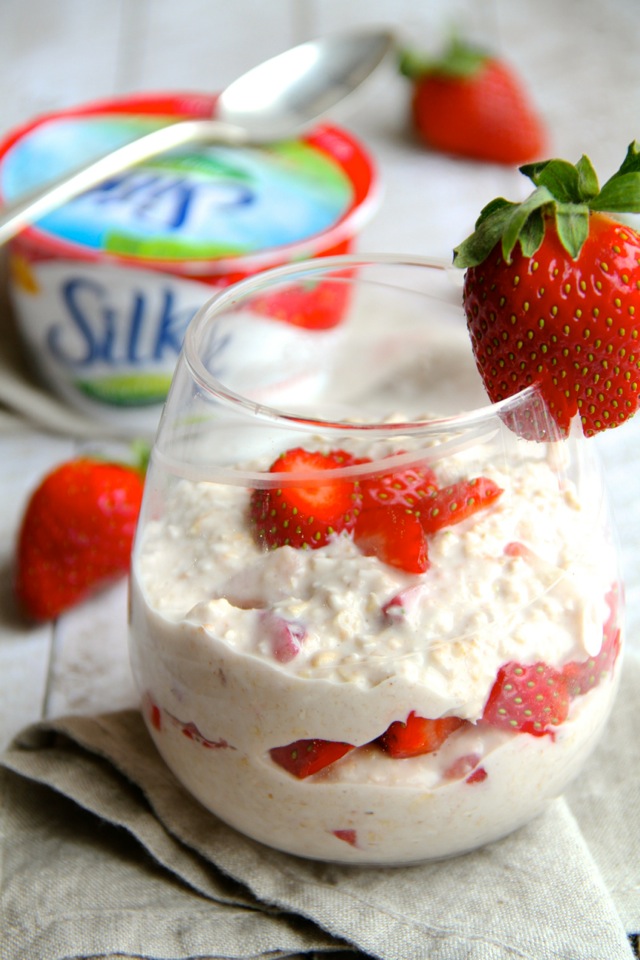 Which brings me to the topic of today's post! Strawberry coconut overnight oats made with Silk's new dairy-free yogurt alternative. You're raising your eyebrow(s) at me — I know you are because that was my initial reaction as well. I mean, I love Silk and use their almond milk all the time, but a dairy-free yogurt alternative? Ehhhhh. I had a couple of pretty nightmarish experiences with those in the past, which lead to me swearing the stuff off for good and just sticking to plain old yogurt. But because I like to keep an open mind and believe in second chances, I decided to give Silk the benefit of the doubt and give their non-GMO soy-based yogurt a go.
I cracked open the container with a fair amount of trepidation, swirled my spoon around for a moment to check for any mysterious globs or chunks, realized there was nothing but smooth and creamy goodness waiting for me, put a spoonful to my lips, and… was pleasantly surprised! So pleasantly surprised, in fact, that I could have eaten the entire container right then and there had it not been for the fact that needed it to make a recipe for you guys. But the bottom line is this: it was pretty darn delicious.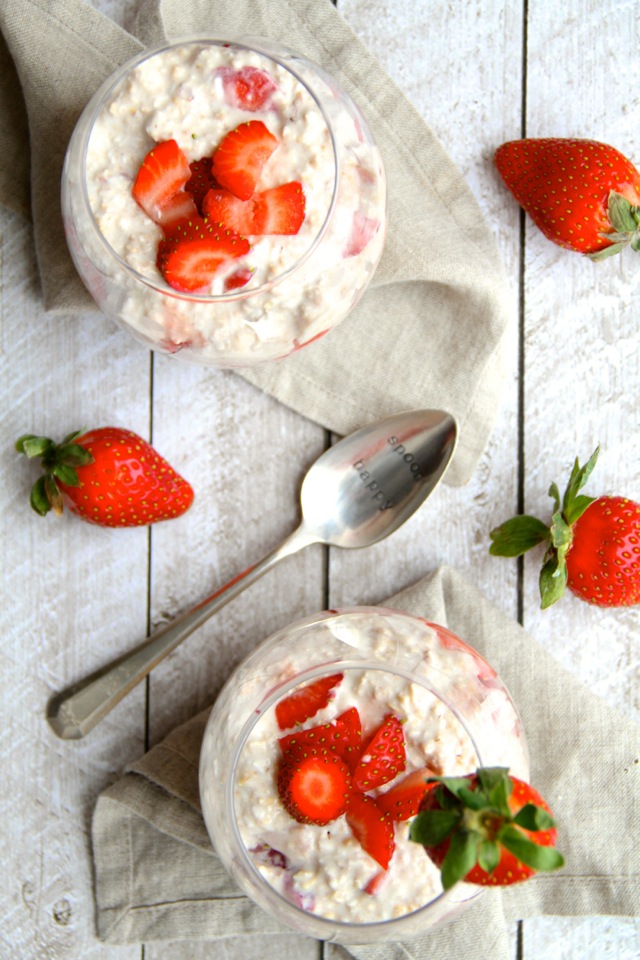 And if that's not enough for you, then how about the fact that one serving contains 6g of plant-based protein and is a good source of calcium and vitamin D? Or that it's made with real fruit and doesn't contain any nasty artificial flavours or colours? OR that it's — *takes a deep breath* — dairy-free, cholesterol-free, gluten-free, and carrageenan-free (which is actually why I switched to Silk almond milk in the first place)? Yeaaaaah — it's good stuff!
It's also great news for anyone who's dairy-free and craving a little yogurt action in their life… so that they can make vegan overnight oat parfaits… of the strawberry and coconut variety. See what I did just there? 😉 Orrrrr I guess you could sign up for Silk's newsletter or follow their yogurt alternative Pinterest board for some more inspiration… but I really do recommend the parfait. It's wonderfully delicious.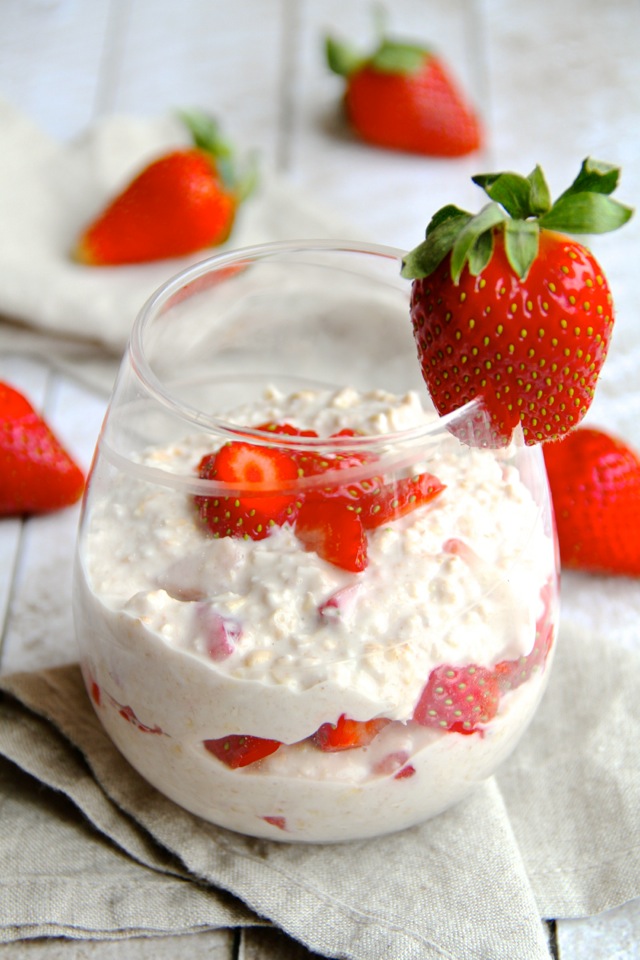 I'd love to know if you make this (or any!) recipe! Tag @runwithspoons on Instagram and Twitter, and be sure to subscribe to our mailing list to receive more healthy and delicious recipes straight to your inbox!
Print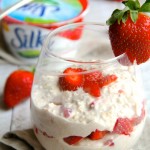 Strawberry Coconut Overnight Oats Parfait
---
Author:

Total Time:

3 hours 5 mins

Yield:

2

servings

1

x
1 cup

rolled oats*

1

container (5.3 oz) Silk strawberry dairy-free yogurt alternative

1/2 cup

unsweetened vanilla almond milk

1/4 cup

canned coconut milk

2 Tbsp

. shredded unsweetened coconut

3

strawberries, sliced
additional sliced strawberries for layering.
---
Instructions
In a medium-sized mixing bowl, combine oats, yogurt alternative, almond milk, and coconut milk, stirring well to ensure that everything is fully combined. Add in shredded coconut and sliced strawberries, stirring a few more times before covering with plastic wrap (or transferring to a sealed container) and placing in the fridge for at least 3 hours but preferably overnight.
When ready to eat, assemble parfaits by diving oat mixture evenly between two bowls or glasses, starting with a layer of oats, followed by a layer of sliced strawberries, and topped with a final layer of oats.
Notes
* Make sure to use certified gluten-free oats if you need this to be gluten-free.
Prep Time:

5 mins

Cook Time:

3 hours
Keywords: breakfast, dairy free yogurt, dairy-free, overnight oats, vegan, vegan overnight oats, vegan recipes, yogurt alternative

This conversation is sponsored by Silk. The opinions and text are all mine.