These soft and creamy No Bake Pumpkin Cheesecake Bites combine the tanginess of cheesecake with the spicy sweetness of pumpkin pie. Easily made gluten-free or vegan depending on your dietary needs, they're an irresistible fall treat that everyone will love!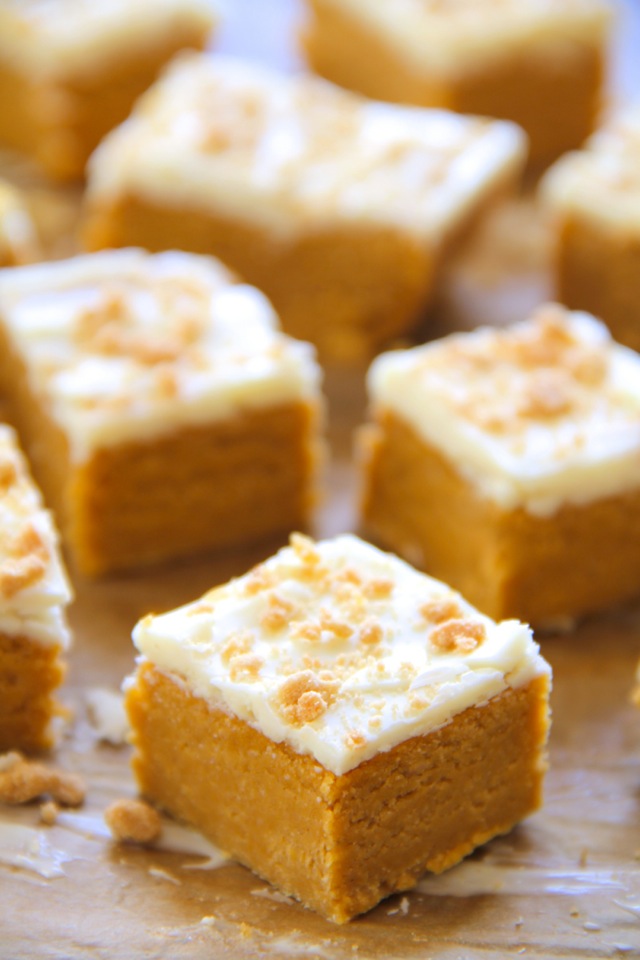 I have one major gripe with making no-bake recipes. Two if you count the fact that I can never tell how many servings are in a batch seeing as I probably eat a good 2-3 balls/bars-worth of dough while coming up with my recipes.
But no. My biggest complaint with no-bake recipes is that I can never remember what I put in them. Ingredients? Yes. Their quantities? No.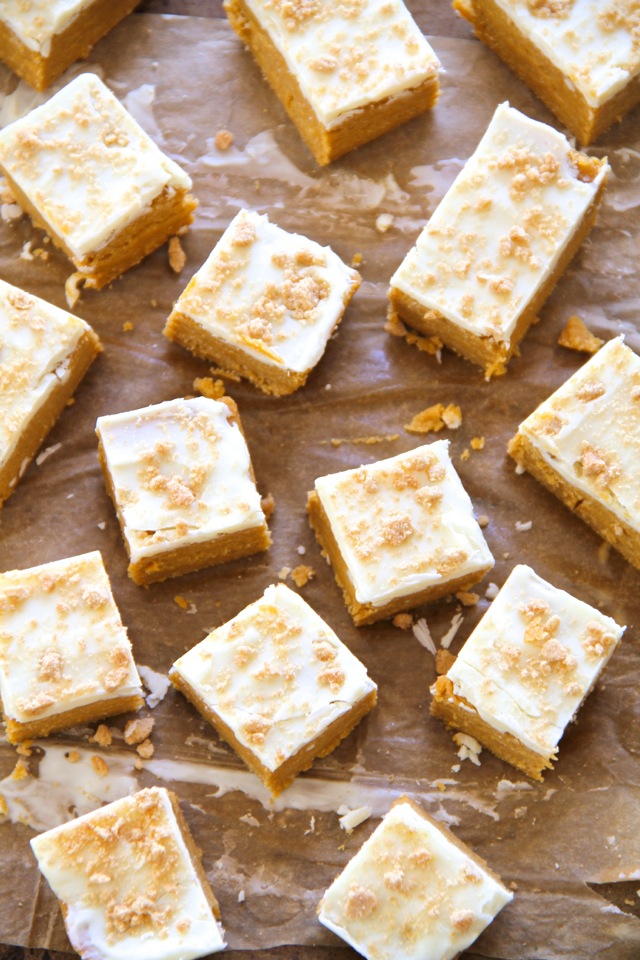 See, I'm kind of a texture freak, so while I normally have a baseline recipe that I start with, I almost always end up making changes to it until I have a texture that I'm happy with. An extra spoonful of this, a few more spoonfuls of that… It's the beauty of no-baking — you don't have to wait for things to set in the oven before you can eat them see the difference your changes have made.
The problem is that I almost never write down those changes while I'm making them, so I get to the finished product and have no idea how I got there. I stand there wondering if I really added that extra spoonful of flour, or if I only think I did because I planned on it.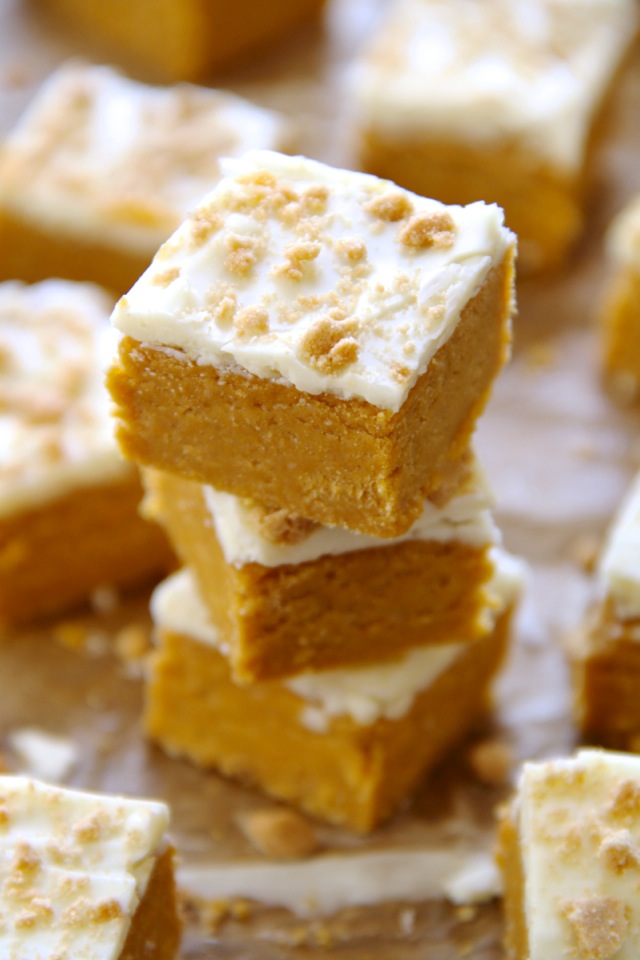 Sometimes I figure it out, and sometimes I have to remake the recipe from scratch just to be sure. I can't even tell you how many times I've been tempted to say "just add sh*t until it looks right," but that wouldn't exactly be useful to anyone. Or maybe it would be. Who knows.
And the same goes for how many servings a no-bake recipe makes. I mean, besides the fact that I end up eating a good portion of the dough while "taste testing" the recipe, who am I to tell you how big you should make your bites/balls? Or how many you're supposed to eat in one go? I have enough of an issue with the serving size suggestions on most nutrition labels (who stops at 1/4 cup of granola?!?) — I don't like having to do the same.
8, 12, 16, 24… make them as big or as small as you see fit. But do make them. And by "them" I mean these no bake pumpkin cheesecake bars…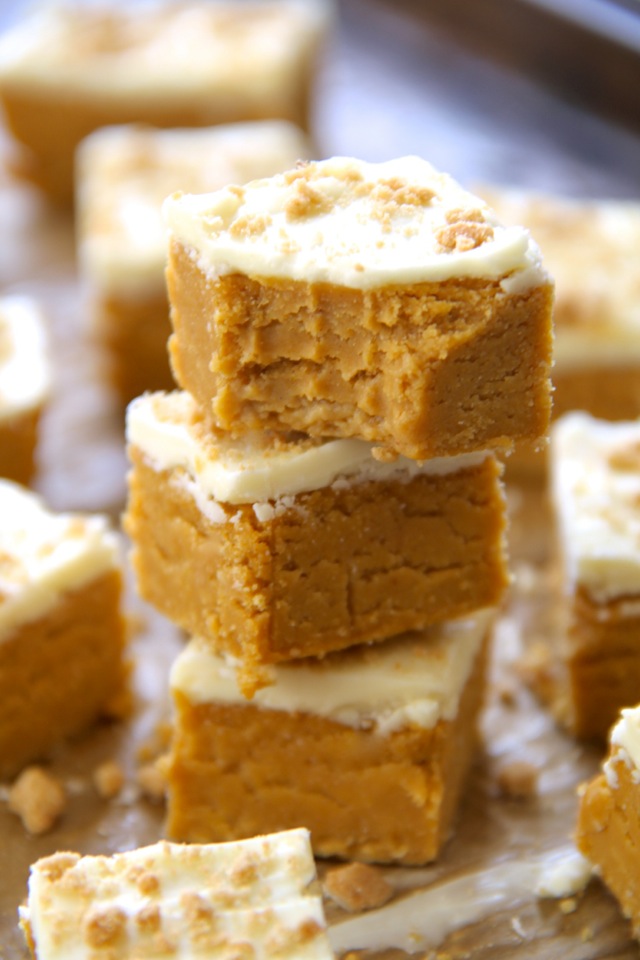 I'll be honest — I'm not a huge fan of cheesecake. I think I've mentioned this before, but it's just a little too rich and cloying for my tastes. I'm a girl who likes her desserts soft and doughy, so the creamy cheesiness of cheesecake can be a little off-putting.
Thankfully, these bars are neither rich nor cloying. They're ridiculously soft and creamy, but they're also light and doughy. They're basically what you would get if you took a cheesecake and tossed it into a food processor, crust and all… which I realize sounds a little strange, but there's really no other way to describe something that's both creamy and doughy. Food blogging is hard.
BUT! I can tell you that they taste absolutely irresistible, with a slightly tangy cheesiness combined with pumpkin spiciness and graham cracker sweetness. Still with me? Then I'll finish by saying that you can easily make these to suit your dietary preferences. Need them to be gluten-free? Use gluten-free graham crackers. Need the to be vegan? Use vegan cream cheese and graham crackers made without honey. And while I love them with white chocolate, feel free to sub in regular chocolate or leave it out altogether — they're irresistible either way.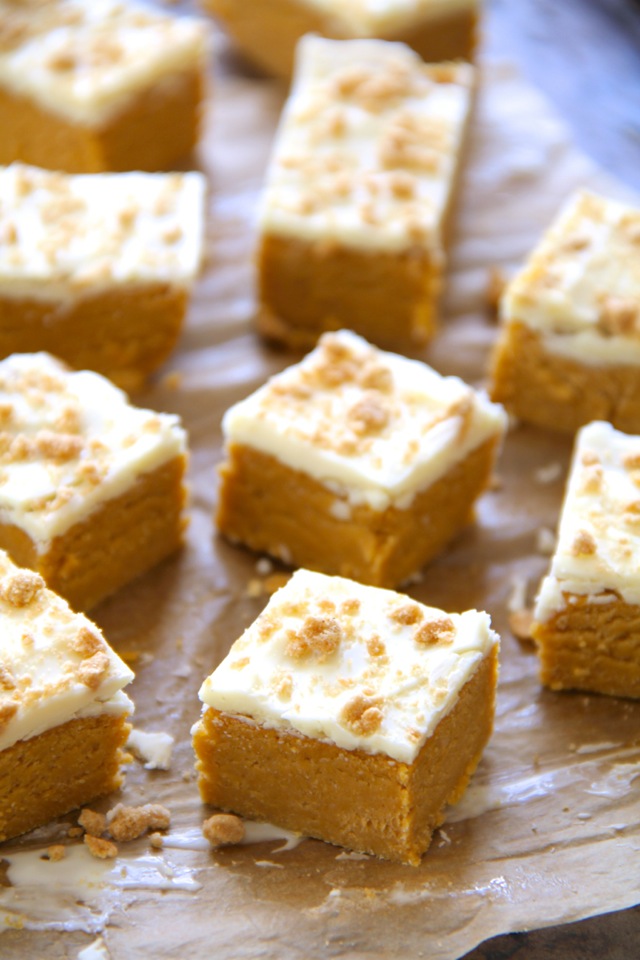 I'd love to know if you make this recipe! Leave a comment and rating down below to let me know what you think, and subscribe to our mailing list to receive new recipes in your inbox!
Print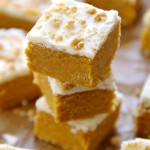 No Bake Pumpkin Cheesecake Bites
---
Author:

Total Time:

1 hour 15 mins

Yield:

12

–

16

bars

1

x
1.5 cups

(~

180g

) graham cracker crumbs**

1/4 cup

coconut flour

6 Tbsp

. cream cheese, softened to room temperature***

1/4 cup

canned pumpkin puree

1/2 tsp

. ground cinnamon

1/4 tsp

. ground ginger

1/8 tsp

. ground nutmeg

1 tsp

. vanilla extract

1/3 cup

white chocolate chips

1 tsp

. coconut oil
extra graham cracker crumbs, for garnish
---
Instructions
Line a 9×4 loaf pan with parchment paper, leaving a few inches of overhang on the sides to allow for easy removal. Set aside.
Add graham crackers and coconut flour to the bowl of a food processor and process until the graham crackers have broken down into fine crumbs. Add cream cheese, pumpkin puree, spices, and vanilla extract, and continue processing until the mixture sticks together and a dough begins to form. If it seems too crumbly or dry, add a small spoonful of either cream cheese or pumpkin to reach a moister consistency. The dough should be moist enough to hold together when you press it between your fingers, but not so moist that it's sticky.
Transfer dough to your prepared baking pan and use a spatula or your hands to spread it evenly in the pan, making sure to press down firmly. Set aside.
Place chocolate chips and coconut oil in a microwave-safe bowl and heat on high in 30 second increments until melted and smooth, making sure to stir between each.
Pour chocolate over bars and use a spatula to spread it out evenly. Top with more graham cracker crumbs, if desired, and transfer pan to fridge for at least an hour to allow the bars to set.
When bars have set, remove from fridge and allow to thaw for a few minutes before using a sharp knife to cut into individual bars or squares. Store bars in an airtight container in the fridge for up to 2 weeks, or freeze for longer periods.
Notes
* Cook time refers to chill time. ** To make these gluten-free, use certified gluten-free graham crackers. To make them vegan, use ones made without honey. *** To make these bars vegan, use a non-dairy cream cheese spread.
Prep Time:

15 mins

Cook Time:

1 hour
Keywords: cheesecake, gluten-free, no bake, no bake pumpkin cheesecake, pumpkin, recipe, soft and creamy, vegan

Looking for more no bake recipes? Try one of these!
No Bake Sweet and Salty Trail Mix Granola Bars
No Bake Salted Caramel Pretzel Bars
No Bake Pumpkin Spice Granola Bars
No Bake Brownie Batter Truffles
No Bake Protein Brownie Cups