Hello, hello! How's everyone doing on this fine Sunday afternoon?
I woke up this morning with some serious DOMS in my arms and shoulders, so I guess yesterday's workout must have been a good one 😉 As for the room itself, I have to say that I'm pretty darn happy with how it turned out…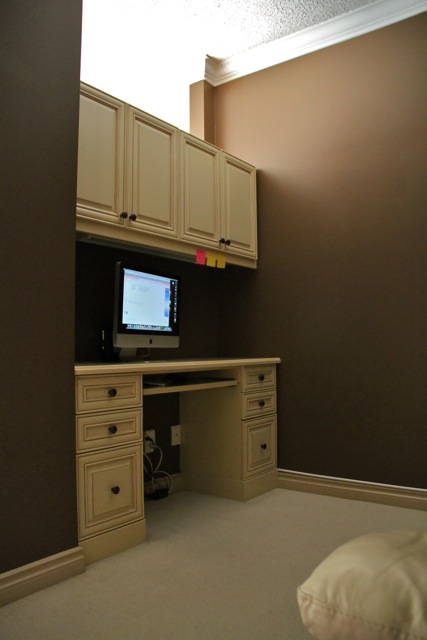 Much better! Now it just needs some finishing touches, and we'll be good to go. Decorating will have to wait, though – it's Thanksgiving long weekend for us up here in Canadaland and there's a turkey dinner to be eaten tonight!
Can.not.wait [for dessert]
And if you're wondering about the title of today's post, it's coming. The lovely Irina over at Chocolatea Time gave me this award a few days ago, and I thought today would be a great day to fill it out, seeing as I've been charged with tonight's dessert and have yet to make it… Someday I'll stop procrastinating. Someday 😉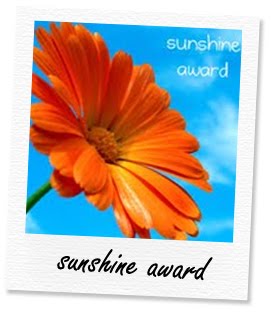 Rules:
~If you are nominated you must include the link in a blog, linking to the person/blog that nominated you~
~You must answer some questions and nominate 7 fellow bloggers and link their blogs in your post~
~Let the people you have nominated know that you have nominated them!~
. – . – . – .
1. Who is your favorite philosopher? 😯 Seriously? I didn't expect to ever come across a question like this… I'm kind of a hardcore geek when it comes to philosophy (it was my second major in university) so this makes me just a tad bit giddy. I'll do my best to suppress my inner philosophy nerd and keep my answer simple, though: Socrates and Plato. I like the ancient Greeks. They were clever little pitas.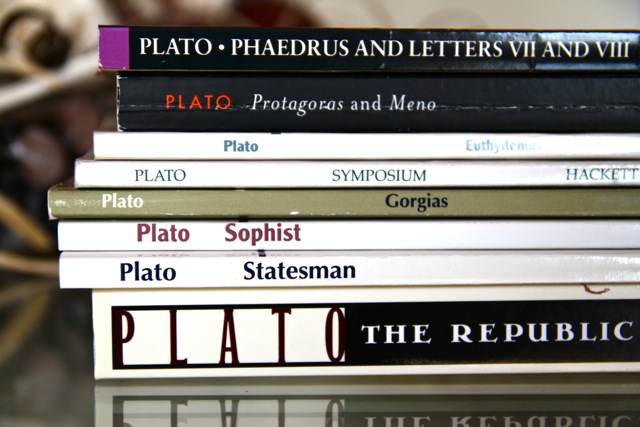 2. What is your favorite number? I don't really have one? It used to be 4 based solely on the fact that it was the day I was born, but all numbers are pretty much in the same league for me right now. Do people actually have favorite numbers? Like really? And what makes that one number stand out above the rest?
3. What is your favorite animal? It always has been, and probably always will be, wolves. Aside from the fact that I think they're absolutely gorgeous, there's something so mysterious and almost haunting about them – I can't help but be captivated. That being said, I have a soft spot for elephants as well… especially the baby ones. Squeeeeee.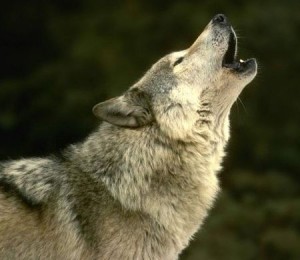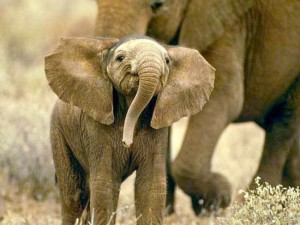 4. What are your Facebook and Twitter? Don't laugh, but I literally just set up my very first Facebook account for Spoons like 4 days ago and I still have no idea how to use it or what to even use it for. I never had a personal Facebook account so I'm feeling a little bit lost… As for Twitter, it's @runwithspoons.
5. What is your favorite time of day? Early mornings. Even though I seem to be slightly shifting back to my night owl ways by consistently staying up later and later, nothing beats the peace and quiet of the early morning – especially since it happens to be the time where you get to enjoy the best meal of the day.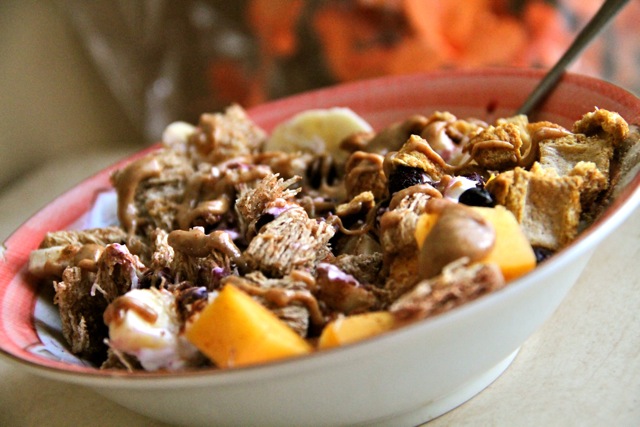 Oikos Greek yogurt – banana – peach – blueberries – Kashi Cinnamon Harvest – roasted almond butter
6. What was your favorite vacation? I'm going to have to go with Disneyland and Cali on this one, mostly because it's the freshest in my mind and the first one that I went on since getting sick where I truly felt that freedom that you're supposed to feel on vacation – Europe is a lot less beautiful when you pack an ED in your suitcase…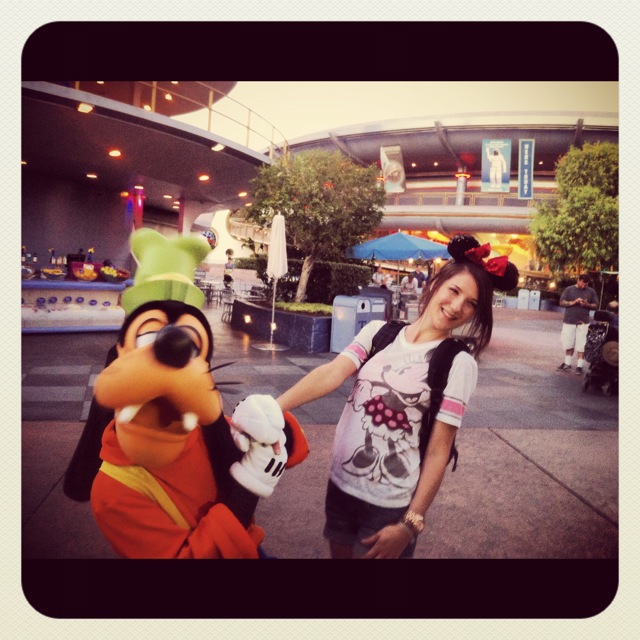 7. What is your favorite physical activity? Walking. I used to be really big on more intense forms of exercise, like HIIT, lifting, and running, but now a simple daily walk suits me just fine. And when winter hits and there's a decent amount of snow on the ground? I'll be hitting the slopes to do some snowboarding.
8. What is your favorite non-alcoholic drink? I'm going to have to go with coffee on this one. Not only am I kind of in love with the taste, but drinking my daily cup of coffee is basically my "me time" and I always look forward to it. That being said, I love a good coffee date with friends, so if you ever need a drinking buddy, look me up 😉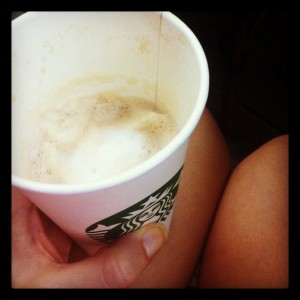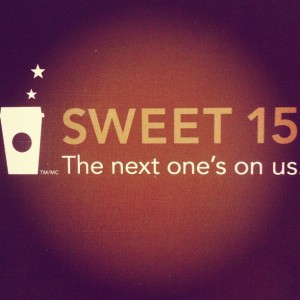 9. What is your favorite flower? Is it strange that, as a woman, I don't really have one? I guess I could go with one of the more popular choices, like roses or lilies, but in all honesty, I think all flowers are gorgeous. Even a simple bouquet of daisies has the power to brighten up a room, and that's definitely not something to scoff at. I do have a soft spot in my heart for lilacs, though, simply because the smell reminds me of summers at home.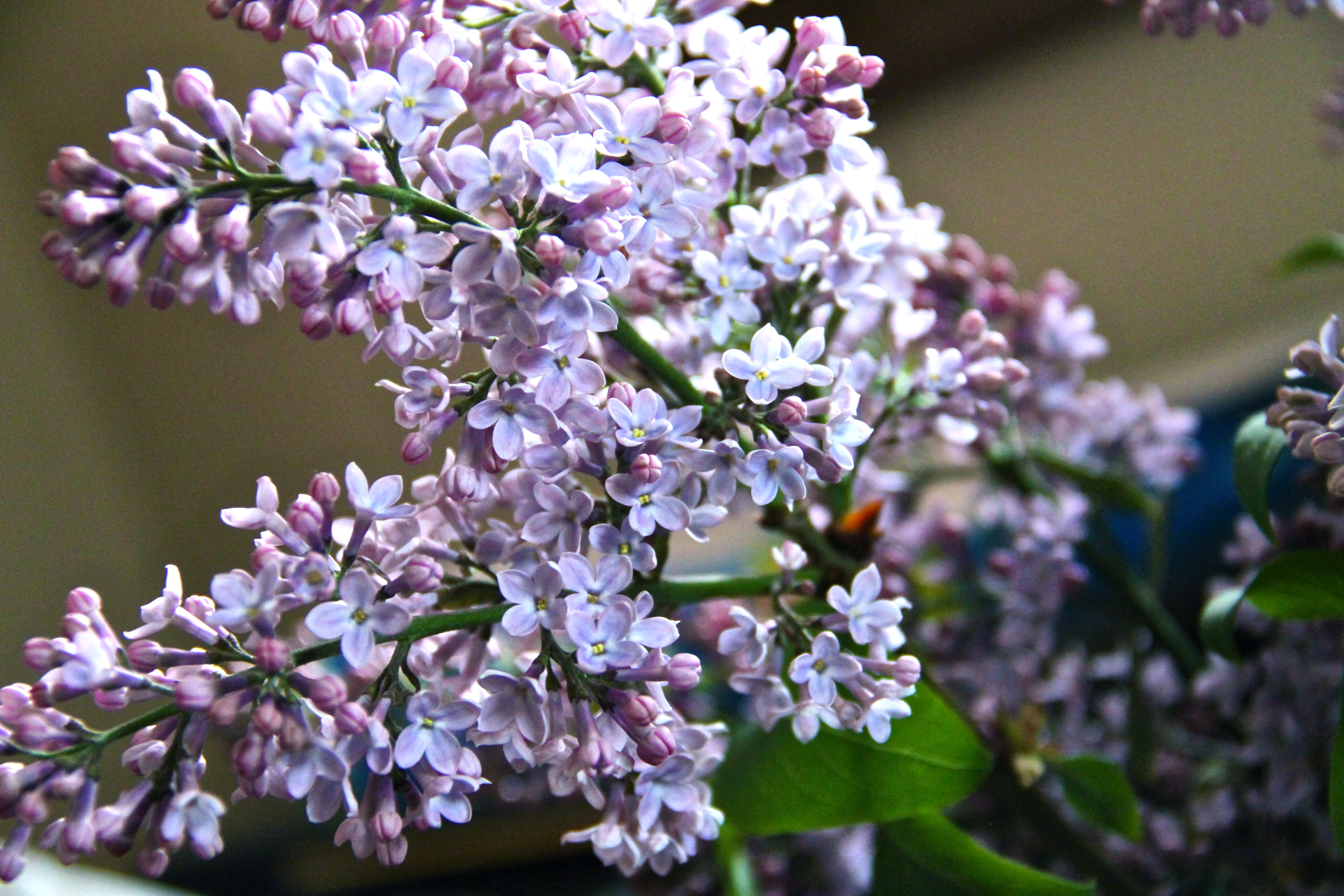 10. What is your passion? Writing. Reading. Words in general. I can't remember a time where books and journals weren't a part of my life, and I can't imagine my life without them. I see life as a narrative – whether we're conscious of it or not, we're the protagonist in a story that we're constantly writing as we go about our daily lives; and I think it's a beautiful thing to be able to use language to express that in a more concrete form.
Woo all done!
And now to nominate some other wonderful bloggers… To be honest, I hate having to pick and choose because there are so many blog[ger]s out there that I love, but I also know how awesome it feels to be singled out specifically, sooo:
Kat @ Katalyst Health
Lisa @ Lisa Lately
 Chelsea @ One Healthy Munchkin
Sam @ Better with Sprinkles
 Tessa @ Amazing Asset
 Alexandra @ Tales of a Freckled Lifter
 Khushboo @ Khushboo's Blog
And now it's off to bake and enjoy a good old-fashioned turkey dinner. See you guys tomorrow with a recap!
. – . – . – .
What's your favorite animal?
Did the baby elephant make you smile? See how ridiculously infectious smiling is? 😀