Thank goodness it's Friday!
I don't know about you guys, but this week's been rough over here in Spoons land. Between a manic Monday (hence no post on Tuesday), blog problems on Wednesday, and a molasses-y Thursday, I'm more than ready for the weekend. And what the heck is a molasses-y day, you might ask? The slow kind. The kind where you look at the clock expecting to see that an hour has gone by only to realize that it's only been 15 minutes. The kind where the day feels like it should be over by the time 3 PM hits, not because you're tired, but because it was just.that.slow. That was my entire day. And the fact that it's been grey and snowy all week probably didn't help matters either…
Yep. I think it's safe to say that winter has officially taken up residence here in E-town. It's not all bad, though — winter can be kind of pretty…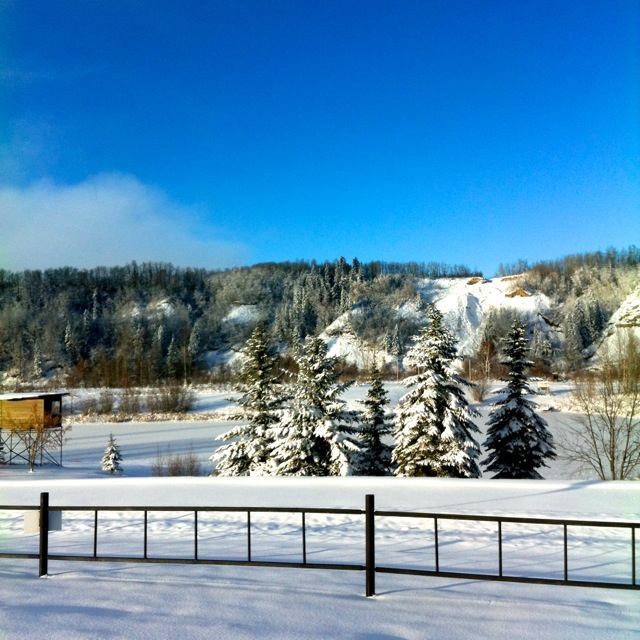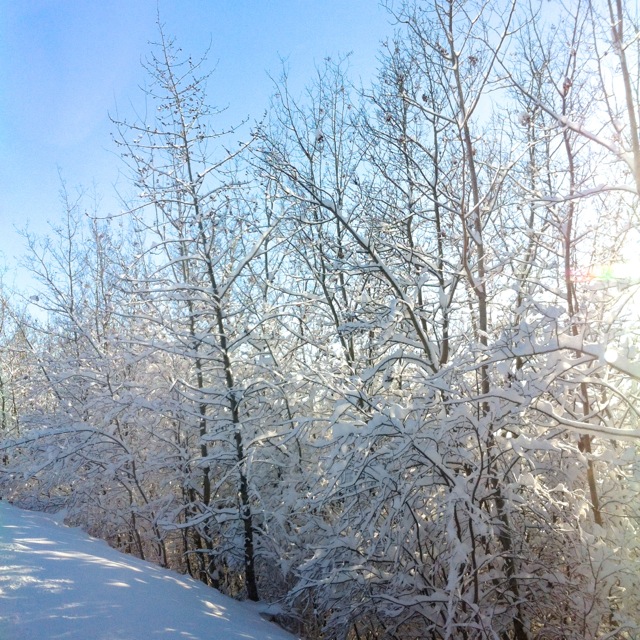 But pretty or not, the snow brings with it some necessary adjustments. Gone are the days of being able to go outside wearing anything less than two sweaters, bulky jackets, mittens, boots, a scarf, and thermal underwear. In fact, gone are the days of spending much time outside, period.
Maybe I'm just a wimp, but I find it a lot harder to muster up the motivation to leave the comfort of my home and go out in the winter. The cold, the snow, the poor driving conditions… ehhhhh, I'll pass. Hey, just because I'm Canadian and I've learned to live with the cold, doesn't mean I actually like it. In fact, I spend the majority of the winter months trying to avoid the cold, which means I spend a good chunk of my time inside.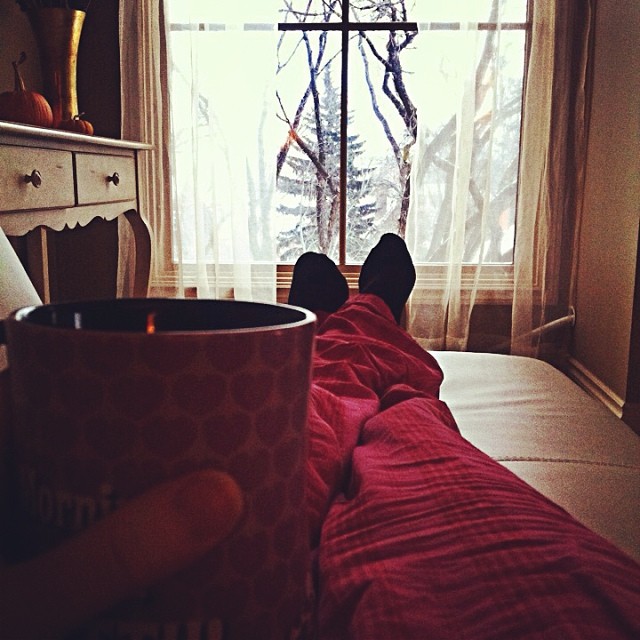 It also means that my approach to exercise and fitness has to undergo some pretty big changes… I don't currently belong to a gym, so the majority of my exercise is usually done outside. Walking, biking, hiking, rollerblading, prancercising (kidding on that last one) — my favourite place to be active is out in the fresh air. This doesn't mean that I won't hop on a treadmill in my apartment gym if the weather is nasty and I really need to work off some extra energy, but it's more of a last resort rather than something I turn to on a regular basis.
A little over a month ago, I told you guys that I had started running again, but apart from the odd mention here and there, I never went into much detail as to what exactly it was that I was doing. That's mainly because… I didn't really know what to say 😯 There are so many dedicated and hardworking runners out there, that my somewhat relaxed approach to it just felt… silly. I mean, saying something like "I felt like running today, so I did," or "I didn't feel like running today, so I didn't" isn't exactly in the same league as sharing detailed training plans, paces, and mileage.
But that's been my approach to it — relaxed. I ran when I felt like running, and didn't when I didn't, which usually amounted to around 2 or 3 times a week. I have no idea how far or how fast I went because I never used a Garmin, and I couldn't even tell you how long I ran for because my runs were always punctuated by periods of walking. Davida wrote a great post yesterday on the idea of Intuitive Exercise, which basically sums up my current approach to it — and for the first time in a long while, I actually enjoyed running… until the snow fell…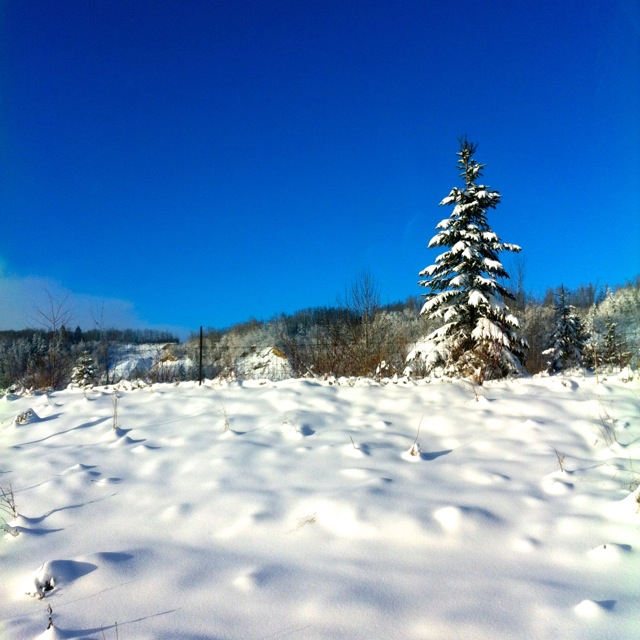 Now, I don't know about you guys, but I have a hard enough time keeping my footing when I'm walking on snow and ice, never mind when I'm trying to run on it — that's basically courting disaster. And for that reason, I'll be hanging up my running shoes for the wintery season and donning a pair of snowboarding boots instead. You've all heard of seasonal eating, yes? Well, let's just call this seasonal exercising.
I know I could still continue to run on a treadmill, but I'm not a big fan of them, to be completely honest. I can walk on one if need be, but I just can't seem to get the hang of running on one — my stride gets all messed up and I can't shake the fear that I'm going to fly off the end of it. Don't ask. I know they work great for a lot of people, and I think that's fantastic, but they're just not for me. Boarding definitely is though, and with a season's pass to the local ski hill, I can pretty much go whenever the fancy strikes, which will probably end up being around 3-4 times a week if past experience is any indication.
I have to admit that I feel a little out of place talking about snowboarding in a [blog] world full of runners and weight lifters, but it's something that I've been passionate about for around 17 years now, and the best part is that it doesn't even feel like exercise to me — it's just something that I love doing.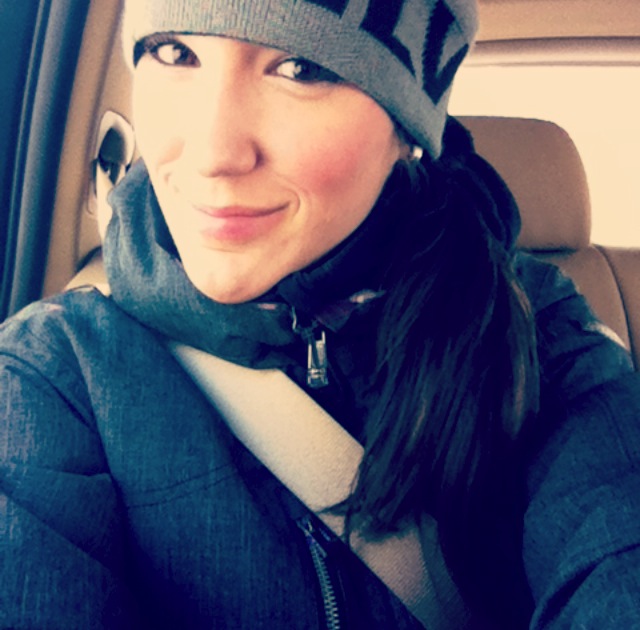 And yes, I realize that snowboarding requires spending copious amounts of time out in the cold when I just went on and on about how much I try to avoid it, but the thing is that I don't even feel the cold when I'm out on the slopes — it must be those burning fires of love 😆
So that's where I'm currently at on the exercise front — no plan, no pressure, just going with the flow and doing what I love to do. If I end up on a treadmill, I end up on a treadmill. If I don't, then I'll probably be on my couch with a blanket and a warm cup of tea 😉 Regardless of what else I choose to throw in there, the majority of my exercise over the next few months will happen on the slopes. And once the snow melts? Then the running shoes may very well come out again — I guess I'll have to wait until the spring thaws to find out.
. – . – . – .
What's your fitness routine looking like these days?
Does your fitness routine change in the winter?
Do you enjoy running on a treadmill?
Do you do any winter sports?