Hullo, hullo my beautiful boos 😀
Ohhhhh, how I love Sundays. Nothing that needs doing. Nowhere that needs being. Just church, family, and time spent relaxing in the sun. Mmmm. Wonderful. Another thing I love? Coooo-kies. Remember the batch that I baked up yesterday? All gone. Yeah, I can't quite believe it either; one minute they were there, and the next minute… poof… vanished… just like that. But what can you do…
… besides make more….
… which I will do…
But not today… because today is all about sauces and smoothies.
Well, okay. Technically it's only about one sauce and two smoothies, but who's counting? No one. Numbers suck anyways (no offence to any math lovers out there). But I digress.
Every so often, some of the crazy concocting that I do in the kitchen actually yields pretty tasty results. Other times, even my dog won't eat the stuff I come up with. And for good reason. But nevermind those times for now. Today, I've got a few of my better experiments to share with you guys. Hope you enjoy!
. – . – . – .
. vanilla almond butter protein frosting .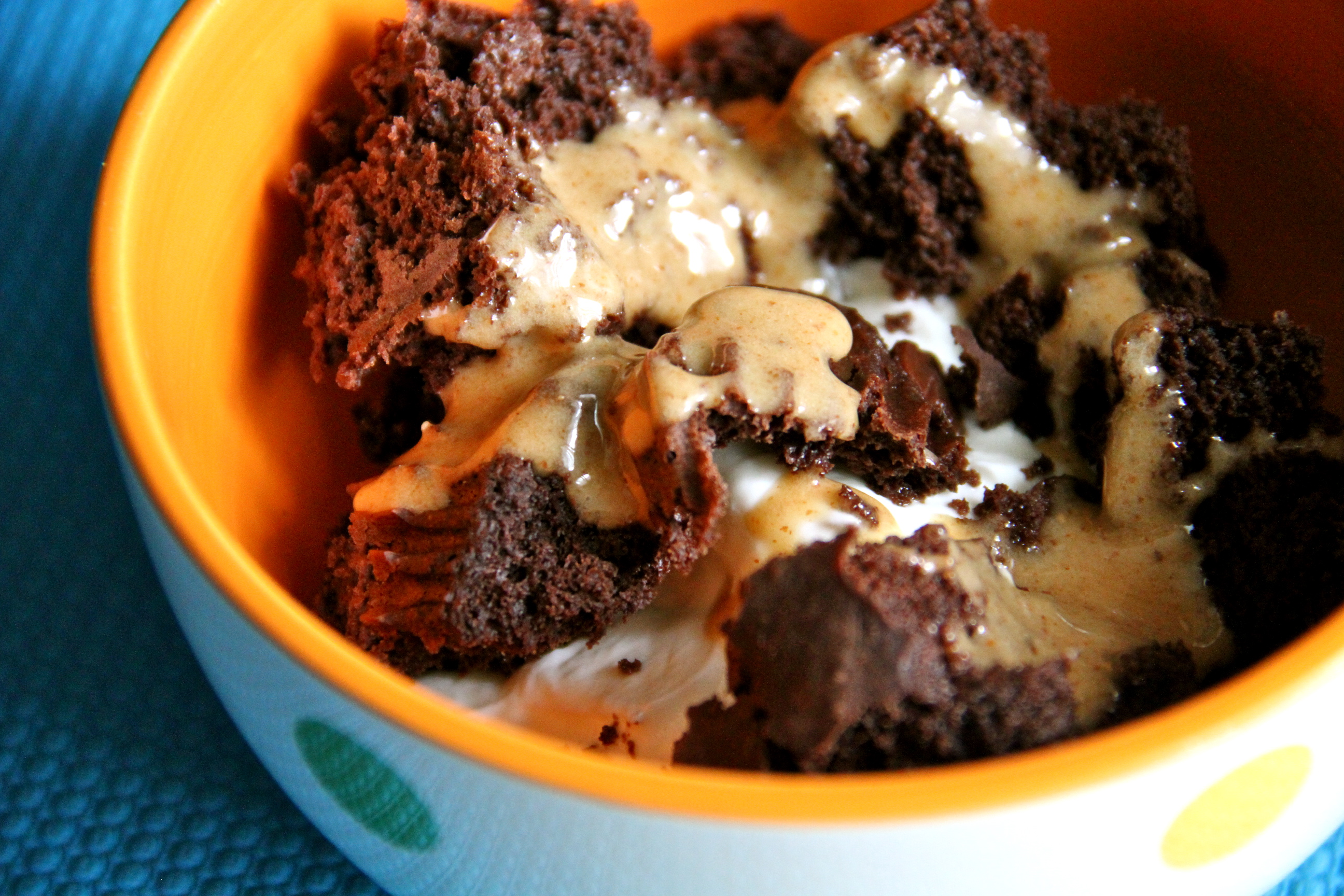 This fancy-shmancy sounding frosting is actually a breeze to whip up. All it takes is three simple ingredients, a bit of mixing action, and voila – a sweet and satisfying "frosting" that you can use anywhere you use regular old almond butter when you're looking for a tasty change.
Ingredients
1 Tbsp. almond butter
1 Tbsp. vanilla protein powder (I use whey)
½ – 1 Tbsp. vanilla almond milk
Instructions
Pour protein powder into a small bowl. Add about 1 tsp. of almond milk to moisten.
Add in almond butter and begin stirring to combine.
Continue stirring, adding almond milk gradually until desired consistency is reached.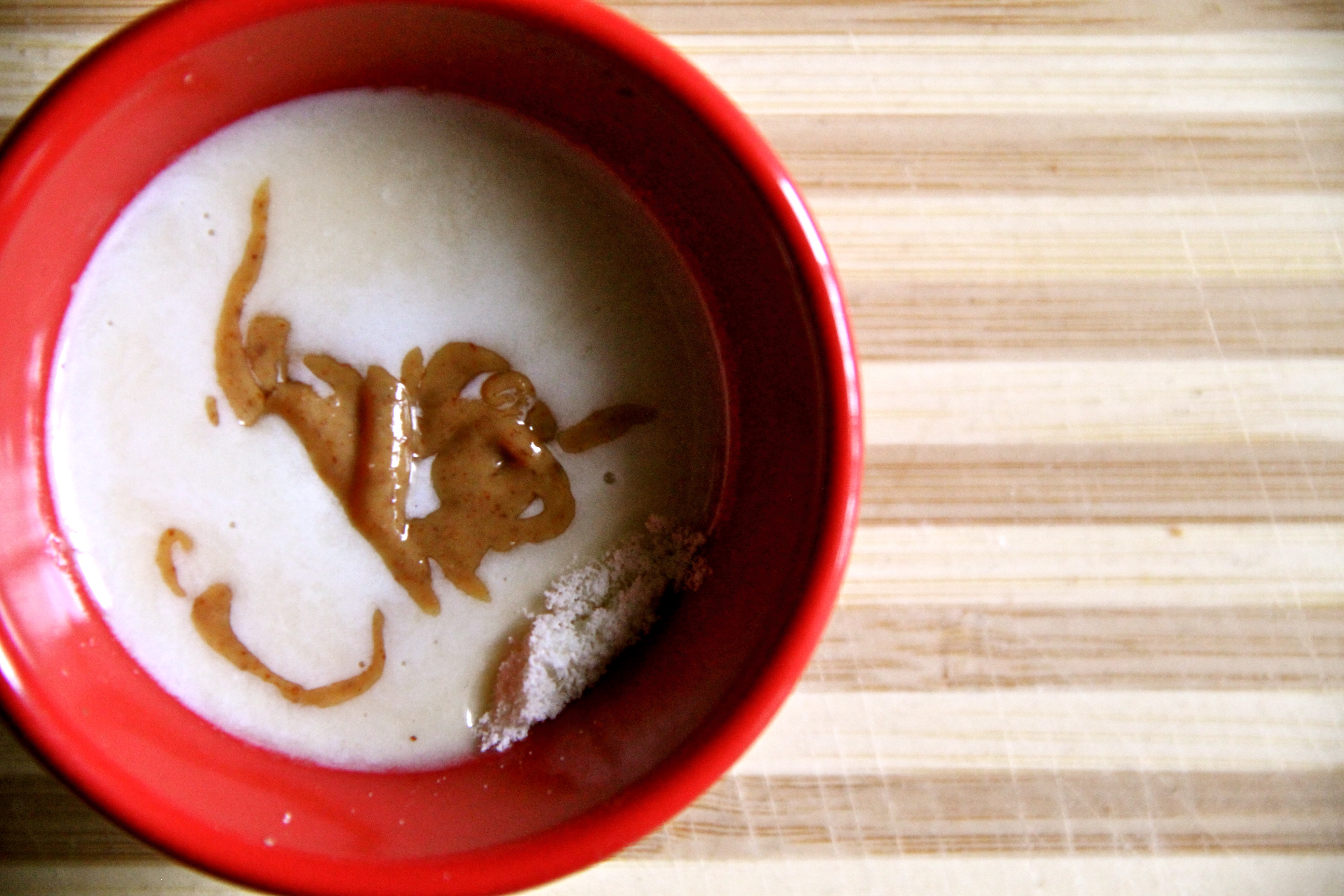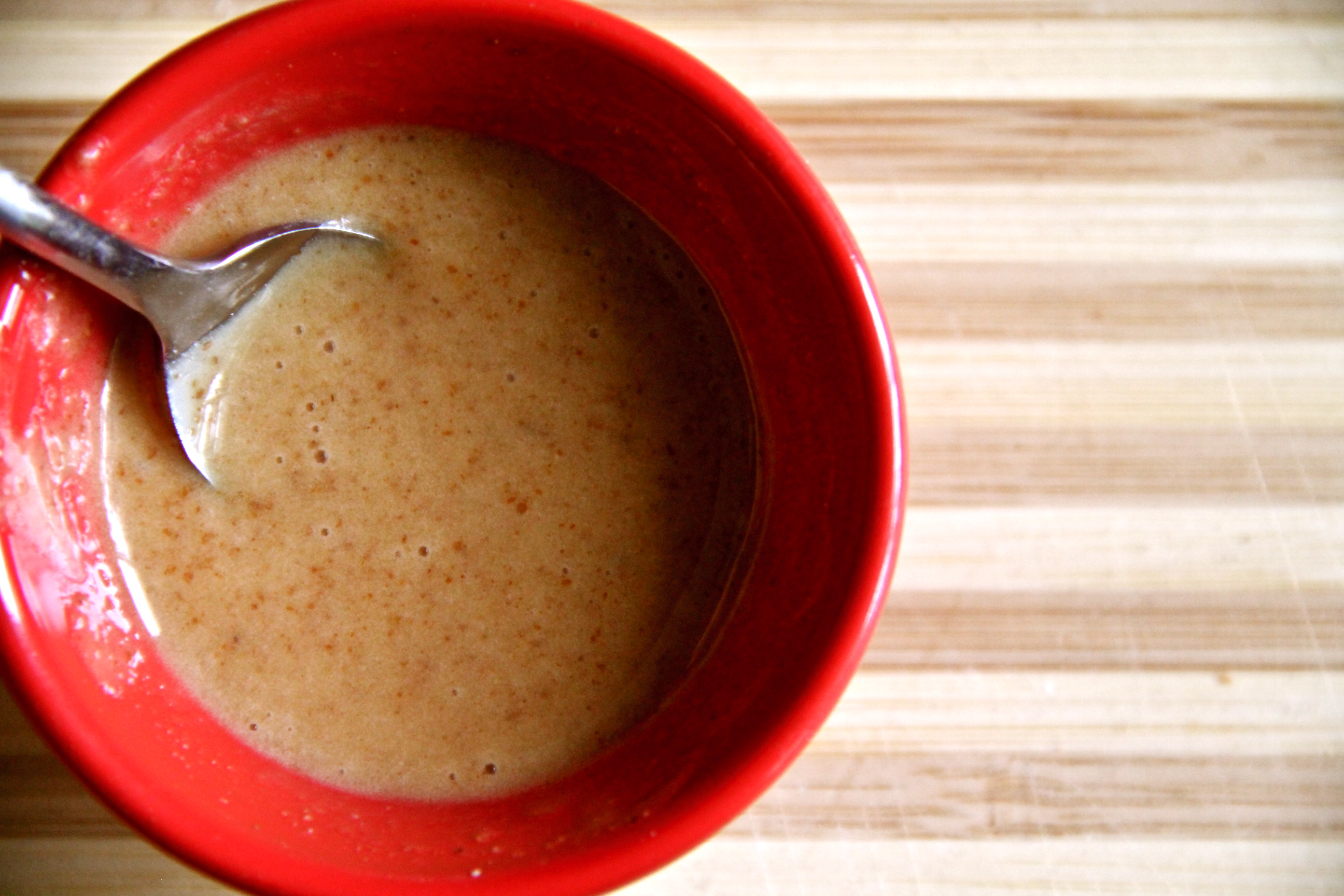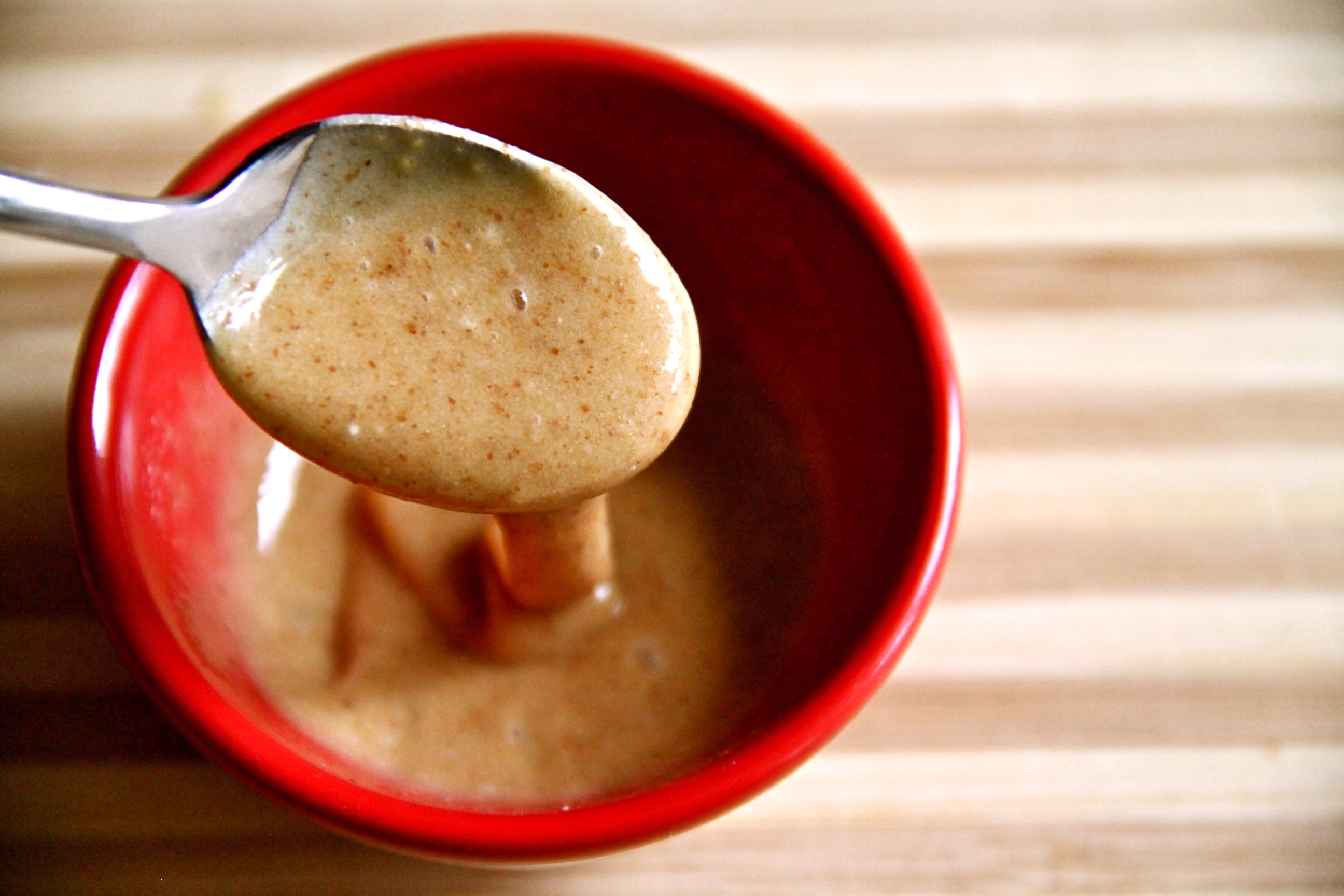 This stuff is like crack. I've been using it on absolutely everything lately- oats, bananas, apples, toast, yogurt messes, muffins, cookies. Anything dippable is fair game. Seriously good stuff. Seriously.
. – . – . – .
And now, moving right along into smoothies…
I like my smoothies thick. Like, seriously thick. Forget straws, I want "must eat with a spoon" thick.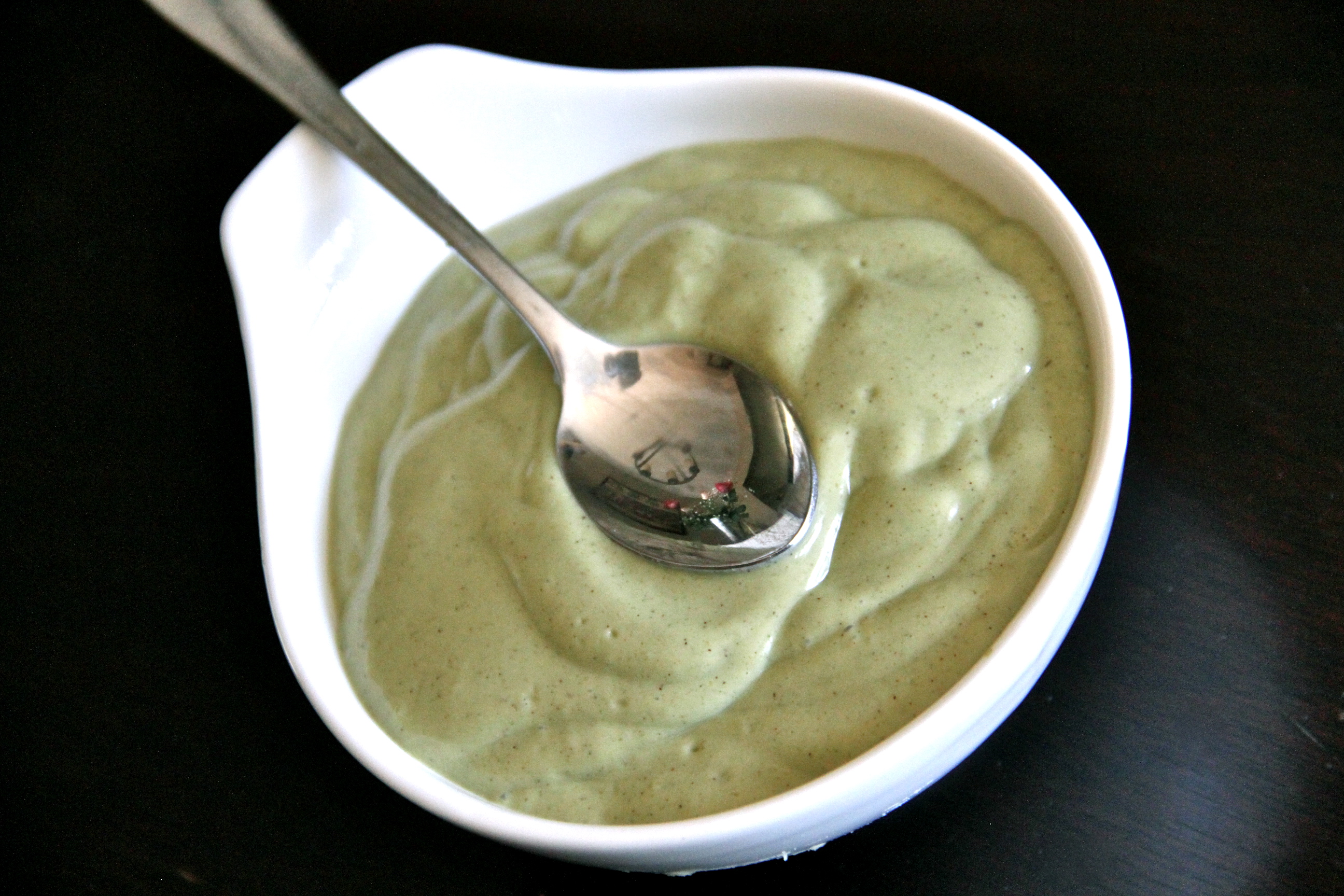 Come to think of it, I'm not sure you can really call them smoothies at all… puddings would probably be a more accurate description. But what's in a name, really? Anywho, I know that a lot of people achieve this kind of consistency with the addition of xantham/guar gum, because I've used them in the past.
And then I stopped.
Why? Because the side effects of said gums were… less than pleasant. Without going into too much detail, let's just say that my stomach did not appreciate those little buggers, and it didn't hesitate in letting me know. Painful cramps? Excessive bloating? Nooooo thank you. Gums, meet trash.
In ditching the gums, I had to be a bit more creative to get the same pillowy, pudding-y effect. My secret?
Avocado… and tofu. But not together.
Besides offering far more in terms of nutritional benefits and satiety, both avocado and tofu gave my smoothies the same thick and creamy consistency that I got from the gums, without the nasty side effects. And if you're worried about the taste, don't be – it's completely masked by the other flavors.
. – . – . – .
. vanilla avocado protein pudding .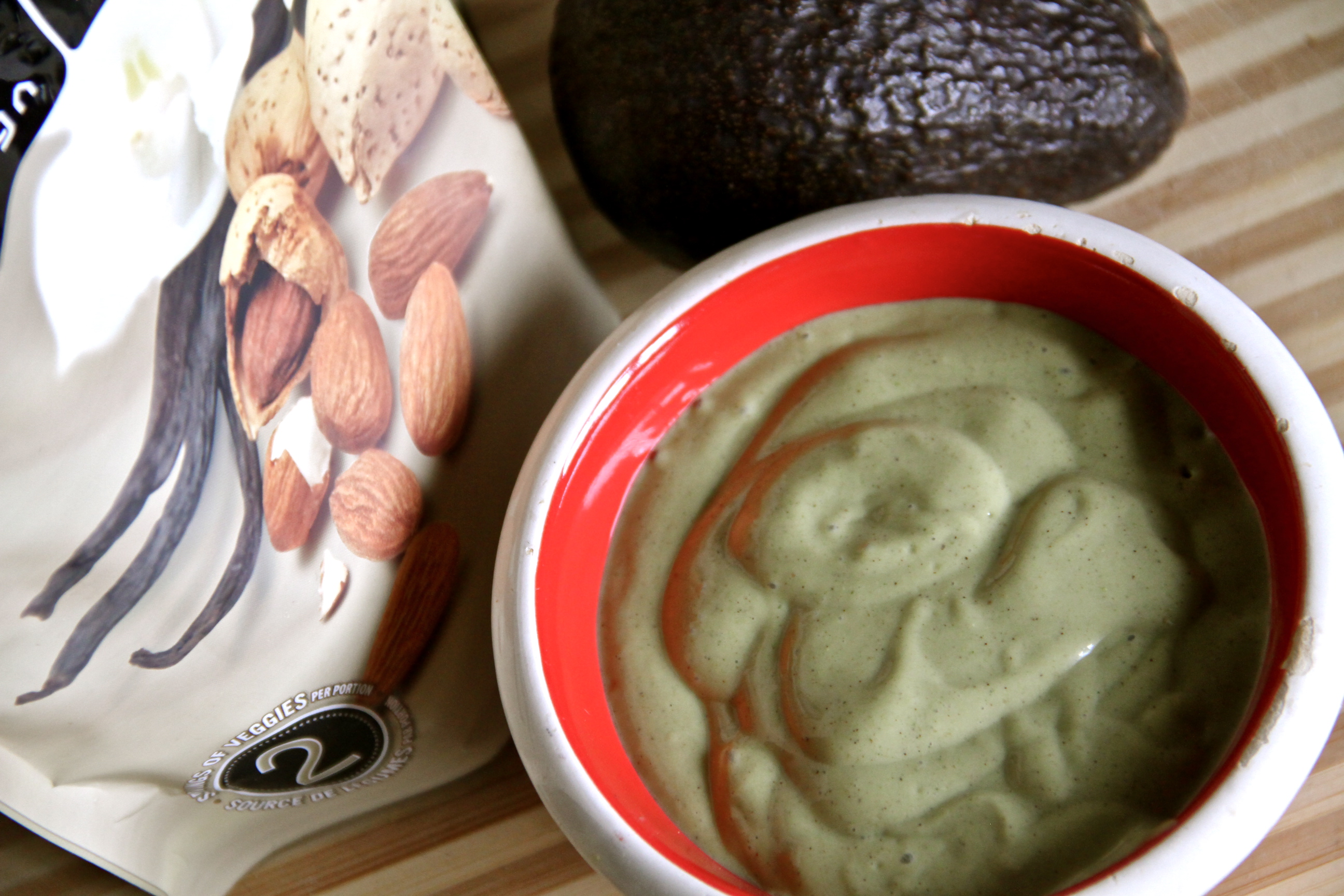 Ingredients
½ cup vanilla almond milk
1 scoop Vega Vanilla Almondilla (or any protein powder)
¼-½ avocado, depending on preference
½ banana
Just throw all the ingredients into any old blender, and blend away.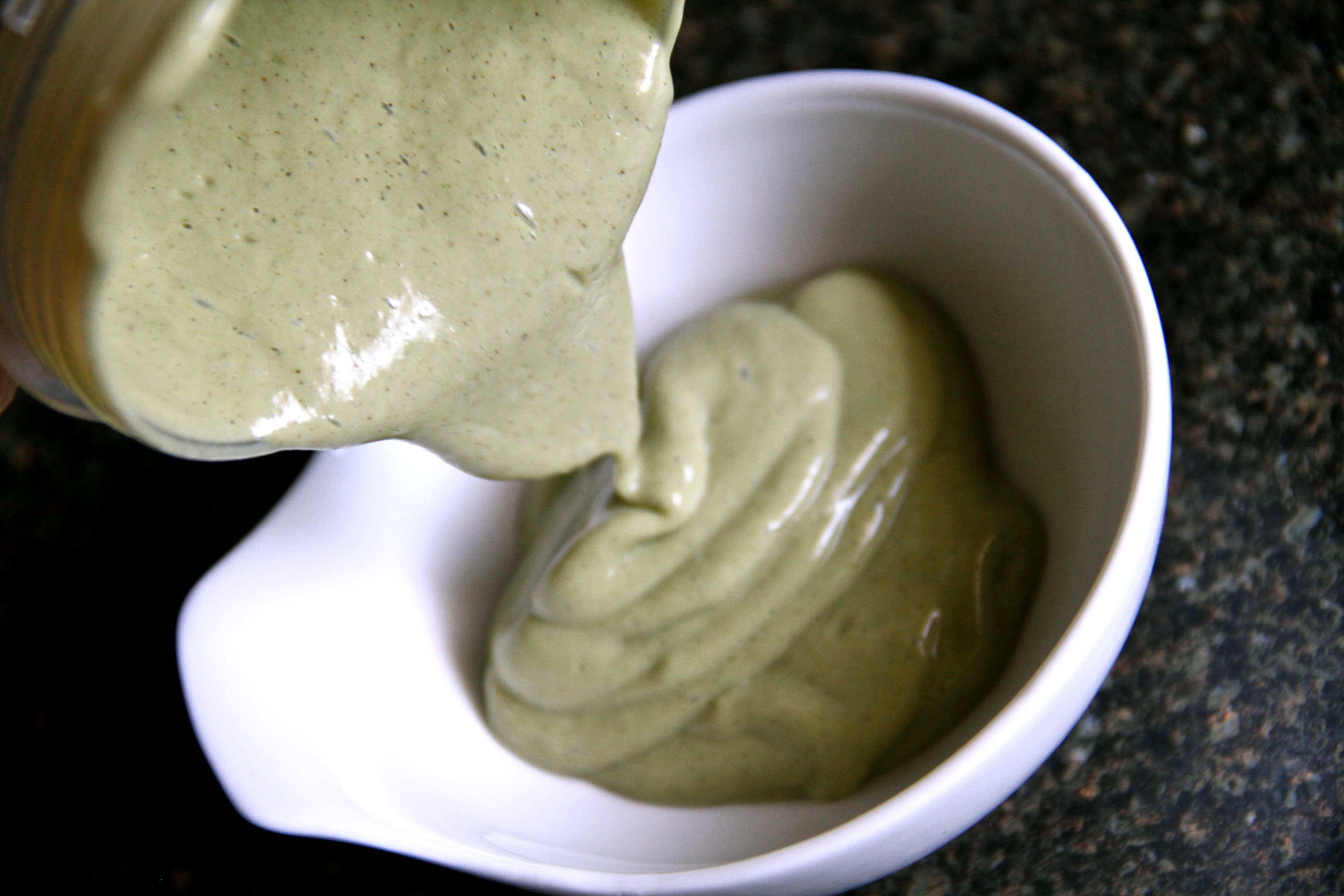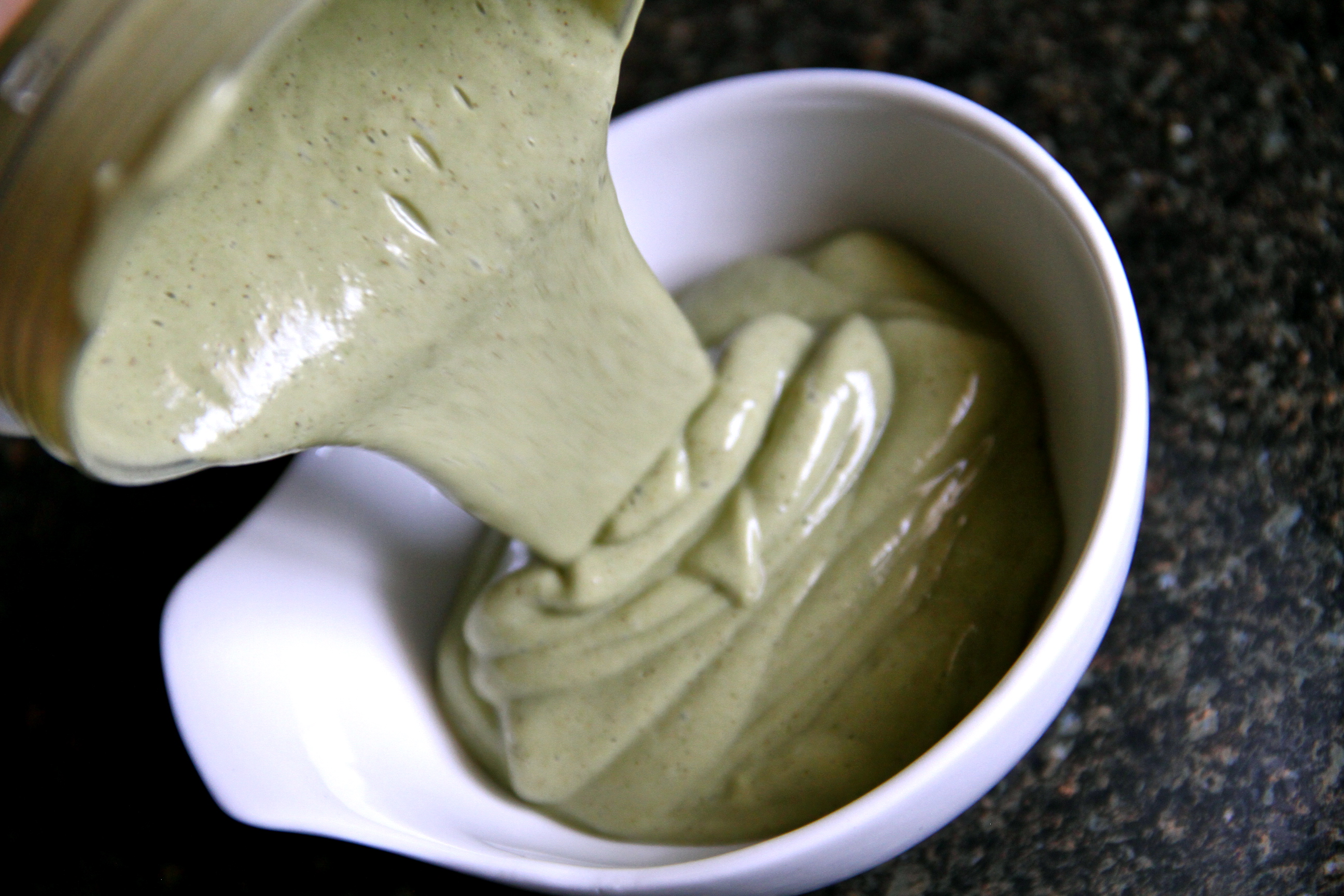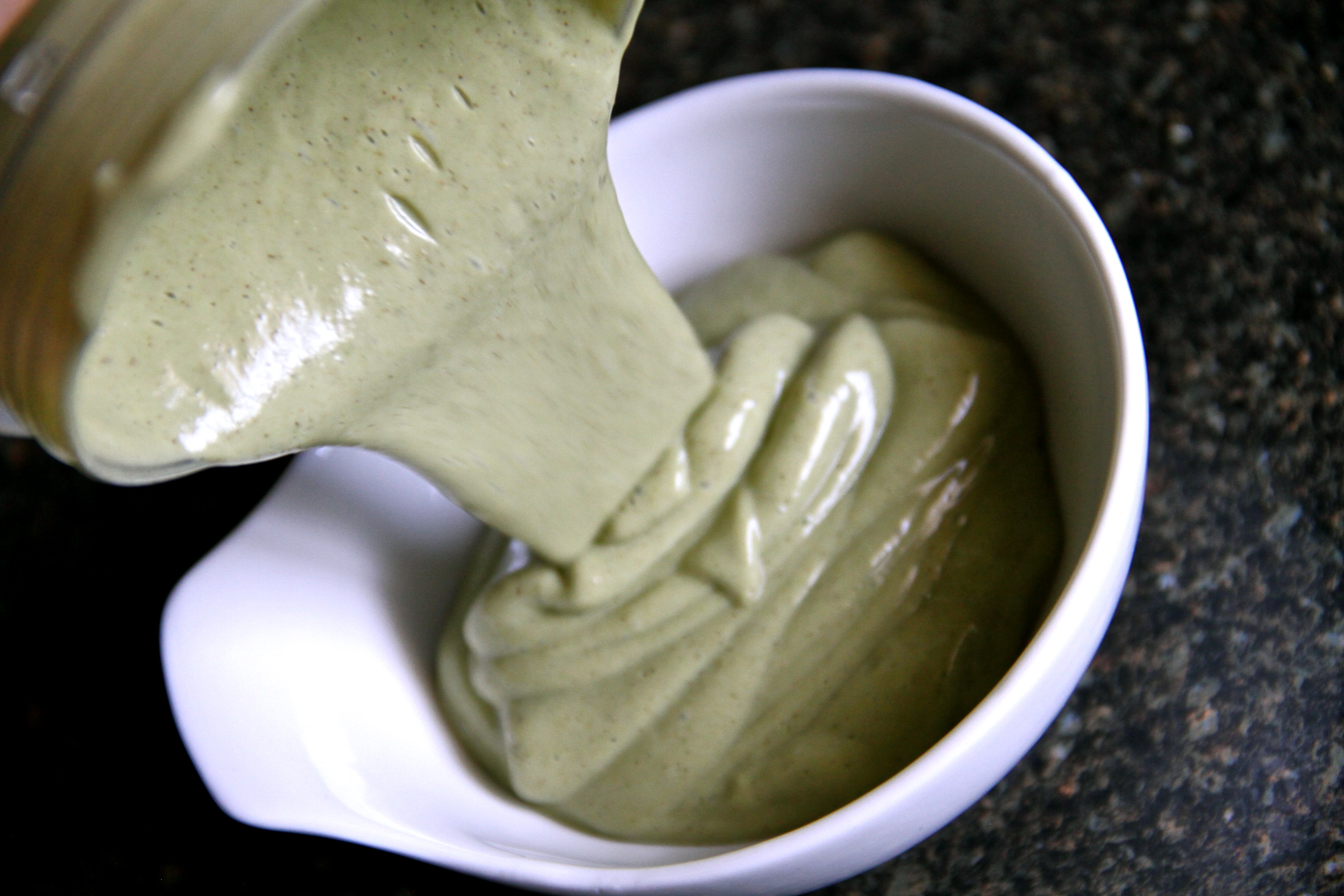 . – . – . – .
Another variation of this pudding that I use when I'm not feeling the Vega or the avocado issss…
. vanilla tofu protein pudding .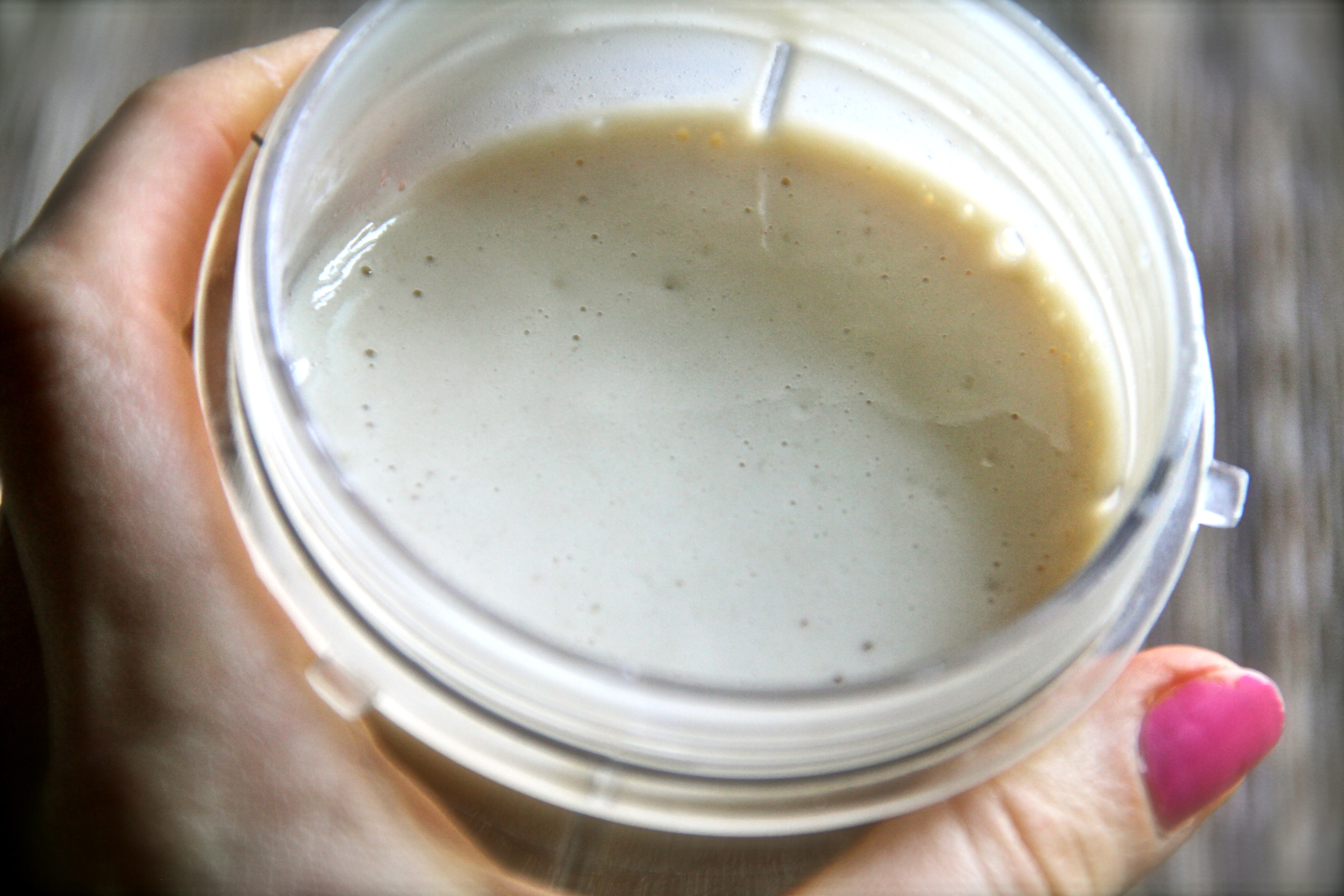 Ingredients
¼ cup vanilla almond milk
1 scoop vanilla protein powder (I use whey)
1 serving (85g) silken tofu
½ banana
. – . – . – .
These pudding/smoothies may not win any beauty contests, but it's about what's inside, not outside, that counts. Between these and the almond butter frosting, you've pretty much got my latest obsessions… I've been having one of these pudding/smoothies everyday as part of a meal or a post-workout snack, and the protein frosting… yeaaaaah… let's not even go there.
But that's it for me today, loves. Thank you for all the questions that you left on my last post – I kind of have a better idea of what to write about myself now, and if you have any more, just let me know.
I hope you're all enjoying a beautiful Sunday night 😀
. – . – . – .
Do you have any unique uses for nut butter?
Favorite ingredients to make a super thick smoothie? Would you try avocado/tofu?