I love to bake. Absolutely adore it.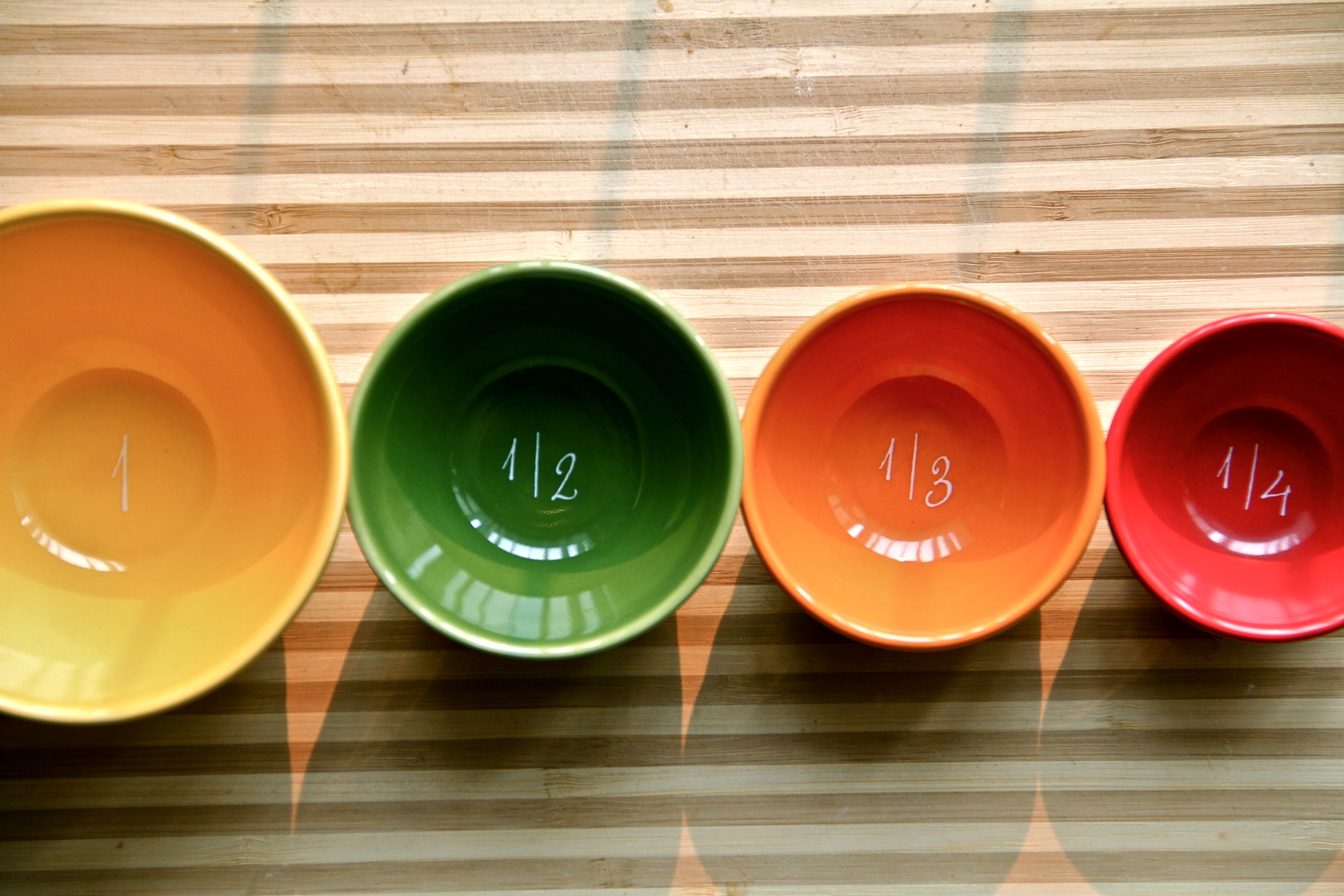 I know that little tidbit of information may come as  quite a surprise to you, considering the only baking that I've shown so far on this blog has been of the baked oatmeal variety…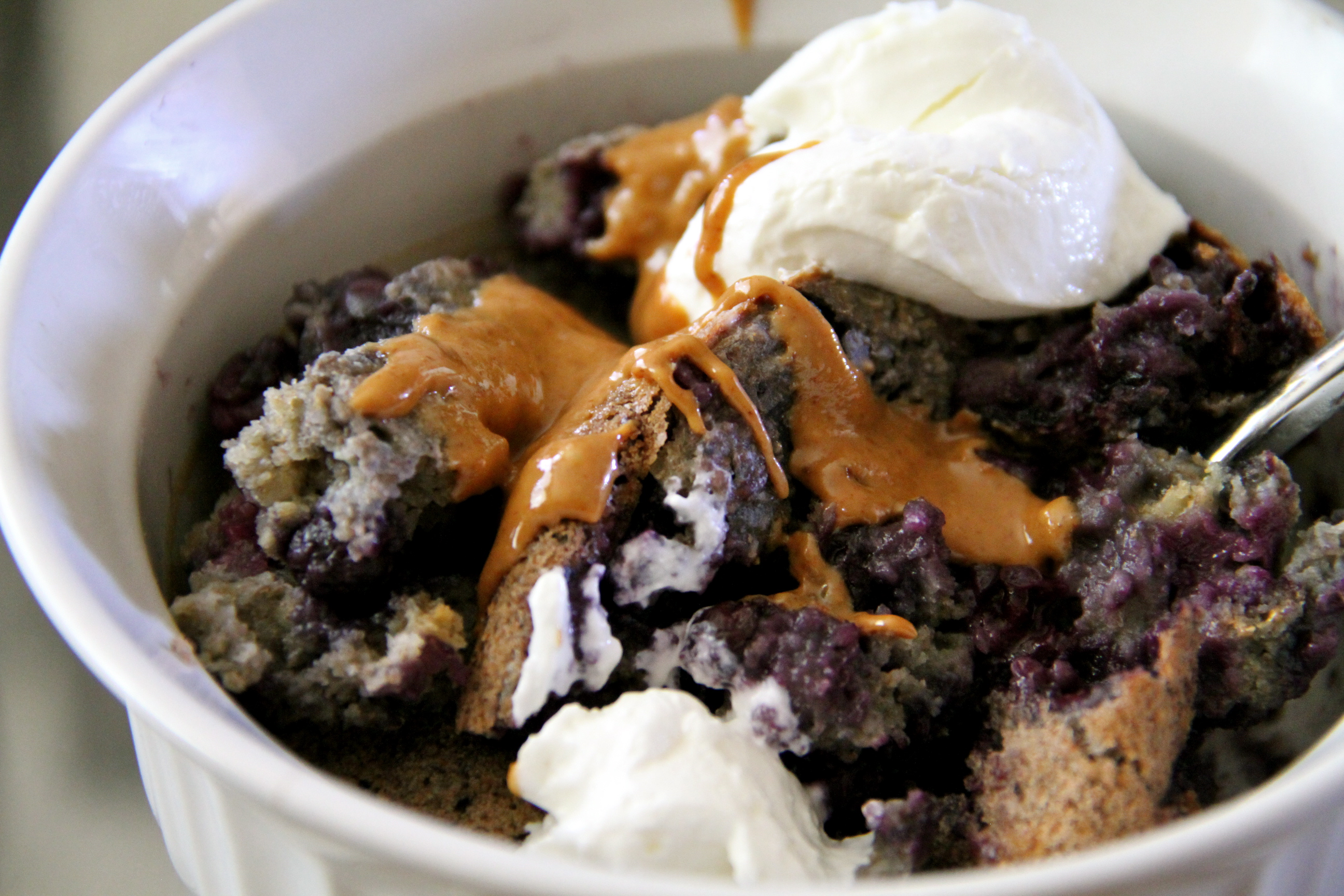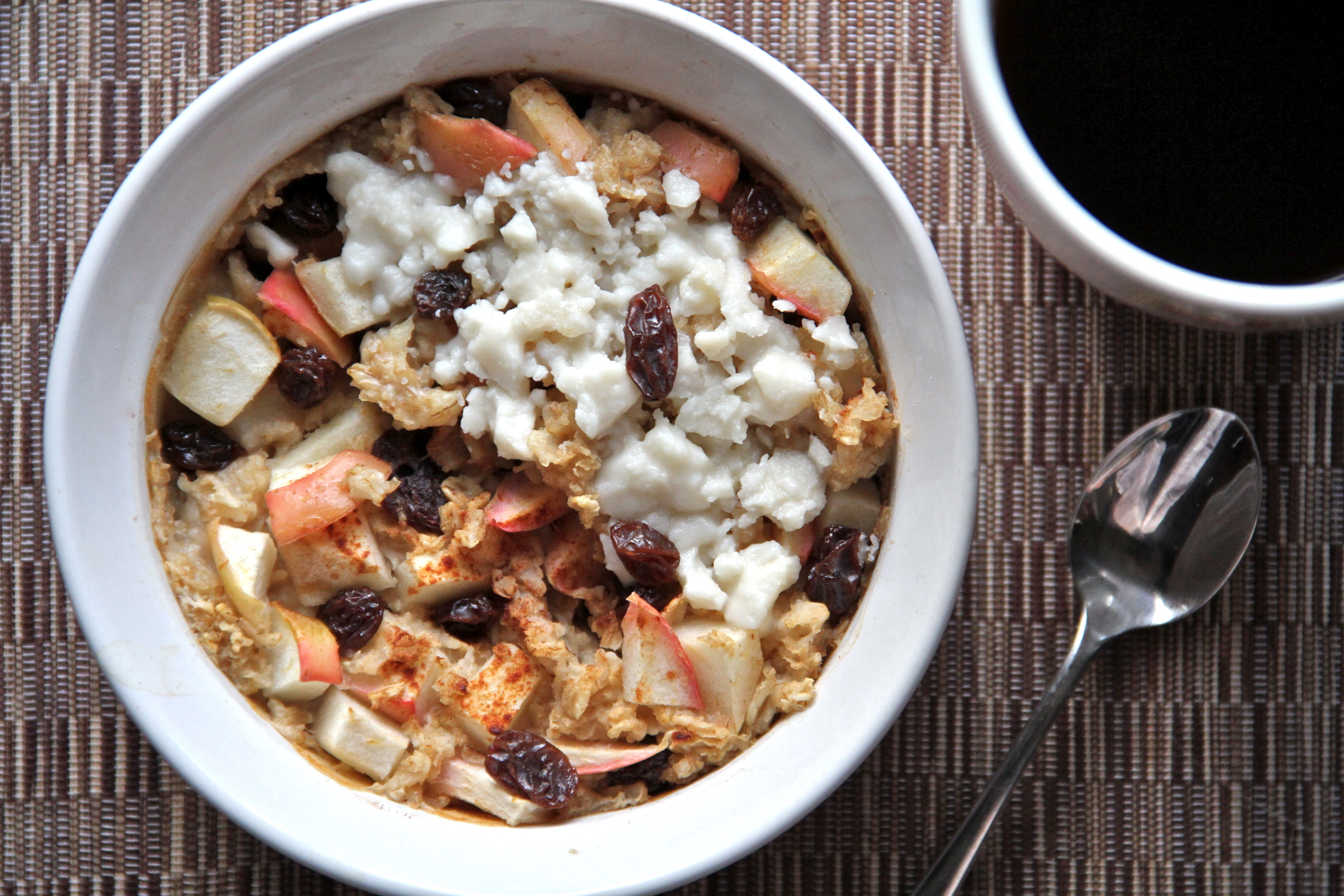 … but baking is actually one of my favorite things to do. Rainy days. Stressful days. Sweet tooth days. There's just nothing quite as comforting as being in a warm kitchen with a mouth-watering smell wafting out of the oven. And the goodies that come out of that oven aren't too bad, either 😉
Unfortunately, I can't even remember the last time that goodies came out of my oven. Well, that's not entirely true if you count the baked sweet potato that was part of last night's dinner…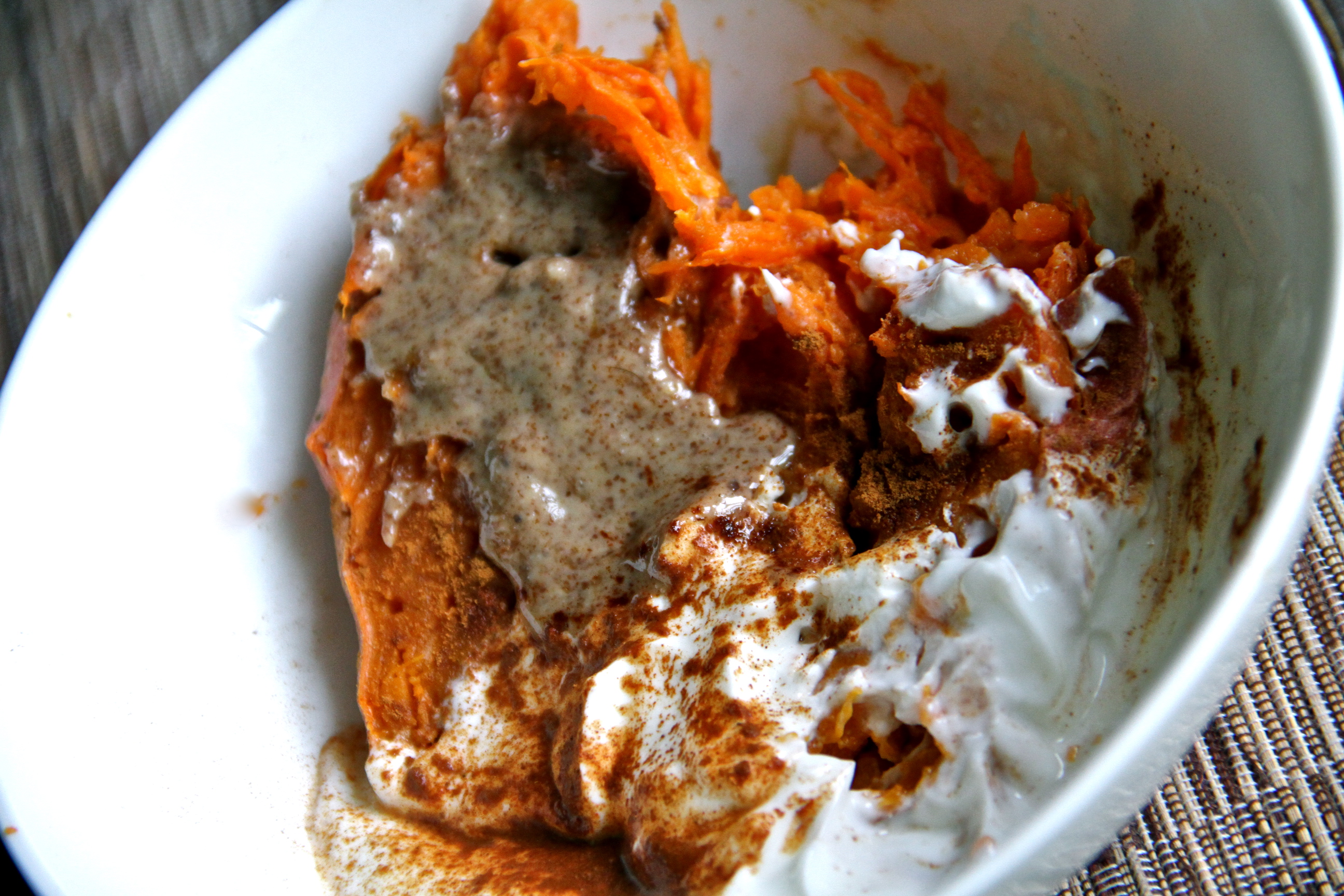 (with maple syrup, raw almond butter, Greek yogurt, and cinnamon)
… but the last treats that came out of my oven? A loaf of banana bread over a month ago, maybe?
Who am I!?!
As a self-proclaimed baking addict, my latest actions have been suggesting otherwise; and the lack of freshly baked goods in my life left me craving an ooey-gooey cookie or a warm muffin like nobody's business. To remedy that, I made it a top priority to whip up a batch of something this morning. Baking even took precedence over exercise on today's agenda, because cookies beat buns of steel, right?
Right.
But what to make? The blog world is an absolute gold mine when it comes to delicious recipes, but the catch is there are so many good ones, that it becomes almost impossible to pick just one…
Browsing through my "to-make" list was getting me nowhere – the dratted thing is pages long and everything on it sounded so good! Frustrated, I decided to take a break and work on taking a chunk out of my Google Reader instead, which actually proved to be the solution to my little indecision problem.
I came across Gracie's guest post on Gabriela's blog, where she shared the recipe for her Coconut Banana Chocolate Chip Cookies. Uhm. Coconut, bananas, and chocolate? GET IN MA BELLY! Besides being a combination of three of my favorite things, the recipe called for a lot of coconut flour, which was convenient because I had a bag of the stuff that I didn't quite know what to do with.
It was time to get to work…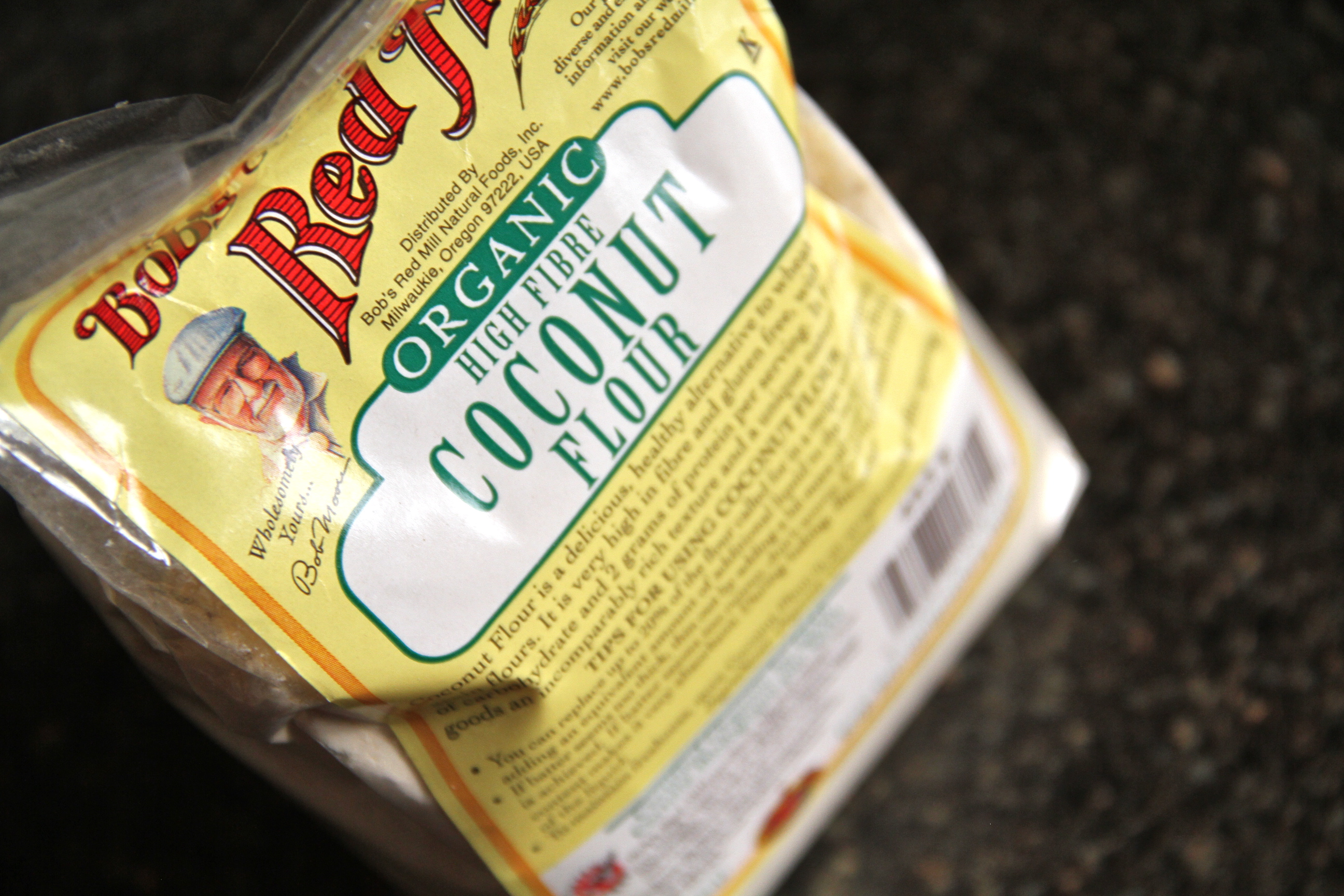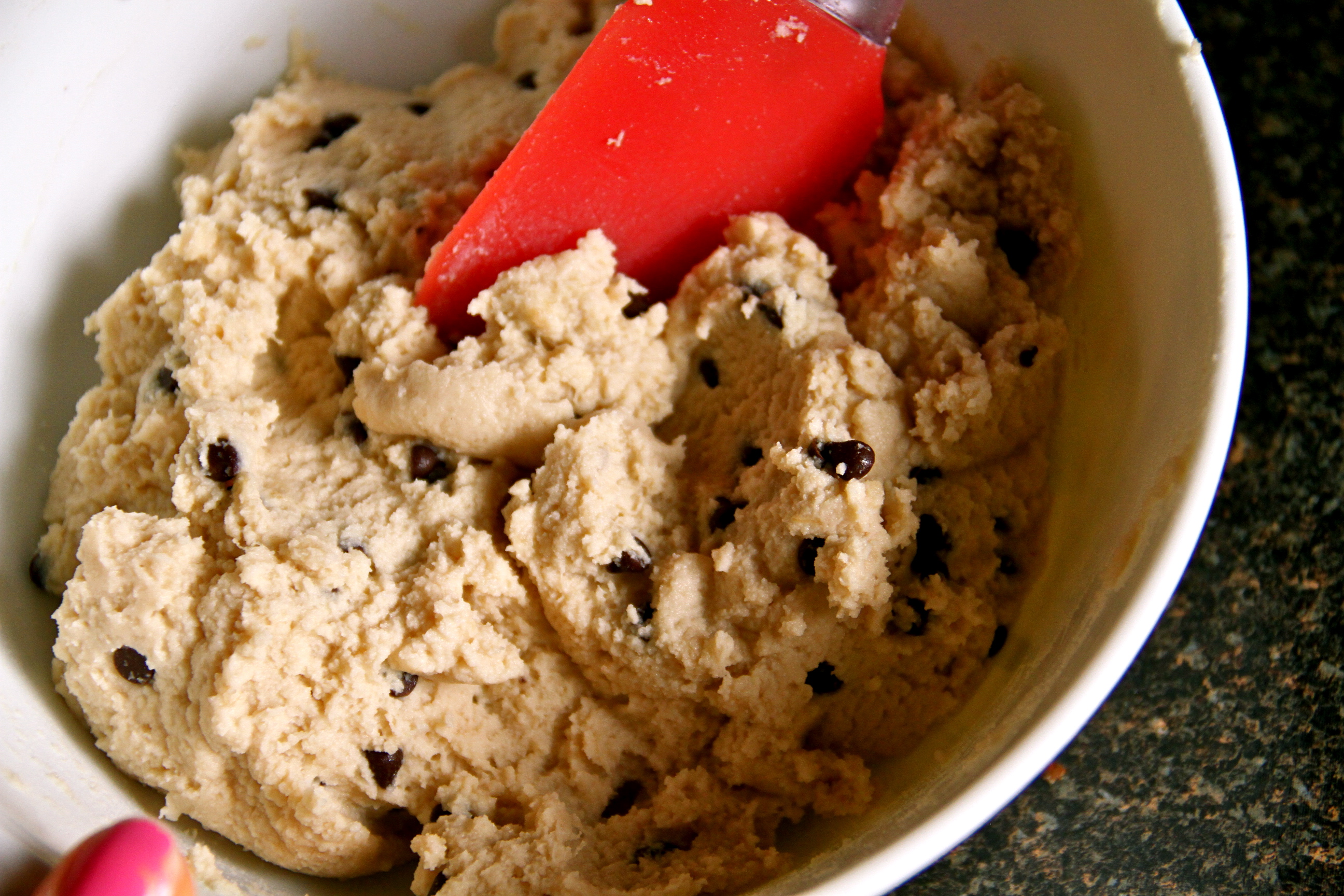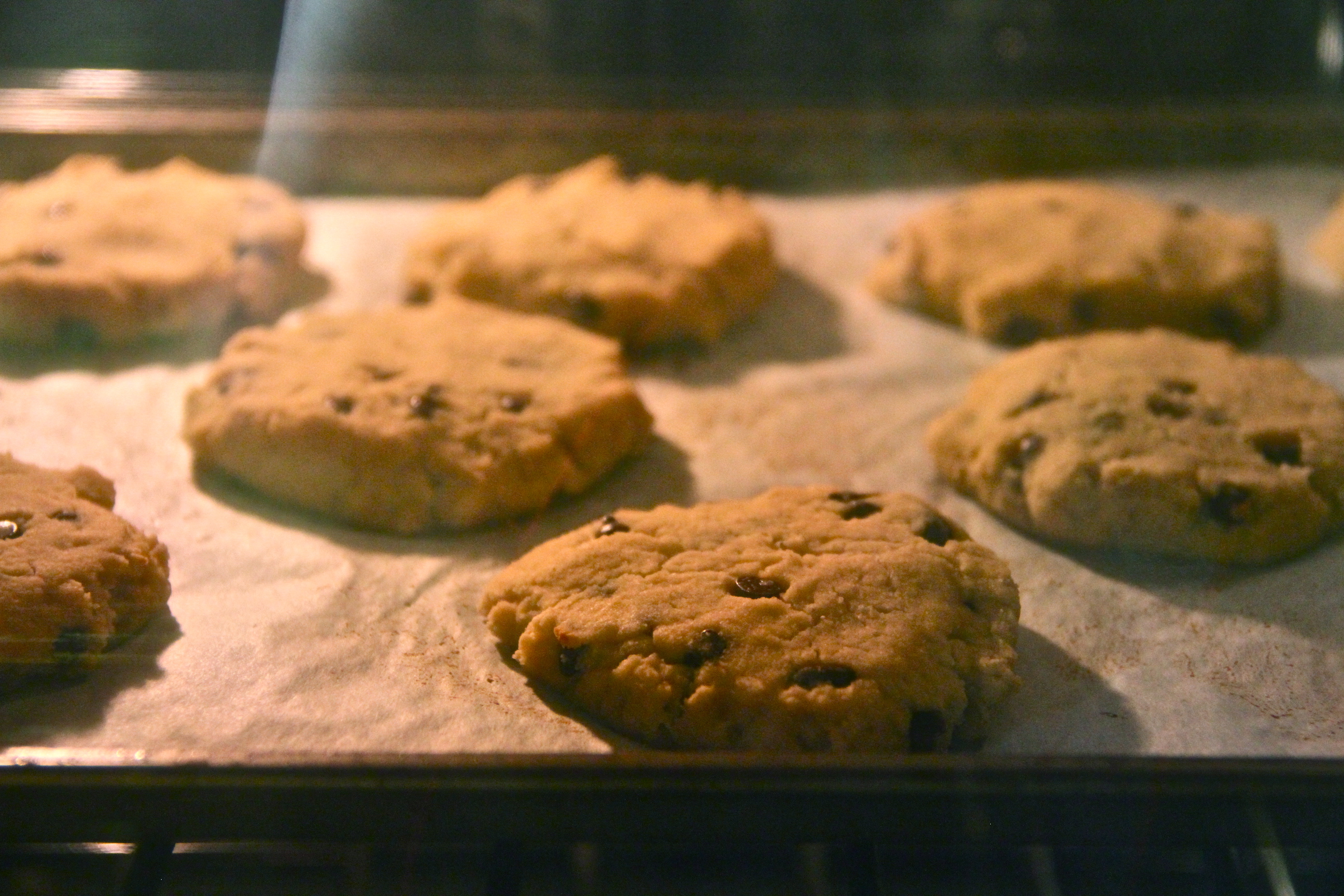 I know that a lot of people complain about all the work that goes into baking, what with the messy counters and dirty dishes and all… and while I agree that the clean up definitely isn't the funnest part of baking, the worst part in my opinion, is waiting for that dratted timer to reach zero while the smells that come out of the oven seriously push the limits of your self-control.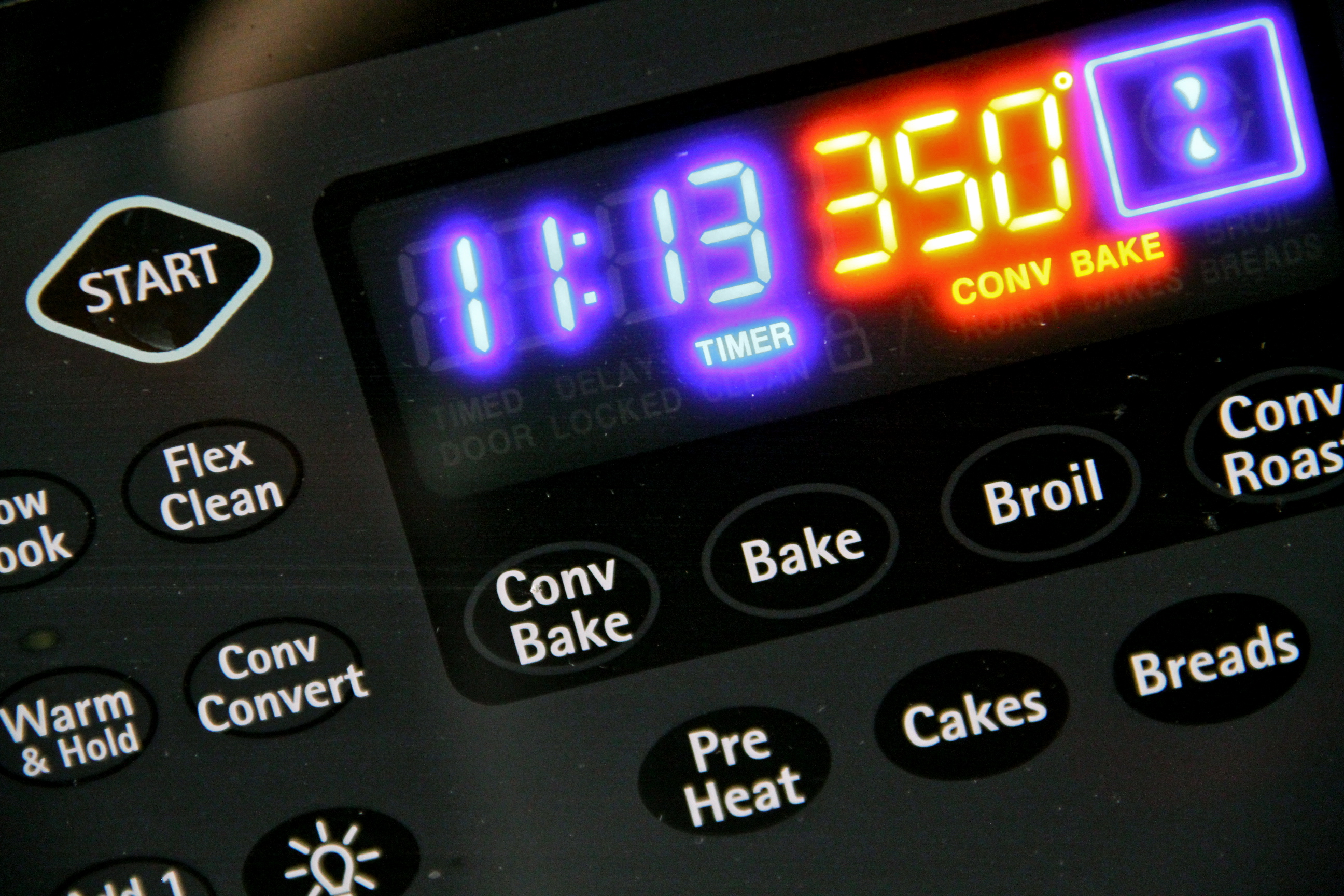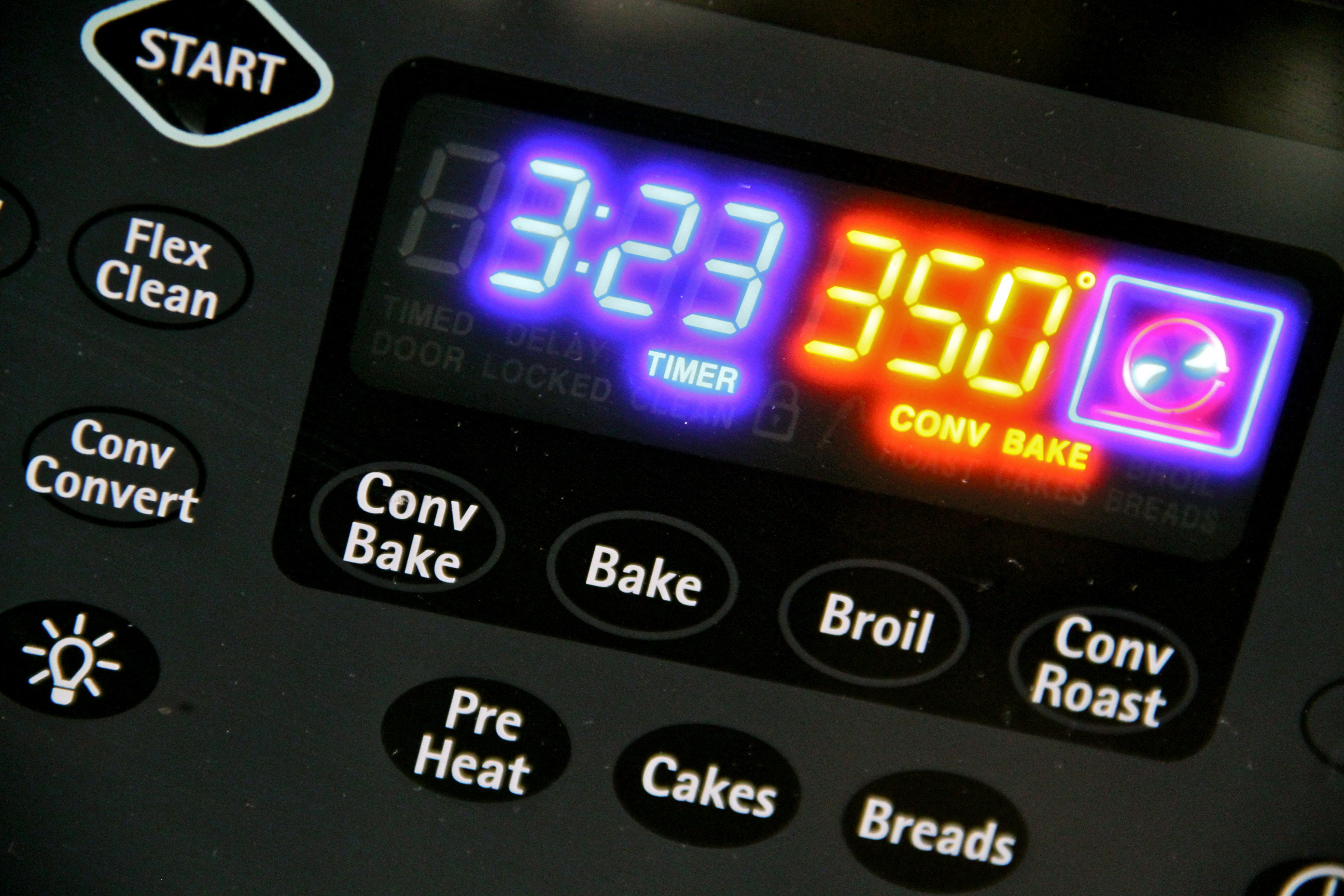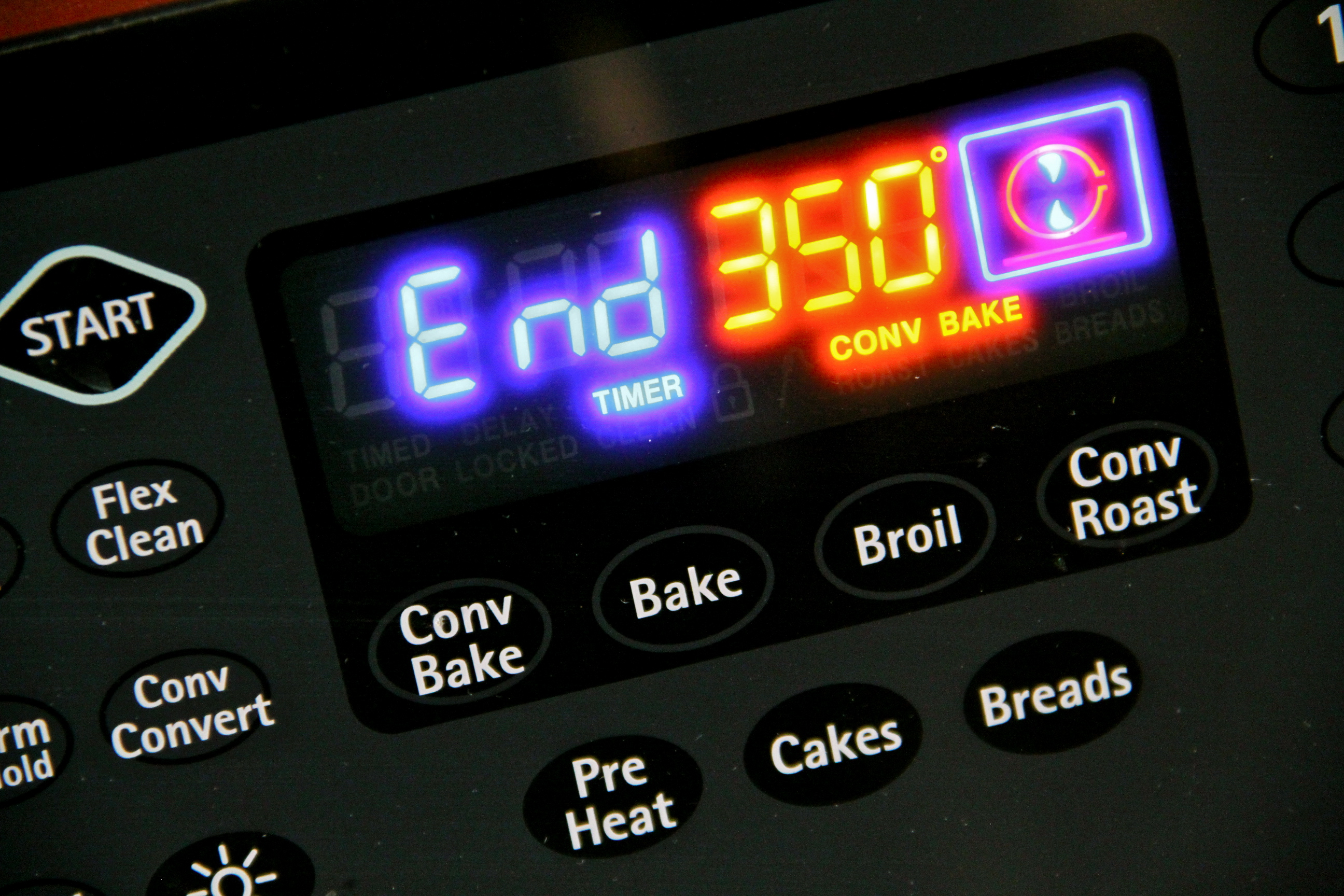 ! ! !
Clearly, my self-control could use a little work…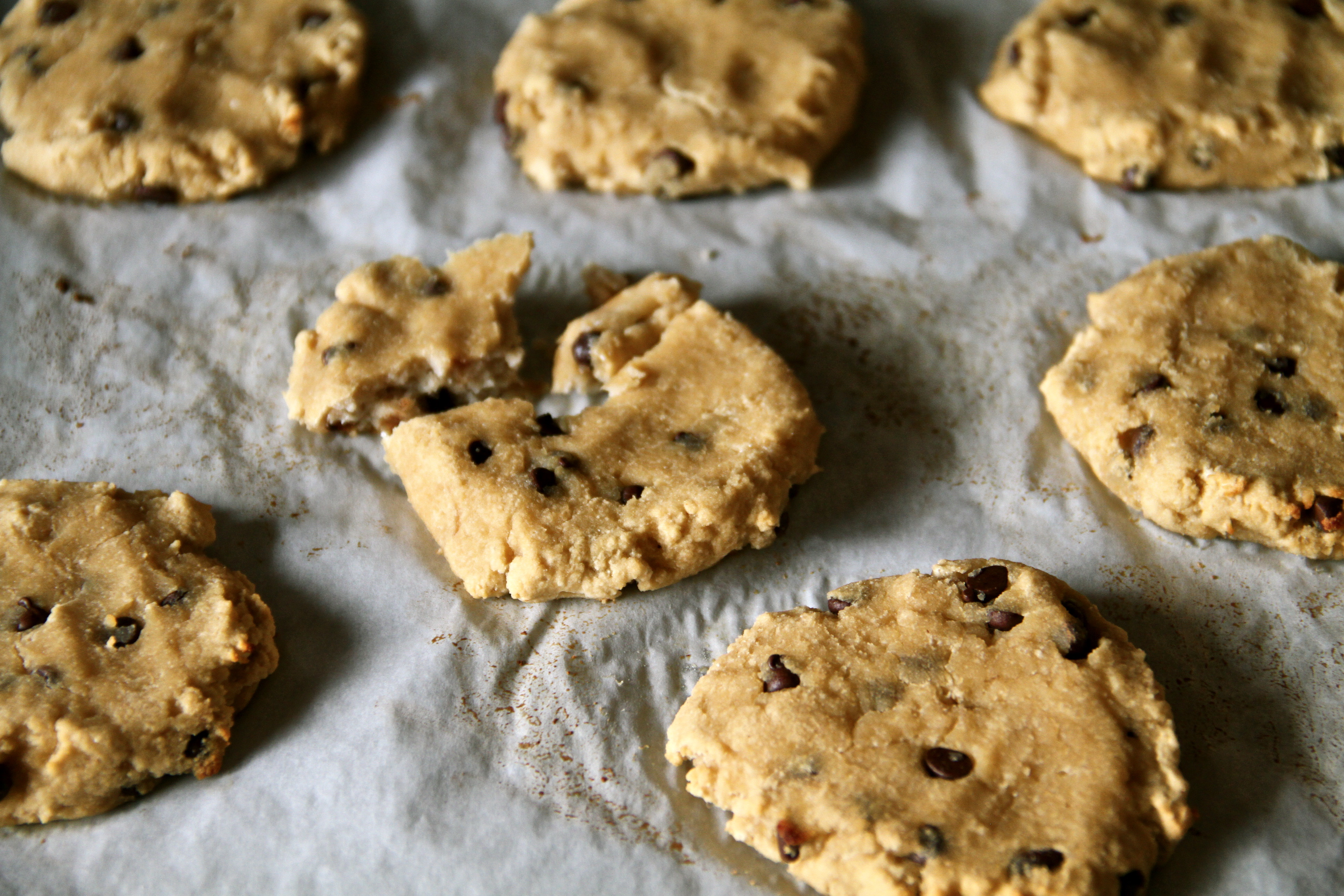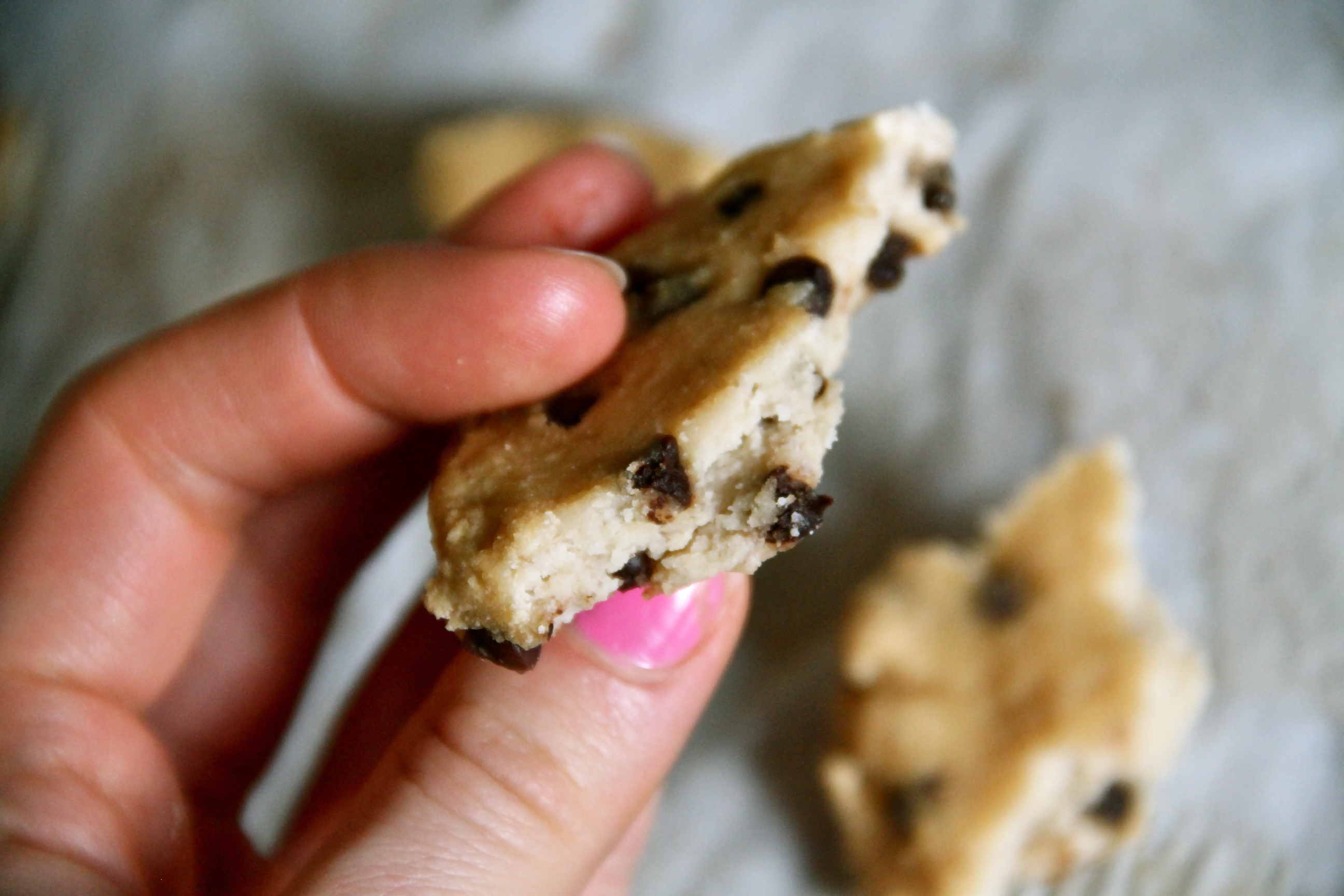 … because these need a little bit of time to cool off before being handled so that they don't fall apart. But with how heavenly these made my kitchen smell, I think I did rather well, thank you very much.
As for the recipe itself? It did very well. Besides tasting absolutely amazing, with the perfect blend of flavors and just the right amount of sweetness, the texture of these cookies was absolutely spot on.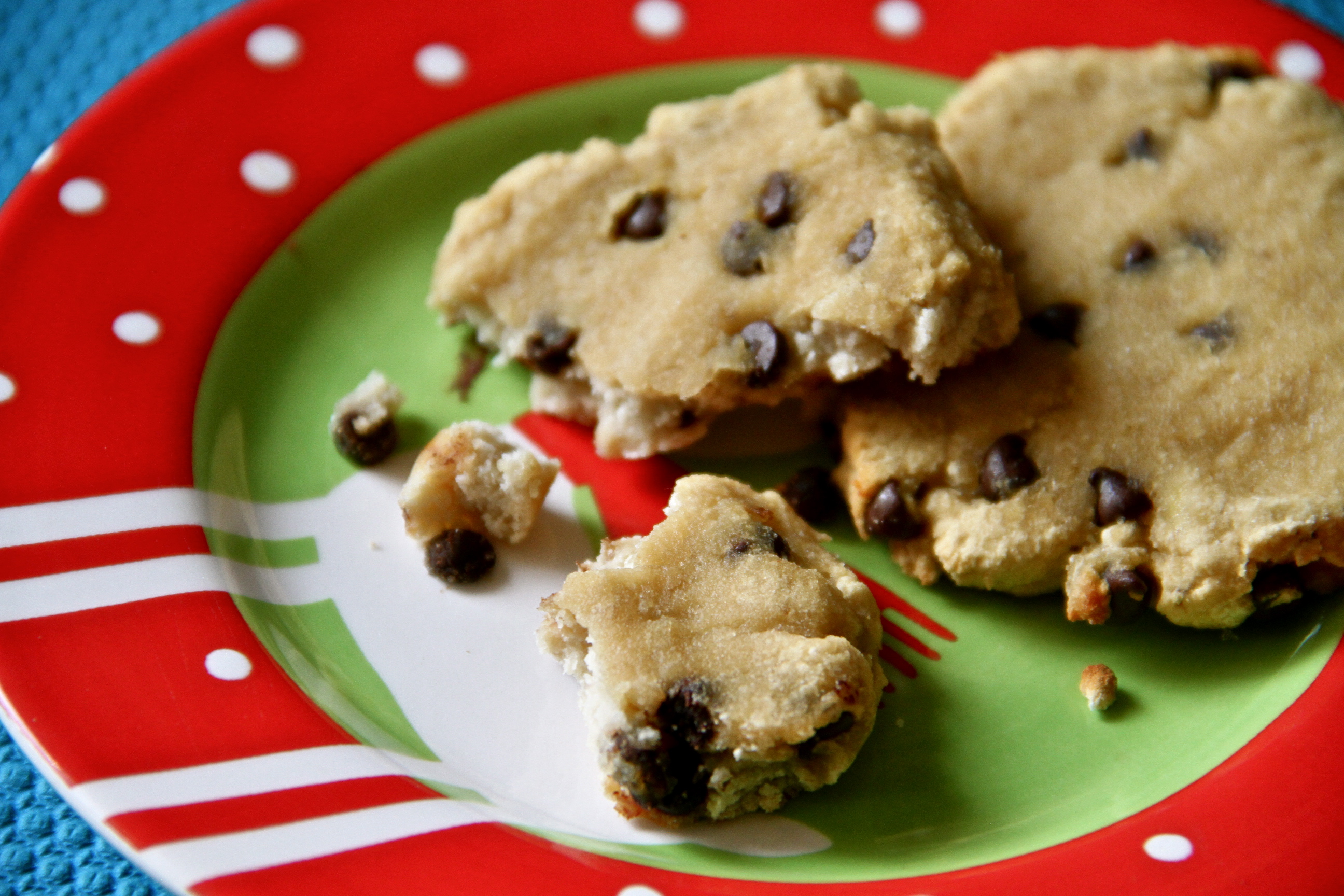 Doughy. Dense. Perfect. It was like eating a cookie dough version of a coconut-banana macaroon.
And on a completely unrelated note… I realize that I don't spend a lot of time talking about myself or the day-to-day happenings of my life on here, and it's not because I'm trying to be sneaky or distant, but because I'm not entirely sure what to say. When it comes to issues I feel passionately about, I can talk for hours, but when it comes to talking about myself? A few sentences and I usually fall silent.
So maybe you guys can help me out a little bit.
I was thinking about starting a Q&A series, so if there's anything you want to know about me or my life, leave your questions in the comments, or send me an e-mail, and I'll answer them in upcoming posts.
Hope you guys are having a beautiful weekend! 😀
. – . – . – .
Do you like to bake? What was the last thing that came out of your oven?
Got any questions for me?