Hey loves!
Have you tried Wordle yet? If not, I highly suggest that you go and check it out. It's a fun little gadget that lets you plug in a bunch of words, or the URL of a site, and then comes up with a visual representation of the most common words on that site. Here's what I got when I plugged in my little bloggie's URL…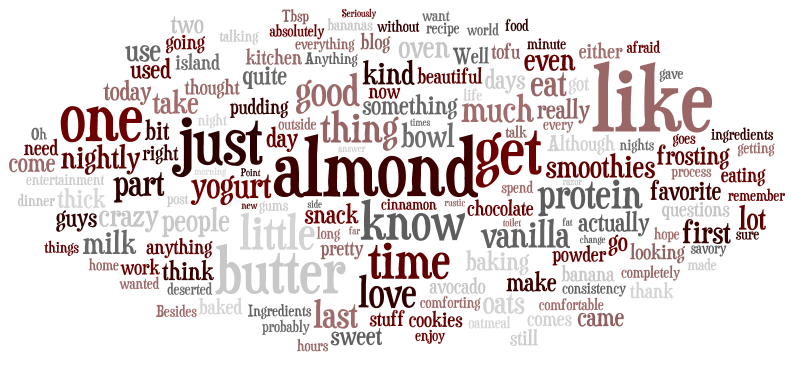 Like. Almond. Butter. 😆
Not bad, huh? I'd say that was a pretty accurate description of my cozy little place on the web – God only knows how much I like love my almond butter. In fact, I just polished off yet another jar of the stuff last night, and had to open up a new one this morning, which only meant one thing…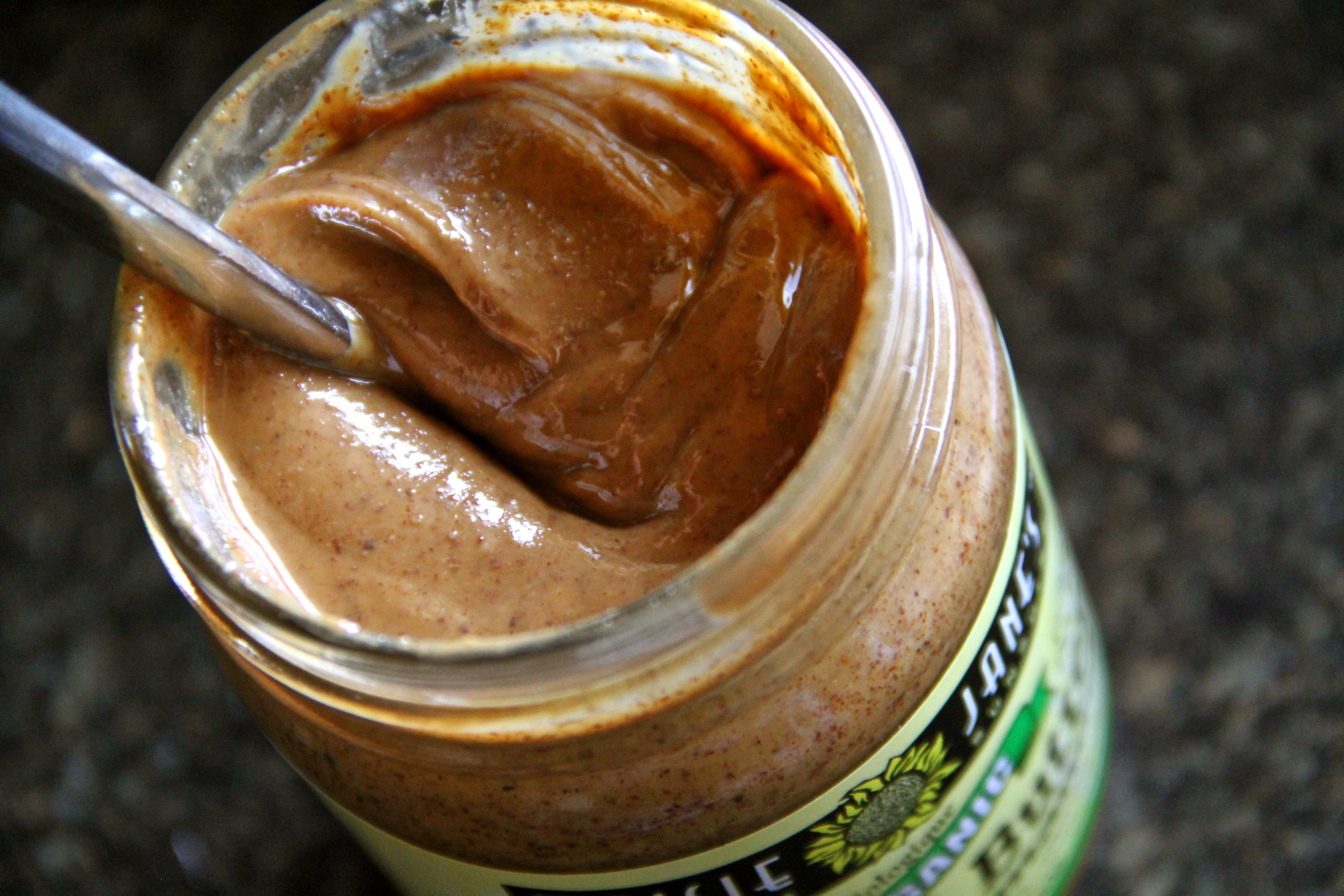 … stirring… lots of stirring…
Nothing like a good arm workout first thing in the A.M. Guess that means that I'm set for the rest of the day 😉 Besides being absolutely delicious, one of reasons I love almond butter so much is because it serves as a constant reminder of how far I've come since the darkest days of my eating disorder. Back then, I wouldn't touch almond butter, or any fat, with a 10 foot pole, much less bury my food in it.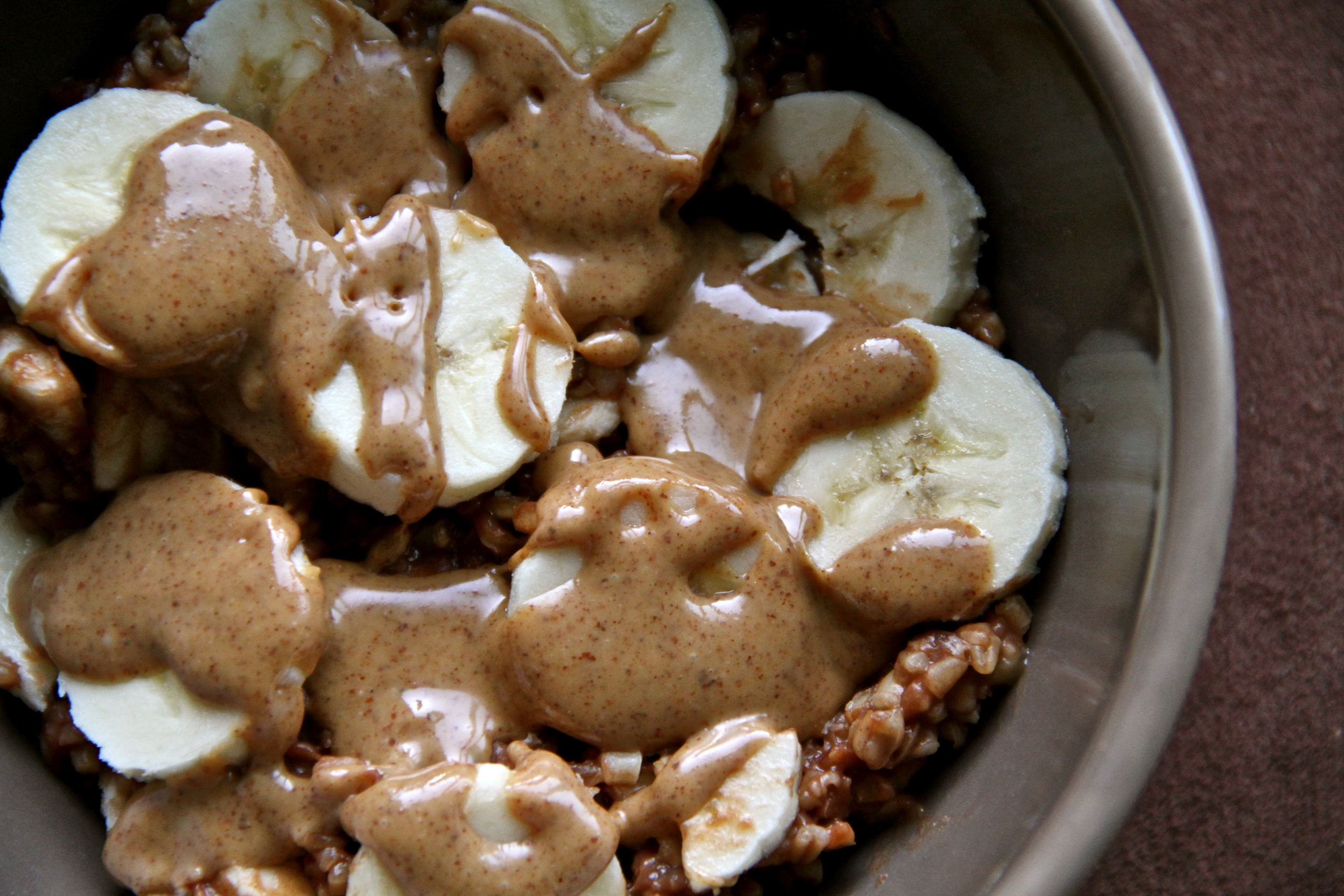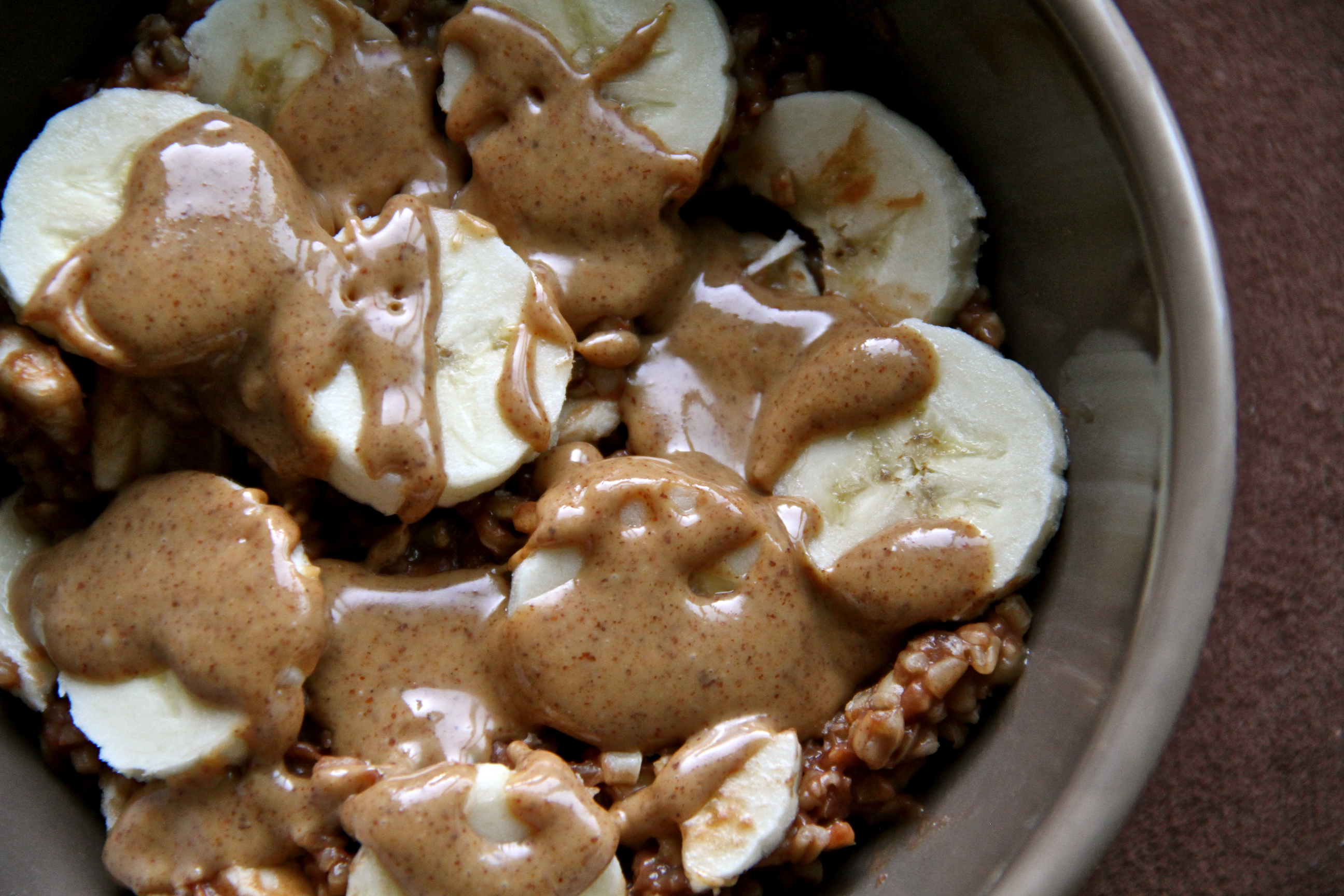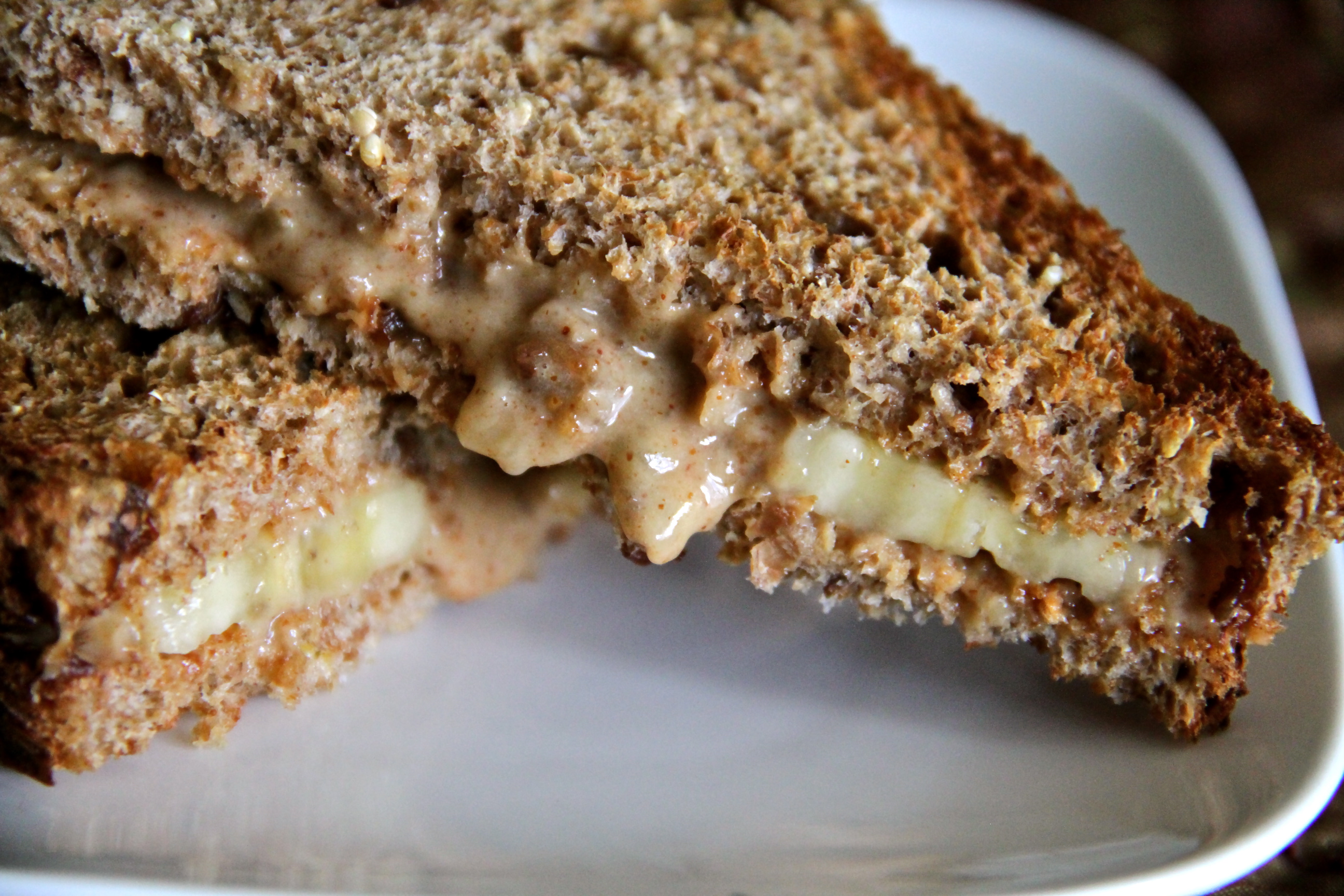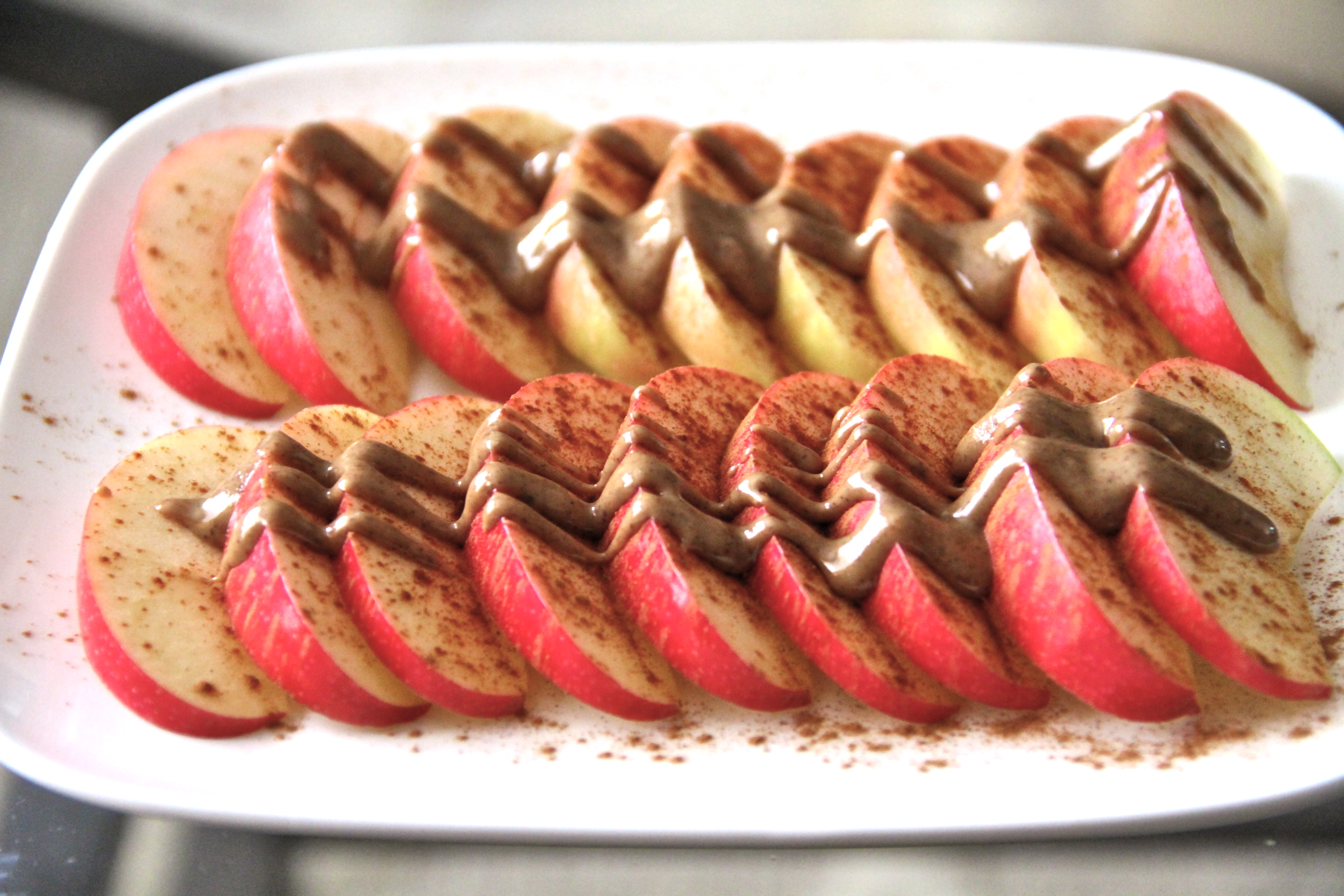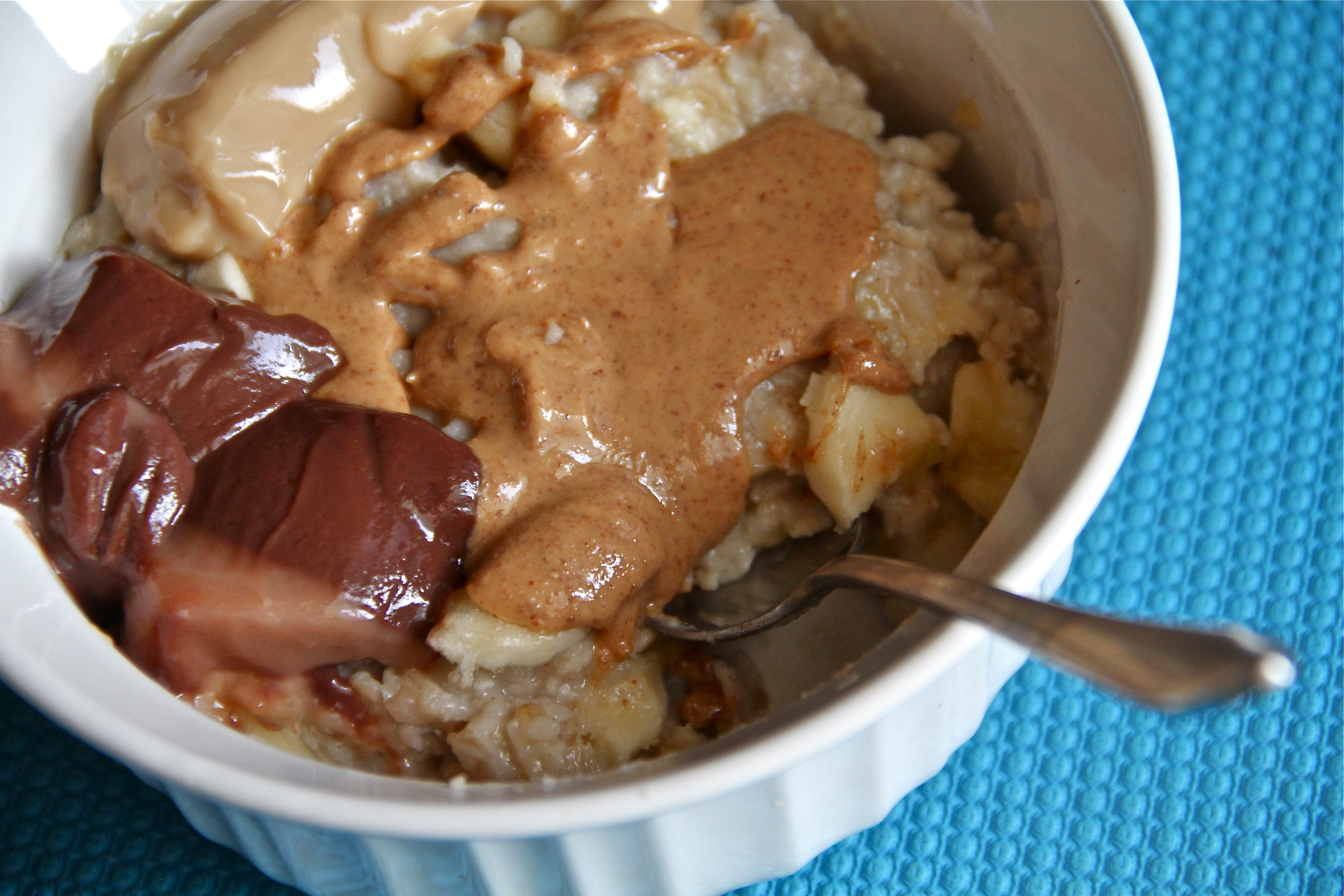 Obviously, that's no longer the case…
But where exactly am I going with all this talk of almond butter? Somewhere completely unrelated. I get a lot of questions concerning my struggles with, and recovery from, an eating disorder, so I figured that I'd answer a few of those questions in the first part of my Q&A. As always, if you have any more, just ask.
. – . – . – .
How long did your Eating Disorder "last" and what made you snap out of it and take on such a healthy and positive view of life?
Hmmm. It's hard to say exactly how long my ED lasted because I can't really pinpoint the exact moment when my healthy thoughts turned into disordered ones… I know that it all started out with an innocent desire to get healthier and clean up my diet, but that it quickly took a turn for the worst. If I had to guess, though, I'd say about… 4 hellishly long years? As for what made me snap out of it, I go into a lot more detail on my old blog, so you can check it out there if you want the full story…
. the cause . the effect . the healing .
… but basically, I had reached a point where it was either eat or die. My body was in such bad shape that it threatened to give out at any moment, and simply getting through each day became a living hell. I was sick. I was exhausted. I was miserable. And I got tired of it – tired of being sick and tired all the time. So I guess that's what made me snap. Sheer frustration at how crappy my life had become.
And the healthy and positive attitude? That didn't come right away. Ohhhh no. The first few months of recovery felt almost worst than being sick. The physical discomfort. The mental anguish. The constant anxiety and guilt. Brutal. But there were little rays of sunshine that pierced the darkness, too. A bit more energy. A genuine smile. Tasty food. I desperately clung to those rays – tried to focus on them when the darkness of my eating disorder threatened to overwhelm my thoughts and send me spiraling downward. That's not to say I never slipped, but remembering the hell of my darker days, and focusing on all the positives that I was experiencing thanks to recovery, is what kept me motivated to forge on ahead.
And now if you'll excuse me, it's time for a snack break – writing gives me the serious munchies.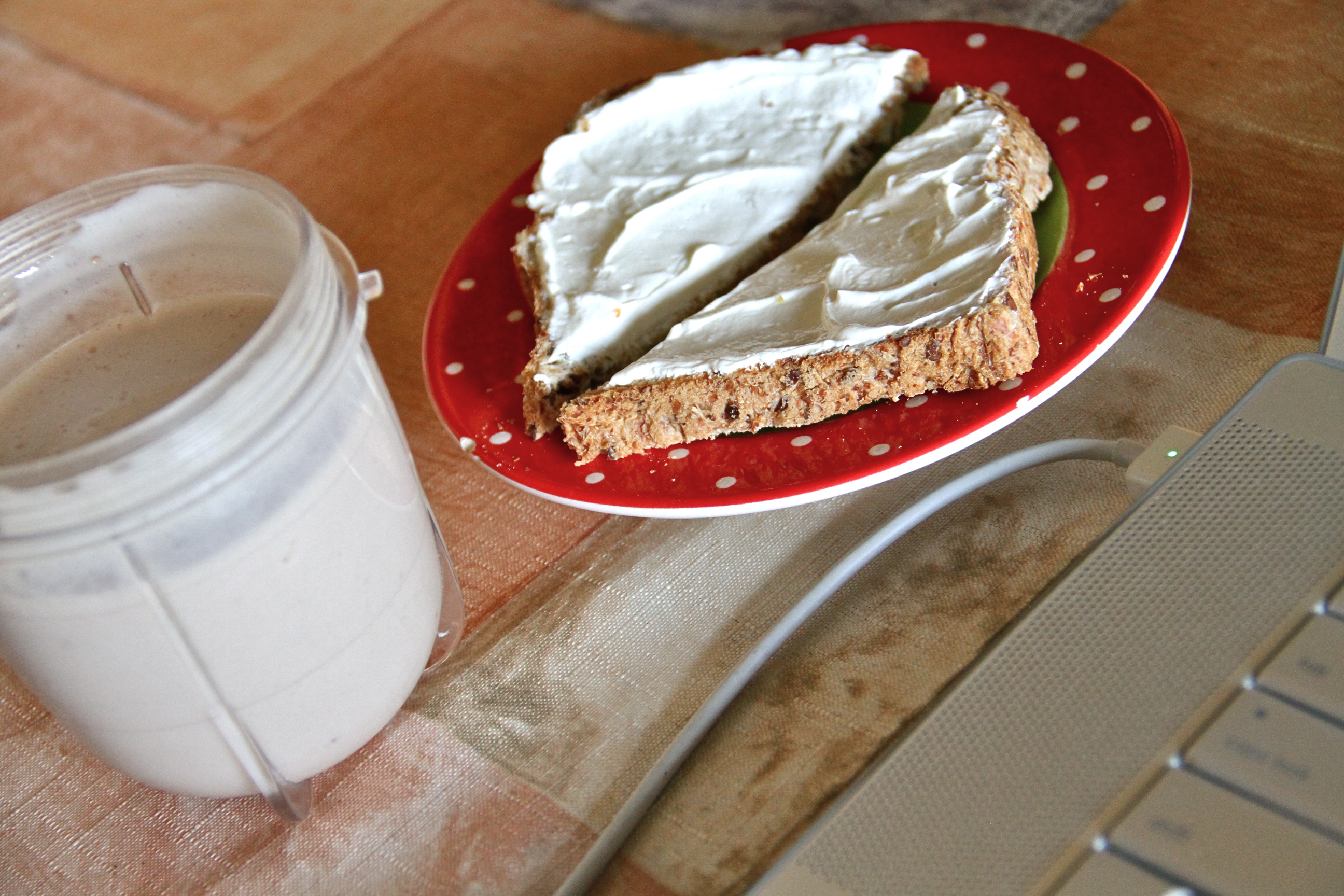 Vanilla tofu smoothie; toast with cream cheese.
Do you feel like you still have to keep gaining or is your weight healthy now? Do you see a specialist about it? 
I'm actually a little bit afraid to answer this one because I know that a lot of people are heavily opinionated when it comes to what really counts as "recovered", and I don't want to provoke the haters. Does recovered mean a certain weight? A certain BMI? A doctor's "okay"? To me, it's none of those things. I don't know my weight. I don't know my BMI. I don't know what my doctor would say (no, I don't see a specialist). A number can't tell me how I feel, and neither can another person. What I do know is that I'm healthy. I'm happy. I'm not afraid of food or constantly obsessing over it. My body works how it's supposed to (ahem). And although this part is a little bit more difficult to describe, I don't feel the presence of my disorder anymore. Sure, I still deal with the occasional negative thoughts, but they're easy enough to brush aside and I never act on them.
When it comes to gaining more weight, if that's what my body wants, then I'll do my best to allow it to happen. I truly believe that a person is the happiest when their body is at its "happy weight", even if it feels uncomfortable getting there. When I was at my thinnest, I was absolutely miserable. While I was gaining, I was still somewhat miserable and also convinced that I'd only get more miserable with every pound I gained – I could never have imagined being happy with my body when I gained more weight.
But, ironically enough, I am happy with it.
Even though my bones don't stick out as much as they used to and I no longer disappear when I turn sideways, I like what I see now more than what I saw back then. I look strong as opposed to frail. Like a woman instead of a teenage boy. And my face exudes a radiant glow, which is a vast improvement over the dull and lifeless look that I wore for so long. So I guess what I'm saying is… I'm just going with the flow and seeing where it takes me 😀 And right now, it's taking me to dinner…
… be right back…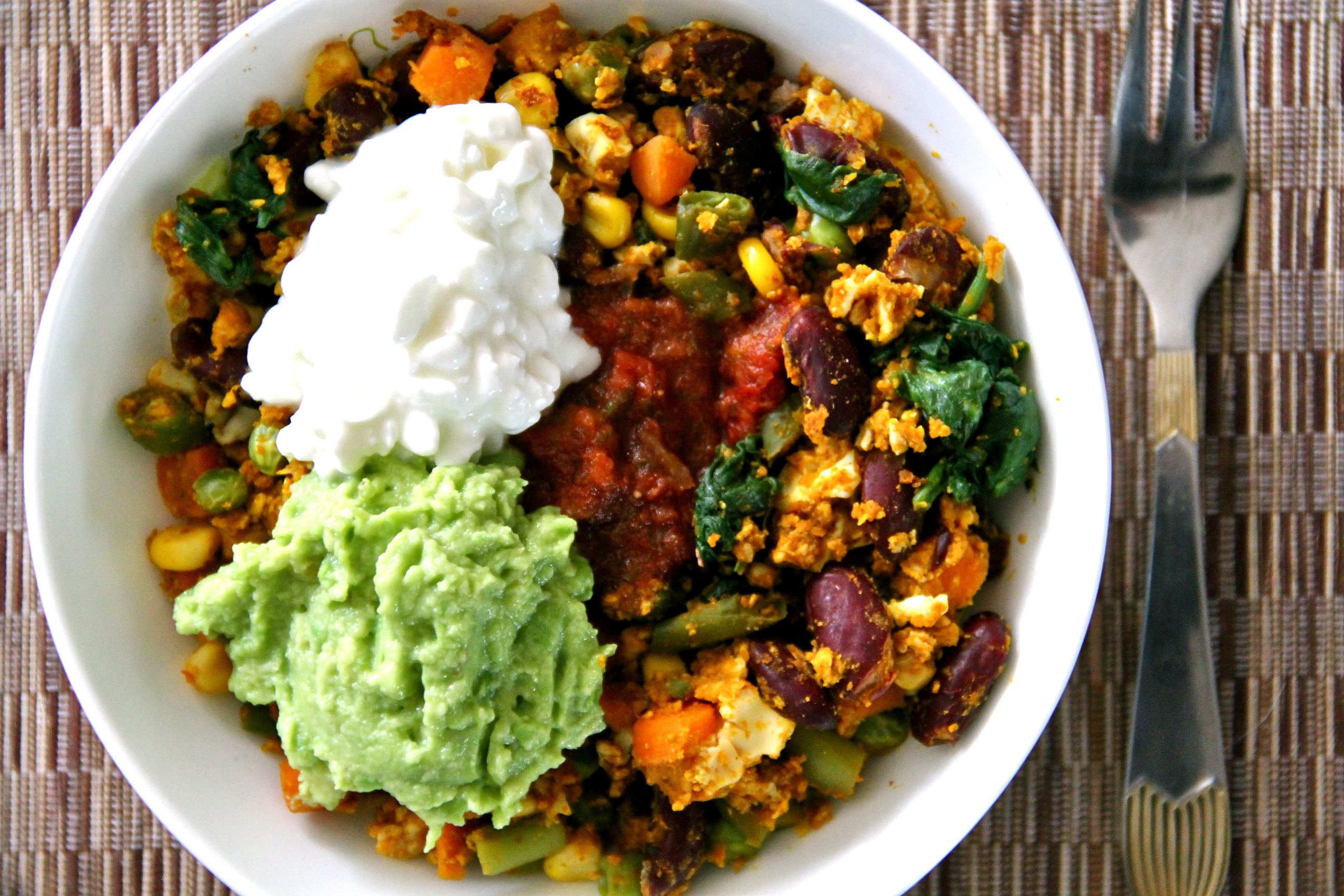 Pumpkin Chili Mexican Scramble
If you were to challenge yourself when it comes to food, what food would you then have to give a try?
This is a tricky one, because I no longer see any food as a challenge, really. Sure, some foods are easier to eat than others, but that's not to say that I avoid those "scarier" foods due to fear – they still have their time and place in my diet. I'm a healthy eater for the most part, which is a stark contrast to how I ate before my eating disorder hit, but that's mainly because I genuinely enjoy eating this way – it gives me far more energy and well-being than my old junk food diet did, so why would I want to go back? To feel more tired and sluggish? I'm tired of overanalyzing why I eat the way I do and worrying about what motivates my meal choices. I eat what I crave and I crave what I eat, whether that be a cookie or a carrot stick. And as long as I can eat what I want, when I want, that's good enough for me 😀
. – . – . – .
Gah. What a monster of a post – and it was only three questions! I could definitely learn to cut down on my wordiness a bit, but when it comes to eating disorders and recovery, I have a lot to say. Kudos to you if you made it through all that, and sorry for boring you if you didn't. Much love!
No questions today, but I would love to hear your thoughts or personal experiences.