Pumpkin spice latte lovers rejoice! Take overnight oats to a whole new level of deliciousness with this thick and creamy Pumpkin Spice Overnight Oatmeal Smoothie. Silky and smooth, it's got that stick-to-your-ribs feeling of a bowl of oats that'll keep you satisfied for hours. Vegan, gluten-free, and packed with plant-based protein and fiber, this smoothie makes a perfect healthy and easy breakfast or snack!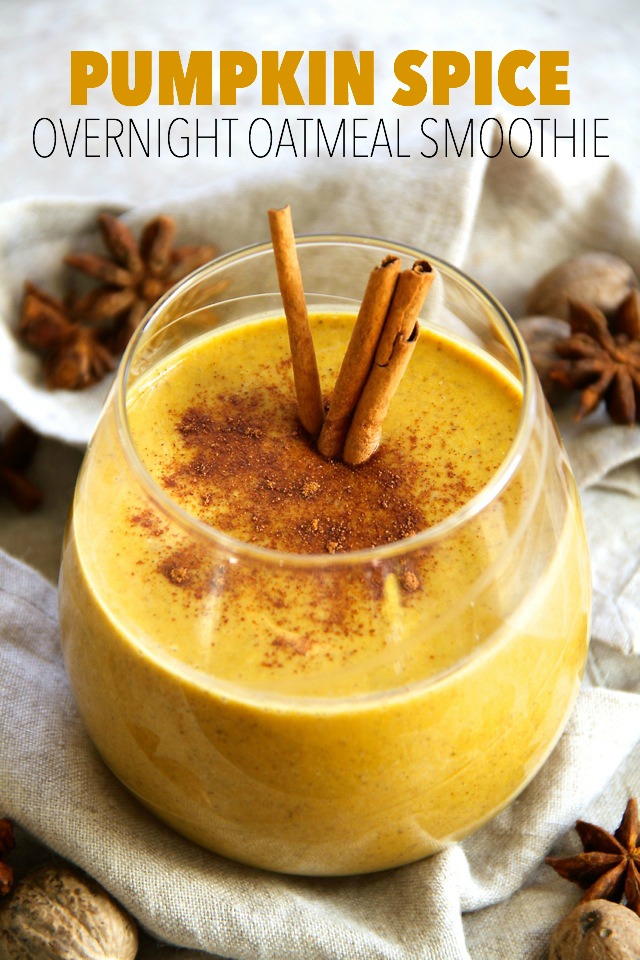 Guys. Guys. We need to talk. Again.
It's been two weeks since I last posted a pumpkin recipe here on Spoons (are you proud of me?!?), and I'm thinking it's time to end the drought and bring the seasonal squash back to these here parts.
I mean, we've had a nice little dalliance with raisins, chocolate, and chai, but there's no denying that pumpkin pretty much reigns supreme as far as fall flavours go. And I'm okay with that; mostly because I get to fill my belly with things like this pumpkin spice overnight oatmeal smoothie…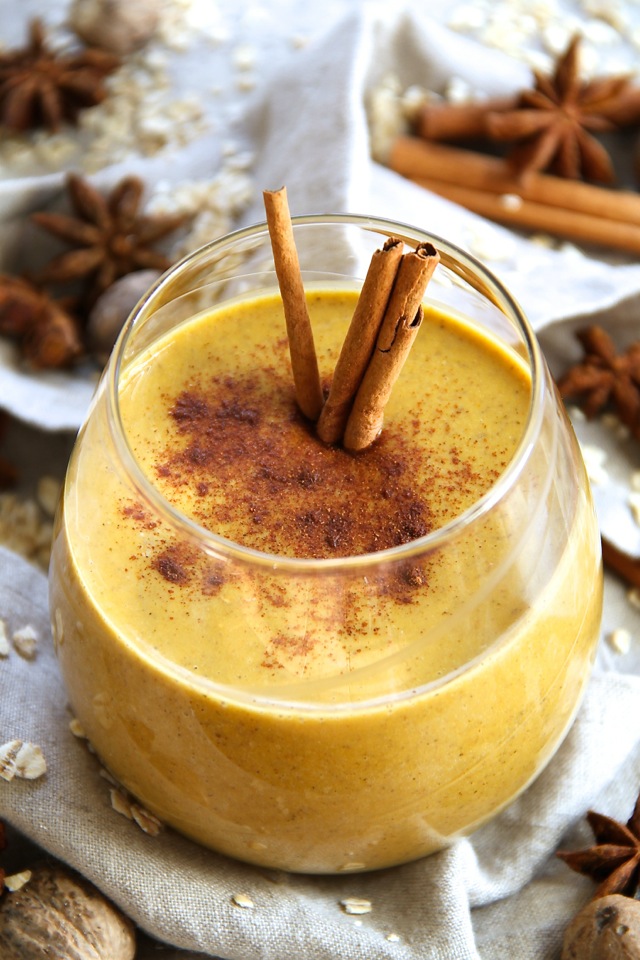 At a time of the year when most people are turning to soups to warm themselves up in the increasingly cooler temperatures, this girl is clinging to her cold and creamy smoothies… and she will be well into the winter months.
It's not that I don't like soup — it's just that I kind of forget how much I enjoy it until I actually have some, and I don't actually have some unless someone else makes it because chopping up a tonne of veggies, tossing them into a pot of water, and waiting for them to release all their flavour takes too much time, and patience is not my strongest virtue. At least not when it comes to food. The 5 minutes it takes to throw a delicious smoothie together, though? That I can do…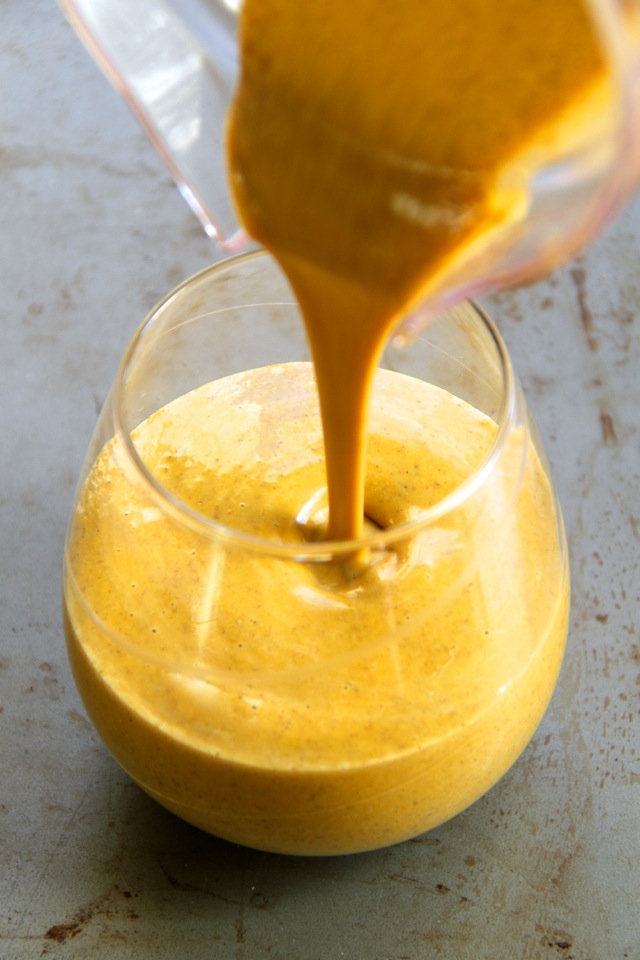 And I know, I know… this smoothie technically takes a little more than 5 minutes since it has to sit and marinate in the fridge for few hours, but if you throw it together before you go to sleep, it's good and ready for you in the morning… which is basically equivalent to the blink of an eye. You can't do that with stovetop soup [unless you want to leave the stove on and risk burning the house down while you sleep]… <– [Do not risk it].
And I'm going to blissfully ignore crock pots here, because while I know you can set and forget soups in those, I've been planning on getting one for about three years now and it still hasn't happened so it most likely isn't going to. But I digress.
Now that I've gone on [and on] about my love of smoothies over soups, I'm going to try and convince you that you need this pumpkin spice overnight oatmeal smoothie in your life.
Ready? Here goes…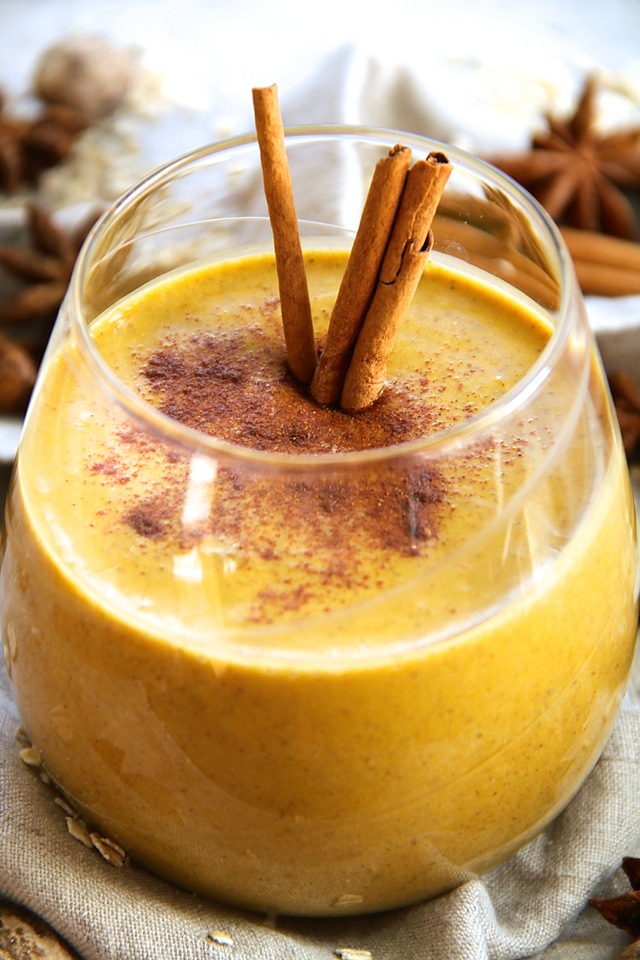 It's ridiculously thick and creamy… to the point where it has a consistency of a pudding or sauce, only without any added oils or [nut] butters.
It's super healthy and satisfying thanks to the lack of refined sugars and all the fibre and plant-based protein, meaning it'll keep you going all morning.
It also happens to be gluten-free and vegan, and can easily be made nut-free by subbing out the almond milk with another non-dairy milk… which means that anyone can (and should) enjoy.
And most importantly… it's just straight up delicious. Silky and smooth, with just the right amount of spice and earthy pumpkin flavour. Oh! And speaking of pumpkin, this smoothie also sneaks in a whole serving of veggies along with a hefty dose of vitamin A… meaning it'll help you keep that nice healthy 'glow' through the colder and darker months.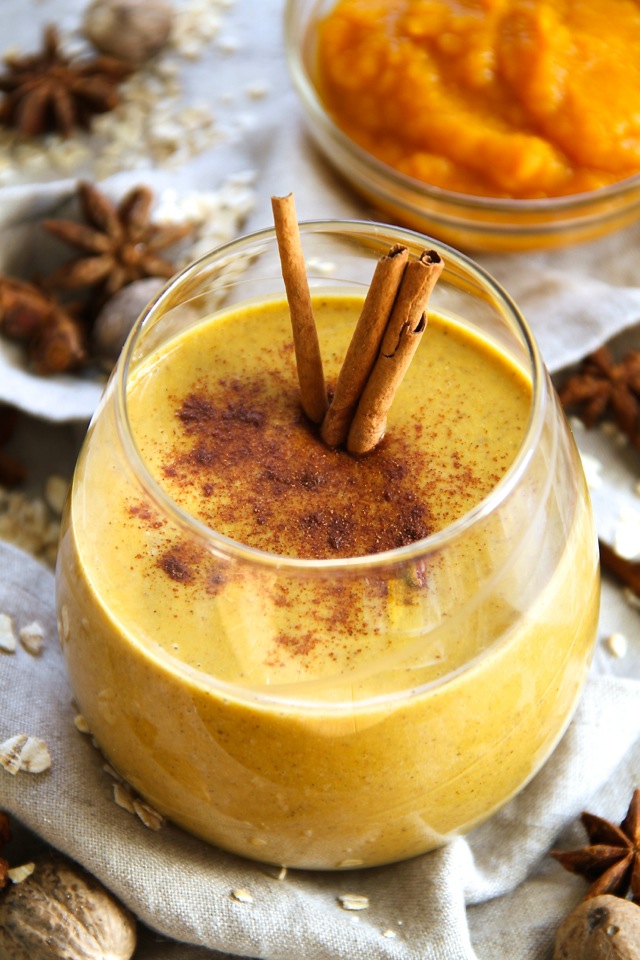 I'd love to know if you make this recipe! Leave a comment and rating down below to let me know what you think, and subscribe to our mailing list to receive new recipes in your inbox!
Print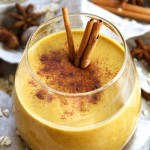 Pumpkin Spice Overnight Oatmeal Smoothie
---
Author:

Total Time:

3 hours 5 mins

Yield:

1

serving

1

x
1/2 cup

rolled oats**

1 Tbsp

. chia seeds

1/2 cup

canned pumpkin puree

1/2 tsp

. ground cinnamon

1/4 tsp

. ground ginger

1/8 tsp

. ground nutmeg

1/8 tsp

. ground cloves

1 Tbsp

. maple syrup***

1 cup

unsweetened vanilla almond milk****
---
Instructions
The night before, add all ingredients to the bowl of your blender and give it a stir to ensure that everything is well combined. Cover and place in fridge for at least 3 hours, preferably overnight.
The next morning, blend until a smooth and creamy consistency is reached, adding more milk if smoothie is too thick. Transfer back to a bowl or glass, add desired toppings, and enjoy!
Notes
* Cook time refers to chilling time. ** Be sure to use certified gluten-free oats if you need this to be gluten-free. You can also reduce the oats to ⅓ cup and add a scoop of your favourite protein powder. *** You could sub this with any liquid sweetener, or leave it out and replace it with 2 Medjool dates. **** To make this taste more like a pumpkin spice latte, replace half of the milk with leftover coffee. OR add a tsp. of instant coffee to the blender.
Prep Time:

5 mins

Cook Time:

3 hours
Keywords: breakfast, gluten-free, healthy, overnight oatmeal smoothie, pumpkin, pumpkin spice, recipe, smoothie, vegan

Looking for more overnight oatmeal smoothie recipes? Try one of these!
Chocolate Overnight Oatmeal Smoothie
Almond Joy Overnight Oatmeal Smoothie
Caramel Apple Overnight Oatmeal Smoothie
Banana Latte Overnight Oatmeal Smoothie
Snickerdoodle Overnight Oatmeal Smoothie