Loaded with protein, fibre, and plenty of flavour, this vegetarian pumpkin chili adds a touch of Mexican flair to an otherwise earthy and warming dish.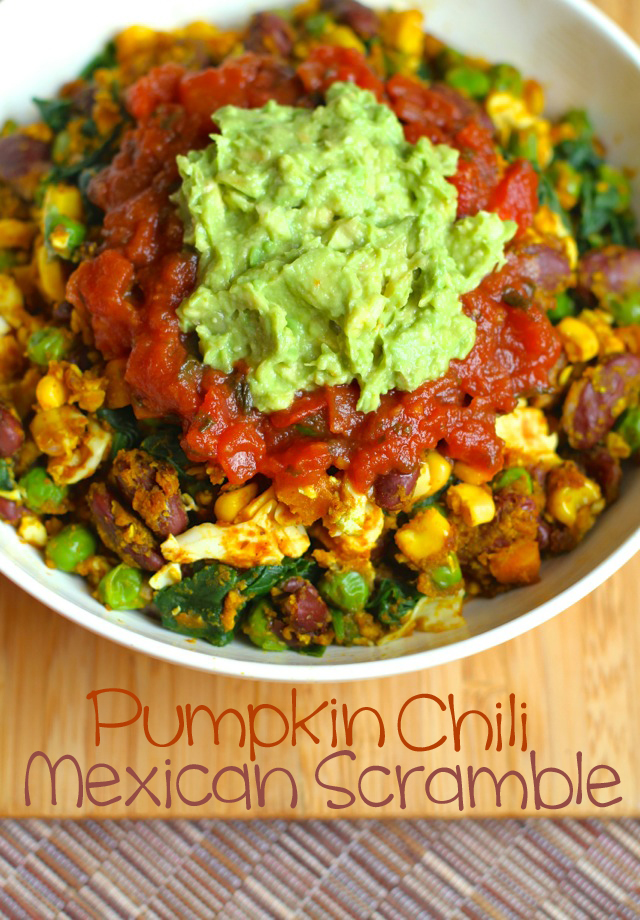 I realize that posting a chili recipe (made with pumpkin, no less) to celebrate the arrival of spring might not seem to make a lot of sense at first blush, but hear me out…
Yesterday was the first day of spring. Yesterday was also the first day it snowed in a good handful of weeks. We were enjoying gorgeous weather with plenty of sunshine and blue skies as winter wound down to a close, and now we're buried under a fresh blanket of snow. I shouldn't be surprised given Alberta's history with the white stuff, but I was kind of hoping against hope that winter might slink away quietly this year without putting up much of a fight. Well played, Old Man… well played indeed. But at least it gives me an opportunity to share one of my favourite recipes with you guys — my Pumpkin Chili Mexican Scramble…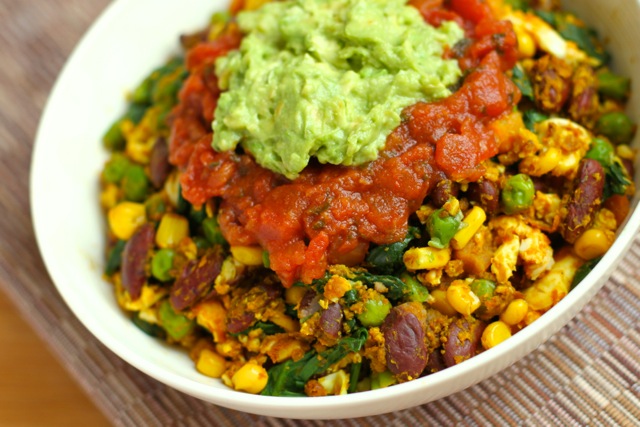 If you've been reading Spoons for any amount of time, you've probably seen this dish before — heck, you may have even tried it yourself. It's been a favourite of mine for years now, and while it's been hanging out on my recipes page for quite some time, it never got a proper post to showcase its fabulousness, so I figured it was time for a bit of an update.
I haven't changed much about this recipe over the years aside from the size. The original recipe was for a single serving, which was fine when I had more time and desire to cook fresh meals every day, but started to get a little old after a while. Increasing the size of the batch not only decreased the amount of time I had to spend in the kitchen, but using an entire can of beans and pumpkin for the recipe meant I wasn't left trying to figure out what to do with leftovers. Oh, and speaking of leftovers, I've found that this chili actually tastes better after spending a night in the fridge.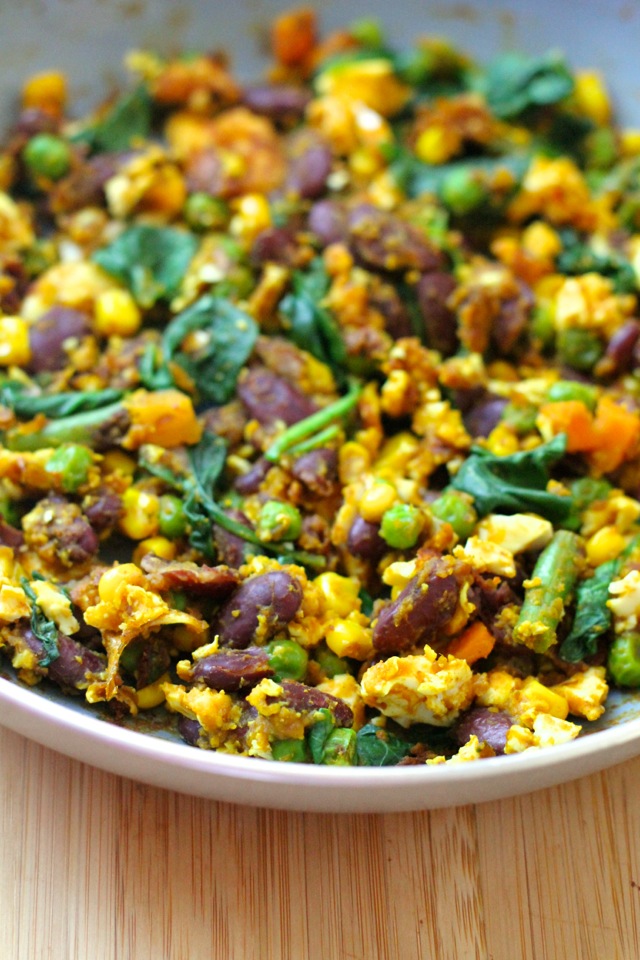 I suppose it's not technically a chili with the addition of egg whites, but it's a little more complex than a simple scramble, so let's just call it a hybrid of the two, okay? Either way, it's packed with plenty of protein and fibre, and gives you a lovely serving of veggies as well. The chili itself is earthy and warming from the spices, but takes on a cooling freshness as soon as you top it with salsa, avocado, and even cheese or sour cream. And for how complex and satisfying of a dish it is, it's actually super easy to throw together. All you need is about 15 minutes before you can sit down and enjoy the fruits of your labour.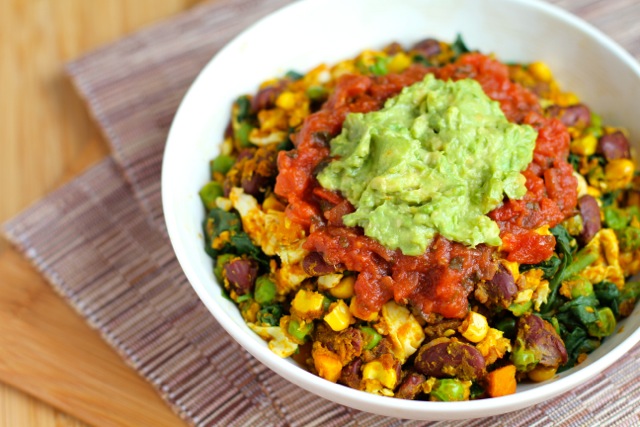 I'd love to know if you make this (or any!) recipe! Tag @runwithspoons on Instagram and Twitter, and be sure to subscribe to our mailing list to receive more healthy and delicious recipes straight to your inbox!
Print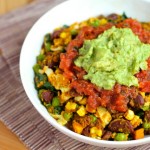 Pumpkin Chili Mexican Scramble
---
Description
Loaded with protein, fibre, and plenty of flavour, this vegetarian pumpkin chili adds a touch of Mexican flair to an otherwise earthy and warming dish.
---
1 1/2 cup

mixed frozen vegetables (corn, peas, carrots, green beans)

1 Tbsp

. coconut oil

1

15 oz. can of pumpkin puree

1

15 oz. can of kidney beans, rinsed (can also use pinto or black beans)

1 tsp

. curry powder

1 tsp

. cumin

1/2 tsp

. turmeric

1/2 tsp

. cinnamon

1/4 tsp

. salt

6

egg whites (or

3/4 cup

liquid egg whites)
large handful of spinach
salsa
avocado
shredded cheese
---
Instructions
Defrost frozen veggies.
Over medium heat, saute the your veggies in coconut oil for 2-3 minutes, until soft. Add pumpkin puree, beans, and spices, mixing until fully combined. Cover and let cook for 2 minutes.
Pour egg whites over the pumpkin mixture, incorporating slightly. Toss in a handful of spinach, cover, and let cook for an additional 3 minutes.
When egg whites begin to set and spinach has wilted, stir entire mixture to combine evenly, letting cook a few more minutes. Transfer to a bowl, top with a dollop of salsa, sliced/mashed avocado, shredded cheese, and enjoy!
Prep Time:

10

Cook Time:

10
Keywords: gluten-free, pumpkin, pumpkin chili, vegetarian, vegetarian chili