Put a grown-up twist on a classic childhood favourite with these Protein Rice Krispie Treats! Made without butter or marshmallows, these healthy bars are vegan, gluten-free, refined sugar-free, and make a great balanced snack!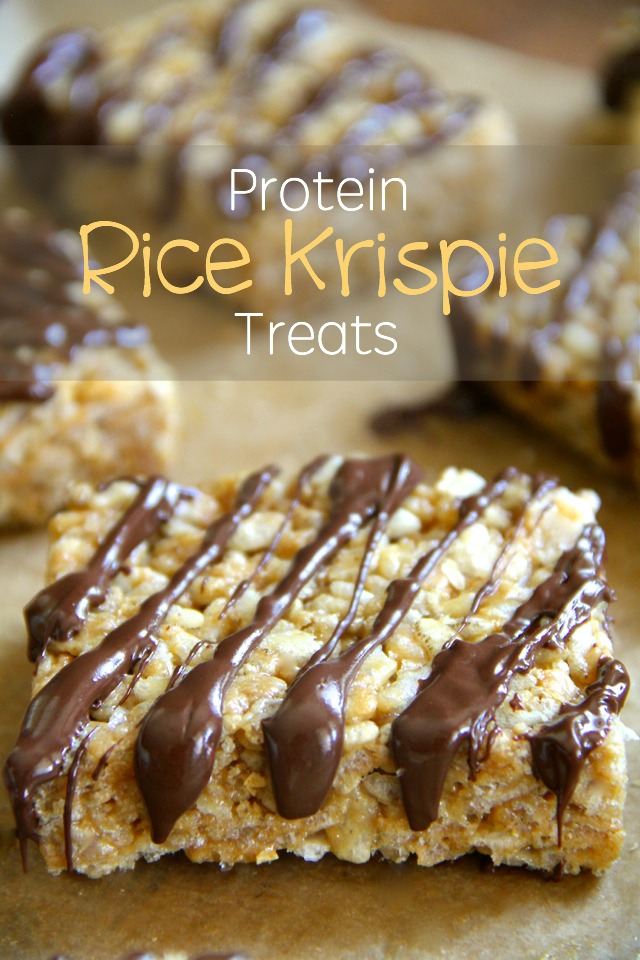 Honey, I'm home!
Aaaand re-writing this intro for what is probably the tenth time. Oi. I've actually been trying to get this post up for a couple of weeks now, but between scatterbrained-ness and travelling, it just didn't end up happening. I was really hoping for yesterday, but then my flight home [on Sunday night] had to go get itself delayed 1.5 hours and I didn't walk through my front door until around 3 AM… meaning I was all sorts of useless on Monday and didn't even want to think about blogging. Much less do it.
But I guess I shouldn't complain because I've been pretty lucky with travelling thus far… with this really being the first time I've had to deal with any sort of major delays. No cancelled flights. No lost luggage. Excuse me while I go knock on wood like a crazy person. And maybe grab a snack because — hello — always hungry.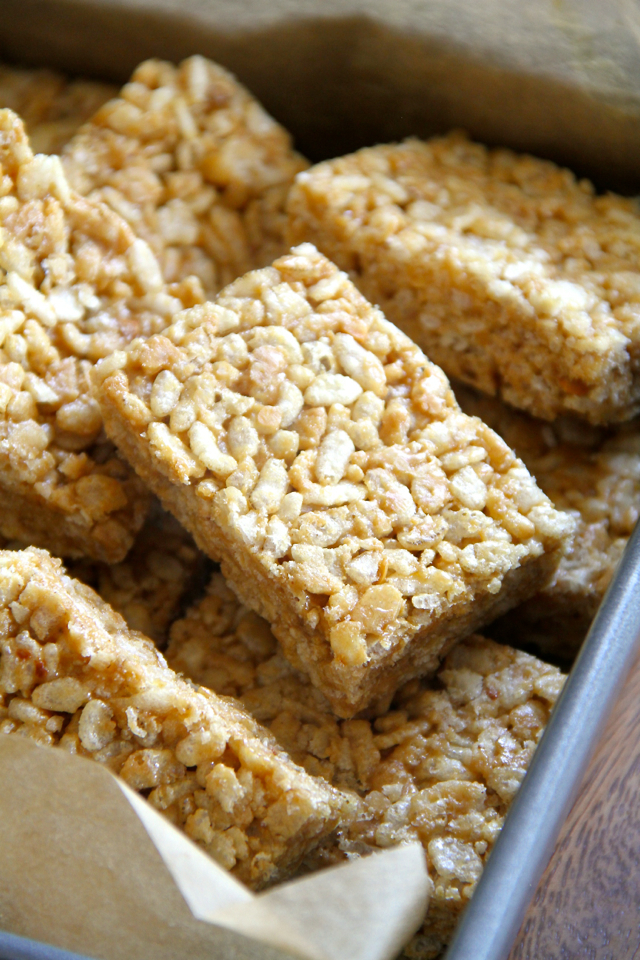 Can we talk about rice krispie treats for a second? Because they're seriously one of my favourite snacks/desserts/things of all time. If there's a plate of them at a party, pot luck, or bake sale, you'd better believe I'll be making a beeline for it without even giving a second thought to any of the cookies, cupcakes, or other treats there. Me and RKTs have been tight for life.
No seriously. Back in the day, I used to be able to put away at least 3/4 of a batch of the original recipe without even batting an eyelash. God bless a growing teenager's metabolism. And sugar tolerance. Eesh. I'm pretty sure I'd put myself in a coma if I tried that today, but that doesn't mean I'm not tempted. There's just something ridiculously good about those suckers. Sweet, gooey, crispy, simple — what more could you ask for?
Well, besides chocolate. You should always ask for [more] chocolate.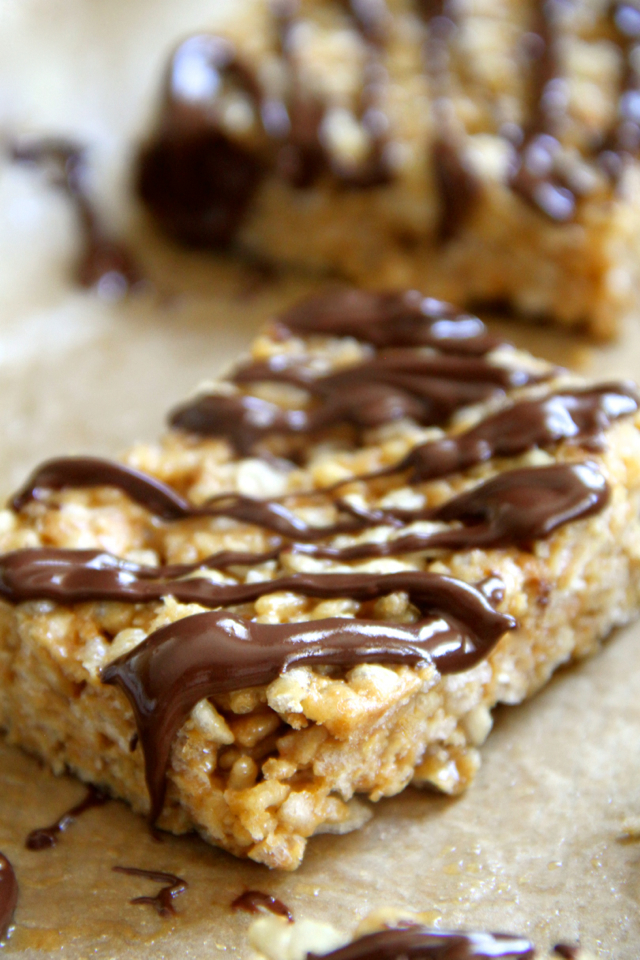 Unless, of course, you don't like chocolate, in which case… well… I really don't know what to tell you. But I'd have to recommend a possible reevaluation of your life choices. Just kidding. Sort of.
So now that we've got all that out of the way, let's talk about all the ways that today's recipe differs from the classic Rice Krispie Treats that we all grew up loving. We did all grow up loving them, right? It wasn't just me? Okay, good.
First, there's no butter or marshmallows. Instead, I used coconut oil, almond butter, and brown rice syrup to hold them together and add sweetness and gooey-ness. You could easily use honey and your favourite nut (or soy nut/seed) butter instead, but I wanted to see how these would turn out if they were vegan. And the answer is that they turn out very, very well…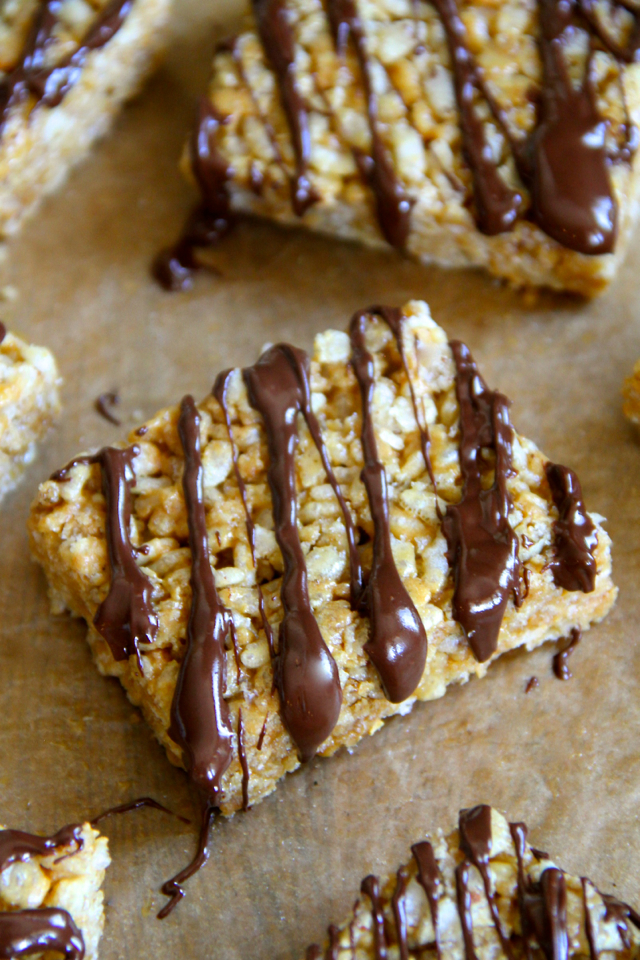 Second, I tossed in some protein powder to amp up the nutritional value and make a snack that was a good balance of carbs, proteins, and fats. Protein powder isn't a huge part of my daily diet, but I don't have any qualms with baking/no-baking with it either…. especially since it can enhance the flavour of whatever it is that I happen to be making. I used a vanilla flavoured rice protein in this batch, but I totally encourage you to try it out with whatever flavour you're currently loving.
Other than that, these are just as ooey, gooey, sweet, crispy, and delicious as the originals… just a little more grown up and good for you.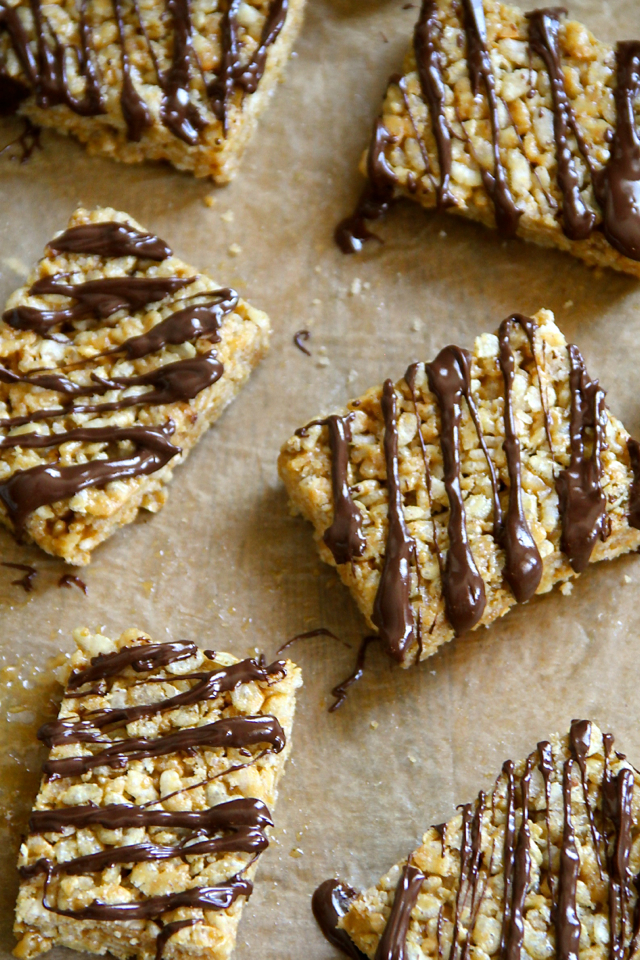 I'd love to know if you make this recipe! Leave a comment and rating down below to let me know what you think, and subscribe to our mailing list to receive new recipes in your inbox!
Print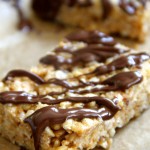 Protein Rice Krispie Treats
---
Author:

Total Time:

40 mins

Yield:

12

–

16

squares

1

x
4 cups

crispy rice cereal*

1/2 cup

protein powder (~

40g

)

1/4 cup

creamy nut butter**

1 Tbsp

. coconut oil

1/2 cup

brown rice syrup***
Optional: 2-3 Tbsp. chocolate chips, for drizzling
---
Instructions
Prepare a 8×8 baking pan by spraying it with cooking spray. Set aside.
In a medium-sized bowl, combine the cereal and protein powder. Set aside.
In a small pan over medium-high heat, add almond butter, coconut oil, and brown rice syrup. Bring to a boil, stirring frequently to avoid burning, before removing from heat and allowing to cool slightly.
Pour nut and syrup mixture into the cereal mix. Stir until everything is fully combined and all the cereal is well coated.
Transfer to prepared baking dish. Using the spatula or your hands, spread the mixture evenly in the pan, pressing down firmly.
Place chocolate into a microwave safe bowl and nuke on high in 20 second intervals, mixing between each. When chocolate is fully melted, drizzle over the top of the packed cereal mixture using a spoon.
Place pan into fridge and allow to cool for ~30 minutes before cutting into squares.
Notes
* use a brand that's certified gluten-free if you need these to be GF. ** feel free to use your favourite nut butter. I used almond, but you could easily use peanut butter; or even a soy nut butter to make these nut-free. *** you can sub this with honey if not strictly vegan.
Prep Time:

10 mins

Cook Time:

30 mins
Keywords: gluten-free, healthy rice krispie treats, no bake, protein rice krispie treats, Rice Krispie Treats, vegan rice krispie treats

Looking for more healthy snack bar recipes? Try one of these!
Healthy Rice Krispie Treats
Blueberry Almond Oat Bars
No-Bake Chocolate Sunflower Seed Butter Bars
No-Bake Vegan Oatmeal Fudge Bars
No Bake Trail Mix Granola Bars