A thick and creamy peach smoothie that boasts a whopping 15g of protein without the use of any powders!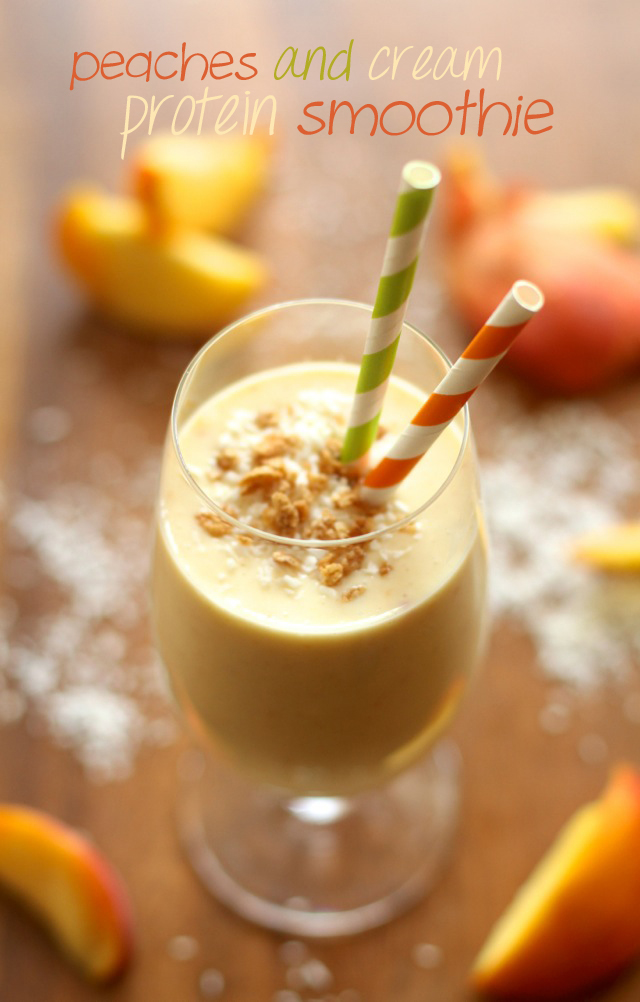 Summer is slowly coming to a close, and it's hard to decide what I'll miss more — the warm weather or the abundance of fresh fruit. Actually, scratch that — it's not even a contest.
If you've been reading Spoons for any amount of time, then you might know that I'm not a huge fan of the heat… or at least my body isn't. Not only do I get crankier and lazier as the mercury rises, but I also break out in random heat rashes that make me look like I'm suffering from some kind of exotic disease. Super cute.
Fortunately, I live in a place where summer is on the shorter and milder side, so I don't have to deal with anything too extreme. Unfortunately, this also means that I have to put up with roughly 6 months of winter, but somehow that seems a little bit more manageable (ask me again in 4 months and I might be singing a different tune).
Tangents aside, while I don't necessarily love the heat of summer, I do love the fresh fruit… and when left to my own devices, I can easily eat my weight in blueberries, strawberries, grapes, watermelon, and peaches…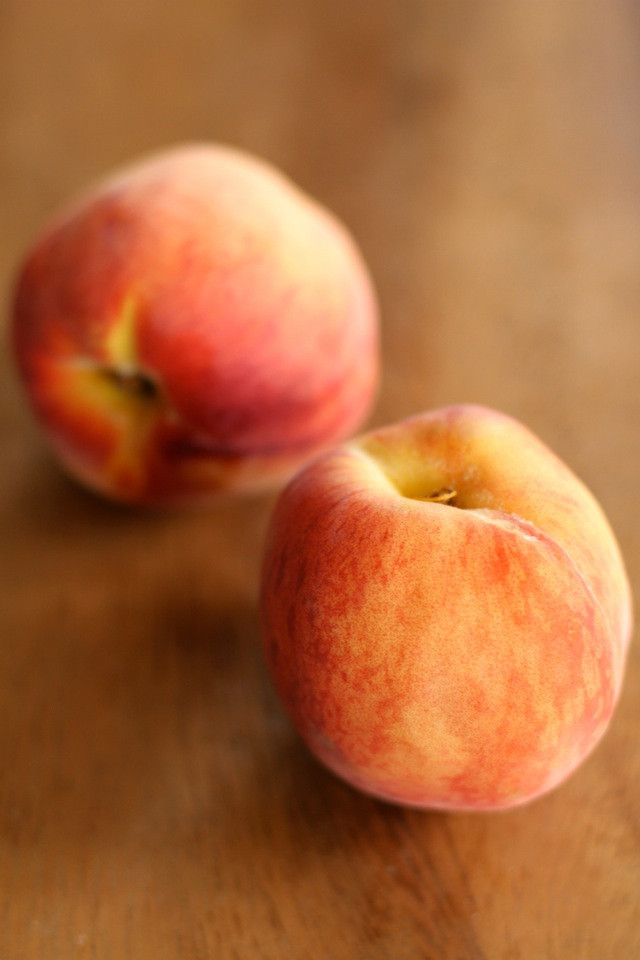 Ohhhhhh peaches. You guys… I'm crushing on them big time right now and I really hope you are too because they're the epitome of perfection at this time of the year. So sweet. So juicy. So… ungh. My only complaint is that our encounters usually leave me looking a little worse-for-wear, with peach juice dribbling down my chin and oftentimes staining my shirt without me realizing it until the end of the day. Class all the way.
Thankfully, I've managed to come up with a way to get my peach fix while simultaneously maintaining my dignity — the oh-so-reliable smoothie.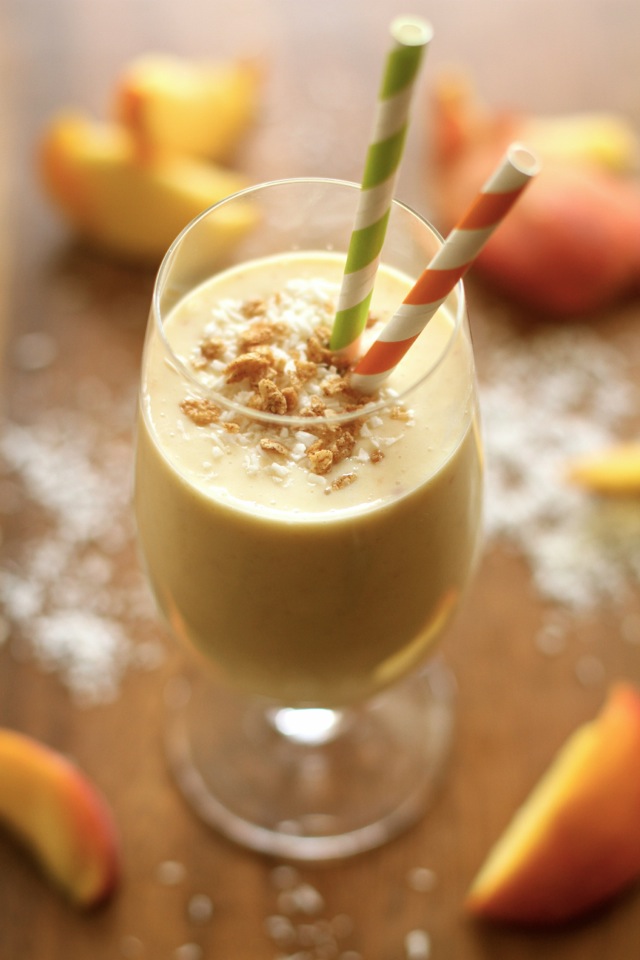 That right there, friends, is what I like to call a Peaches and Cream Protein Smoothie. Peaches because… well… that's what it's made of and what gives it it's delicious peachy flavour. Cream because it becomes soooooo luxuriously creamy thanks to the magic of canned coconut milk. Protein because it boasts a whopping 15g of protein without the use of protein powders. And Smoothie because… well… everything is tossed into a blender and pulverized until smooth 😀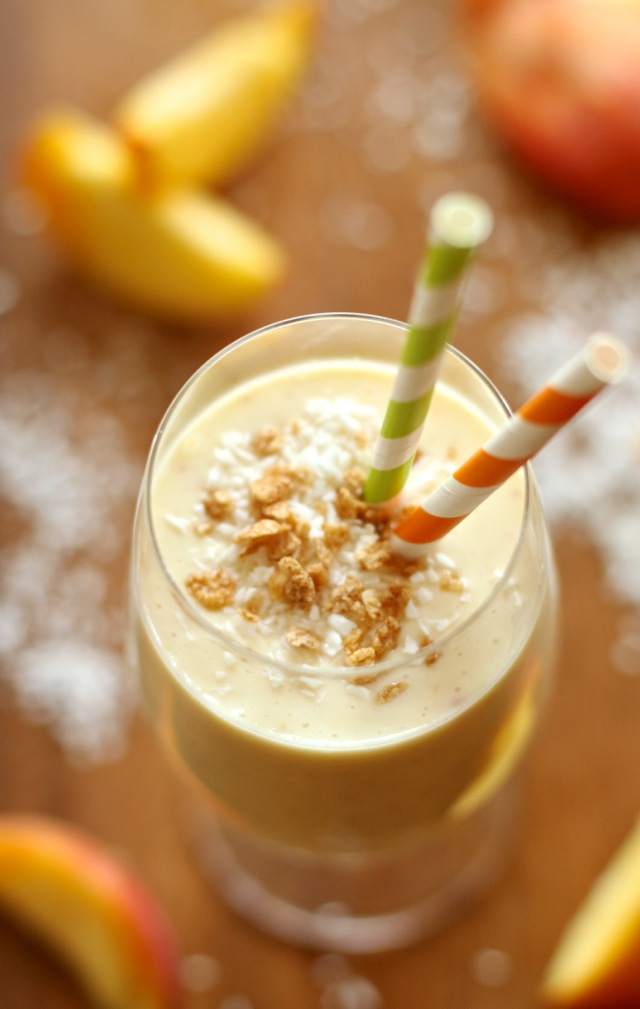 This smoothie makes a perfect high-protein breakfast or post-workout snack. Heck, it makes a perfect anytime-you're-craving-peaches snack. It's cool, creamy, subtly sweet, and has the most wonderfully refreshing touch of tang. Oh! And the best part is that it's quick and easy, requires virtually no clean up, and can be prepped in advance and ready when you need it. Yup! You know how you usually need to drink a smoothie right away to prevent it from separating and getting all weird? Not so with this baby! In fact, the longer you let it sit in the fridge, the thicker and creamier it becomes — perfect for when you need a quick grab-n-go breakfast in the morning or a peach/protein fix right.this.very.second.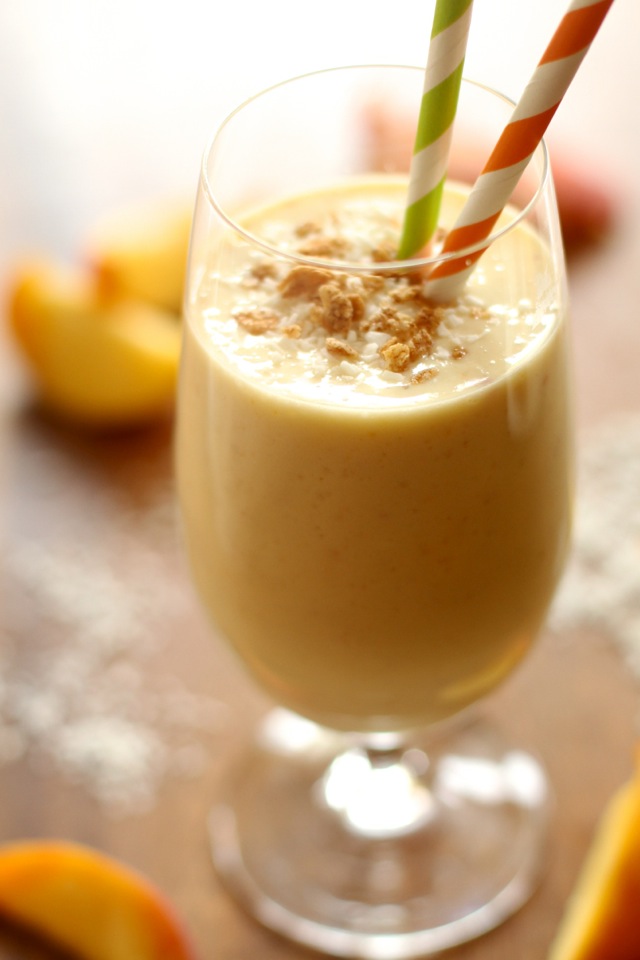 I'd love to know if you make this (or any!) recipe! Tag @runwithspoons on Instagram and Twitter, and be sure to subscribe to our mailing list to receive more healthy and delicious recipes straight to your inbox!
Print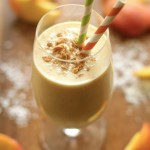 Peaches 'n' Cream Protein Smoothie
---
Author:

Total Time:

5 mins

Yield:

1

large smoothie

1

x
1

fresh peach, pitted and sliced*

1/4 cup

peach or vanilla Greek yogurt**

1/4 cup

cottage cheese

1/2 cup

canned lite coconut milk***
dash of cinnamon
optional: 1-2 tsp. maple syrup, to taste
optional toppings: shredded coconut and granola
---
Instructions
Place all ingredients into any standard blender and blend until smooth. This smoothie can be made in advance and stored in the fridge for extra thickness and creaminess!
When ready to eat, sprinkle with desired toppings and dig in!
Notes
* if fresh peaches aren't available, use 1 cup frozen.
** you can also use plain yogurt, but you might have to add a touch of extra sweetener.
*** you can sub this with the milk of your choice, but it won't be as creamy. You can also do 1/4 cup of coconut milk and 1/4 cup of your preferred milk.
Keywords: healthy smoothie, peaches, peaches and cream, protein, protein smoothie, summer smoothie
Looking for more creamy smoothie recipes? Try one of these!
Thick and Creamy Chocolate Smoothie
Vanilla Cake Batter Smoothie
Healthy Chocolate Mousse Smoothie