This one bowl Greek yogurt apple oat bread is made without butter or oil, but so tender and flavourful that you'd never be able to tell it's healthy! Naturally sweetened with plenty of apple cinnamon flavour, it makes a comforting and delicious breakfast or snack!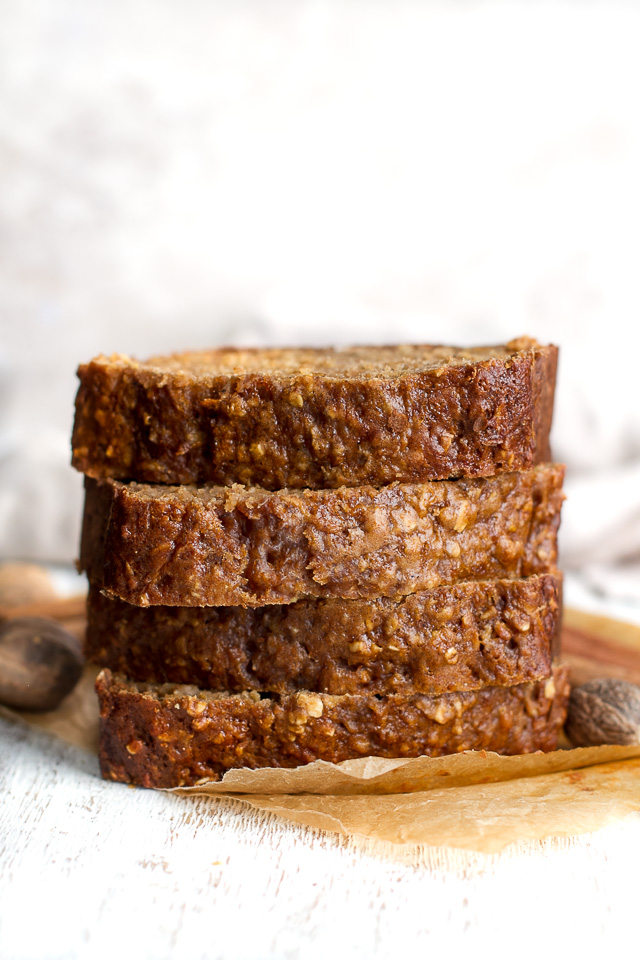 Aaaaaand we're back with another one-bowl quick bread! This time of the apple [cinnamon] oat variety.
So I had originally planned on getting this recipe up for you guys yesterday, but apparently I need more time to recover from vacations than I originally thought. Between taking care of bills, banks, groceries, laundry, tidying, e-mails, cookbook stuff, family stuff, and blog stuff, I was just feeling way too scatterbrained to put a good post together.
Does that happen to anyone else? You end up with so much on your plate that you don't even know where to start? And it's not even like it's huge things that take a tonne of time to finish… just a bunch of little things that are hard to prioritize so you end up spending more time thinking about what you should be doing first/next than actually doing it. Yeah.
Luckily, cutting myself a little slack with the blog cleared my head enough to start plugging away at the other things and even sneak in a little relaxing time… which you'd think I had enough of while I was away, but relaxing at home somehow feels a lot more… err… relaxing than it does on vacation. Or maybe I'm just traumatized from spending 10+ hours in the car 😳
Anyways! Rambling. Let's talk bread!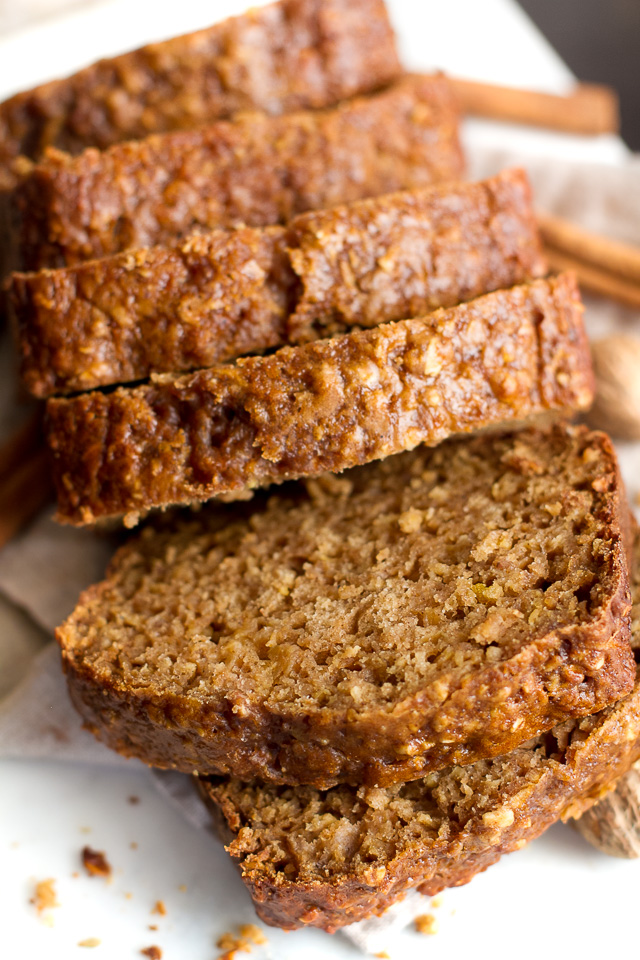 So one of the positive things that came out of spending 10+ hours in the car is that it gave us a chance to stop at all the roadside fruit stands. You know… to pick up fresh, local fruits and veggies. And stretch our legs.
I think we ended up grabbing tomatoes, onions, corn, pickling cukes, plums, pears, and apples… and I was about to say that I was most excited for the apples, but then I remembered the sweet and juicy corn. Omg the corn.
For the purpose of this post, though, let's say it was the apples, because BC apples are ev.ry.thing. Heck, even the apples we get at our farmers' markets here in Edmonton come from BC. They're just that good.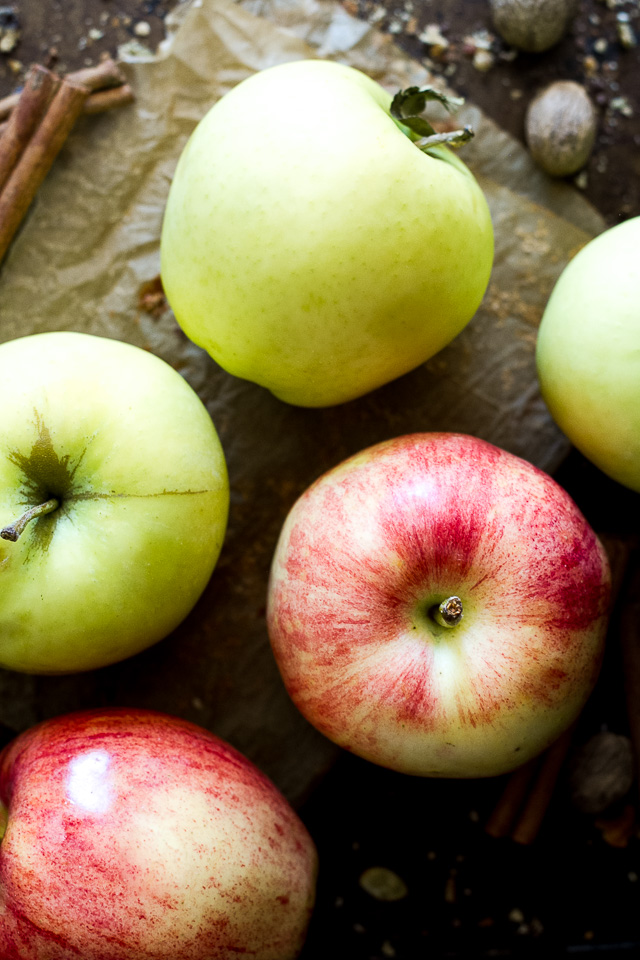 They're also pretty great in recipes, which is convenient because it's officially Apple Week here on Spoons 🎉
Remember Pumpkin Week? Well, we're cozying up to apples this week, so I hope you're all fans of the fabulous fall fruit because it's kind of the star of the show in this one bowl Greek yogurt apple oat bread…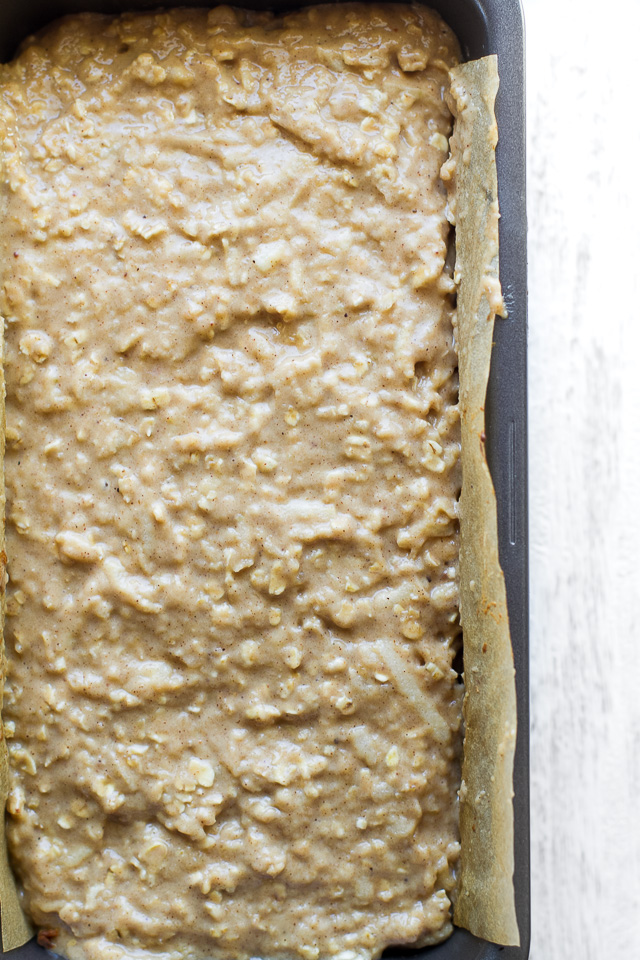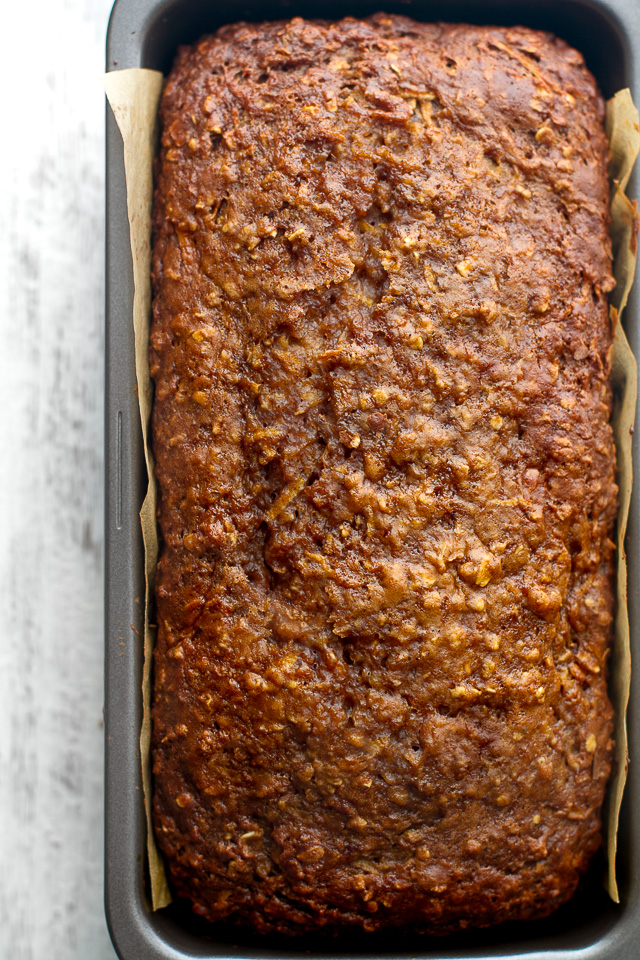 And don't worry… you don't need any fancy BC orchard apples to make it.
You do need an apple, though. And one bowl. A spatula. Some oats*. Greek yogurt. A few spoonfuls of… well, I'm not going to go through the whole ingredients list, but you get the idea! Easy and healthy is the name of the game.
The bread itself is lightly sweetened with only 6 tablespoons of coconut sugar*, lightly spiced with cinnamon* and nutmeg, and so tender and flavourful it hurts… despite being made without any butter or oil. It's perfect for breakfast, perfect as a snack, and perfect if you love apples [or really tasty food].
Happy eating!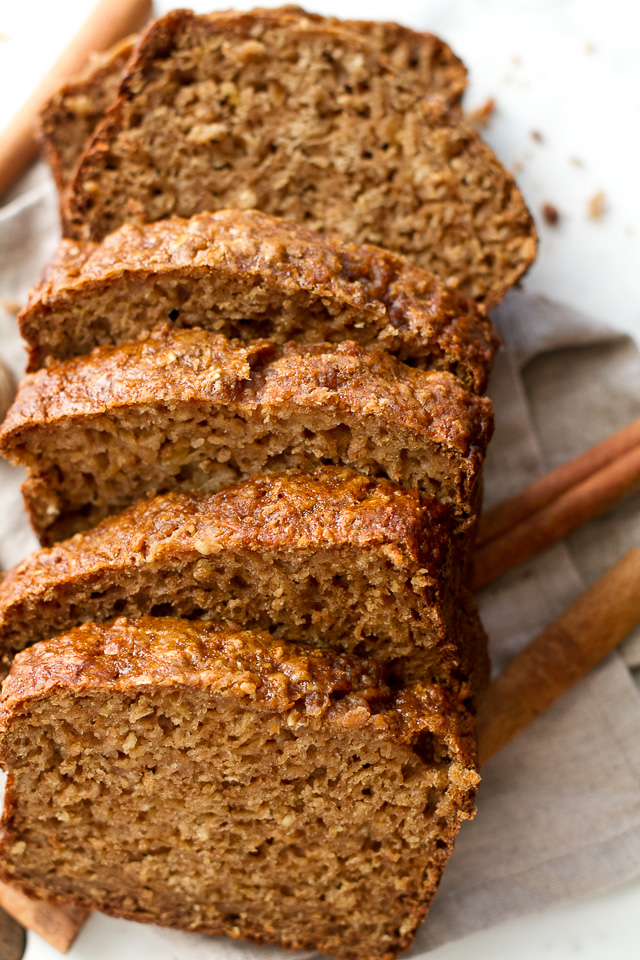 I'd love to know if you make this recipe! Leave a comment and rating down below to let me know what you think, and subscribe to our mailing list to receive new recipes in your inbox!
Print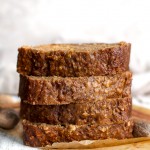 One Bowl Greek Yogurt Apple Oat Bread
---
Author:

Total Time:

55 mins

Yield:

1

loaf; 12 slices

1

x
2

large eggs

1/2 cup

(

120

ml) unsweetened applesauce

1/2 cup

(

115 g

) plain 2% Greek yogurt

6 Tbsp

(

75 g

) coconut palm sugar*

1 tsp

vanilla extract

3/4 cup

(

60 g

) quick oats

1 tsp

baking soda

1 tsp

ground cinnamon

1/4 tsp

ground nutmeg

1/4 tsp

salt

1 cup

(

120 g

) whole wheat pastry flour**

1

medium-size apple, peeled, shredded and lightly squeezed of excess juice*** (

115 g

or

1 cup

)
---
Instructions
Preheat your oven to 350ºF (176ºC), and lightly grease a 9 x 5 (23cm x 13cm) loaf pan or line it with a sheet of parchment paper. Set aside.
In a large mixing bowl, lightly beat the eggs until the yolks break apart. Whisk in the applesauce, yogurt, sugar, and vanilla, mixing until smooth.
Stir in the oats, baking soda, spices, and salt. Spoon in the flour and give it a few stirs before adding in the shredded apple. Fold everything together gently until just combined.
Transfer the batter to the prepared loaf pan, spreading it out evenly, and top with a sprinkle of coconut sugar if you like things a little sweeter. Bake for 45-50 minutes, or until a toothpick inserted into the center comes out clean. If you find the top browning too quickly, make a little tent out of aluminum foil, and lightly place it over the top of the pan at around 25 minutes.
Remove the bread from the oven and let it cool in the pan for about 10 minutes before transferring it to a cooling rack to cool completely.
Notes
* You can also use brown sugar. ** You can also use all-purpose flour, or use a mix of all-purpose and whole wheat. I'd probably go 1/2 cup (60 g) all-purpose and 1/2 cup (60 g) whole wheat. I've also had readers say that an all-purpose gluten-free mix works as well. *** I like to place a handful of shredded apple between two paper towels and lightly squeeze it over a bowl. This drains it of just the right amount of juice to allow the bread to cook properly.
Prep Time:

10 mins

Cook Time:

45 mins
Keywords: apple, apple oatmeal bread, baking, breakfast, Fall, Greek yogurt, healthy, oatmeal bread, oats, recipe, snack

Looking for more healthy & delicious apple recipes? Try one of these!
Flourless Apple Cinnamon Muffins
Caramel Apple Overnight Oatmeal Smoothie
Apple Oat Greek Yogurt Pancakes
Apple Oat Greek Yogurt Muffins
Warm Apple Pie Oatmeal Smoothie

*Disclosure: Some of the links included in this post may be affiliate links and I will earn a small commission if you purchase through them, at no additional cost to you. I only recommend products I personally use and believe will add value to my readers. Thank you so much for your support!