Chocolate Pumpkin Bread made in ONE BOWL, and so tender and flavourful that you'd never guess it's naturally sweetened and made without butter or oil!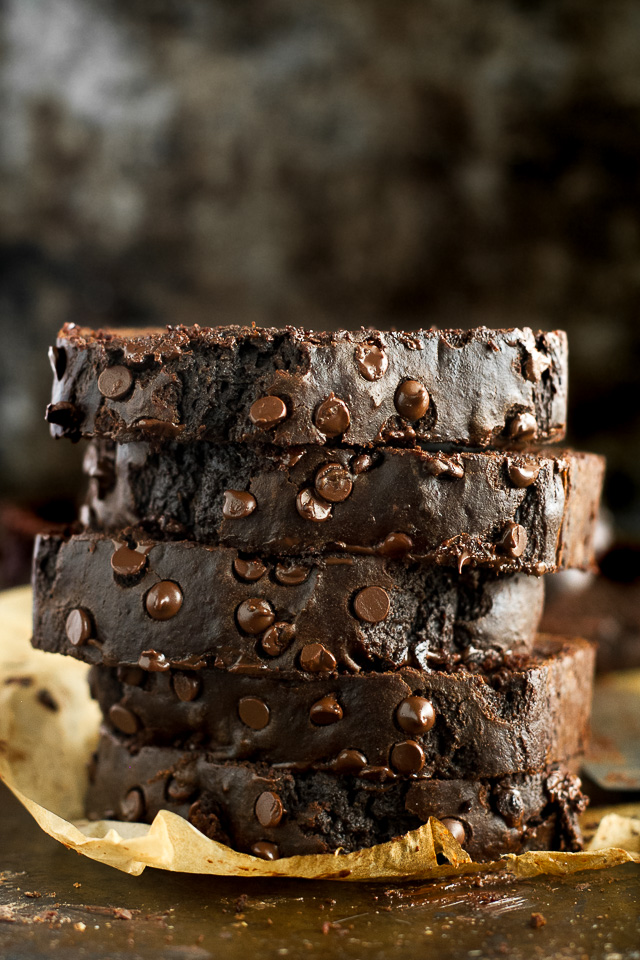 You know it's Thanksgiving when there's a city-wide pumpkin shortage.
I even went shopping earlier in the week to try and beat the crowds, but I still ended up having to go to three different stores to find a can of pumpkin… and the one I found isn't even the brand I like. Womp, womp.
But we're making it work. We are making it WORK because: a) I was craving chocolate, b) I needed something dessert-y to serve the fam for Thanksgiving, and c) the thought of making this one bowl chocolate pumpkin bread got me all sorts of excited (not in that way), which was so welcome after the creative funk that's been hanging over my head for the last little while.
And if those weren't reasons enough to make me adore it, the fact that it came out so ridiculously tender and chocolatey just sealed the deal.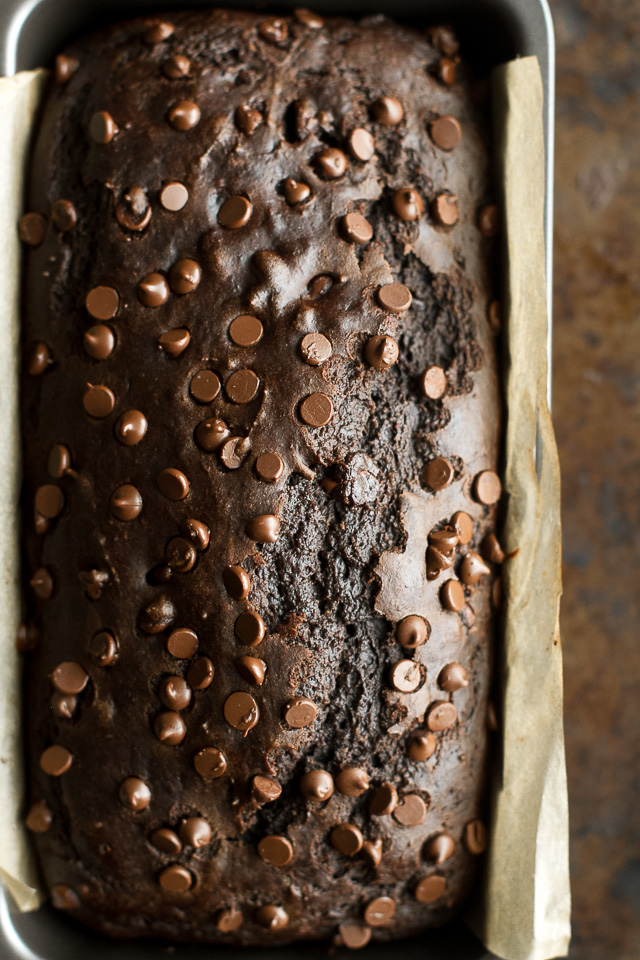 Look at eeeeeeeet! That's perfection right there.
Okay, so I might have been a tiny bit heavy-handed when it came to sprinkling the top with chocolate (mini chips for the win!), but still! Everyone agreed that it was one of the best chocolate breads they've ever had.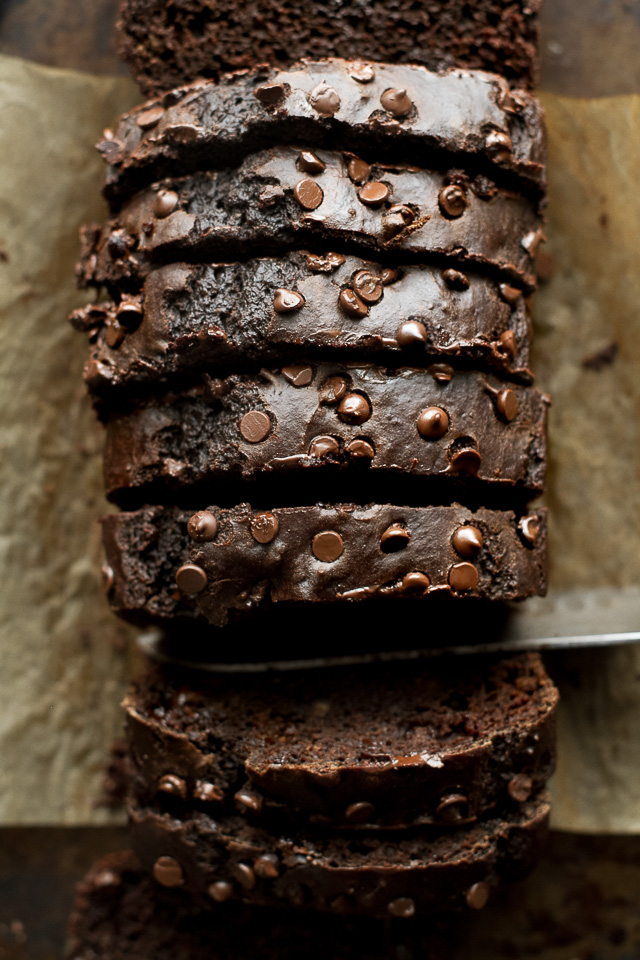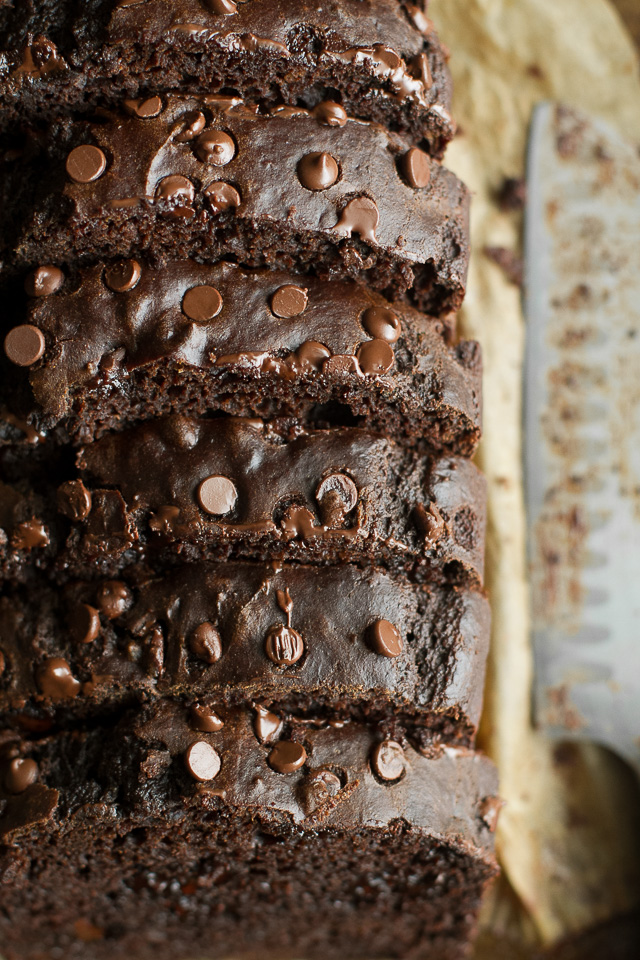 So a few things about this "chocolate" bread.
First, no one will believe you when you tell them it's made with pumpkin. No one. I served it to my family for Thanksgiving (read: yesterday) without telling them what it was, and my mom asked me why I didn't make something "a little more festive."
Fair enough – it's not exactly your traditional pumpkin pie. But no one in my family even likes pumpkin pie, and when I told her it was chocolate pumpkin bread, she was like "ohhhhhhh, well that's perfect then!"… as if pumpkin had been part of our Thanksgiving tradition for generations and not including it was somehow blasphemous. I should probably note that pumpkin only made its debut appearance a few years back when I started reading blogs and discovered that it was actually edible…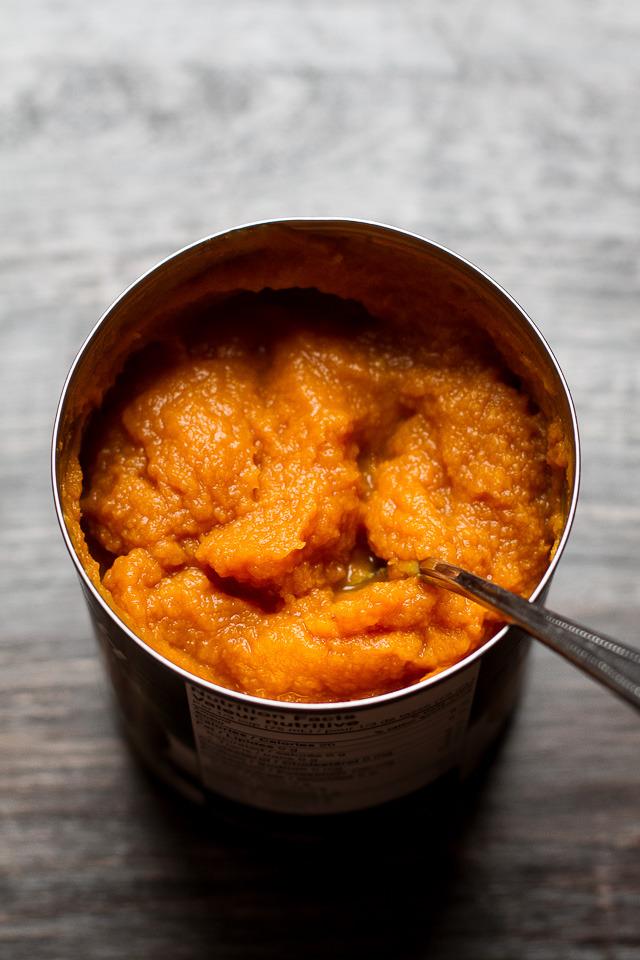 Second, this isn't a pumpkin spice bread… which is to say that there are no spices in it. I considered including some to make it more fall-ish, but I did that with the first loaf I made and did not like how it turned out. Granted, I'm not someone who likes spices anywhere near my chocolate in general, but I felt that the cinnamon and nutmeg overpowered the cocoa way too much and just gave off this weird flavour. You can add them if you're feeling brave, but… no, on second thought, just don't add them.
BUT! do use a good quality pumpkin puree* (only 1/2 cup, as per my Greek yogurt pumpkin bread), do mix all the ingredients in one bowl, and do enjoy a slice or two of this easy, healthy, and tasty chocolate pumpkin bread for when those chocolate cravings hit.
I mean… how could you say no to this?!?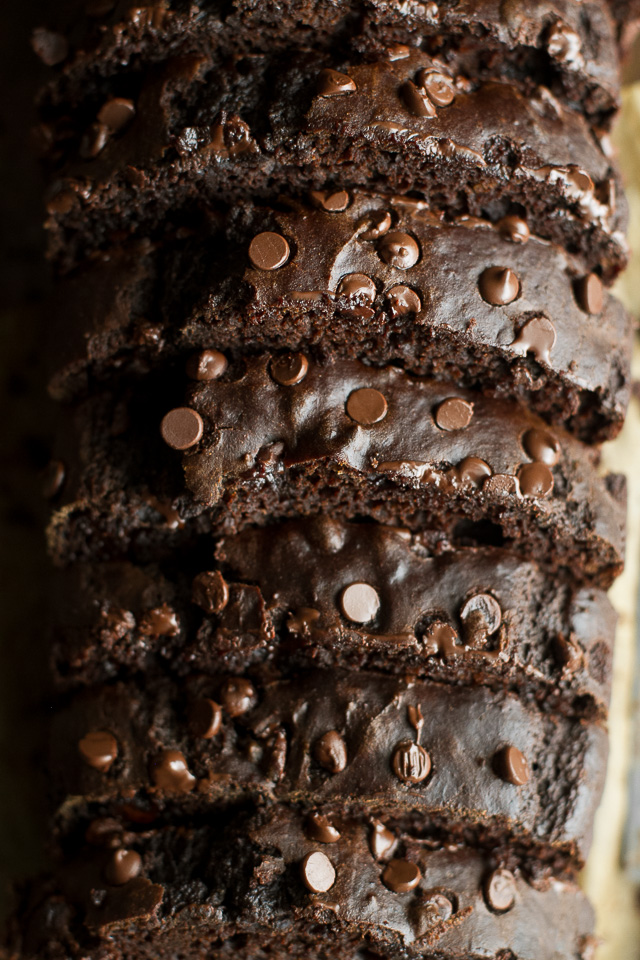 I'd love to know if you make this recipe! Leave a comment and rating down below to let me know what you think, and subscribe to our mailing list to receive new recipes in your inbox!
Print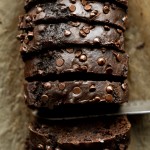 One Bowl Chocolate Pumpkin Bread
---
Author:

Total Time:

50 mins

Yield:

1

loaf, 12 slices

1

x
---
Instructions
Preheat your oven to 350ºF (176ºC), and lightly grease a 9 x 5 (23cm x 13cm) loaf pan or line it with parchment paper, leaving a few inches of overhang on the side to allow for easy removal. Set aside
In a large mixing bowl, lightly beat the eggs until the yolks break apart. Whisk in the pumpkin, yogurt, sugar, cocoa, vanilla, baking soda, and salt, mixing until smooth.
Slowly spoon in the flour and gently stir it in until just combined. Fold in the chocolate chips.
Pour the batter into the prepared loaf pan, spreading it out evenly, and sprinkle the top with a few extra chocolate chips. Bake for 40-45 minutes, or until a toothpick inserted into the center comes out clean.
Remove the bread from the oven and let it cool in the pan for about 15 minutes before transferring it to a cooling rack to cool completely. Store the loaf in a sealed container for up to 5 days, or freeze it for up to 3 months.
Notes
* You can also use brown sugar. ** You can also use all-purpose flour, or use a mix of all-purpose and whole wheat. For all AP, use 1 cup (120 g). For a mix, I'd probably go 1/2 cup (60 g) AP and 1/2 cup (60 g) whole wheat. I've also had readers say that an all-purpose gluten-free mix works as well.
Prep Time:

10 mins

Cook Time:

40 mins
Keywords: baking, chocolate, easy, Fall, Greek yogurt, healthy, one bowl, pumpkin, pumpkin bread, recipe, snack, Thanksgiving

Looking for more chocolate pumpkin recipes? Try one of these!
One Bowl Greek Yogurt Pumpkin Bread
Flourless Pumpkin Brownies
Flourless Chocolate Pumpkin Muffins
One Bowl Pumpkin Banana Muffins
Fudgy Flourless Pumpkin Pie Bars

*Disclosure: Some of the links included in this post may be affiliate links, meaning I'll earn a small commission if you purchase through them, at no additional cost to you. I only recommend products I personally use and believe will add value to my readers. Thank you so much for helping support Spoons!