Satisfy your cookie dough and/or cake craving in less than 5 minutes with this delicious oatmeal cookie dough mug cake! Soft and doughy, this mug cake is gluten-free and made without butter or oil. Quick, easy, and single-serve. The perfect healthy snack!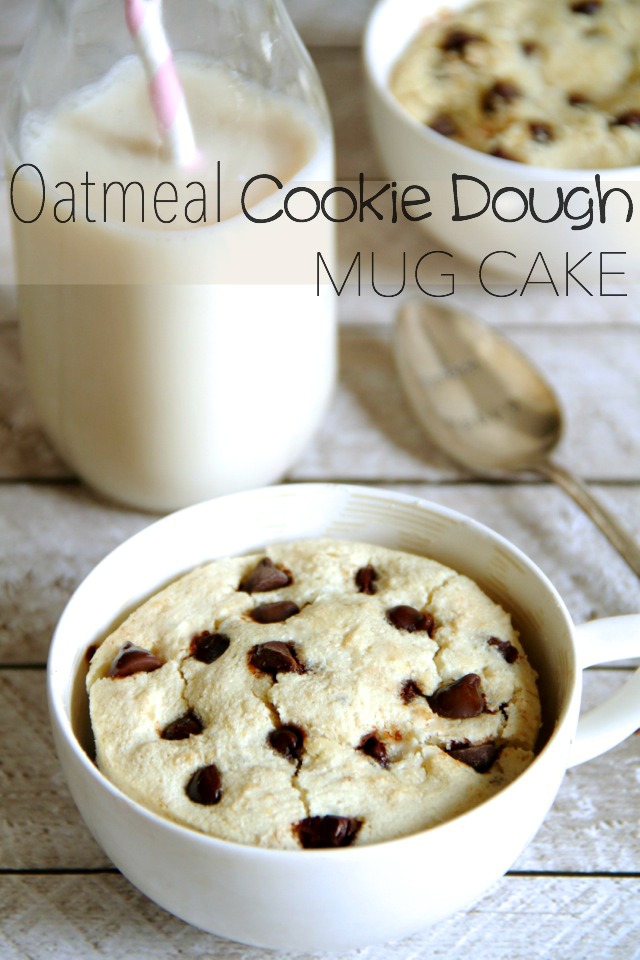 If you use a microwave to make something, does that mean it's technically no-bake?
No, seriously. I was trying to figure out how to categorize today's recipe, and I didn't know whether or not I should check the little box marked "no-bake treats." So I did what I always do when presented with one of life's many mysteries — I got my geek on and Googled it.
Bake:

: to make (food) by preparing a dough, batter, etc., and cooking it in an oven using dry heat

: to cook (food) in an oven using dry heat

: to dry or harden by subjecting to heat
And just like that, the mystery is solved. Now, I'm no expert in microwaves, but I do believe they use electromagnetic waves to zap the living bejeezus out of things, which technically means that this oatmeal cookie dough mug cake is, in fact, no-bake…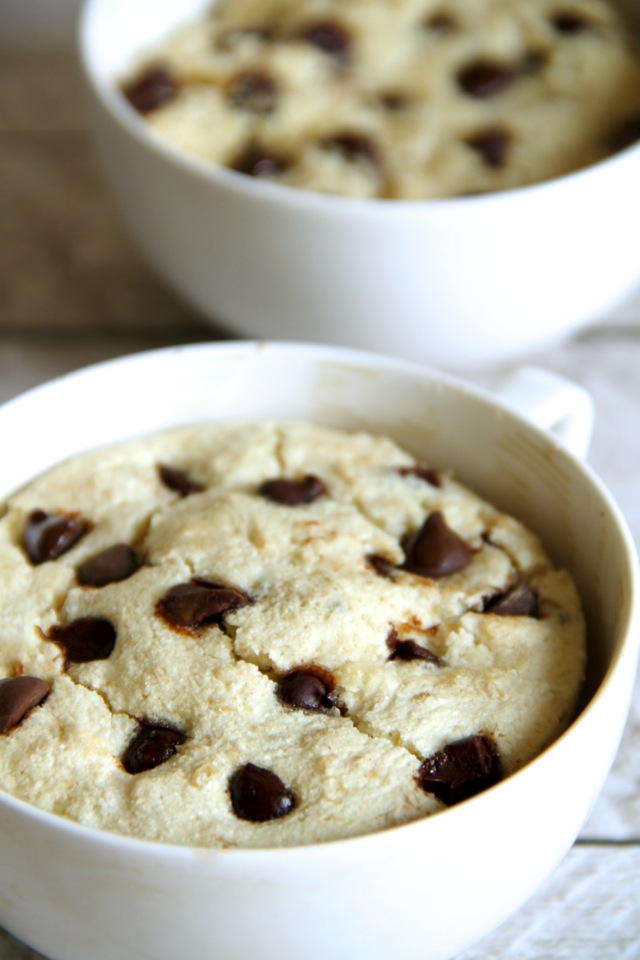 And it's a good thing, too, because with Sunday being the first day of summer (what, what!!), the last thing anyone wants to do is fire up the oven and add a few degrees to the already sweltering inferno that is the summertime kitchen. Although, let's be honest, I'll be firing up my oven/stove anyways, because I really wasn't kidding when I said I'm no expert in microwaves.
See, I grew up without one so I'm used to getting by without one. My mom has always been pretty health conscious, and she read something somewhere about how microwaves aren't good for us, and that was the end of that — no microwave in our kitchen. But don't worry; I'm not here to tell you that microwaves are evil and you should avoid them like the plague, because I don't know that they are. Some people say yes, some people say no — at the end of the day, it's not going to make or break your health goals.
It is however, going to allow you to satisfy your cookie dough and/or cake cravings in less than 5 minutes flat…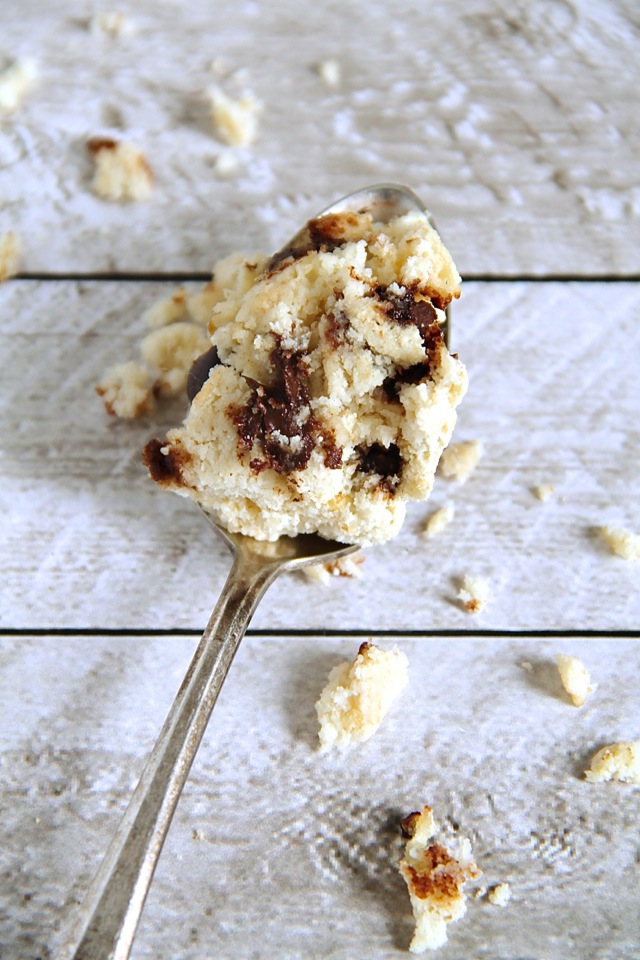 It's been a hot minute since I shared a mug cake recipe with you guys, and I honestly have no idea why since they're basically the epitome of perfection.
Quick,
easy,
single-serve,
no-bake ( 😉 ),
sweet,
doughy.
So, so doughy…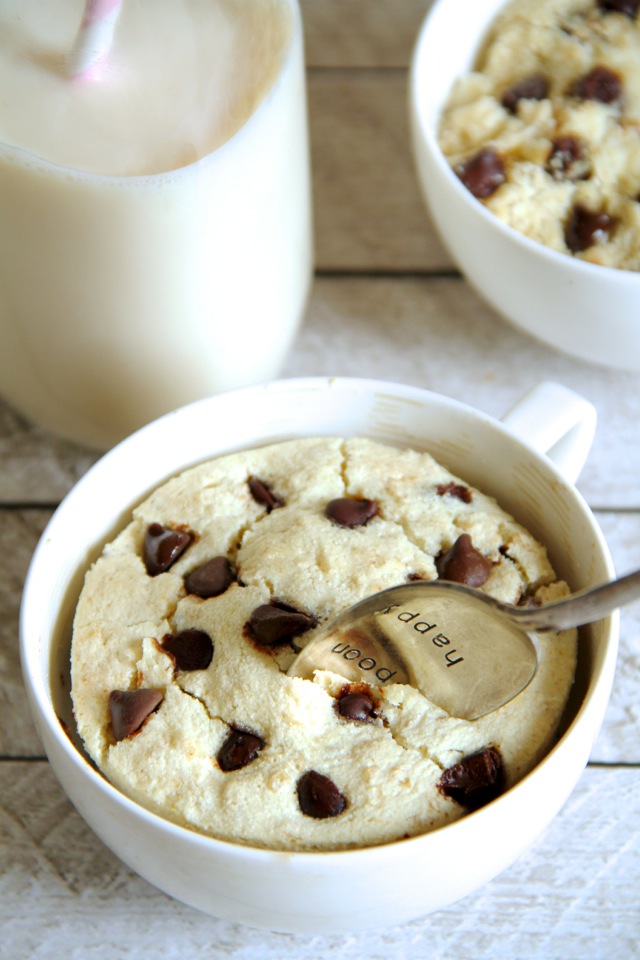 That right there is texture perfection, friends.
I feel like I profess my love for coconut flour in every mug cake recipe that I post, but it really does make all the difference in these guys. It makes them soft and fluffy, while still giving them a denser, more substantial texture that's oh.so.satisfying. And it's gluten-free, to boot! Yep, coconut flour is magic, and if you've never tried it before, then I highly suggest picking up a bag just so you can try it in mug cakes. It makes that big of a difference.
As do egg whites. I tried subbing in a few different binders, and I have to say that the egg whites were by far my favourite.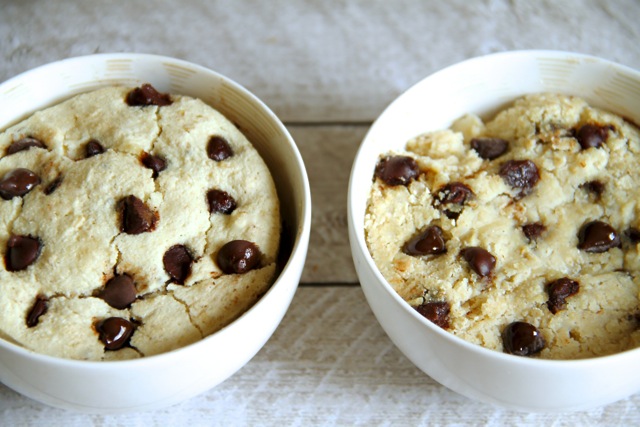 The one on the left was made with an egg white, while the one on the right was made with applesauce. It still tasted great, but it didn't set as well, so it didn't end up being as soft and fluffy as the one made with the whites. I was kind of bummed about that, but like I said, it still tasted delicious so you could easily go that route if you're vegan or allergic to eggs.
Other than that, there's not much left to say! This mug cake make a great afternoon or after-dinner snack. It'll satisfy your cravings for something sweet and doughy while being made with healthy ingredients that you can feel good about eating. And the best part is that it comes together in a snap, and it's single serve so you don't have to worry about leftovers lying around. Hope you love it as much as I do!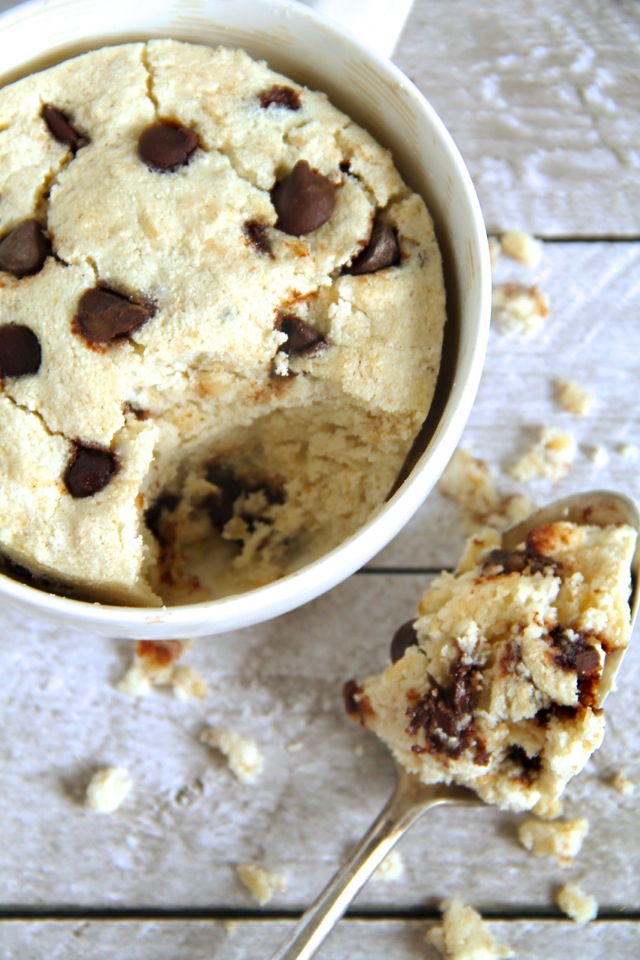 I'd love to know if you make this recipe! Leave a comment and rating down below to let me know what you think, and subscribe to our mailing list to receive new recipes in your inbox!
Print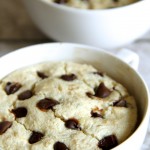 Oatmeal Cookie Dough Mug Cake
---
Author:

Total Time:

7 mins

Yield:

1

seving

1

x
1 1/2 Tbsp

(

10 g

) coconut flour

2 Tbsp

(

10 g

) quick oats

1/4 tsp

baking powder

1 Tbsp

(

12 g

) coconut palm sugar*

3 Tbsp

(

45

ml) unsweetened vanilla almond milk**

1

large egg white

1 Tbsp

(

15 g

) chocolate chips or raisins
---
Instructions
Add coconut flour, oats, and baking powder to a microwave-safe mug or bowl. Mix until well combined.
Add sugar and milk, stirring until no clumps remain before adding in your egg white. Use a fork or whisk to beat the egg white into the batter, making sure that it is fully incorporated. Fold in chocolate chips, reserving a few to sprinkle on the top.
Microwave on high for 1 1/2 to 2 minutes, depending on microwave strength and thickness of mug. If it still doesn't feel done after that time, continue to microwave in 30 second increments until desired consistency is reached.
Notes
* can easily be subbed with brown sugar. ** can easily be subbed with your favourite milk. Use dairy or soy to make this nut-free.
Prep Time:

5 mins

Cook Time:

2 mins
Keywords: cookie dough mug cake, gluten-free, healthy snack, mug cake, oatmeal cookie dough, recipe

Looking for more mug cake recipes? Try one of these!
Double Chocolate Mug Cake
Banana Bread Mug Cake
Chocolate Chip Pumpkin Mug Cake
Fudgy Double Chocolate Mug Cake
Chocolate Chip Cookie Dough Mug Cake